Everything You Wanted to Know About How to Become a Pinterest Manager
Can you make good money being a Pinterest Manager? Stay tuned; we're covering it all right here!
Author: Kari Lorz – Certified Financial Education Instructor
Do you want a career where your work is always changing and never boring? Then becoming a Pinterest Manager may be the perfect job for you! We'll cover what it takes to become a successful Pinterest Manager and exactly how to get started.
We'll also talk about how much money can be made in this industry, how to find clients as well as courses that teach people how to become a Pinterest Manager.
Whether you're looking for an exciting new career or just some side income on the weekends, there's no time like now to start exploring these opportunities!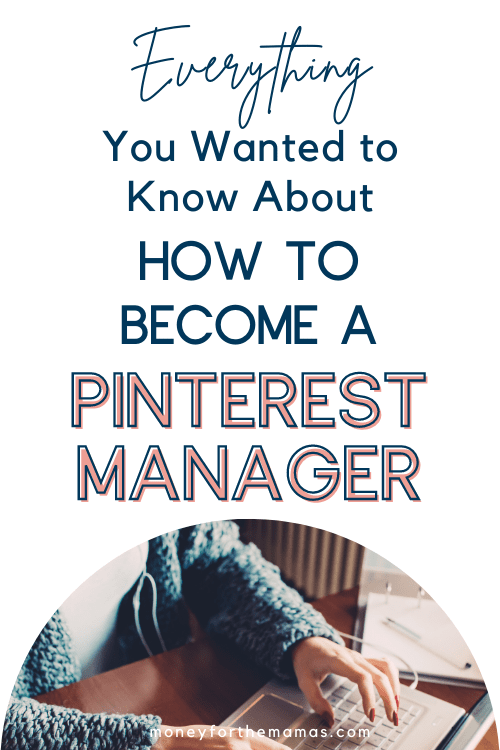 This post may contain affiliate links. If you make a purchase, I may make a commission at no cost to you. Please read my full disclosure for more info
What does a Pinterest Manager do?
I know the term is rather broad and vague, but there are so many different things that a Pinterest Manager does on a daily basis. In a nutshell, they help companies and individuals increase their presence on Pinterest.
They do this by increasing their followers, getting clicks on pins to view their content, or directly buying a product that they are recommending.
This can be done in various ways depending on the client's needs – from designing new pins and boards to consulting with business owners about which types of content will be most successful to planning marketing strategies. In short, it takes someone who can wear many hats.
Why would I want to be a Pinterest Manager?
Good question! I can think of a few reasons. The first reason is that Pinterest is growing rapidly. With over 444 million active users (according to Statista), it's no wonder businesses are starting to take notice and invest more in their Pinterest presence. In fact, according to Social Media Examiner, 88% of companies plan on increasing their use of Pinterest.
That means that these businesses will need to either hire and train their own workers or look to an outside agency to manage their Pinterest marketing strategy.
This is great news for you either way! More Pinterest jobs are in demand, and your skills could be worth big bucks to businesses!
Besides, working all online can be a huge bonus to women looking to become a stay at home mom.
How much money do Pinterest Managers make?
This is a tricky question to answer, as it depends on many factors. For example, how much experience you have in the industry will greatly affect your salary range and opportunities for advancement.
According to Monster.com, Pinterest Managers can expect an average base pay of $30k/year with a bonus of up to 25% when working as an employee of a company doing work as a Pinterest Manager. But when you work for yourself and get hired to provide services for another company, you can make a lot more.
Gina Horkey, an expert who trains general virtual assistants, says, "The best way to start is by creating packages from all of the possible services we've listed above. The next step is to figure out how much time performing the tasks in a package takes for you, then multiply that by your hourly rate. The rate for an absolute beginner may start at $15-20/hour, while the rates for a Pinterest manager can go as high as $75-100/hour."
However, let's say that you absolutely nail this Pinterest Management thing, and you grow to expand into your own small agency. (You can outsource by hiring your own Pinterest virtual assistants too!).
For example, Simple Pin Media charges anywhere from $600 to $2,000 per month for their Pinterest organic traffic packages. (Don't forget that as an agency, you'll have a lot of the cost go towards company overhead and outsources, so your net profit will be smaller.)
While Kristen (a Pinterest strategist), from PinterestVA, says that Pinterest VA services will cost $250-$550/month for monthly management. A Pinterest Manager (more experience) will cost $500-$1,000+ for monthly management for a small to medium business. While a Pinterest expert could cost $750-$1,000+ for monthly management services for medium to large businesses.
Note: Kristen has a potential client fill out an information form, and then she shares that info with her students & course alumni (more on her course below). So those aren't costs of an agency but a single Pinterest manager (based on expertise level).
Pricing your Pinterest services
Those who work in social media don't usually charge by the hour, or by each bullet point. Instead, the create packages. Either a one-time setup package or ongoing monthly maintenance services. For example, VA Jessica offers a few options. Look at her pricing package info for full details, but here's a quick look.
Business Account Setup: $297
Existing Account Analysis: $157
Monthly Maintenance (Established Sites): $127 Setup + $247/month
Monthly Maintenance (New Blog Boost): $127 Setup + $197/month
a la carte services (prices upon request)
With the monthly maintenance packages, you can have different levels (this is encouraged as one person's needs won't be like another). Hint: when people want to buy something, but they're not sure which version, they usually pick the middle of the road regarding cost, so make that one your target offering.
Pinterest Manager Katie offers three levels of monthly maintenance
Starter: $399
Basic: $549
Premium: $649
While on the other hand, Pinterest Manager Magen at Haskins Creative offers only one package (which makes it easy and consistent for her workflow. She charges $849.
Don't forget that you can also charge for smaller niched-down portions of Pinterest. For example, Byte Bodega charges $400 for a promoted pins campaign.
What about for a social media manager?
You could be a social media marketing manager at a large firm or business. Typically large brands like Nike, Disney, or Ulta have an in-house team. If you work there, at a business like this the average wage is $55,533 according to PayScale.
What does a Pinterest Manager actually do?
Again, this varies depending on the client and what their needs are. However, in general, a Pinterest Manager is responsible for creating a whole Pinterest marketing strategy and its implementation.
It's not just working on pin design; it's about the complete and comprehensive strategy, implementing it, and then analyzing performance and changing tactics when needed.
For example, you need to know their current marketing strategy and how you can successfully implement it on the Pinterest platform or tweak it to enable Pinterest to support their larger marketing goal.
Another aspect that many don't realize is the importance of proving your work by using Pinterest business analytics to support that your strategy and method are working. This can be tough though, as Pinterest is a slow burn. Many Pinterest Management businesses require new clients to sign up for at least three or even six-month minimum contract.
What's the difference between Pinterest Manager and a Pinterest VA?
We just went over that the scope of a Pinterest Manager is broad and rather high level. On the flip side, a Pinterest VA (Pinterest Virtual Assistant) is someone who focuses on helping you design and schedules your pins.
They may also help with research and other tasks that might be too time-consuming for you to do manually, but this isn't their primary function. So, in essence, a Manager is a strategic planner & analyzer, while a Pinterest VA is more of a doer; they implement the strategy.
Yet, people often start as a Pinterest Virtual Assistant and get so good at it that they expand their services to include more high-level skill sets and eventually evolve into a Pinterest Manager.


Pinterest management services to offer
There are many different services that you can offer as a Pinterest Manager. Don't worry; you can start small with a niched-down services menu and expand as your skills grow.
Let's Dig into what a Pinterest VA does and what a Pinterest Manager does so you can get a better idea of where you can start and what you should be aiming for.
Pinterest VA services:
Set up a new profile (or convert a personal profile to a business profile)
Confirm a website with Pinterest
Enable rich pins
Clean up an older Pinterest business account by deleting and optimizing content and Pinterest boards
Go through the Verified Merchant process (if applicable) with Shopify
Optimize Pinterest profile and images to current best practices
Create Pinterest friendly pin descriptions (using Pinterest SEO keywords)
Create quality boards
Engage with commenters and other Pinterest accounts in the same niche to build community
Scheduling pins with a Pinterest scheduling tool like Tailwind
Join group boards
Link other applicable accounts to Pinterest profile
Create new pins with a graphic design program (such as Canva or Illustrator)
Set up Pinterest ads (this used to be called a promoted pin campaign)
Compile and report Pinterest analytics
This isn't a complete list by any means, but it gives a good picture of the kind of skills you'll need. Being a good Pinterest VA is mainly about executing what people tell you to do. It's task list and project-based oriented.
You'll need to know how to use multiple programs and be comfortable with technology (i.e., design programs, backend of WordPress, small amounts of code, etc.).
Pinterest Manager services:
Build a Pinterest strategy that is optimized to work for the client's current marketing goals and needs. This means understanding their overall brand, business model, audience profiles/personas, product offerings & prices (and positioning), website content & SEO performance, email newsletters, etc… so you can do things like cross-promotion and complement other tactics.
Design an overall visual guide as to what their pins should look like. Sort of a mood board or a vision board style of guide.
Stay on top of current trends in design, seasonality, pop culture, influencers, and such.
Stay on top of Pinterest best practices, new tools, what is outdated and not working. Hint – this might be the hardest part of your job as Pinterest is very ambitious, they try new things a lot, and some things don't work, so they are short-lived.
Have a good understanding of Pinterest business analytics and convey to your client how your strategy is working or how you will tweak things going forward to get better results.
Create a Pinterest ads strategy (this is hot right now)!
Provide one on one coaching for businesses that want you to teach them how to do on their own.
As a Pinterest Manager, you'll do more planning and analyzing of data. Also, you'll work more one-on-one with clients, so great customer service skills and speaking skills are mandatory. You'll need to be creative, have vision, be engaging, know how to read reports and interpret numbers.
How do I become a Pinterest Manager?
Good question! Like any other field, there are different paths to take. Some people do a formal education in social media marketing or digital marketing and go that route. Others learn the skills by taking courses, reading blogs/books/articles (like this one), watching videos, etc.
The good news about Pinterest Management is that you can start small (maybe even as a general VA) and then grow your services as your skills expand.
In fact, it makes a lot of sense to start as a general virtual assistant, it's a great place to learn the ropes, and get comfortable with the basics. Then as you master those skills, you can lean in on Pinterest VA services.
Resources & courses to become a virtual assistant
The VA service industry is experiencing huge growth these days, especially among small firms that need assistance but may not be able to afford to hire a full-time employee.
According to Indeed, the average hourly rate for a virtual assistant is $21. But these are people working through an agency, and they take a large cut of earnings.
You can easily work on your own and learn how to make $10k a month in this industry. In fact, Kayla Sloane's course, $10k VA, teaches you to do exactly that!
Your instructor will walk you through every step of the process, from start to finish. You'll learn how to approach and get clients, develop services to sell, establish pricing, set systems for efficiency, and so on.
Another great thing about this course is that she provides you with all of the templates that she uses – invoice templates, prospecting clients templates, sample contracts, and even samples on what to say when you raise your rates.
Kayla's course, $10K VA, is the perfect starting point for anyone looking to make money by being a VA.
Resources to learn about Pinterest
Now I know that Pinterest has been around for a while, and you've probably used it a lot for your own use – planning a party, Christmas gift ideas, wardrobe wants, etc. Yes, you're great at using Pinterest as a consumer.
But using Pinterest as a content creator is a whole different ball game. A game where you have no idea all the small intricacies of the backend of the platform, or how to design pins that convert into sales. Like the country song goes, that was a river (using Pinterest as a consumer), this is an ocean (using Pinterest as a content creator).
If you're looking to get the inside scoop on the in's & out's of it, then check out Pinterest guru Nadalie Bardo. She has such a fresh teaching style, and you can't help love learning from her. She's fun, energetic and she knows Pinterest! She left her 9-5 to double down on her side business and hasn't looked back.
She has a few different Pinterest courses, each tailored to what you need right at that moment. If you only need a little bit of help with getting a jump on pins then she has her easy Pin Template Starter Kit. These are 25 beautiful pin designs that have already proven that they get the clicks! No more tweaking and playing around with design elements for hours – just change the words, add a picture, put in the brand colors and you're ready to go.
Yet, if you're looking for the full-blown "I'll take all the help I can get," then check out Pinterest Popular, her signature course. It's the top to bottom, all-in-one course that takes you through everything you need to know. The modules cover
Resources & courses to become a Pinterest Manager
If you're looking for some more in-depth training on becoming a Pinterest account Manager, consider one of the courses below. All three are excellent and will give you everything you need to know (plus tools and tips) to start working with clients right away!
1. Pinterest VA – Kristen grew tired of the contestant hampster wheel of climbing the corporate ladder. So one day she decided to change her life! 10 months later, she quit her full-time job to take her Pinterest VA business full time, and now she wants to show you how to do it too! Check out her courses and sign up for her free training!
2. Smart Pin Pro – Jennifer Priest, the course creator, is basically BFF's with Pinterest! She's worked directly with Pinterest on testing new technology and programs, and she also works closely with Tailwind (a Pinterest scheduler program). Her course focuses on building a Pinterest strategy and learning from the data you get back.
3. Simple Pin Media – Kate Ahl created her Pinterest marketing agency back all by her lonesome in 2014 and has built up an empire! She has lots of great free resources (podcast and workbooks) and a membership collective (monthly membership group) where people learn how to do anything and everything that relates to Pinterest.
Can't I learn the info for free?
Yes, there's so much info out there, and you can learn some things for free, but most of the free resources you find online are from random bloggers who don't keep their information updated. And switching from one free resource to another person's free resource will be repetitive and won't flow together well.
Pinterest changes quickly, so there's no sense in learning and implementing skills that were relevant in 2019. And if you're like me, you learn better with structure and accountability; then a course is probably the way to go for you! Not to mention, all three of these ladies are amazing teachers and will give you personalized feedback in their groups/forums within their program.
10 steps to becoming a Pinterest Manager
Learn some basic virtual assistant skills
Learn Pinterest specific skills by buying a course
Decide if you want to work at an agency for a few years to get experience before branching out on your own. Honestly, this is a great option, and you don't have to work there forever. Just a year or so until you have the skills you need. If you'd rather go solo, move on to #4.
Create your own brand and get a website (or at very least a business Facebook page). You'll also want to get a LinkedIn profile, a Pinterest business account, and any freelance work website profiles.
Create your services packages (more Pinterest VA focused)
Market yourself like crazy! Join online communities! Be helpful and build relationships!
Get a few clients and PRACTISE, LEARN, and ADJUST as needed. You may need to take on a few clients for free to help you build cases studies and testimonials. While not ideal, it's a good way to jump in and get experience!
Expand your services and maybe raise your prices (if you are successful).
Or, niche down into a specific category, as not all categories respond the same to the same tactics. What works for a food client may not work for an exercise client. Niching down on something you're really good at will also help you command a higher fee.
Go into full-blown Pinterest Manager status with killer strategies, an eye for design, and the ability to rock the numbers!


How do I get clients for my Pinterest management business?
The best way is to start with relationships! It's hard starting from scratch, but you can do it!
You will have to spend some time looking for new clients. Where are people actively asking questions? Facebook groups and LinkedIn are great places to start. Ask yourself what your ideal client looks like (age, location, industry). Once you have that figured out, start interacting with people in Facebook groups and on LinkedIn that match your ideal client profile.
Joining Facebook groups is a great way to not only interact with potential clients but to learn as well. It's important that you're not scouting 100% of the time, people that find the most success create relationships by being genuinely helpful when others have questions. Help, help, help, then offer services.
You could start as a freelancer and join Fivver or Upwork and create a profile. Yet, the caution with sites like these is that you can easily be undercut by competitors' low prices.
There are other ways to get clients such as cold emailing (which can be a little tough). Here's an idea – look for small businesses that don't have a Pinterest profile but are an ideal match for what Pinterest does.
For example, there's a Disney travel agency that does fairly well online, but they have zero Pinterest game. Not even a profile! They have a ton of content on their blog that is perfect for Moms planning the perfect Disney vacation for their family. But alas, no. They aren't on Pinterest at all. Their website gets 500,000+ hits in traffic a month, they have a DA of 77 (they are legit), and they are missing out big time by not being on Pinterest!
Find businesses like that and make a pitch!


Pros & cons of being a Pinterest Manager
We're going to look at this question from the perspective of someone who doesn't work for an agency but on their own as a small business owner.
Pros of starting a Pinterest management services small business
You work for yourself from home so you decide your work hours and environment. Yaaa for having an online business!
You decide how much work you want to take on.
You can grow and expand quickly with services and pricing.
You can focus on areas that you most enjoy or do really well at, for example, niching down to promoted pins, or the food niche.
The work is creative and fun!
Cons of being an online business owner just starting out
You need to find your own clients, which can be slow going at first.
Networking can be hard for introverts.
Since this area is growing quickly it can be competitive in the beginning before you've made a name for yourself.
You'll need to shell out decent money at first to buy the courses and programs you need to start. This is hard when no money is coming into your business.
There's a serious learning curve in the beginning (especially if you don't buy a course).
At the end of the day
Pinterest is a powerful social media platform that can help companies increase brand awareness, drive traffic and generate sales; no wonder companies are flocking to it! Right now is the perfect time to hop on and learn how to become a Pinterest Manager.
If you're interested in learning more about becoming a successful Pinterest Manager, don't forget to check out the resources mentioned, dig in, and best of luck… I know you're going to do great!
Articles related to how to earn more and become a Pinterest Manager:
So are you ready to become a Pinterest Manager? Yup, you're ready!