15 of the Best Budget Planners to Help You Run Your Financial Empire in 2022
The insider's guide to picking the best budgeting planner in the bunch!
Directions and roadmaps are great! I love to see something laid out, step by step. All you need to do is fill in the blanks! So you know that you're on the right path, that you didn't miss anything important, and you'll end up reaching your destination.
Budget planners are the perfect example of using the tools & directions to guide you to exactly where you want to be. But you don't just want any budget planner; you want the best budget planner!
Today, we're going to find just that; the perfect budget planner for you so you don't get tripped up or focused on the wrong things. The best budgeting planners keep you on track and up to speed!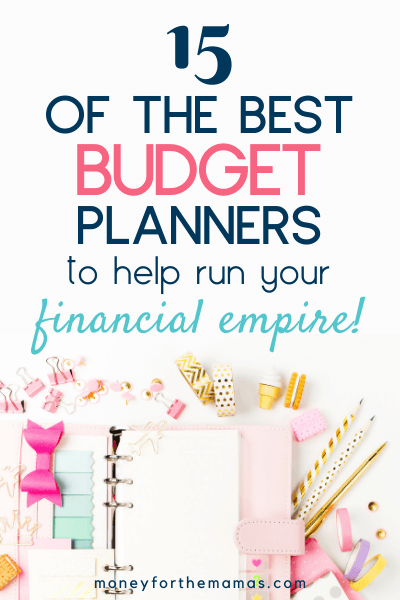 This post may contain affiliate links. If you make a purchase, I may make a commission at no cost to you. Please read my full disclosure for more info
What are Budgeting Planners?
A budget planner book takes many forms; it can be…
Budget planner notebook (spiral bound)
Budget planner book (hardbound)
Budget binder (3 or 6 ring binder)
It's a planner with budget component, basically, it's a place (a tool, so to say) where you keep all your financial information in one tidy, neat package! (Some people call the finance planners.) Usually, it has all things money-related in it. Like your monthly budget template (of course), savings trackers, expense tracker, monthly bills, debt payoff trackers, bank account statements, financial goal tracking, credit card statements, a daily/weekly/monthly calendar, etc.
Now, many people like to use a budgeting app, and they're great. But there's something special (tactile) about putting pen to paper and writing things out. If you rack your brain and think back to HS, you'll remember the learning pyramid. It covers the different ways we learn and how each additional "level" of learning helps us retain more information.
So if you're looking to make lasting change, pass by any budgeting software or a budget app and go old fashioned pen & paper, (at least to begin with).
Writing down your budget & expenses (in a budget planner just like these) is Tip #5 in my Top Tips for Successful Budgeting. If you don't write it down, you'll 100% forget! So if you're even 1/2 considering getting a budget planner… DO IT!
The 15 best budget planners
I will go through the planners and suggest what "type" of a person it may be best for. YET, please don't think that you can't get it if you have a different focus than what I am suggesting. It's only to give you a rough idea and be able to narrow down your choices quickly. These are in no particular order (but #9 is our pick for the best budget planner notebook).
01. Clever Fox Budget Planner – Expense Tracker Notebook – $$
Best budget planner for those who like things organized & straightforward
The Clever Fox Budget Planner snags Amazon's Best Seller distinction with 4.6 stars and 8,000+ ratings! The Clever Fox brand has several different budget planners, but this one is an excellent middle of the road option, perfect for those just starting!
Features:
A5 size (5.8″ x 8.3″)
Monthly budget worksheets
Monthly budget review sheets
Strategy & mind mapping activity
Financial goal sheets
Savings tracker
Expense tracker
Bill tracker
Cash flow worksheets
There are lots of great accessories that are a part of the Clever Fox planner! Lots of fun budgeting stickers and cash envelopes that you can add on to your purchase!
02. Clever Fox Budget Planner & Monthly Bill Organizer with Pockets – $$$
Best budget planner for those who have a lot of receipts & paper bills
The Budget Planner & Monthly Bill Organizer with Pockets is the next level up budget planner notebook from Clever Fox, yet this one focuses on budgeting & bills. If you liked the one above but wished it was a little "more," then look no further! This one has 4.7 stars with 1,000+ ratings!
Features:
8″ x 9.5″
Monthly budget
Monthly calendar
Expense tracker
Debt tracker
Savings tracker
Regular bill tracker
Pockets for bills
Financial goal sheets & mind mapping
12-month usage
03. Life & Apples Budget Planner – Monthly Budgeting Notebook for Family and Personal Finance – $$
Best budget planner for those who need some extra motivation!
The Life & Apples Budget Planner doesn't have as many reviews as bigger companies, but I don't want you to look past it just on that. The company has a wide variety of planners, but its main focus is to motivate you! We could all use a little motivation, and if that is your Achilles heel with budgeting, then be sure to check this option out!
Features:
A5 sizing
Monthly budget plan
Income, savings, and expenses logs
Undated calendar with goals and gratitude sections
Monthly expense tracker
Goal setting section
Vision board – visualize your goals
Holidays and special projects budgeting tracker
Debt tracker
Savings tracker
Bill payment tracker
Yearly and quarterly budget review
Save big on Amazon purchases (when you don't have Prime)
If you don't have an Amazon Prime membership, you can still save with all of the Amazon Prime perks!
You can simply take advantage of their 30-day free trial offer. You can sign up today and be enrolled in the free trial of Amazon Prime and have access to FREE Two Day shipping, Prime Video, and Prime Music.
You will need to put in a valid credit card, which we used to automatically renew your free trial to the full subscription at the end of 30 days. So if I were you, I'd set a calendar reminder to cancel it on day 28 to be safe. Sign up here for free Amazon Prime.
Are you a college student? Students can take advantage of a FREE 6 month trial! Then you will pay just $7.49 a month after six months if you decide to keep it!
Are you a Medicaid or EBT recipient? You can get discounted Amazon Prime at just $6.99 a month. Check to see all the benefits here. (Hint – you can use SNAP benefits on Amazon Grocery).
04. Erin Condren Designer Petite Planner – Financial Planner/Budget Planner Organizer Book: $$ – $$$$
Best budget planner for those who want budgeting to be a part of a whole planning program
Everyone raves about Erin Condron Planners (there are many Facebook groups dedicated to this line of planners)! The Petite Financial Planner Book lives up to the hype with 4.5 stars with 1,000 ratings!
So what makes it a petite planner? I mean, it's small, but there's more than just that. The petite planning line is where you can mix & match 4 of any petite planners to go into a folio system. So if you want budgeting to be part of a larger "planning" goal that you have, then be sure to check out this line! Other petite planners include – wellness, meal planning, weekly planning, daily planning, self-care journal, weekly intention setting, and more! You can check out the full line of petite planners here.
Features:
8.25″ x 5.75″ size
1 saving tracker spread
72 pages of monthly spending summaries
4 pages of debt tracking
1 quote page
1 sticker sheet
"I have always thought that I kept decent track of my finances but at the end of the month I wondered why I always had debt leftover on my credit cards and not enough money to save in my personal accounts. This book has laid out ways for me to keep organized sections of my budget so I am more mindful of how much per month I am able to spend based of my salary. I am the type of person I like to see an overall view of papers laid out in front of me instead of on a computer or iPad. There are a few section areas I wish I were able to manually add that they don't offer other then that my personal finances have improved. I am finally saving, student loan debt free and stress free purchasing "treat myself" items. For anyone who is trying to find a start of getting a better hold on their personal finances, this book is a great place to start."

Amazon reviewer
05. Legend Budget Planner – Deluxe Financial Planner Organizer & Budget Book – $$
Best budget planner for those who want quality
Legend Planners have a variety of planners, not just budgeting. They market themselves as our planners "will help you to figure out what you really want in life, create your personal vision, define and breakdown your short and long-term goals, and incorporate them into each area of your daily life." Looking through the features and benefits of their Deluxe Budget Book, it sounds like it's almost guaranteed to deliver! In fact, they do guarantee it with hassle-free returns for any reason!
Features:
A5 sizing
2 pages for making a financial plan for your life
2 pages for setting your financial goals and their breakdown on the mind map
4 pages for tracking savings
4 pages for debt tracking
12 months (8 pages per month)
2 pages for Christmas budgeting
2 pages for regular bill tracking
2 pages for an annual summary to track your progress throughout the year.
Accordion pocket for receipts
06. Budgeting Workbook – $
Best budget planner for the no-nonsense kinda girl
Now don't let the low price of this budgeting workbook fool you; it has almost everything you NEED to budget effectively. That being said, it's not a traditional "planner," as there are no cute stickers or bells & whistles, but it gets the job done (and you can't beat the price)!
Features:
148 pages
Paperback – standard 8.5″ x 11″ sizing
Monthly Budget Worksheet
Weekly and Daily Expense Tracker
07. Budget Planner – Monthly Budget Book and Expense Tracker – $
Best budget planner for the basic forms
Even though this entry on the best budget planner list doesn't have a lot of ratings (338), they are really good, average to be 4.7 stars!
Features:
5.3″ x 7.6″ (small)
Spiral-bound (pages lay flat)
2 pages for regular bill trackers
12 months of monthly budget planner and expense tracking
Annual expenses budget.
monthly income, regular monthly payments, monthly direct debits & bills, monthly savings, monthly essentials,
3 monthly day-to-day spend pages
2 monthly spend totals pages and Month overview
Special section for Christmas & extra expenses
1 inner pocket
08. Smart Planner Bill Organizer – $$
Best budget planner for someone who is doing the debt snowball
Smart Planners are for those that "have a million tabs open in their minds." Yup, I'm raising my hand right here! They focus on scientific approaches with productivity in mind, perfect for busy moms! Smart Planner Budget Planner has 4.6 stars with 250+ reviews!
Features:
8.3″ x 5.8″
5 colors to choose from
176-page financial planner
Affirmations pages
Goal setting pages
Tracking your debts (debt snowball method – this is great!)
Expense sheets
Spending analysis
Monthly calendars
10 blank pages for spider mapping your plan of action
10 lined pages for notes
Expanded pockets for receipts
Focus on quality paper and construction
09. ✅ Clever Fox Budget Planner Pro – Financial Organizer – $$$
Best budgeting planner for the seriously committed!
If you're looking for a budgeting planner that will focus in on the most important factor for success, then the Budget Planner Pro is it! This is one of the only budget books that give space to your big goals and dreams, and the strategies (action steps) that will get you there. There's also space for spending reflections, which can help you pinpoint stumbling blocks and help you plan better in the future. Remember your mindset is your most powerful asset in helping you reach your financial goals!
This is our pick for the BEST budget planner!
Features:
The financial organizer made to last, to motivate, to inspire.
Inner pocket for receipts and notes
2 sheets of colorful stickers
Vegan leather hardcover
Thick 120gsm pearl white paper
2 pages for setting your financial goals
2 pages for writing down your strategy and tactics. 2 pages for tracking savings
2 pages for debt tracking followed by 12 months (8 pages per month)
2 pages for Christmas budgeting
2 pages for an annual summary to track your progress throughout the year!
5 cash envelopes
"I finally found the perfect planner, especially for our finances! I tried using my phone to do finances but I just never got used to it. I love writing things down so this was very helpful to have. I'm able to visualize my spendings as opposed to always looking at my phone and changing apps to check. I can finally see where my finances are going instead of always thinking about them. My husband and I are on the route to being debt-free and ready for the next step in life, which is purchasing a home. We are both able to look at our finances together and be able to work on what steps we need to take to get there. Every month this has financial goals, percentages in terms of what you've spent and how you've budgeted things. I honestly think physically seeing it in a planner makes you want to spend less on things you don't need and focus on the things you truly want."

Amazon reviewer
10. The Total Money Makeover Workbook: $ – $$$
Best budget planner for someone who wants to learn a lot about money & behavior
The Total Money Makeover Workbook is more of a whole picture perspective than the planners above. It combines education (from the most famous money guru in America) and a financial workbook. This book goes along with the book The Total Money Makeover.
Focuses on:
Assessing the urgency of your situation
Understanding where your money's going
Creating a realistic budget
Dumping your debt
Cleaning up your credit rating
11. Simplified Monthly Budget Planner – $$
Best budget planner to carry on the go
This Simplified Budget Planner from ZICOTO has 4.6 stars with 800+ ratings! It markets itself as, "This 12-Month budget book is your chance to develop monthly habits, monetary strategies & action plans", which sounds like a great budgeting beginning!
Features:
5.5″ x 8
Financial goal setting
Strategy & action plans
Monthly bill tracker
Saving and debt tracker
Monthly income, savings & budgeting
Daily expenses
Month & year-end review for reflection
Christmas tracker to enjoy the best time in the year without financial worries
Notes section
undated = start anytime
12. GoGirl Budget Planner – $$
Best for those that want simple & stylish
GoGirls' mission is to help you have a more inspired and happier everyday life! Now that sounds like something I can get behind! This GoGirl Budget Planner has 4.5 stars with over 4,500 ratings!
Features:
Two size options – 5.3″ x 7.7″ and an A5 size (5.7″ x 8.5″)
Monthly goals & budget
Debt tracker
Expense tracker
Monthly review sheets
Savings tracker
Stickers included
Holiday spending tracker
Accordion pocket for receipts
13. GoGirl Budget Book – $$
Best for those that use the cash envelope system
For just a few dollars more, you can grab the GoGirl Budget Book, which appears to be brand new as it only has a handful of ratings. This is similar to the budget planner, but it follows the cash envelope system.
Features:
A5 size
12 months comes with a calendar spread
monthly goals & budget spread
3 debt tracker pages
notes page
2 savings tracker pages
4 debt tracker pages
2 holiday budget pages
2 regular bill tracker pages
2 summary of the year pages
220+ stickers and guide
If you love the cash envelope method be sure that you keep everything organized with a cash envelope wallet. It makes it so much easier and cleaner than having random envelopes in your purse!
14. Cultivate What Matters Financial Goal Guide – $$
Best Budget Planner for Financial Goal Setting
I am deeply in love with all things Lara Casey, and her Cultivate What Matters products. Her products are beautiful, meaningful, and focus on inner change & development. Her Financial Goal Guide is a digital download (so you can start right now)!
"From resetting your money mindset to discovering healthy financial practices, budgeting, paying off debt, saving, investing, and giving, this guide covers it all and is designed to get you started on a solid financial path."
Features:
24 pages with sections on healthy financial practices, budgeting, debt, saving, investments, and giving
Action step guides
Included bonus teaching video
15. Money for the Mamas instant download printable budget planner – $$
Best budget planner when you want to start right this second
Okay, so 99% of these are all physical products that need to be shipped to you. Yes, Amazon has 2-day shipping, but sometimes you need to start RIGHT NOW while your motivation is sky high!
The good news is that there are lots of printable budget planners available, which can be downloaded immediately! I have created 6 different printable budget planners (one for each of the main budgeting methods). So be sure to check those out if you are ready to roll RIGHT NOW!
Features:
6 types of budget planners

Zero based budget
Simple budget
50/30/20 budget
Budget by paycheck
Cash envelope budget
Budget sampler pack

Instant download so you can start right now!
Budget form for each month
Undated calendar
Quick start guide
Budget category lists
Important dates list
Quarterly review guide

16. Best budget planner for skeptics – Money for the Mamas free templates – $0
I get it, budgeting isn't for everyone, and it's traditionally considered not a lot of fun. But, there are many nerds (just like me) who love it! Maybe you just need an easy path to the heavenly side of budgeting nirvana 🙂
If so, then grab my set of free budgeting templates; it will take you $0 and just two minutes of your time to get and print these handy budgeting sheets! Try them out and get a feel for what kind of info is in the physical planners, and maybe you'll want to upgrade later.
If you're a bullet journal fanatic, then no, you don't need another planner. You can easily incorporate some financial spreads into your current dot journal! Using a BuJo is a great way to keep your finances front & center as you use your journal multiple times a day!
Why should you use a budget planner?
A budget planner works great for so many women, because the good planners…
Are comprehensive
Easy to use
Fun (creative outlet with stickers, pens, etc.)
Keeps you engaged with budgeting (this is the most important piece!)
Are formatted efficiently, so everything flows nicely together, and you know that you haven't forgotten anything!
Remember up above when I talked about roadmaps? A great budget planner guides you along on a journey without needing a money guru on call! It allows you to take control of your personal finances while still having a guide along!
Also, when you start actively participating in something, it gives you a greater sense of control over "it." Taking action puts you in the driver seat of your finances, even if you're just filling out a budget notebook. Everyone knows that the first step is the hardest. So committing yourself by buying a budget planner is a GREAT first step!
Once you have mastered your budget planning, and are using it to strategically plan your finances, you can go anywhere! Budget Planners can get you your heart's desire, as almost everything comes back to money, or "can I afford it?"
I hate to sound callous or crude, but money can buy you what you really want. (It's the greed and not being satisfied with "enough" that gets people into trouble). If you want more free time for your hobby, then having enough money can enable you to take time off of work. Want to be a world class chef? It's money that can buy you lessons. I could go on with thousands of examples, but in the end, the truth is that money can buy you happiness. (just don't get greedy on us!)
How to pick the best budget planner for you
The good news is that there are lots of options for you! The bad news is that it can make it a bit overwhelming to pick one. No worries, by the end of this post, you will know which is the best budget planner for you!
Things to consider when picking out the best budget planner book
Features:
You'll want to look at a variety of planners, so you know what's available and the features that appeal to you. Pay attention to…
How big/small it is: portability, will it fit in your favorite bag?
Binder & paper size: listed in inches

A4 8-1/4 x 11-3/4
A5 5-7/8 x 8-1/4
A6 4-1/8 x 5-7/8

Dated or undated: i.e., can you start at any time?
Format and layout: horizontal, vertical, grid, lined, sectioned
The level of detail: do you want general instructions and guiding or very specific?
Available accessories: stickers, decorative tape, add in pages for budget planner notebooks, etc
Format:
What do I want to track & plan? Many planners have the same kind of informational planning & tracking sheets. Which could include…
monthly calendar
spending tracker
bill tracker
monthly budget template
weekly budget template
financial goal planner
cash envelopes
debt payoff tracker
sinking fund tracker
monthly review worksheet
budgeting tool guide
savings goal tracking
credit score tracker
net worth tracker
financial accounts log
budgeting method used (i.e. envelope budgeting, zero-based budget, budget by paycheck, 50/30/20 method, etc.
Usage:
Think about…
How will I use it? (at home, to plan big picture stuff or plan EVERYTHING)
How often do I want to use it?
One year or multi-year use
Return policy
Any social media groups that use this book (community can be great for learning tricks and new ideas)
Maybe you're worried about choosing the wrong one? Here's a tip, pretend you're a physic! Physics notice details about you, and they know something about human nature. A physic would look at your outward appearance, notice your word choices, they would play into common fears and desires.
So if you're super stylish but conservative, they would pick out a simple but elegant planner. Or, if you talk about loving the new kitchen gadgets that you just got, they would pick out a planner with accessories.
They would pick a planner that plays up your strengths and is something that you're already drawn to. That's how a physic would pick the best budget planner for you!
How much do budget planners cost?
I will give a general cost range for each item, yet prices change, so I will give a range.
$ = $10 and under
$$ = $20 and under
$$$ = $35 and under
$$$$ = $50 or more
With a few planners, you can easily drop $100 or more if you decided to go hog wild with all the accessories. A cautionary tale (of course), DON'T go too crazy!
A great idea is to add these items to your Amazon gift wishlist! Be it for your birthday, Christmas, Valentine's Day, Mother's Day, Arbor Day (just kidding) 🙂 This way, you can snag the fun, cute extras but not put yourself over budget.
I went through all the 1 & 2-star ratings to find common dissatisfiers and laid it out for you. So you don't have to go digging for any real-life info; I've done it all for you!
Best budget planner accessories
Cash envelopes
Reusable trackers & add-in sheets
Stickers, tape & pens
Misc accessories
At the end of the day
I used a budget planner for quite a few years, and then I switched over to my own printable budget planner and a budget spreadsheet. Yet, I can't deny the allure of using a fun & cute planner! Getting that planner in the mail was always a highlight, and I loved putting it together.
I was literally so excited to put the stickers in, date it all, and write out my goals! And I think that is what most of us don't like about the stereotypical budgeting process; it's not fun, it's not motivating. And if you're not motivated to use it, then you won't use it, and you quit. So if lack of motivation is a typical roadblock for you, then give a budget planner a try!
Articles relating to Best Budget Planners:
Which is the best budget planner for you? Remember, the best one is the one that you'll actually use!