How to Make the Most From a Cash App Free Money Code (Read this FIRST!)
We're going through the top three ways to promote your Cash App referral code so you can earn the most
Author: Kari Lorz – Certified Financial Education Instructor
You've just heard about Cash App, and you're curious about the Cash App free money code you've been hearing about.
Cash App is a fast, easy, and secure way to send and receive money. Plus, there are some great ways to get free money on Cash App.
The cash app free money code can easily be used to set up your account and then used to refer others, and you get paid again! Here's how it works, step by step, we'll walk you through the entire process!
This post may contain affiliate links. If you make a purchase, I may make a commission at no cost to you. Please read my full disclosure for more info
What is a cash app referral bonus?
A cash app referral code is a unique code that is assigned to each Cash App user. This code can be used to refer others to the app, and if they use your code when signing up, you will receive a referral bonus, and they will receive a sign-up bonus when they complete the bonus requirements.
How much does the cash app referral code pay?
Cash App's sign-up bonus is $5, but you have to complete the requirements in order to get the free $5 (more on this below).
If you are the person referring someone, you can get anywhere between $5 and $30, depending on what is currently being offered as the referral bonus.
In fact, when I initially signed up, my referral bonus was $15, and then one day, it dropped to $5. No idea why, so I decided to dig in and find out the details on what determines your referral bonus.
So I emailed customer service, and they said, "Invitation bonus offers are constantly changing, and some may not be available to every customer at a given time." So that's not very helpful, as it's so vague, but that's their official answer. It's their app, so they can do what they want.
Cash App referral code hack
When looking for a Cash App code, you'll see that many people are saying that they have a Cash App referral code hack, and that they have the highest sign-up bonus around. So you better use their code to get the most free Cash App money, or you're missing out.
This isn't true. No one has a Cash App hack; it's not a thing; they just want you to think it's a thing. Everybody's code pays the same.
Again, Googling this, there are a lot of sites that use the phrase "Cash App referral code hack," but they don't talk about any sort of hack or trick. It's not really a thing. They just talk about the steps that everyone uses to get the regular Cash App invitation bonus.
How to enter the cash app free money code and claim your sign up bonus
Step 1: Sign up for Cash App.
Open the app and enter your phone or email. They'll send a code to verify you. Follow the prompts to
Enter bank info with the debit card number (you can skip this step for now, but you'll need to do it for the bonus)
Enter your first & last name
Create your $Cashtag
Enter your zip code, after this close the pop-up window (we'll get to that later).
Step 2: Open Cash App account settings (upper right icon), scroll to the bottom, and tap on "Referral Code." (see pics below)
Step 3: Enter referral code NRTZMHV (doing this is the only way to see how much your sign-up bonus really is, and once you input the code, it's locked in, you cannot change it). It will be $5. (step 8 in phone screenshots below)
Step 4: If you didn't link a bank account during the initial set up then do so now. You need to fund your account so you can send someone money to complete the sign-up bonus requirements.
Step 5: Send $5 to another Cash App user. When I sent $5, I immediately received the sign-up bonus. (Step 10 in screenshots).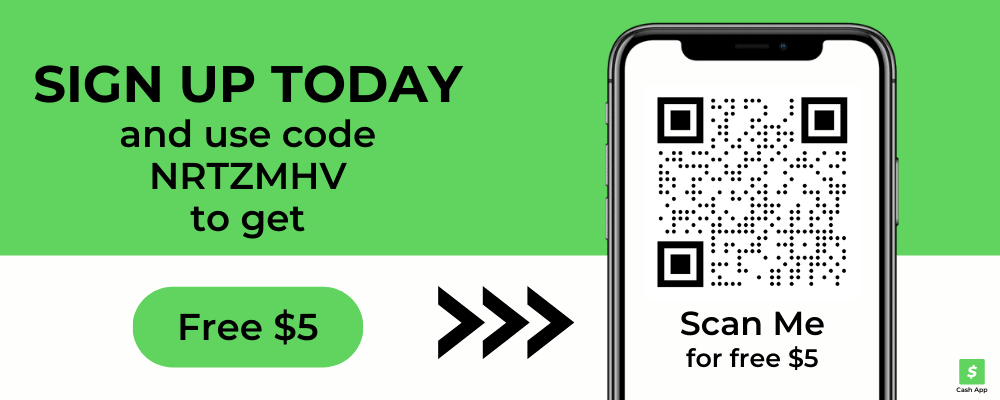 IMPORTANT…
But I'm out $5. How is that free money?
Yes, you had to send someone $5 to qualify for the bonus requirements, but that person can immediately send that money back to you! In fact, it works great if you and a friend sign up at the same time, you can send each other money, and you will both qualify.
If you don't have someone to sign up with, you can send me the $5 at $KariMFTM, or scan the QR code below, and then in the note section, just say, "I read the blog, send $5," And I will send it back to you. (YOU MUST ADD THE NOTE, OR I WON'T KNOW YOU'RE A READER).
I know that sounds odd, but I promise I'll send it back to you. It may take me a few hours, depending on how often I check in with the app, but the next time I open it and then see it, I'll send it back.
Note: To qualify for the bonus you need to use info you haven't used before on Cash App. So a completely different phone and/or email, and a different debit card/bank info.

If you enter repeating info, your account will not be awarded the bonus. This helps cut down on fraud (aka people trying to sign up for multiple accounts just to get the free bonus money, which is not allowed).
How to sign up for Cash App – step by step screenshots
For people under the age of 18, you can get your Cash App sign up bonus by activating the Cash Card (instead of sending someone $5).
Cash App referral terms
You don't get free money for nothing. There are a few terms and conditions that apply, and following these will impact whether to not you receive your bonus.
You must input a referral code within 7 days of signing up, and you must send someone $5 within the first 14 days of signing up.


They have one main rule with sign-up bonuses which is rather cryptic. "Sponsors cannot receive an invitation bonus from inviting anyone with an account that they authorized." This could mean a number of things, but nowhere does Cash App explain this. So I emailed them (again). This applies if you as a parent and sponsoring an account for someone ages 13 – 18 yrs old). You as the parent/referral cannot get a bonus from signing up your kids for which you have approved their account. Basically, you own their account and they are just an authorized user. So you cannot get a bonus for this second account. See the full terms on accounts for kids 13-18 right here.


Opening up multiple accounts to get the sign-up bonus is not allowed. If you try and get around this by using lots of different info (but it all links to you), Cash App can close your account immediately, and the cash in that account is basically impossible to get out. Your money is gone.


Referral Terms and bonuses can change at any time.
See here for their full terms of service.


How to promote your Cash App free money code
There are lots of ways to promote your Cash App code, you just need to know when it's the right time to share it. It also helps to familiarize yourself with answers to people's #1 concern; the safety & security of their personal info and their money. More on this below.
1. Refer Friends Using Your Own Referral Code
People are usually hesitant about new apps, especially when it handles their money. So a personal recommendation goes a long way. You can talk about how fast & easy sign-up was, or how you can earn great discounts using their cash boost features. Or you can offer to pay them back (for the money you borrowed via Cash App).

Don't forget, almost all the apps you use have some sort of refer and earn program associated with it. So go through your phone to check on these programs. Or you can check our list for a favorite easy referral bonus apps.
2. Share your Cash App referral code on social media & forums
This one is a little tricky, I wouldn't just post up a sign-up link with an emoji and expect people to sign up (in fact, you'll get shamed). Your best bet is to offer up info on Cash App in a helpful way when it fits naturally into the conversation of a thread.
Don't be a spammer face and just shove your sign-up code in people's faces. You need to first and foremost be genuinely helpful to people. If people ask your opinion of the app you need to be prepared to share both the pros and the cons.
3. Use Cash App to accept payment for small jobs and side hustles
Many people are taking on side jobs and small freelance work. If you do then consider using Cash App as a great option for people to pay you.
The benefit is that it's free to use, it's fast, and it's very easy to set up. Plus, you don't have to worry about carrying cash around (and losing it).
Plus, the biggest bonus for the sender is that they get an instant discount on your services, as they can get the $5 sign-up bonus!
Once they sign up, they can search for your $Cashtag, or just scan your QR code; it looks like the picture below. Just scan, input the dollar amount, and hit send.
What can I do with Cash App?
Cash App is mainly a peer-to-peer payment app, meaning you can easily send and receive money with friends and family. But it has also become a great way to make extra money! You can also save money using it too! But Let's go through everything right here.
Cash App Pros
You can send friends or family money, quickly and easily with only a few taps.
You can pay at any store, online or in-person, with your free Cash App Cash Card (Visa debit card). You can design your own Cash Card too!
You can set up direct deposits from your employer to get paid faster. (Usually, the money hits your account 2 days earlier than with regular banks)
You can buy and sell Bitcoin.
You can also invest in stocks.
With Cash App Boosts you can get instant discounts at certain stores when you use your Cash App Card.
You can enter to win Cash App sweepstakes (follow their official Twitter & Instagram account for details)
You can send money to people in the UK free of charge (you do have to do currency exchange still, but there are no fees.
Hardly any fees at all, just a $2 ATM fee when withdrawing. See their TOS for the full fee schedule.
You can borrow from $20-$200 with their Borrow feature. This option hasn't rolled out to all accounts though, as they are still in the beginning phases of this program. It's basically a payday advance loan.
Cash App Cons
Some people have reported issues with customer service. (I emailed them three times asking questions, and each time they got back to me within 24 hrs).
You can't send or receive money from countries other than the UK.
You can only use the Cash App Card at stores that accept Visa debit cards.
They have been a fair number of Cash App scams going around. People saying that they can flip your money, or get you the inside deal on a Cash App giveaway, etc. Basically, people want you to send them money. But if you play it safe, and don't send strangers money, or give them your login info you should be good. (Remember, there's no such thing as 100% free money.)
Is Cash App legit?
In today's world, it's better safe than sorry, as the saying goes. Especially with the rise in money flipping scams, you're right to be cautious. It's important to know that your personal information and your money are kept safe.
People want to know that their money (and investments) are secure, and won't just suddenly disappear. So it's good to know that Cash App was developed in 2013 by Block (formerly Square) who've been handling our money (mainly small businesses and their customers) since 2009. You know, the square card swipe readers that plug into your phone.
Cash App uses all the same security features and measures that Square uses. Specifically…
Security locks – PIN entry, Touch ID, or Face ID verification protects payments every time you send money.
Encryption – PCI-DSS level 1 certification means we protect all your data
Account Notification – Push, email, and text notifications alert you of any account usage and when signing into your account.
Fraud protection – the app uses the same fraud detection infrastructure and safety standards that monitor millions of daily Square POS transactions.
Disable Anytime – You can pause your Cash App Card spending at any time through the app in case you lose your card. You can also change your pin at any time on the app as well.
How to get the most free money on Cash App
I go through all the ways on how to get free Cash App money, over here. But let's do the cliff notes version right here.
1. Use the Cash App Debit Card
Cash App offers "boosts", which are discounts offered when using your Cash Card. These offers usually rotate so there's always a new place to save money at.
Current offers are: Save with DoorDash – 20% off one order, Save at Sam's Club – 5% off online purchase. Save at Adidas – 5% off of 10 online purchases. Save at Starbucks – 10% off of one order, save 5% at any grocery store, etc.
Here's my small transaction & Boost from a grocery shopping trip to Safeway, saving 5% with the Boost.
2. Use direct deposit to get paid faster
Direct deposits are ready for you right away, up to two days sooner than many banks. This is significant, especially if your monthly budget is tight and you're constantly living paycheck to paycheck. Sometimes they even offer direct deposit sign-up bonuses (i.e. $50 Cash App bonus).
3. Follow Cash App on Twitter to win free money in their Cash App giveaways
Cash App will periodically host sweepstakes. Sometimes they last a year, sometimes a day. Recent Cash App sweepstakes were their Cash App at the Pump giveaway and their Bitcoin Conference giveaway.
To get early notice of free Cash App money sweepstakes be sure that you follow them on Twitter, and on Instagram. These typically hit on Fridays but can happen anytime. Be sure to follow these #'s can see the details as soon as the giveaway drops:
#cashappgiveaway
#cashappfriday
4. Invest in stocks & Bitcoin on Cash App
You may also make money on Cash App by investing in stocks and Bitcoin. There are no certainties with investments; you could lose all of your money just as quickly as you gain $100. So be sure you know what you're jumping into.
I will say that Cash App makes it very easy for an investing newbie to get started. They take away the overwhelm and make it as easy as possible for you, which is a huge win for most Americans.
5. Get a loan with Cash App
This isn't "free money" technically, it's a loan, you have to pay it back (with interest) but it can be a lifesaver. As the loan could me that you won't be charged a late payment fee or default on a loan (or whatever the reason that you need the money for). That type of security could mean a lot more than just free money.
Cash App is offering loans to a small group of users, for amounts between $20 and $200. You'll be expected to pay the loan back in four weeks, along with a flat fee of 5 percent.
According to Tech Crunch, "If you don't pay off the loan after four weeks, you'll get an additional one-week grace period, then Square and Cash App will start adding 1.25% (non-compounding) interest each week. You also won't be able to take out an additional loan if you've previously defaulted."
To see if you have this option…
Open Cash App
Click on the Banking tab
Scroll down and look for the phrase "Borrow"
If you see "Borrow" you can take out a Cash App loan.
Tap on it & tap "unlock."
Cash App will tell you how much you'll be able to borrow.
Read the user agreement and click to accept a Cash App Borrow loan.
If you're unsure about Cash App for borrowing money, you can check out our recommendations for the best cash advance apps right here.


6. Use Cash App for completing surveys & rewards from other apps
There are a lot of sites that will offer you free money for completing tasks & offers You can use your Cash App account as a place to hold your earnings. Here are some of the best places to get free money…
Swagbucks – get $5 free sign up bonus (surveys)
Rakuten – get free $10 welcome bonus (earn rewards with online shopping)
Inbox Dollars – get free $5 sign up bonus (surveys & discounts at participating merchants)
Where is my referral code on Cash App?
Finding your referral code is very easy! Just…
Open Cash App and tap on the account profile icon in the upper-right corner.


Tap on "Invite Friends" (step refer 1 below in pics)


Tap on "Share Link." (step refer 2 below in pics)


From here you can share your unique referral link via text message or email. You can also tap the share icon and it will open your phone's social sharing options (i.e. FB messenger, Twitter, WhatsApp, etc.).

If you want to know you're actual code, then send the link to yourself (log out of the app first) and open the link, it will show you what your code is. (step refer 3 below in pics).
In doing some research I found that you can have two Cash App accounts (but you only get the bonus for one). You can have a personal and a business account, but the sign-up process is the same, you'd then convert one of the accounts to a business account.

I wanted to try it can grab some screenshots for the sign-up process for this post. I noticed, that with my new account, I was offered the $15 amount as my referral bonus. So it makes sense that new users are offered a high amount to really encourage them to promote this app. (This is my own opinion, nowhere does Cash App infer this).

Then Cash App lowers your account referral bonus either automatically by the length of time your account is open or by the number of referrals you send their way (either too many or too few). Again, this is just me guessing. (Note: I did immediately close this 2nd account as I didn't need it.)
Cash App free money code FAQ
Why didn't I get my referral bonus?
1. The person didn't use your code
2. The person entered your referral code more than 7 days after opening their account.
3. The person didn't link a bank account and send anyone $5 within the time limit of 14 days.
4. They used repeated sign-up info, remember this is for people brand new to the platform.


Why don't see the referral code link on my account?
If you do not see the "Enter Referral Code" text in your profile, you may not qualify for the sign-up bonus. Possible reasons for this are…

– You have already sent funds to another Cash App user
– You have already entered a referral code and have been disqualified (see reasons above in our article).


How long will it take to get my bonus?
Once you send the $5 to someone you should receive your sign up bonus instantly.


What other Cash App Bonuses are there?
New Cash App bonuses periodically pop up so keep your eyes peeled when scanning the app. We've seen…

– Sign up bonus
– Cash app referral program bonus
– Direct deposit bonus
– Bitcoin bonus when you use your Cash App card at restaurants and coffee shops
– $5 bonus when you start investing (not offered to everyone)


How much money can you make with your Cash App referral code?
You can refer as many people as you are able; there is no limit to referrals or earnings.


Is Cash App a bank? Does it have the same protections?

No, Cash App is not a bank; they partner with two banks to help manage your money (i.e. direct deposits, manage the Cash App Cash Card).

– Lincoln Savings Bank
– Sutton Bank

In the event of a bank failure, your money in the Cash App account is covered by our partner banks through FDIC "pass-through" insurance. Eligible accounts up to $250,000 per Cash App customer will be covered by the FDIC. Bitcoin and other investment balances are not covered by FDIC insurance.


How do I avoid Cash App scams?
I know that falling prey to a scammer is a worry, for many. But all you need to do is play it safe. Don't reach out to people who promise to flip your money, or offer you a too good to be true deal. If you use Cash App the way that it is intended then you should be okay.


At the end of the day
Cash App is a great way to send and receive money. The fact that can earn unlimited bonuses with your referral link is a huge plus! So what are you waiting for; sign up below, complete the sign up bonus requirements and you can start earning your own referral bonuses!

Sign up here, and follow the set up steps.


Use code NRTZMHV to activate your sign up bonus (see above for the specific steps).


Link a bank account and send someone $5 (remember you can send it to me and I will send it back to you – promise! My Cashtag is $KariMFTM, and send a note with it to send it back).


Start promoting your Cash App free money code to your friends & family!
How are you going to promote your Cash App free money code?