A Mom's Practical Guide to the Best Ideas for Your Family Christmas Bucket List
30 Christmas Family Traditions that won't bust the bank
The holiday season is a magical time for many families, the excitement, the treats, the cost!
The cost?!?
Ouch, yes it's true, the holidays cost money. Sometimes a lot of money. But they don't have to! You can absolutely get in all your Christmas family traditions without spending a lot of money! You just need to keep your eyes open, have a flexible schedule, and be ready to appreciate the small moments. Here are my top 25 choices for your family's Christmas Bucket List (mostly) on a Budget!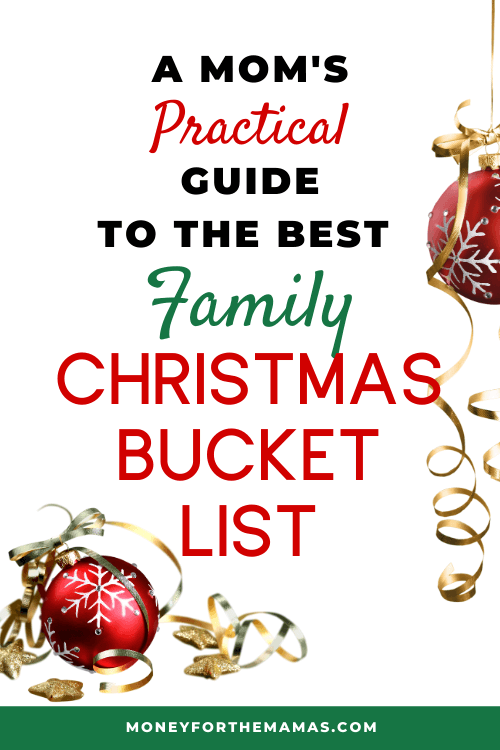 This post may contain affiliate links. If you make a purchase, I may make a commission at no cost to you. Please read my full disclosure for more info
Fair warning, I did give a few options that included spending money, but nothing very expensive. So pick and choose what fits your family and your holiday budget. As going over budget doesn't make things easier come January!
Start your Christmas bucket list off early in the season
One – watch the parade
In my home, the Christmas season begins on Thanksgiving morning. Sounds a bit hasty, but watching the Macy's Thanksgiving Day Parade is a holiday tradition! We sit in our jammies, have coffee, and talk about our favorite floats (and how we have no idea who the musical acts are). Then when the dog show comes on, right after it the parade, we start cooking! We have the dog show on in the background, and then when that is over, we put on Miracle on 34th Street, a total classic that we watch multiple times during the season!
Two – the first gift of Christmas
This one also happens on Thanksgiving but after all the gluttony. We sit and watch The Polar Express (we're a movie-watching kind of family), and then after that, we all go into the living room, where my mom hands out the first gift of Christmas (just like in the movie). It's always something small, a box of truffles, a Christmas ornament, or something small like that, but it's a fun way to officially ring in the holiday season!
Three – a visit to the tree farm
This Christmas tradition is one of my favorites! If you can, I strongly encourage you to go to a local tree farm vs. a tree lot to get your tree. Our local Christmas tree farms have absolutely stepped up their game and make it a full outing! Hot chocolate, fire pit with marshmallows, a free candy cane, rustic holiday decor items for sale, petting zoo, and of course, the tree! You pick your tree out, and they shake it and wrap it up (bring some cash $10 -$15 for the guys working outside in the freezing cold). Last year our local farm even had a spot for our #4 item…
Four – pictures with Santa
Now, I have to say it, but this doesn't fit my Christmas bucket list "on a budget" criteria, as DANG, those pictures can be spendy! I think we paid $45 for three photos on a flash drive (facepalm). But they are worth it! My daughter gets SO excited to see him, and we always send out her pictures to family members, and they love it too!
You have to decide if this fits into your budget or not. Maybe you have all your kiddos visit Santa at once and sit down around his feet for a combo photoshoot (vs. individually going up). Or maybe you can find a Santa for free (I am sure there are opportunities, we just really liked the Santa at the farm).
Five – sleep under the Christmas tree
So I don't mean to sleep under the tree literally, but having a living room (or wherever your tree is) "camp in" that first night that you put the tree up and set up all your Christmas decorations! Make it an event, bring in lots of blankets and pillows, watch a holiday movie, or listen to Christmas music, and have hot chocolate with candy canes in the cup! This is sure to get the Christmas spirit flowing!
Go all out on a hot cocoa bar! You need to spend a little money, but this could be a great Christmas family tradition that everyone will look forward to! These super cute Christmas mugs are hard to resist! Grab some chocolate peppermint stir sticks to add some fun or grab some delicious Ghirardelli sauces to make your hot chocolate just right.
Six – get your Christmas advent calendar ready
Christmas advent calendars are always a favorite in our household. In the past, we've ended up with the chocolate ones from the grocery store, but I'd like to do it a bit differently this year.
If your family is religious, Pink Fortitude has some lovely advent scripture printables to help you count down the days while celebrating the hope and love of the season.
If your younger ones want a more hands-on calendar, try the Lego's City advent calendar, where they build a different small Lego toy every day! This is more expensive than the ones from the grocery store, but it's a set that they can build with for a long time.
Or maybe you want to start your advent tradition; this beautifully decorated wooden Christmas Tree advent calendar can be used every year, handed down to future generations! Make your own small gifts, or chocolates, or handwritten notes to hide behind each day's number!
Or to bring the fun (or relaxation) to a friend The English Tea Shop's advent calendar is a great way to sample new flavors and still take part in counting down the days until Christmas.
Yes, some of the above calendars are spendy, but you can reuse them. But in my heart, I still prefer the $2 chocolate candy-filled ones.
Seven – mail a letter to Santa
I remember going through the Toys R Us holiday catalog and cutting out toys that I wanted and pasting them onto my letter to Santa! But sad to say that this next generation of kids won't experience that particular catalog.
You can still make it a fun activity by crafting your kiddo's perfect letter. You can make your own gift list with just pen & paper, or here is a great inexpensive option if you want a cute formatted Santa letter. Or if you're an Elf on the Shelf household, then be sure to check out this option, complete with a book and special paper!
Holiday bucket list items at home
Here are some great Christmas activities that you can do at home to help get you in the holiday spirit!
Eight- bake some Christmas cookies
The holidays aren't really the holidays unless you have treats right? That's why this is my favorite item on our Christmas bucket list on a budget list! Your cookies don't have to be fancy; they don't have to taste amazing either. You just need to have a good time with your family making them! You can pick red & green frosting, or sprinkles or holiday shapes, basically anything you want!
If you have little hands baking, here are some good cookie cutters with safety tops, as you don't want super sharp metal. For some holiday cookie inspiration, check out The Christmas Cookie Cookbook (over 100 holiday cookie recipes!)
You already have most of the baking ingredients; you may need to invest in some sprinkles. Maybe about $5 – $15. Oh and don't forget to wear your ugly Christmas sweater to make your pictures pop!
Nine – make your house smell like the holidays
I happen to be in love with Christmas pomanders (but I didn't know it was called this until writing this). Basically, it's an orange with a bunch of cloves stuck in it, and it smells heavenly! My mother used to make a decorative bowl of these and put it on our hall entry table, so you smelled that Christmas spirit right when you walked in! (Yes, Christmas spirit can have a smell, it's that smell that takes you back in time.) Check out Hello Homebody post to learn how to make your own, I promise you'll love it!
You may have cloves already in your pantry, but if not, then this should cost less than $12 for small oranges and cloves.
An even cheaper way to make your house smell like Christmas is to decorate with evergreen boughs. Just go to a place where taking cuttings is permitted (get a variety of greens – juniper, pine, holly) and make DIY Christmas decorations!
Ten – make your own holiday decorations
There are so many wonderful ways to decorate your home that are inexpensive! Not only will making your own ornaments be a fun activity for your kids, but they will be keepsakes to remember each year when you pull them out! Here are a few of my favorites…
These origami waterbombs are great because you can use any color scheme you want to fit in with your home decor! These are perfect for kids a little bit older with patience and can pay attention to the process.
Another memory that I have is making cinnamon ornaments when I was little, they smell amazing and can be made in any shape/design that you wish! (now good cinnamon is fairly expensive, so be sure to buy some that isn't spendy for this activity).
This gumdrop Christmas tree is so fun! I can picture a whole mantle with different sized "trees" to have a more modern feel to it!
Simple winter paper snowflakes are a great introduction to DIY ornaments too!
The quintessential DIY Christmas ornament is the salt dough Santa! The smell of these totally takes me back to my childhood!
Eleven – learn about other countries Christmas traditions from around the world
An excellent way for kids to learn about other cultures is by experiencing traditional food dishes. So if you feel that you've done all the "regular" holiday traditions type stuff, this is a fun item to layer in! Check out Love These Recipes for her free Christmas Around the World Cookbook for kids!
Twelve – have a holiday game night
Now, this activity can get spendy in a hurry, so be sure that you are getting games that will appeal year after year. This Elf Christmas Monopoly game is sure to be a hit!
This award-winning Santa Claus game teaches younger kiddos that it's fun to give (as well as receive). Which can all agree kiddos need some encouragement in this area.
Who doesn't love Rudolph? This Aquarius Rudolph the Red-Nosed Journey board game is perfect for the whole family! You'll journey through the icy winter wonderland finding all the misfit toys and bringing them back to Santa so he can give them to all the little good girls & boys!
Or if you're looking more for holiday party games, be sure to check out the fan-favorite holiday Minute to Win It games from Play Party Plan!
Take a break between games for some treats! A fun way to make treat time special is an indoor electric S'Mores maker. No campfire smoke or hungry bears included! Just yummy treat time, which you can use throughout the year!
Thirteen – grab some Christmas crackers
These are traditional holiday favorites from around the world! Each Christmas Cracker in this set contains a party hat, a joke, and a small gift. They are sure to make your holiday dinner memorable!
Fourteen – Make your own gingerbread house
Now, I would like to think that I am an amazing chef. Yet, I know this isn't true. Still, one year I would like to make our own gingerbread houses from scratch! Easy Budget Recipes has a great post with a free template and a video!
Could this be the year that my inner creative cooking genius comes out? Maybe! But even if it doesn't come out perfect, that's not the important part. The important part is that my little one and I have a great day doing a Christmas craft!
Hint: If you find a Christmas craft that you're really good at, consider making extra and selling them for Christmas cash. Making your own Christmas crafts to sell online or at craft fairs can be a fun holiday (new) tradition.
Fifteen – A Christmas Movie Marathon
This one is such a cliche, as OF COURSE, you're going to have a movie marathon on your Christmas bucket list! Be sure to check out all your video subscriptions before buying new ones. Disney + is sure to have a lot, Netflix has some cute original holiday content, and check Amazon Prime too if you subscribe.
Mix in black & white classics with cartoons, and even some Hallmark holiday favorites too! I won't give you a list of must-watch movies, as there are already 67,956 posts about great holiday movies. But this is a great frugal option, even one you could repeat every weekend is you want!
Yet, if you do want to uplevel your movie marathon, you can always splurge and tell the family that festive holiday apparel is requested!
You can't go wrong with matching family holiday Snoopy pajamas! Or for the young man of the household a Marvel Avengers gingerbread hoody!
If your family members are movie buffs maybe uplevel the experience to include a holiday movie trivia quiz! Everyone thinks they're a pro and it might be time to crown the winner and end the debate once and for all!
Sixteen – send some Christmas cheer with a homemade card
If you have a little crafter in your house, making Christmas cards can be a fun way to spend an afternoon. With this activity, you need to be mindful of your budget, as all crafters know that buying supplies can be a budget slippery slope!
Wandering Hoof Ranch has a great post on making your own cards, and she even uses some items from nature to make your cards unique (and save some money). She uses pine needles, twigs, and greenery along with ribbons and cut-outs to make the cards shine!
Seventeen – snuggle up with a holiday picture book
Every night, either my husband or myself read books to our little one. During Christmas, I bring out the box of Christmas books that my mom read to me when I was young. I'm not sure who looks forward to it more, me or my little. But our holiday book time is always special.
Here are some of my favorites (both new and old), gleaned from over 40 holiday seasons…
As an adult, I reread The Christmas Story by Jean Shepard every year. Even though the book takes place all throughout the year, it still retains the holiday feel.
Now you don't need to buy these, please go to your local library and check them out for free! My best advice is to go the day after Thanksgiving, as holiday books always get checked out fast!
Make storytime even more special by reading in front of the tree every night!
Christmas bucket list items to do in town
Eighteen – Go downtown to see the festive holiday fun
Going out to "shop" doesn't mean you have to spend a lot of money. One of my favorite things as a child was going downtown to see all the department store window displays! One Pacific NW store would always do their windows themed on the 12 Days of Christmas song. So we'd park, get some hot chocolate from the coffee shop, wander the streets, look at the displays, and enjoy the holiday hustle & bustle!
We'd time it to coincide with the special holiday tree lighting event, which is another great free option for families to do! Just Google "tree lighting + your town" to find out local times & places.
Don't forget to have your own day to do some relaxed Christmas shopping, either alone or with a good friend. When you're out don't forget to see if you see anything that you want for Christmas, be sure to write it down with the name of the store and send it to your spouse!

What? You don't need anything for Christmas? Of course not, but what do you want for Christmas? If you're not sure be sure to look here for inspiration on finding the perfect gift for mom (aka YOU)!
Nineteen – pick a Giving Tree item
While you're downtown, see if any of the businesses are hosting a Giving Tree. This is where the business (in partnership, usually with a local nonprofit) will put up a tree with gift tags on it. The tags will tell you about a family or person who needs an item for the holiday.
It's an excellent activity for families to do together. It helps teach children about the importance of helping others and learn that gifting can be just as rewarding as receiving a gift. Bringing joy to people should be tops on all of our Christmas bucket list!
Twenty – find a choral event
Listening to Christmas carols, or a choral show can be a special holiday moment. Even if you happen to be walking along the street and see a quartet singing take the time to stop and listen. Appreciating the moments as you find them (and not rushing around like crazy) can turn an ordinary day into a very special one. Especially for little ones who don't see live signing very often.
If your kiddo is the musical kind, ma7ybe take them out to do a little Christmas caroling at your neighbors house! Don't forget your ugly sweater!
Twenty One – celebrate the season of giving
One of my favorite things during the holidays (as a child) was to donate to bell ringers at storefronts. The Salvation Army has a long tradition of hosting bell ringers, and you can even volunteer for a shift! What a great way for older children to give back to their community.
Or it's an excellent way for smaller children to donate their change to a worthy cause! For my own little, she has three money jars, one for saving, one for spending, and one for giving. The holidays are a perfect time to open her giving jar, and she can directly donate to the ringer's red kettle.
The Red Kettle campaign raised $144 million in 2015 to help over 23 million Americans with food, shelter, and social services!
Twenty Two – do a random act of kindness
Another great way to have your children develop their sense of community is to do a random act of kindness. One time during the holiday season, we go out to eat with the intention of doubling our bill. Whatever the total is for our food, we give the same amount as a tip. Now, we're not going out for lobster or anything crazy. Just a meal, where our server gets a nice surprise.
This activity doesn't have to be big; you can pay for the car behind you in the drive-thru, or in the past, we've brought donuts for the volunteers & staff at a local animal shelter.
Your kindness doesn't even have to cost anything. You can shovel snow for your elderly neighbor, or get groceries for them. You can put up Christmas lights on their house, or bake them cookies.
For more Christmas kindness activities, be sure to check out Coffee and Carpool's post for 24 great ways to help kiddos be kind to others!
Twenty Three – drive around and look at the Christmas lights
A great impromptu free activity can be everyone piling in the car and driving around some neighborhoods to look at the Christmas lights! Bring some blankets so you can roll down your windows to get a better view (and some houses have coordinating music)! Here's a cute Christmas light scavenger hunt to make even more of an event for your kiddos!
Twenty Four – go find some snow!
It seems that white Christmases are a thing of the past, well, I've never had snow at Christmas. But many times, we've driven up into the mountains to find some holiday fun! Whether you drive up to a lodge to relax for an afternoon or go adventuring into a state or national park, be sure to take a moment and make a snow angel, have a snowball fight, and of course build a snowman! Bring some rocks for the eyes, a carrot for a nose and a scarf to complete the outfit, because you have to take pictures!
Twenty Five – experience a candlelight service
I wasn't raised in a very religious household, and we never really went to church. Yet, we did always go to the Christmas Eve candlelight service at our grandparent's church. I must admit there was something magical about it, with everyone quiet and serene. The choir singing in the candlelight glow.
So, even though I'm not religious (and you may or may not be), I can respect the service and feel the warmth. I encourage everyone to go at least once. Ask your friends where they go or look at your town's local Facebook group for suggestions.
Twenty Six – go to a Christmas festival
Go ahead and Google "Christmas festivals near me" and see what pops up, or "Christmas bazaar near me". There's sure to be some small-town holiday fun happening somewhere! The small holiday bazaars are a great way to support small artists and buy a unique gift for those on your gift list!
Twenty Seven – volunteer
Sometimes, the greatest Christmas gift is just our time. A great way to see some of the Christmas festivals for free is to volunteer at it! In our town, there's a place that always does a huge walk-through light display, and they need lots of helpers to direct traffic, sell Christmas cookies, and more! Again, you can Google events, go to their site and see if they need volunteers, or you can check VolunteerMatch for opportunities in your area!
Twenty Eight – attend a holiday play
Now, I know this sounds expensive, but it doesn't have to be. There are lots of small production houses in towns in addition to the big theaters. Try seeing A Christmas Carol or The Nutcracker. Don't forget that weekday matinee tickets are always the cheapest! (Hint you might be able to volunteer to be an usher and get in for free!)
Twenty Nine – go ice skating
There are lots of these pop up ice skating rinks around, and they are always so beauitful with the Christmas lights stung over the rink! I mean isn't this a scene from 80% of the Hallmark Christmas movies? So, if you want to kiss under the mistletoe this is absolutely the place to do it!
Thirty – go out for an evening walk when it's snowing
Can there be anything more Christmasy than this? Just the serene mental image makes me relax. Just go out with a hat and coat, all by yourself, bask in how quiet it is and just walk.
At the end of the day
My most important tip on enjoying your Christmas bucket list is not to try and do it all! Plan to under-schedule your family outings as little ones (and moms) get tuckered out easily with everything that is going on! Spend money on the activities that really speak to your family and then let the others pass by. Besides, there's always next year! So be sure that you are taking the time to actually enjoy the holiday season!
Whatever you do, these frugal Christmas family traditions will help make memories for years to come! Many of my fond memories are at Christmas, and I swear that one year I even saw Santa flying in his sleigh, a totally true story! I hope you'll add some of these frugal Christmas bucket list items, and find a new family favorite tradition!
Articles related to Christmas Bucket List
What Christmas activity are you putting on your holiday traditions list?