50 Delicious & Dirt Cheap Meals for Everyday Living
These dirt cheap meal ideas will save your dinner time AND your monthly budget!
It's no surprise that there's one sentence in America that is asked more than any other…
"Mom, what's for dinner?!"
Yup and that sentence probably makes you cringe a bit. You're like, "I have no idea." But, you know you need to come up with something, and it can't be frozen pizza (you did that last night). You're mentally scanning what's in your fridge, and it's not pretty. It's time to go to the grocery store, but you know that your bank account balance isn't looking any more flush than your fridge.
It's time to dig deep; you have to come up with some dirt cheap meals to feed your family, at least to get you through until the next payday. But you want them to be super tasty because you can't afford to buy more snacks if your kiddo doesn't eat dinner.
So you need a dirt cheap meal, and it needs to be tasty. Don't worry mama, I've got you covered! A few of these are even favorites in my family, which means they pass the husband test and the finicky kiddo picky eater test!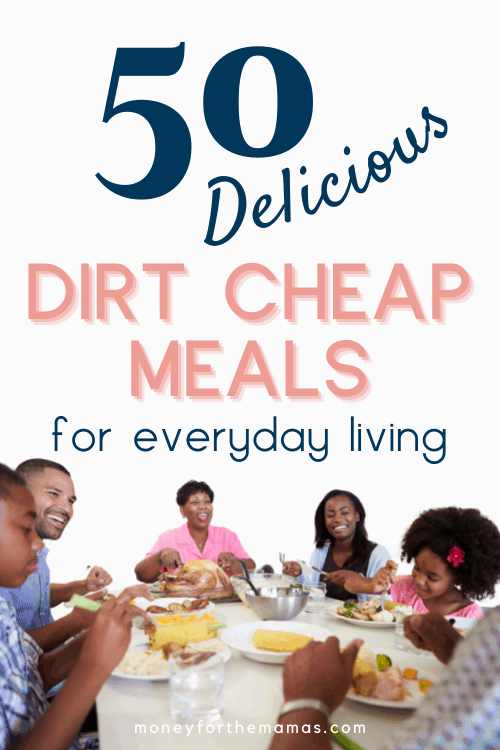 This post may contain affiliate links. If you make a purchase, I may make a commission at no cost to you. Please read my full disclosure for more info
The stigma with dirt cheap meals
I know the term "dirt cheap" doesn't invoke great mental images. You may even feel a bit guilty about serving these to your family. DON'T! You are putting delicious food on your table to feed your family. There's no rule book that says that you need to spend $50 on every dinner to be a good mom.
While growing up, my favorite dinner was a Swanson fried chicken TV dinner. We got them rarely, and I have no idea if my mom was trying to save money intentionally. The thought never crossed my mind back then. But I do remember that the family would sit in the TV room, complete with TV trays, and watch a movie together with our super cheap dinner! I loved it!
So please, your kids will be OK; they probably won't even consider the cost of the meal. If you're still worried, then think of some ways to make it special. If you always eat at the table…
pick a family movie and sit by the tv
sit on the back porch or in the backyard
bust out the fun tablecloth and decorations
grab a joke book and take turns telling horrible jokes from it
dress up in costume for dinner, and stay in character the whole way through.
How to make extremely cheap meals
Now I hate to tell you that your cheap dinners probably won't be the healthiest, now that's not always true, but it's common. There are a lot of carbs and a good deal of salt. That's what makes them tasty. Please don't feel bad; you can give them an apple tomorrow for a snack. Right now, we're just focused on making cheap easy meals. Or maybe rotate in some healthier frugal meals into the mix along with some of these dirt cheap meals.
Your first step is to be sure that you have super inexpensive ingredients on hand. Grab a pen and write down your cheap grocery list items. There are so many things here that will fill your panty for less money than you think.
Dirt cheap meals – breakfast
I know that cereal with milk is the quintessential cheap meal, but that's boring, and everyone already knows that it's cheap. I want to focus more on family recipes that you can serve that feel more substantial than just cereal.
1. Sausage & Gravy Breakfast Casserole
This sausage & gravy breakfast is a family favorite recipe! We make it all the time, for both breakfast and dinner. It makes for great leftovers too, as it reheats great! We also have made this for family trips as it feeds a lot of people. Trust me; it is everything you'd ever want in a tasty breakfast!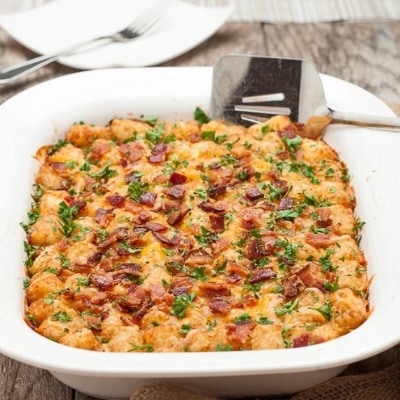 2. Tater Tot Breakfast Bake
This Tater Tot Breakfast Bake is another family favorite recipe (we love breakfast, can you tell?) It's cheap and easy to make; the hardest part is waiting for it to come out of the oven!
3. Baked Oatmeal
Oatmeal is another pantry staple, and this superstar deserves a place on your shelf! There are so many ways you can use it, and this baked oatmeal recipe is a great place to start! The author also share's a few variations for fall. There's pumpkin spice baked oatmeal and, for summer, a delicious berry recipe!
4. Bacon & Cheese Pull Aparts
I hate even to say this, but my family loves this recipe too! There's something about bacon & cheese rolls that gets you out of bed in a hurry! You get the same flavor as #1 & #2, but it takes fewer eggs. So if you're short on eggs, try this instead. (These also make an excellent to-go option as they're easy to hold and eat).
5. German Pancakes
As my family calls them – Dutch Babies, German pancakes are a special treat, and they are easy and cheap to make, only needing a few ingredients! Our favorite way to eat them is with butter & powdered sugar dusted on it, with a squeeze of lemon juice over the top.
6. Banana Oatmeal Breakfast Cookies
If you need a breakfast to go, then it can't get any easier (or cheaper) than this banana oatmeal cookie recipe. Don't worry; it's not a cookie loaded with sugar. All you sweeten it with is an over-ripe banana. We all have those in our house; at least I know I do, so this is perfect.
7. Sausage Muffins
Another great to-go breakfast is this recipe for sausage muffins; it's so easy and delicious, you'll wish you had more hands to carry more muffins!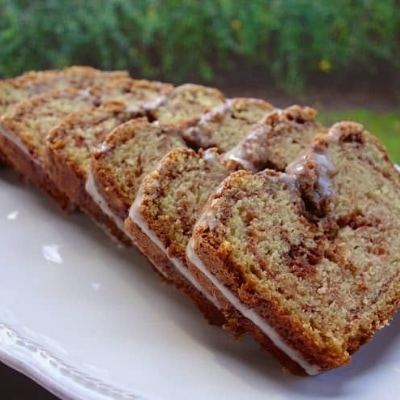 8. Cinnamon Swirl Quick Bread
Some occasions call for a sweet breakfast treat, and this cinnamon swirl quick bread is perfect for a small quick breakfast bite. Now, one of the ingredients is buttermilk, and if you don't have any, don't go out and buy any if you won't use it. Instead, mix in some lemon juice and let it stand for a bit (thanks for the tip Google)!
9. Egg in a Hole
While this might be a bit too simple to call a full recipe, I'm going to give it a pass, as it's one of my favorites from childhood. Egg in a Hole just takes three ingredients, but it gives loads of smiles. It's super fast to make and about as dirt cheap as you can get!
10. Sweet Potato Breakfast Hash
This sweet potato breakfast hash is perfect for cold mornings. You can serve it on its own, or make four wells in the skillet and carefully drop in an egg to each one and cook up in the middle to add some protein. These leftovers reheat perfectly back in the pan, but I doubt there will be any!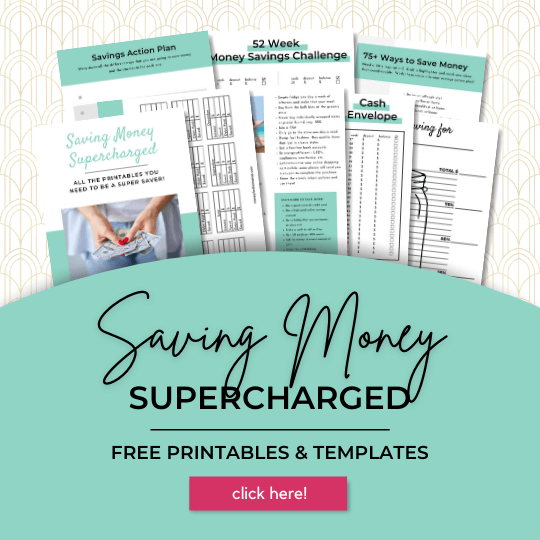 Dirt cheap meals – lunch
Yes, you can make a cheap easy meal for lunch that's not simple peanut butter & jelly or a grilled cheese (but let's not kind ourselves, GC a delicious meal too!) Some of these recipes are just fun too, and will take you back to your own childhood.
11. Potato, Egg & Cheese Waffles
This savory waffle is the perfect brunch compromise, a fun waffle shape but with heartier ingredients to give you lasting energy through the day!
12. Egg Salad
Egg salad sandwiches (or served of salad greens) is an easy way to use up lots of eggs while making a tasty lunchtime budget meal. If you have the space to grow herbs in your garden (or a small planter box in your window), be sure to grow some dill. It's such a wonderful herb that adds so much to dishes just like this one!
13. Cheesy Beef Quesadilla
You probably have the ingredients at home for this simple but delicious meal idea! I mean, what's easier than cheese, ground beef, and onion wrapped in a crispy tortilla? Plus, these keep well in the fridge for a few days. When you're ready to eat it, just put it back in the pan on low heat and cover, turning once to get both sides crispy crunchy again!
14. Pigs in a Blanket
These pigs in a blanket are deceptively delicious and fun to eat! If you don't have hot dogs, you can use cooked breakfast sausages, which are excellent for smaller hands & appetites. My little one loves this change-up and loves to help roll them up in the cresent! The perfect intro to cooking for our youngest helpers!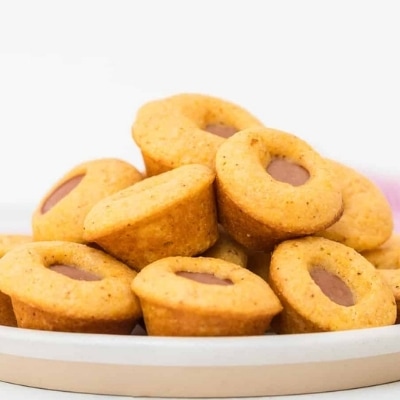 15. Mini Baked Corn Dogs
What's more fun than a corn dog?!? Mini corn dogs, of course! These are easy to make and fun to eat! Plus, Jiffy Corn Bread Mix is always at the Dollar Store, and that's a great beginning to a dirt cheap meal!
16. Baked Potato & Chili
I love easy lunches where people can make their serving to their tastes. Here's a great recipe for that yummy baked potato & chili bar! You can use any toppings besides the classic cheese, green onion, sour cream. Red onions are great, and smashed-up corn chips are sure to please!
17. Chicken Pot Pie
Cold, windy afternoons call for a hot and buttery classic comfort food, which just so happens to be a dirt cheap meal superstar! Yup, we're going for the traditional pot pie, and you use either chicken or turkey here. To get that buttery top, be sure to brush the top pie crust with a little bit of melted butter and milk before baking.
18. Tuna Melt
Tuna is a protein superstar, combined with its frugal price tag, and you have a winner! These gooey tuna melts make a great lunchtime meal idea, and there are many variations and toppings you could do, so be sure to read through the post for new ideas on this old standby.
19. Spaghetti Pie
Leftovers make a great lunch the next day, yet some people aren't enthusiastic about eating the same thing twice. You can easily adjust some dinners and turn them into new lunches for the next day, and easy spaghetti pie is just the way to do it! Pick up at Step #5 to turn last night's dinner into today's lunchtime cheap meal idea!
20. Tortilla Pizza
Sometimes you want pizza, and you want it now! You want to wait for the dough to rise, and I get it. Insert the easiest pizza around! Tortilla Pizza can be ready in just a few minutes, which just a couple of simple ingredients.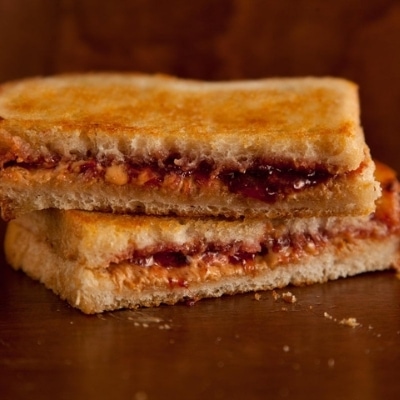 21. The BEST PB&J
The quintessential dirt cheap lunch, I saved the best for last, the quintessential peanut butter & jelly. BUT, this one is ten times better as you grill it on your stovetop. If you haven't tried grilled PBJ before, then this is a must! The recipe calls for unsalted butter, but I just use regular, and it tastes great! You can add in other items, like banana slices, or mix cream cheese with the jam. Delicious!
22. One Pot Cheesy Chicken & Broccoli
I am a sucker for one-pot meals! They make life and dinnertime so much easier! This cheesy chicken & broccoli is the perfect recipe for the days when you can't handle a complicated meal, but you want to taste like you spent hours lovingly making it.
23. Cheesburger Cups
This a great option for kiddos to help make and freeze for the days you can't be there to make a hot lunch. Plus, these cheeseburger cups are fun, as everything mini is fun to eat!
24. Turkey Sliders
These turkey sliders are an excellent option for a cold day's lunch. I usually make these as part of the meal plan to use up our Thanksgiving day turkey leftovers completely; it works great! But you could use holiday ham leftovers as well. If people are extra hungry make up some hot tomato soup to go with it!
Dirt cheap meals – dinner
25. Pizza Dough
There are so many different kinds of pizza you can make, so this basic pizza dough recipe is a must-have in your meal planning toolbox! It's easy to make. You just need to plan ahead a bit, so it has time to rise. You can make pizzas, calzones, breadsticks, garlic knots, pull aparts, and more!
Check out Frankie's video on his three favorite things to do with pizza dough. If you aren't familiar with Struggle Meals, then get ready; he's AH-MAZING!
Dirt cheap chicken dinners:
26. Chicken & Rice
This chicken & rice instant pot meal comes together in just 25 minutes! Perfect for the days that you're in a rush and want something warm and filling! The ingredients are relatively frugal, but the consistency makes it more of a fancy risotto, making it deliciously different.
27. Chicken Spaghetti
This instant pot cheesy chicken spaghetti is sure to please, as it hits all the tasty checkmarks! Warm & filling – check! Cheesy – check! Add in anything you want to – check! Yup, add in any veggies you want to up the nutrition and bulk it up.
28. Chicken Spaghetti – it's different
Yes, this chicken spaghetti is a different flavor profile than the other recipe above. But the ingredients still qualify this as a dirt cheap meal. This one has more of a cream sauce (vs. a red sauce) and is decidedly cheesier.
29. BBQ Chicken Pot Pie
This is a southwestern spin on the classic, and it sounds even better than the original (because a cornbread topping always wins!) Yup, it's BBQ chicken pot pie, and you better bring your appetite! Or you can make two smaller dishes and freeze one of them for later – save the cornbread topping until after you freeze).
30. Garlic BBQ Chicken
This Crock Pot BBQ chicken recipe is so versatile; serve it on its own with coleslaw, or load it up into a bun for a tasty sandwich! You could even make this chicken the star topped onto some baked beans or in a buddha bowl. The best part is that it only takes 5 minutes to prep!
31. Teriyaki Chicken & Rice Casserole
This has got to be one of the easiest and most budget-friendly of the dirt cheap meal ideas! Honestly, this teriyaki chicken & rice recipe should be in every mom's arsenal to pull out at the end of the month when you're short on time and money!
32. Chicken & Dumplings
If you wish there were more crust to chicken pot pie, then this dirt cheap meal is your answer! This chicken & dumpling recipe promises to be the creamiest ever due to its secret ingredient, and all the dumplings will make your taste buds swoon!
Extremely cheap beef recipes:
33. Taco Tater Tot Casserole
Can you really have a dirt cheap meal list without a few tater tot recipes? I don't think so! This taco tater tot casserole recipe just screams easy peasy as it can be ready in 20 minutes! Plus, with the topping choices, everyone can put on what they love! Load it up with sour cream, salsa, green onions, avocado, and more!
34. Homemade Hamburger Helper
This hamburger helper is a kiddo fan favorite. It got a DIY makeover without the crazy high salt content of the boxed version. Plus, it's easy to put together, and you probably already have everything in your pantry & freezer! It takes just 30 minutes so you can have dinner ready in a flash!
35. Doritos Nacho Bake
If your family is all about Mexican food flavors then this Doritos nacho bake is for you! It's regular nachos but with an oomph! Ready to make your taste buds dance and keep your wallet fat.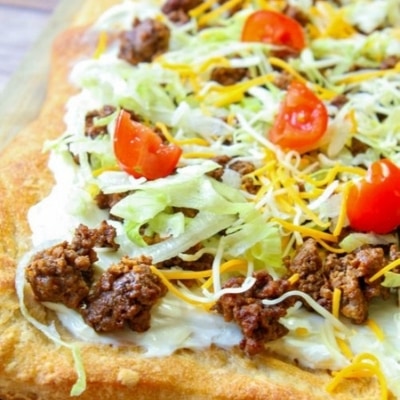 36. Taco Pizza
What do you get when you combine two of the most beloved dishes in our country? Taco Pizza! It's the perfect answer for when you've had regular pizza too often, but you want that same easy go-to recipe!
37. Homemade Sloppy Joes
This homemade sloppy joe is the perfect recipe as you can use it so many different ways! Scoop it onto hamburger buns for an easy dinner, load it onto fries or even a baked potato for another easy meal.
38. Spanish Rice & Beef
I don't know about you, but it seems that I am always short on time, so a homemade meal that comes together in 30 minutes is perfect! This Spanish rice & ground beef is easy, a bit lighter on the stomach than other dishes, so great for a summer evening.
39. Poor Man's Stew
If you love a filling stew but hate the price of a large beef roast, then this slow cooker poor man's stew is perfect! It uses ground beef which makes it much less expensive than its traditional cousin. This is also a great recipe for freezing, and when served alongside a loaf of crusty french bread, it's the perfect easy meal!
Dirt cheap pork sausage dinners:
In this post's healthier counterpart, Fifty Frugal Meal Ideas, I talk about how much of a fan I am of kielbasa! It's such a versatile protein option, adds lots of flavor, and it's inexpensive too!
40. Polish Sausage Sandwich
Everyone loves a good sandwich, and this polish sausage sandwich delivers! The veggies on this dish are covered in a sweet & spicy glaze, which adds a kick to the dish. The best part that this is a sheet pan meal, super easy, and it will all be done and on your plate in 30 minutes!
41. Macaroni & Sausage Bake
Can I just say, "Yes, please!" This baked macaroni & sausage meal idea takes me back to being a little kid. My mom would make this for me when I wasn't a fan of meat, but I loved cheese (of course). So out this would come from the oven, bubbling hot and ready for the dinner table.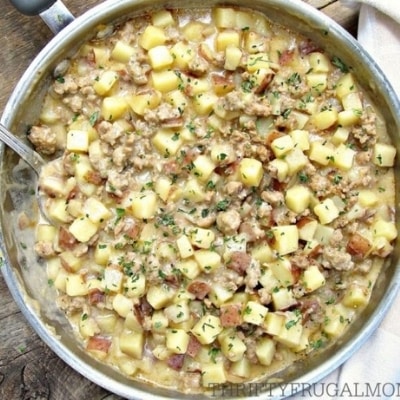 42. Creamy Sausage & Potatoes
This quick, simple sausage & potato dish gets lots of flavor from the sausage and is filling from the potatoes. Serve it alongside a green salad, and you've got dinner done in 30 (with enough for leftovers)!
Cheap fish meals:
Seafood is high in protein and low in calories, making it a nutritional double hitter! Don't forget about the vitamins & minerals and the omega-3 fatty acids! So if you've been wary in the past, there are lots of tasty meal ideas to tempt you!
43. Homemade Fish Sticks
These little crunchy fish stick goodies are the perfect intro to kiddos who may be hesitant, especially when served with tartar sauce! The best part is that they only need four ingredients!
44. Tuna Noodle Casserole
Tuna noodle casserole has been a family favorite for decades! It's easy to make, lots of protein, tasty (it has a crunchy topping!), and it's dirt cheap! No wonder moms everywhere consider it one of their staple dishes.
45. Fish Cakes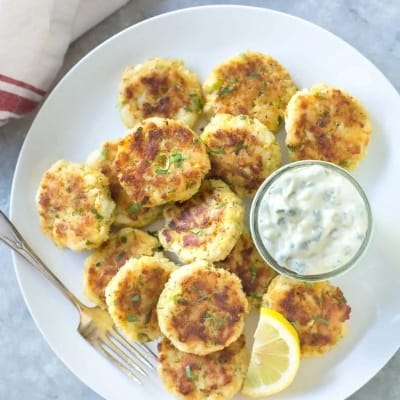 Fish cakes are a crispy, savory treat that is sure to warm you up from the inside! You can use a variety of flaky white fish, so whatever you have on hand is good. Don't worry about sticking to using panko breadcrumbs; any fresh or dried bread crumbs will do! Serve these alongside a crisp green salad, and you'll have a full meal.
Dirt cheap vegetarian dinners:
If you're hesitant to try vegetarian meals, I urge you to give them a chance. They can absolutely be filling enough for a hearty dinner. You just have to include the right foods. Things like quinoa, black beans,
46. Pizza Rolls
This pizza roll is a great recipe to have under your belt as you can create so many variations! Make some simple cheesy rolls for kids, and jazz up yours with mushrooms, green peppers, and olives! This recipe also freezes, making it the perfect item for a last-minute dinner!
47. Broccoli Cheddar Pizza
If you're looking for a more grown-up pizza (that's still a dirt cheap meal), then this broccoli cheddar pizza is for you! A tasty white sauce tops the crunchy crust and then layered with broccoli and cheddar that gets gooey in the oven!
48. Cheesy Spinach Pockets
From the pizza dough recipe above, you could also make these cheesy spinach pockets! They are great for on-the-go lunches or served with some warm soup for a filling dinner!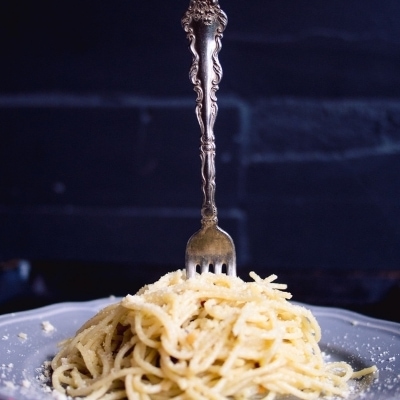 49. Spaghetti Aglio Olio
Don't be fooled by this simple dish; it's surprisingly flavorful! Spaghetti aglio olio is a traditional Italian dish; elegant in its simplicity, perfect for pairing with a green salad at the dinner table or on its own when you're curled up on the couch.
50. Bean & Cheese Enchiladas
When times are really lean, and your freezer is empty, you can still serve a filling meal without meat. These bean & cheese enchiladas are simple to make, and everything comes from the pantry, and in 30 minutes, you'll be feasting!
Cheap side dishes
Some of these meals only give a recipe for the main entree, and I know that may not be enough to satisfy all appetites. Here are some cheap foods to turn into inexpensive side dishes.
Steamed rice: brown rice, white rice, fried rice, etc
Mashed potatoes
Steamed frozen veggies
Pasta noodles with butter & salt
Canned soups – chicken & rice, mushroom soup, tomato soup, minestrone
Roasted veggies – roasted carrots, roasted green beans, roasted sweet potato, etc.
Another great cheap meal option
Don't forget that meal kit boxes are always a great option for busy moms. Dinnerly is one of the cheapest kits on the market, while still being easy, prepared quickly, and tasty! My husband and I get the two-person box, of four meals a week for so much less than a restaurant meal! Check out Dinnerly right here and grab your signup discounts!
Tips to making extremely cheap meals
Be sure that you are ready to save money at the grocery store by following these easy tips…
1. Do some frugal meal planning for the week, as you don't want to have to go back to the store the next day (the more times you shop, the more opportunities to overspend).

2. When you're using cheap main ingredients, you often use spices to make it flavorful. Don't waste money by buying a whole bottle of a spice you'll maybe use once or twice. Go to the bulk department and buy just what you need. Instead of spending $4.99 for a bottle of cinnamon, you can get what you need for $.34.

3. Stock up when the price is good. This only works if you have the freezer space available. But if your store runs a sale on a big roast, buy the whole thing, cut it into meal portion sizes, and freeze what you won't use that week. When you're having a low-income month, you'll be glad that you stocked up when you had the money available! For stable shelf products, store's typically run their sales on items and categories in a 6-week cycle.

4. Don't be afraid to leave out an ingredient or make substitutions! This goes for the supporting components. If you don't have any paprika, go ahead and Google "paprika substitutions" and see what comes up, there may be a great replacement that you already have in your cupboard! Or sometimes, you can leave out ingredients, like parmesan cheese, (just don't leave out the main ingredient)! Many times with veggies, you can easily swap in a carrot for a red pepper with no problems.
Saving money with your receipts
Save money after you do your grocery shopping with easy rebate apps! You can use so many different apps, and depending on how much time you have, you can save a ton!
1. Get cashback from ibotta for buying an item, and earn bonus points to complete missions. For myself, I have earned $290.75 cashback from using the app! I save all my earnings and buy myself a birthday present once a year. Or another smart way to use points is to help offset the cost of a spendy Thanksgiving or holiday dinner. So grab your free $10 with ibotta and start saving on all your grocery shopping!
2. Why not also use Coupons.com to either print manufacturers' coupons or use their digital ones with their app. You also get paid after each time you use a coupon, so the savings are immediate! But, be sure to add the coupons before you check out, as it won't work if you try to use the coupons afterward.
Now that you've saved money buying your ingredients let's get to the fun part, making & eating your delicious dirt cheap meals! Below you'll find 50 extremely affordable meals, find a handful of them, print out the recipes, hit the store, and be ready to save money!
3. Earning points with fetch is super easy, and the great thing is that you earn points on the whole receipt, not just on a few items. I've only been using it a short while, but I've already cashed out my rewards for a Target gift card. There are so many different things you can redeem your points for; enter sweepstakes, restaurant gift cards, entertainment experiences, and you can even donate them to a nonprofit!
Saving time with your cheap easy meals
I have collected a variety of meals, like…
slow cooker meals (crockpot)
instant pot means
sheet pan meals
meals to be frozen and served later
Whenever you can make a double batch of something and freeze it (casseroles are great for this). Because later on, when you're short on time a freezer budget meal will be a lifesaver!
$5 Meal Plan
$5 Meal Plan is a weekly meal plan service that can make your meal planning as simple as possible. For just $5 a month, they'll send you a delicious meal plan where every meal will cost about $2 per person, and in most cases less. They also have options with dietary restrictions, so there is something for everyone! Just click the pic below to check the meal plan options!
Grab some meal planning printables to help you
I'm a huge fan of printables to help keep me organized! I created one specifically for meal planning! This packet has…
weekly menu planner
food inventory tracker (so you never lose steaks under the frozen spinach again!)
family favorite meals list (that are easy go to's when short on time & energy)
grocery shopping list, broken up by department (no circling back to aisle 7 five different times!)
At the end of the day
Feeding your family shouldn't cause you to panic; you can make these dirt cheap meals and feel good about putting cheap food on the table without breaking the bank! Besides, some of the best memories are made around the dinner table, and you wouldn't want to miss them because you were worried about the cost of it all.
So next time you hear, "Mom, what's for dinner?" You can breathe easy, knowing it will be a snap with one of these super cheap meals!
Articles related to making dirt cheap meals:
What's your family's go-to dirt cheap meal? Let me know so I can make it for my family!