10 Easy Bullet Journal Expense Trackers to Help You Slash Your Spending
If you're looking to spend less, these 10 bullet journal expense trackers can make it a lot easier for you!
Author: Kari Lorz – Certified Financial Education Instructor
Keeping track of your spending can be challenging. That's why I'm excited to share with you a way that helps you be more organized with tracking your spending, and it's actually fun!
It probably won't come as any surprise, but it's one of my new favorite things. It's bullet journaling! And using a bullet journal expense tracker could be the key to you cutting back on your spending.
I want to show you how easy it is to set up your own bullet journal spending tracker and give you ideas on how you can customize it to make it your own and actually help your finances.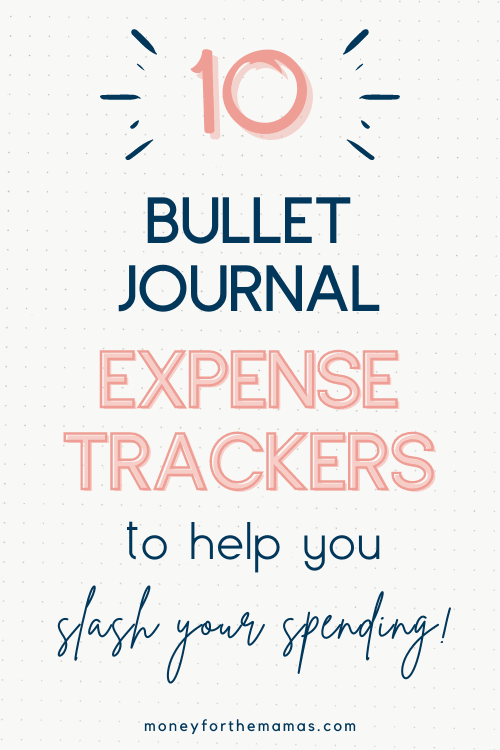 This post may contain affiliate links. If you make a purchase, I may make a commission at no cost to you. Please read my full disclosure for more info
10 fun & easy bullet journal expense tracker layouts
1. Mindful spending tracker
I love the concept of this spending tracker, as it makes you focus on the purchase and if you truly need it or just want it. This is perfect for those who want to be more mindful of their spending. I know the "before you spend" writing is small, so I'll type out the questions you should ask yourself…
Do you really need it? If not, then why do you want it?
Will you be using it for a long time, or is it seasonal?
How will you benefit from this purchase? Will anyone else benefit?
Is there anything you already have that's similar?
Do you have space to keep it? Where?
2. Minimalist expense log
Sometimes less is more, and this minimalist bullet journal expense tracker proves that beauty can be simple! I love the clean layout, with only a few select embellishments!
3. Deep dive into your big spending categories
Here's a great example of someone that's separated out their expenses and highlighted a category where they need to manage it on a higher level. For this BuJo pro, it's her food & grocery spending that she wants to get nitty-gritty with.
4. Category tracker by week
Here's a great additional page to a simple log. This is where you add up your spending categories each week and log them. Again, when you zoom out on your finances, it gives you an excellent opportunity to spot trends and areas of improvement.
5. Bullet journal bill tracker
If you're someone who struggles to pay their bills on time (or maybe even forget to pay them), then this bujo layout is for you! You list all your credit cards and loans, and then each month, you write down how much you paid and the date you paid it. You'll soon be paying on time every single month!
6. Bujo spending tracker for the frequent shopper
This is a great expense tracker layout option if you have a lot of expenses. Some expense logs have only a handful of lines, and that really won't work. Here are four main categories (you can choose any) and each time you log you separate them out accordingly.
It's great for visual people too as if you glance at your shopping category and you have 36 lines filled in, you know you need to cool it.
7. The money spread for the overachiever
Wow! At first glance, this bujo finance spread seems a bit confusing. BUT, when you scroll through the pages, the creator breaks down each section (be sure to read her description too about each section.
Hey, did you see that she has a Money Date section!?! How awesome! Getting on the same page as your partner is one of the most important things you can do for your relationship!
8. Month by month expense & bill tracker
This is a great layout format if you want to track your spending and your bills month by month. This makes it easy to see if you're on an upward spending trend that you need to reign in.
9. Bullet journal bill tracker for the visual person
I love how this BuJo pro laid out their utilities! It gives a great birds-eye view of things, and you could use this layout for every category if you wanted!
10. Visual spending log by category
Here's a slightly different twist on our #9. It's a visual graph of three spending categories per page, just turned on the side so you can measure it by each day of the month. How cool! So if you are someone that likes to show progress each and every day, then this finance layout is for you!
How to get started with a bullet journal spending tracker
People usually start with an expense tracker in one of two ways:
Track past month's spending – this is great if you need to make a spending habit change ASAP! You would go through your past month's credit card bill, debit card transactions, PayPal or Venmo transactions, and any cash withdrawal. You would separate each transaction into different spending categories.

For example, groceries, gas, insurance, utilities, etc. Then you would match up the totals against what percent those were compared to your income to see if you're "overspending."

There are some generally accepted percent amounts, so be sure to check our budget guru, Dave Ramsey's budget percentages to see how you compare. Once you've identified where you were overspending, you could make a plan on how to adjust future spending.


Track this month's spending – This is for those of you who want to be more mindful of your spending going forward. You may not currently want to make a change, but you're just curious as to where your money is going. A word of caution – to get a true picture of your spending habits, don't adjust your habits, just go on as normal and learn as you go.
Once you have your plan, you can decide what you specifically want to track. There are lots of bullet journal tracker ideas to help you get more specific with your monthly expenses and your discretionary spending.
Monthly bills tracker
Subscription tracker
Debt tracker- (hint – use the debt snowball method for better results!)
Utilities tracker
Overall spending log (everything all rolled together into one bullet journal layout.
Don't forget to track which bills are on autopay and when, or if you need to manually pay them!
Another financial bullet journal idea is to also set up a savings tracker, so you can see that your spending is going down AND that your saving is going up! Savings trackers are fun because you can use all sorts of cute designs to color in, like a savings jar, or a palm tree for a tropical vacation savings goal.
Basically, any image that you can color in can make a great idea for a savings tracker.
You can also use a habit tracker to help lower your spending. For example, let's say you wanted to spend money at Starbucks, so you could make a monthly habit tracker, where the goal is to make your own coffee.
Then you can see which days you saved that $5.37 (or however much your beverage is), and then transfer that total amount saved right into your savings account!
Or you can use that money to put some muscle behind your big financial goal, such as having a full emergency fund.
Other habit tracker ideas that can save you money…
Make your own coffee
Make your own lunch and bring it to work
Take the bus or carpool instead of driving
Going to the library instead of buying a digital copy from Amazon
Using a mood tracker – are you an emotional shopper?
Staying off IG for the day – danger zone: those influencers have cute stuff you want to buy!
Benefits of using a bullet journal expense tracker
1. Using a bullet journal spending tracker is fun
Yup, I mean, who doesn't like to color? And when something is fun, you are more likely to keep doing it. Just think about it, how many times have you quit going to the gym, dieting, flossing? Pretty often, I bet, and you quit because it's not fun. The same thing could be said for using a digital planner or even a budget planner, it's not as much fun as a cute bullet journal spread!
2 . It helps make your spending more "real" to you
Yes, you can easily use a budgeting app to track your spending, and it may do it automatically; how easy! But I guarantee you it won't make as much of an impact on you as when you write it down!
According to PsychologyToday…
Four Ways Handwritten Notes on Paper Top Digital Note-Taking
Jotting things down on paper is faster than on devices
Handwritten notes tend to be more accurate and have personalized flairs.
Handwriting in a notebook triggers more robust brain activity.
Writing by hand is associated with stronger neural encoding and memory retrieval.
I want to draw your focus to #3 & #4. This means that when you write things down (like your spending), you ingrain it on a deeper level in your brain. It's not that you need to remember that you spent $5.68 at Starbucks. It's that you know you spent something, which makes you more likely to spend less later on in the day (hopefully). And any nudges to save, no matter how small, all add up to big savings!
3 . It helps you spend less
This ties in with the point above, but you know that when you have to write down a transaction, and you think it's a frivolous purchase, you will be less likely to go through with it, as you don't want to have to write that down! Sure, you're playing on stubbornness and feelings of guilt here, but in this instance, I'm okay with that.
Besides, when you spend less, that means you can move towards your big financial goals! While using an expense tracker, you can also use a BuJo Savings tracker spread, and use a BuJo for your full monthly budget too!
What gets measured gets managed.

Peter Drucker
How to be successful with a bullet journal money tracker
We're going to go the most important thing you need to do when using a BuJo money tracker. It's so simple it's ridiculous, but it's the number one reason people stop using them.
They forgot to log what they bought. That's it. Isn't that crazy? Of course, it's normal to forget something, but they let that little roadblock completely derail them.
So you need to come up with a system for how you will keep track of all the little purchases (especially if you pay for things with cash). So either religiously keep all your receipts and log them at the end of the day, or you can make a note on your phone of how much you spent and for what. Whatever works best for you is fine, just so long as you log your spending every 2-3 days.
Yes, you want to log it that often, because if you wait a week to log your spending, then you may have already gone so far over your monthly budget, there's no room for you to get back on track. You need time to course correct.
What bullet journal supplies do I need?
You don't actually need a lot of items, but some things do make it more fun, creative, and beautiful. So you absolutely need…
That's it!
Once you are using your bullet journal and you like it then it might be time to invest in some supplies…
Planner stickers
Washi tape
Nice colored pens
Stencils
At the end of the day
Using a bullet journal expense tracker can be a great addition to your personal finance toolbox! It's fun, easy, and has a low entry cost, and when you're logging your spending, that's a huge bonus!
You may need to try a few different finance layouts before finding one that's the right fit. Or you can use a couple of them! There are no rules to bullet journalling; it is whatever works best for you!
Articles related to starting your own bullet journal expense tracker: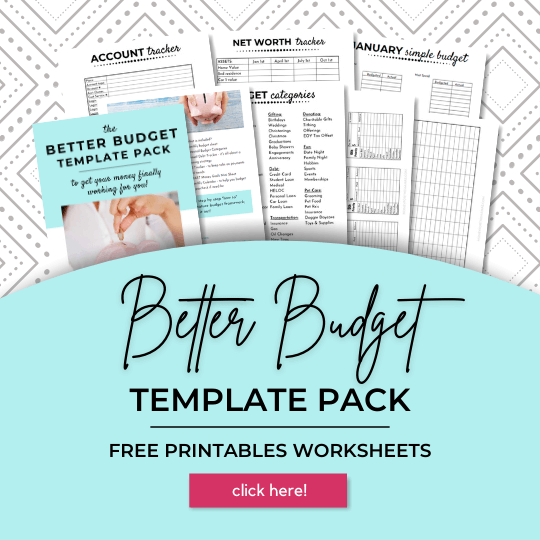 Are you going to add an expense tracker to your BuJo?