75 Easy & Legit Free Money Hacks to Earn Money Right Now
If you want to earn some extra cash this year we've got 75+ free money hacks to help you stuff your wallet
There are tons of ways to earn free money online in 2022. Yet, it can be overwhelming, which money hack is the best? And you don't want to get scammed; so how do you know which is a legit real money hack? Don't worry, we're going through 50 easy ways to get free money right now.
This post may contain affiliate links. If you make a purchase, I may make a commission at no cost to you. Please read my full disclosure for more info
Look for the ✅ to see our picks for the best programs, apps, and sites to save money and earn you some free PayPal money!
What is a free money hack?
A free money hack is a method or technique to get extra cash with no outlay of money. And there are tons of them out there! But, not all hacks work for everyone and you may have to try a few before you find the best one for you. So don't give up if the first one doesn't work right away.
We'll give you lots of options here, so grab a notepad and write down and rank the tips based on what interests you the most and what fits into your lifestyle. Start with your top ten, and then add in as needed from there.
We'll group each app/program into how you mainly earn money, but some of them overlap, where you can earn money multiple ways. We'll only list them once by their main category.
Make money reading emails
Inbox Dollars – is a free money hack that can earn you some extra cash each week if you are able and willing to read emails, take surveys, shop online (which we will explain how to do below), use coupons, sell your items on eBay.
When you want to shop, you start by visiting the Inbox Dollars website, where you can search for your desired product. You'll then be given a list of approved retailers, and if you purchase from one of them through the InboxDollars portal, you'll earn cashback.
The best part is, is that with Inbox Dollars, they pay straight into your PayPal account – everyone loves free PayPal money! Grab your free $5 sign-up bonus right here.
Mypoints – is another site that will pay you to read emails. They pay you in points that you can redeem for cash or prizes. They have a point system, so if you read their emails and click on the links within, it will count as extra points. The more pages you explore during your time there (after signing up), the faster they add up, which means faster earning of free money. You can get a $10 Amazon card when you sign up right here.
Get paid to have an app on your phone
Neilsen Computer and Mobile Panel – This one is not a money hack, but we're going to put it here because most people are unaware that they can get paid for using mobile apps. This app will pay you when you install and use the Nielsen Computer Mobile App on your smartphone. It's completely free to join, and you just let it run. That's it, free money for doing nothing!
MobileXpression – Another mobile app that will pay you to download it and forget about it. The company is doing market research on consumer behavior, so it's runs in the background looking at what you look at and how long you spend on the pages. After just one week of using your phone (just as you normally would), you'll get a $5 Amazon giftcard and keep on earing!
Make easy money taking an online survey or sharing your opinion
Survey Junkie – is one of the most popular free money hacks out there. They pay you in cash or prizes for your opinions! The surveys are easy to do, and each offers a different reward, so it's best to keep an eye on this site every once in a while because they have new ones added all the time.
✅ Swag Bucks – is a free money hack that can earn you gift cards for doing the things you normally do online. They have thousands of ways to get points (called SB), which are redeemable for Amazon or PayPal Cash, and as with other sites – your account is easily updated on how many more points/credits you need before getting another gift card. Sign up now and get $5 free bonus!
Reward Survey – is a survey site that will pay you in points, which you can redeem for cash or prizes. This one has many different surveys to choose from, and they're all pretty short – so it's perfect if you don't have a lot of time on your hands but want to make some extra money.
Opinion Outpost – is one of the most popular survey sites because they payout quickly and in cash! You can redeem your points for Paypal Cash or Amazon Gift Cards, which is a pretty great deal.
FeaturePoints – is another GTP (get paid to) site, where you can earn money by taking surveys, download and test apps & games, and earn cashback when you shop online. They also offer fun scratch-offs where you can win 50,000 points instantly! On this platform 600 points = $1.
Don't forget that when you refer friends (and they sign up with your link) you earn 50% of the points that they earn! Don't worry, it doesn't come out of their wallet, FaeturePoints covers this payout from their side.
Opinion Inn – is similar to Opinion Outpost in that you earn points for surveys, and you can redeem for prizes or PayPal credit.
Dscout – is a site that pays you to answer questions, take pictures, record yourself talking about products or shopping experiences. You may even be chosen for a one-on-one interview. Believe it or not, my husband was really successful at getting selected for interviews. He made over $600 and even got a free set of AirPods to review (when they did a product redesign and needed user feedback).
Branded Surveys – is a survey site that will pay you for your opinions on various topics. They have a wide variety of surveys to choose from, and they're all pretty short – so it's perfect if you don't have a lot of time on your hands but want to make some extra money. You can redeem for lots of giftcard options including Amazon, Apple, and PayPal.
Shoppers Voice – You can earn money in many ways with Shoppers Voice; you share your thoughts, answer surveys, test products, and get rewarded with free samples and coupons for your favorite brands.
ZapSurveys – is a survey site that will pay you for your opinions on a variety of different topics. This is a very easy platform, but it doesn't pay as well as some of the other apps.
QuickThoughts – is a mobile app that pays you to take surveys on the go! This one is perfect if you're always out and about and have some free time. Some surveys pay up to $3, and activities can pay up to $5.
Ysense – With Ysense, you can earn money by answering surveys, performing tasks (watching videos, testing new services, signing up for websites, etc.). You can cash out for gift cards from your favorite stores like Target, Amazon, and Starbucks.
Kashkick – I love it when apps pay directly to PayPal! You find a mission (answering surveys, watching videos, other small tasks), and you get paid! You can redeem your money when it hits 410, which is one of the lowest payout thresholds around!
Earn money when you use a cashback app
✅ Rakuten – is one of the most popular sites for earning cash back on your purchases. They have a wide variety of retailers to choose from and often offer double or even triple cashback deals! It's an easy way to make some extra money just by doing something you're already doing. Grab your free $30 Welcome Bonus when you use this link!
TopCashBack – is another site where you can earn cash back on your purchases. Every time you click through and purchase something from one of the 4,000 major retailers featured on TopCashback, the retailer pays them a commission for referring you to the product, and TopCash Backpasses 100% of this commission back to you; as 'cashback.'
Dosh – Dosh is a free cash back app that rewards you for shopping, dining out, and booking hotels. Some retailers offer upwards of 10% to 15% cash back. But you'll also see some retailers offering as low as 1.5% cashback. You will need to link your credit or debit card to earn automatic rewards.
Drop – Drop members earn points from shopping through the app and can instantly redeem rewards for popular brands. Members can also link their debit or credit card to earn points from select brands, eliminating the need to scan receipts or sign up for additional loyalty programs.
Tada – is similar to other sites, but you can earn money shopping in stores (by taking a picture of your receipt), answering short surveys, and shopping online with an extension. You can also earn money by referring others to the site. They have a nice variety of stores that offer cash back, including Amazon, Best Buy, Costco, and Walmart.
BeFrugal – is a site that offers cash back on online purchases, dining out, and local deals. They also have an app that you can use to earn free gift cards by taking surveys or watching videos, answering polls, playing games, etc.
ReceiptHog – is another cash back app that allows you to upload receipts and earn points based on how much money you spend per month. Points can then be redeemed for cash via PayPal or gift cards from Amazon, Target, Walmart, etc.
✅ Fetch – Fetch Reward awards you with points for shopping and submitting your receipts with the app. Use your points to redeem gift cards from a wide variety of your favorite retailers and restaurants! I use Fetch, and it's super easy and only takes a few seconds to upload your receipt.
P&G Everday – I didn't realize this program existed until recently; it allows you to earn money when you buy their products. I received an email from them advertising they were offering $15 rebate on some of my recent purchases (Aveeno and Herbal Essences). So if you use their products (there are a ton of them), then this could be one of your most profitable money hacks! Oh, they also offer printable coupons for their products. So you can save money at the register and earn money back with a mail-in rebate!
ShopSavvy – ShopSavvy is an app that you can use while you're out in stores. You scan the barcode of an item you want, and it tells you where you can get it for the best price. If the store you're at does price matching, you can use it right then to get the best deal at the register.
Amazon Shopper Panel – this is an app (iOS / Android), you'll need to submit at least 10 receipts for purchases you've made within the past 30 days. In return, Amazon credits your account with $10 each month.
They say it's by invitation only, but I've seen people get in just by going to the site and applying. Also, they limit signups somehow, either by location, demographic, etc. So you may be accepted immediately or you may be put on a waiting list.
Coinout – this is an app that you can use to get cash back on your purchases. They partner with a variety of retailers, and as long as you have the receipt, you can scan it and earn money. You can also link your credit or debit card to automatically earn rewards without having to submit receipts. You get extra points for linking your email, Walmart, Amazon, or Instacart account.
Bing Rewards – this is a program offered for Microsoft users. You can earn rewards for searching the web, taking quizzes, and more. You redeem your rewards for gift cards (Amazon, Starbucks, Target, etc.), Xbox Live memberships, and other prizes. You can even donate your rewards to local causes.
Shopkick – this is another app that you can use to earn rewards ("kicks") when you walk into stores, scan barcodes of products, or make purchases (in-store or online). You can redeem your points for gift cards from Amazon, Target, Starbucks, and PayPal!
ReceiptPal – Here's another receipt snap program. You can also connect your email & Amazon account and earn points too! By submitting receipts you'll also be entered into sweepstakes for cash prizes! You can redeem for Amazon and other retailer gift cards.
Save money when you shop
This is similar to the above category, but you're saving money upfront, not getting it sent back to you after the purchase.
Honey is a browser extension that automatically finds and applies the best coupons to your online shopping cart. It's free money, and all you have to do is install the extension!
Capital One Shopping – This is a free shopping browser extension that finds the best coupon code for you to use and automatically applies it. It even tells you when you're shopping on Amazon if there's a better deal somewhere else. (I know we all like to think the best prices are on Amazon, but that's not true).
MaxRewards – This is an app that acts as a digital advisor. It keeps track of your cards, activates bonus categories for those cards, and maximizes your credit card benefits with personalized advice.
Don't worry about security, they use bank-level encryption and you don't need to input your credit card number, just what kind of card it is. They know what benefits each card has.
Target Circle – this is an app that you can use to save money on items while shopping inside your favorite Target store (digital coupons). They also offer special "circle offers", which are special offers (usually category based i.e. – "25% off toys") personalized to you. I've saved $569.19 over the past couple of years!
Earn cash playing games
This one is for all you gamers out there! You don't need to feel that you're wasting time zoning out gaming. You can now make money and have fun gaming at the same time! You're not going to get rich doing this, but you can earn a few dollars while having fun.
✅ Mistplay– This is another site that allows you to play games and earn money. You can also earn money by referring friends, completing offers, and watching videos. They have a variety of games available, so something for everyone. (This is only on Google Play).
✅ Blackout Bingo – This is the newest site I've found that pays you to play games. They have a variety of bingo and slots games available, including Blackjack. To earn money playing here, you need to complete offers first. Payment options include PayPal and gift cards from Amazon, Target, etc.
Solitaire Club – This site pays you to play Solitaire. You can also earn money by referring your friends and completing offers. They have a variety of games available to choose from, and payment options include PayPal and gift cards.
Boodle – Boodle is a site that pays you to play games, enter offers, answer questions, and engage with brands. You earn coins to redeem for gift cards like Amazon, Visa, and Nike.
Gamehag – Gamehag is another site that allows you to play fun games and earn money. They mainly have MMO games, where a massive amount of players can play together in the virtual world. And RPGs, which are Role-Playing Games, as well as puzzle and strategy games. You can also earn by completing quests and interacting with the community.
Jackpocket – Now this is a lottery ticket buying app. Don't worry, it's 100% legitimate, but since they always say "should be used for entertainment purposes only," I've put it here in the gaming section. You can buy lottery tickets for Mega Millions, Powerball, and state-specific lotteries. You can auto-pick numbers, pick your own, or join a pool for better odds. Use the link and free $2 to play any game.
CAUTION: Gambling is addictive; please play responsibly. You can set user monetary limits or self-exclusion controls for any game.
Twitch – is a worldwide live streaming platform where people may view and broadcast digital video events. It began as a mostly video game-centered site, but it has evolved to include streams dedicated to art creation, music, talk shows, hobbies, and even TV series in recent years.
Business of Apps reports, "On average, expert streamers can make between $3,000 to $5,000 each month playing around 40 hours a week."
It's free to stream on Twitch, but prominent broadcasters end up investing in high-end technology and software to assist them in what they do.
Earn money while you drive
If you spend a lot of time driving, and you're not too concerned about looking cool, you can earn money by advertising on your car.
Wrapify – This site allows you to wrap your car in advertisements. Their website lists available cities and states, including New York City. Payment is based on the number of ads displayed on your vehicle. Average earnings for a full wrap is $196-$280 per month.
Stickr – Stickr allows you to wrap your car in advertisements, similar to Wrapify. Yet, some decal campaigns have fees to participate in. I'd be cautious with this one, so be sure you research it thoroughly.
Save money on your monthly bills
Earning money can add to your bottom line, but some of the best free money hacks are when you save money; especially when you save month after money. Some of the best apps help you lower your monthly bills. So essentially reverse compound interest here (sort of).
BillShark – BillShark is an app that helps you negotiate lower bills for your cell phone, cable, and such. The average savings are $125/month! They charge a one-time fee of 40% of the savings they negotiate. But if they can't lower your bill, you don't pay anything.
Trim – This one is for the finances out there. Trim negotiates lower bills and helps you find ways to save money on everyday expenses. They act as a middleman and negotiate your monthly bills, reverse fees, and even get subscription monitoring. They have a free version and a premium version, where they can perform more negotiations for you – think medical debt. Premium also offers financial coaching!
Tally – Tally is a money management app that helps you save money on your credit card bills by using debt consolidation. So you pay one bill, with a lower interest rate, than multiple bills with varying rates.
It's important to know that they will run a credit check on you (rumored to be a soft check). I'm not a personal fan of debt consolidation, as you can do this all yourself for free, and you should learn how the system works as once you understand the costs, fees, and long-term impact, you will avoid debt like the plague. Yet, I know that some people need help right this second, so Tally can be a good option.
✅ Truebill – Truebill is another app that helps you lower your monthly bills. Truebill instantly finds and tracks your subscriptions. Your concierge is there when you need them to cancel services, so you don't have to. They also track your spending a notify you of where you can cut down to save even more.
Earn money by getting refunds
With all the shopping free money hacks mentioned above, you should never pay more for something than you need to. Yet, there are times when a better deals pop up right at the time you bought, or even after the purchase. The following apps will help you get some of that money back.
Paribus – (This is now part of Capital One Shopping) This is a refund app that scans your email for receipts and compares them to items you've bought. If there is a price discrepancy, Paribus will work to get you a refund on the difference.
Earny – This is another app that helps you get money back on your purchases. Earny constantly monitors when there's a price discrepancy with the item(s) you've purchased and will work to get a refund from the retailer. It is $19.99 a year, but they say the average shopper gets back $60 a year just from Amazon reimbursements.
Sift Wallet – This is a similar app for getting money back on items you may have overpaid. Yet they also monitor your subscriptions and monthly bills. While also (this is the big one), they monitor your credit card bonuses and benefits. For example, one of my credit cards gets you free entry into local museums and big botanical gardens. Another one gets you discounts on gas. So Sift Wallets collects all that info into one place so you can start using all those hidden benefits.
Harvest – Acorns' Harvest automatically negotiates bank and credit card fees on your behalf. Its mission is to look after "Financial Progress for the 99%." In 2020 alone, Harvest has helped earn back more than $4M in bank fees and interest refunds for thousands of customers, averaging more than $200 refunded per successful negotiation.
Money hack for discounted gift cards
Gift cards have long been a great "gift item" for holidays and birthdays, even for returns. Yet sometimes you don't anything from that particular store. So gift cards can be a waste of cash. Here's how you turn that into free money by trading in your gift cards.
Raise – This is the same concept, only it acts more like a marketplace. This means you can buy and sell on their site directly, they say it's around 30% off on average. Most of the gift cards are digital so you get them instantly. They also offer coupons and daily offers.
GiftDeals – This is a website that aggregates all the deals on gift cards. So you can get discounted gift cards for almost any store imaginable. They even try and price match competitor sites' gift card prices!
ClipKard – is a gift card buying and selling platform, but you sell them directly to the company, not to other people. Plus, ClipKard also has a rewards program, so the more you buy and sell then, the more points you earn, which you can redeem for more gift cards.
✅ CardCash – offers discounted gift cards from over 1,300 brands. People sell their unwanted gift cards to them (get paid by PayPal, ACH, or check). And then people buy them at a discounted price. Sometimes they even offer site-wide discounts on cards. I.e., 20% off specific categories.
You can also sell your unwanted gift cards and trade them in for something you'll actually use. It took me literally 2 minutes to turn an Urban Outfitters gift card (that I've had in a drawer for years) into a Target gift card!
Gift Card Granny – This website is the gift card exchange. They sell and trade all kinds of discounted gift cards from online retailers to restaurants (almost all national chains). So you can get cash for your unwanted/surplus gift cards.
Most of these sites offer gift cards to other retailers. Yet, you can score free Visa gift cards which can be used almost everywhere.
Earn free money by investing
So I know for this group you have to outlay some money in the beginning, but it's still yours. It's just set aside in a separate bucket. I know many can be intimidated with investing, but today's technology and ease of use with apps make it accessible for so many more people than before.
If you've never considered investing, then you need to give it try. Remember it's one of the main ways that people grow their money and get rich. I've had several investments myself, and it's been one of the best money hacks that has helped me grow my portfolio.
However, it's important to know that investing does have risks. So please do your due diligence on which company you choose to invest with, and always consult a financial advisor before making any moves.
The following apps are a few ways to give investing a try:
Robinhood – is an app well known to many. What sets them apart is that they allow you/investors to buy fractional shares in stocks, EFT's, options, gold, and crypto. This is what makes it an excellent option for beginners; you don't need a lot to get started.
Stash – this is a similar app to the two above, but they also offer banking, among other features. They have three tiers, all reasonably priced for what you get. If you like bells & whistles, then try Stash.
✅ Personal Capital – Personal Capital is an online dashboard where you can view all your financial info on one screen. It's so helpful to see the whole picture, all at once in real-time. They are offering you a free $20 Amazon gift card when you sign up today and link your accounts within 30 days (don't worry, their security is one of the best in the business).
M1 Finance – they're an investment platform where you can invest, spend and borrow all in one place. They offer cashback checking accounts and a rewards credit card, where if you invest in a particular company, say, Nike, for example, and when you shop at Nike, you can get up to 10% off your purchase. They offer robo-advising and self-directed options.
Acorns – is another excellent option for beginners as it invests your spare change. All you have to do is set it up once and forget about it. It rounds up your transactions to the next dollar and invests the rest.
Get paid to workout
They are lots of good reasons for you to take better care of your health and work out, lose weight, and eat better.
The first place to look is your workplace, sometimes they provide free gym memberships as part of their benefits package. Or maybe they provide discounts on home programs. If they don't, then there are some other good options, lets go over a few of the best options…
StepBet – this is similar to the app above, as you win on achieving your step goal, not on the amount of weight lost. (From a goals standpoint, this is huge! You cannot actually control if your body loses weight, but you can control how many steps you take.)
Sweat Coin – this is the app that pays you to walk. It rewards users' physical activity with sweat coins, which you can use to buy goods and rewards.
Healthywage – is a health and wellness company that provides weight loss and fitness challenges with cash prizes. You are competing against yourself, where you pick your goal weight time length, and then you bet money on you succeeding. So if you choose to lose 30 pounds at the end of 5 months, with a $50 monthly bet, and you do it, you get back your monthly investment plus the prize amount.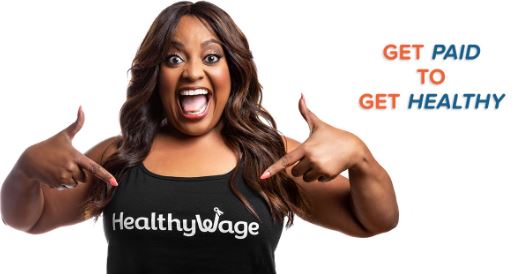 Get free money at work
One of the best places to look for free money is your workplace's HR department. Many companies have lots of unused benefits, things that people just forget about. Think gym membership reimbursement, internet discounts, streaming services etc. But one of the best free money hacks is with your workplace retirement account.
Retirement accounts –
When you contribute to your workplace retirement account, your assets are invested and grow (they earn interest, on average 7% over time). Yet, you also usually get a company match, almost all workplaces do this as part of their benefits package.
For example. If you contribute 5%, then your workplace contributes the same amount (usually up to a max percentage, 5% is considered normal). This is a huge free money hack, the most profitable by far. Yet, a lot of people don't use it. They feel retirement is so far away, they'll have plenty of time to save later when they're older. This is a huge mistake, as the key to saving money with investments is that they need to sit, for a long time, and just grow. It's called compound interest and it's your new BFF.
Health Savings Accounts –
Another thing to check with HR about is if they offer an HSA. Using a health savings account is a great money saving hack, as it can double as another tax-advantaged savings vehicle, that only a few use to their full potential.
With an HSA, you set aside pre-tax money for health-related expenditure later on. But this money rolls over year to year and grows. So when you have a medical expense you pay for it and get reimbursed from your HSA with the pre-tax money. So about a 30% savings.
Other free money hacks
Use a high yield savings account –
If you're a little wary of investing, then you should at least consider using high yield savings account for your money. These are regular bank accounts (savings accounts) usually from online banks where they pay a much higher interest rate than regular brick & mortar banks.
For example, a popular nationwide bank offers .08% APY, while a popular online bank currently offers .5% APY.
For example, if you had a $30,000 emergency fund. In one year at a regular bank with a savings account of .08% APY, you'd earn $24. While at Ally, with .50% you'd earn $150. Now I know that doesn't sound like much of a difference, but when you compound it year after year, that's when the free money hack works its magic.
Marcus
Discover Bank
American Express National Bank
Alliant Credit Union
Lending Club
Ally
Citi accelerated Savings
Use CashApp to earn quick money –
If you haven't heard of Cash App, it's a mobile app that allows for person-to-person payments. To transfer money, you'll need to have a bank account connected to your Cash App account. You can also invest in equities and BitCoin; there are times when there's a Bitcoin bonus offer available too.
There are some legitimate ways to get free money with Cash App. You can get an instant cash bonus when you sign up and send $5 to someone. You can also earn money by doing a direct deposit $150 bonus, refer friends and get $5 – $15 when they join, and get up to 15% back when you use their Cash Card!
Sign up with CashApp, click here or use code NRTZMHV to get your free sign-up bonus when you send someone $5. Hint – they can send it right back to you so you're not out the $5
Bank account farming –
I am a big fan of this, as I've done this myself a few times, and thought it easy. Bank account farming or churning as it's sometimes called is when you open savings or checking account to earn the sign-up bonuses, and then you close them and move on to the next account. You do have to fulfill some minimum requirements (i.e. length of account, maybe a direct deposit, etc) but it's very easy.
Credit card churning –
This is comparable to bank account farming, (and I've done this as well) but it's with credit cards. To be accepted for these cards, you must have a great credit score, so double-check that before applying for anything. You find cards that have great signup bonuses, you fulfill the requirements (usually a minimum spend threshold to meet within a few months), and then you move on to the next card.
Get a piece of a class-action lawsuit –
The Street Directory reports, "Recent class action settlements have exceeded $11 billion, yet more than half of those entitled to payment fail to file a claim." I hope it's not you!
There are lots of active class action lawsuits, maybe you bought something a while back that is now part of a lawsuit. If so then you could be owed some money.
I recently was paid out $27 for the recent class-action lawsuit from dairy producers. If you lived in a certain state and bought milk, then you were owed money. Now let me tell you, I love milk, I buy a lot of it, so legally I was owed money. BUT, its important to note that it could take years for you to get the money, and depending on how big the lawsuit was and how many people were involved it could be quite a lot, or a measly $27.
Go to Classaction.org and see if you bought any goods or services where you may be due some reparations.
Search for unclaimed property –
You can go to a site like unclaimed.org and see if you have any money sitting in an account at the state level. You see, when a company owes you money, they try and find you to give it to you. But if they can't find you, they hold onto it for a bit, and then after a set time, they turn it over to the state.
For example, if you sent a form in for a rebate for something you bought, an old insurance policy, a tax refund, an overpayment that you made, etc.
Now, sometimes you'll have to go through a process to verify that you are you, and indeed owed money. I found some money of my husband's (a rebate from Best Buy) and he had to go to a bank to get a letter and form notarized. But sure enough, he got his rebate in the mail.
Get on Patreon –
If you are an online influencer or happen to be really good at your hobby you can get paid to do what you love on Patreon.
What is Patreon? It's a platform where people can support their favorite content creators by pledging money per creation or monthly. So, if you pledge $X per month, then the creator will get that money every time they release something new (a blog post, video, podcast episode, etc.).Patreon is free to use, but they take a portion of your earnings (all depending on the plan you sign up for).
This is a great program to be a part of alongside Twitch, which is mentioned above in the gaming section.
At the end of the day
There are many different ways to get free money if you know where to look. By following the tips in this article, you can start earning more money without putting in much extra effort. There are plenty of opportunities for anyone looking to make a little extra cash. So what are you waiting for? Start exploring these options and see how much money you can bring in!
Articles related to legit free money hacks to earn cash:
Which are the top 3 money hacks that you'll try first?