10 Free Vacation Budget Templates to Plan Your Perfect Trip
One of these travel budget worksheets could help you plan your dream vacation (and stay under budget!)
Vacationing can be incredibly exciting, but managing travel costs can quickly become stressful and overwhelming.
With the cost of airline tickets, hotels, and activities all adding up, it's easy to overspend while on vacation. You don't want your next trip to strain your finances or put you in debt.
To help you stay within your budget and have the best possible experience while traveling, we have a solution for you – free vacation budget templates!
We found ten great free vacation travel budget templates you can download and print. Easy Peasy! You can easily see where your money is going and make sure you are sticking to your budget without sacrificing fun. So relax; let us take care of the finances for you so you can spend your time daydreaming about your upcoming trip!


This post may contain affiliate links. If you make a purchase, I may make a commission at no cost to you. Please read my full disclosure for more info
Why you need a vacation budget template
Planning a vacation can be a fun and exciting experience, but it can also be a stressful one, especially when it comes to not blowing your whole bank account on it. Without a clear plan, it can be easy to overspend and end up with unexpected bills when you return home. This is where a vacation travel budget template comes in handy.
A vacation budget template is a tool that helps you keep track of your expenses and stay within your budget. It allows you to plan and allocate your funds for different aspects of your trip, such as transportation (i.e., flight, Uber, train rides, etc.), hotel, food, and fun activities.
By using a vacation budget template, you can avoid overspending and make sure that you have enough extra money to enjoy your vacation without worrying about overdoing it (or being a Scrooge).
One of the biggest advantages of using an already-made travel budget template is that the creators have done the best job possible in remembering everything that has a cost associated with it. You don't want to portion out all of your vacation savings and then remember later on that you forgot to plan for travel insurance costs, which would throw you over your total budget.
We've found some great trip budget templates online, so you can pick one that closely matches your specific trip.


10 Free vacation budget templates
1. Travel budget worksheet from Whisky + Sunshine
This free travel budget worksheet from Whiskey & Sunshine is helpful for planning big trip expenses. However, the free printable is kind of hidden as the link color is the same as the text color. Simply "Ctrl+F" and type "travel budget vacation worksheet," then click on that phrase, and it should pop up in a new tab.

2. Free Printable Travel Budget Worksheet from The Talking Suitcase
This free travel budget worksheet from The Talking Suitcase is nice as you can fill in your own categories, so it's entirely custom to your trip. However, this is a full-color printout, so be sure to check black & white on the print option to save on ink.

3. Free Cruise Budgeting Worksheet from Money Manifesto
If you're going on a cruise, then be sure to grab this free cruise budget worksheet from The Money Manifesto, as it has all the possible spending categories that you'd need on your upcoming cruise.

4. Disney Vacation Budget Worksheet from Mom Rewritten
I am a huge Disney theme park fan, so I was excited to come across this free Disney Park budget planning worksheet from Mom Rewritten. We go on trips frequently, so I can attest that her budget planner worksheet covers all the expenses that you may come across. I also like that it's a true worksheet (not just a place to write out numbers); this helps you see where you can economize if needed.
Note: scroll all the way to the bottom for the printout.

5. Budget Trip Planner from Cheap Thrifty Living
Here is a nice & simple budget trip planner from Cheap Thrifty Living. It's an easy-to-use form, nicely laid out, and will help you map out your travel budget.
6. Travel Budget Template (excel) from Wall Street Mojo
If you're a spreadsheet nerd (#Imnerdy), then here's a nice spreadsheet travel budget form from Wall Street Mojo. It covers all your basics, and with all spreadsheets, you can easily add more categories and line item expenses. I also like that it gives a breakdown of the expenses graph because many of us are visual, so seeing the overall spending is helpful.
7. Vacation Budget Planner Worksheet from The Tex Mex Mom
This vacation budget worksheet from The Tex-Mex Mom is nice and simple, but what I love is that it comes with a savings tracker! Remember, saving for a trip beforehand is a great way to help lessen the anxiety while on the trip. No one relaxes on vacation while being worried about how much everything costs.
8. Printable travel budget template from Mad in Crafts
This travel budget template from Mad in Crafts is a good worksheet if you're only gone for a few days and won't have a lot of expenses. It's nice & simple, perfect for getaway weekends. This is also a good planner if your brain gets overwhelmed trying to plan out 100 budget line items.
9. Road trip planner from The Local Tourist (for purchase)
This is a fun planner, as who doesn't love a road trip? The printable pack from The Local Tourist has many useful pages to help you plan your upcoming adventure!
I know this is a paid product (but it's not expensive at all), but it's so unique and has a lot of great planning pointers in it. I couldn't help but include it in this article. And yes, it does have a road trip budget form.
10. Travel itinerary budget planner from Plan to Explore (spreadsheet)
While I love putting pen to paper, sometimes having a spreadsheet can be easier (especially when you have a lot of things that could change). So enter the travel budget spreadsheet from Plan to Explore! It has three itinerary tabs, one for short trips, one for long trips, and the budget form. Best of all, you don't have to do any math; the sheet calculates everything for you.
Don't worry; you can always print this out and take it with you 🙂
Don't forget to grab your free budgeting worksheets and check out our Ultimate Guide on How to Budget series. The first post is right here – The Essential First Step When Budgeting.
How to create your own vacation budget template
Here are the steps if you want to go the DIY route and make your own travel budget.

Step One: Determine your total budget
The first step in creating a vacation budget template is determining your total budget. This includes all the money you have saved for your trip and any additional funds you plan to allocate toward your vacation.
You can try a fun money-saving challenge, or check here for some easy ways to make extra money or get free Visa gift cards to help pay for your trip.


Step Two: Decide on your destination
Once you have determined your total budget, the next step is to decide on your destination. Remember, your total budget determines your destination. You can't make a travel plan to Fiji on a budget for Great Wolf Lodge.


Step Three: Research Costs
Research the costs with your destination, including transportation, lodging, food, activities, and any other expenses you may run into (it's smart to plan a buffer amount too). Use online resources, such as travel websites and forums, to get an idea of the average cost of each item.


Step Four: Allocate your budget
Typically, your biggest costs will be transportation to your vacation destination and the lodging cost once you're there. You should plan out these two costs first and then see how much you have left over for activities, food, and misc spending money.
Consider free or low cost activities, look into coupons and discounts, decide whether or not rental cars are necessary, etc.


Step Five: Track your spending
Many times, travel places & activities require a downpayment or partial payment. Make sure you are keeping track of what you've paid for and expenses still to be paid. As you don't want to lose track of your spending and accidentally overspend and take on credit card debt.
You also need to consider that there's you're perfectly laid out the initial budget, and then there are the actual expenses that you incur. Flight costs may have increased (or you may have found a discount code!) But you need to make sure you're on track.


Vacation budget worksheets & itinerary planner
If you want more than just a one-page budget form, you can snag my vacation planner (which comes with a budget sheet). It's five pages…
Your overall trip planner – hotel info, transportation options, activities, restaurants, and your supplies needed (sunscreen!)
Your actual vacation budget plan and track the costs of all the prices, fees, and taxes.
Day-by-day itinerary so everyone can have a general idea of what to expect each day.
Information sheet for loved ones back home or for the friendly neighbor watering your plants while you're away
Tips for sticking to your vacation budget
1. Use cash instead of credit
While you can (and should) use a credit card to prepay large vacation expenses like flight and hotel (as you're booking online). It can help you stay on budget when you pay for everyday things with cash. Just like using the cash envelope system, you can't overspend once the money is gone.
Things like meals, souvenirs, snacks, misc supplies you forgot at home, etc. Using cash (especially when traveling outside the country) can help you reduce foreign transaction fees, which can eat away your travel spending cash.


2. Look for free activities
Many destinations, especially a vacation to a city (vs. a place like Knotts Berry Farm), have free things to do. You just have to spend 1-3 hours looking up stuff online.
Things like free walking tours, free museum days, street festivals, farmers markets, small-town parades, scenic parks, and trails.


3. Use a travel rewards program
While credit card debt is mushrooming at a staggering rate in the US, credit card rewards programs can be a great way to travel cheaply (or even for free). So you need to know yourself first before jumping into this. Can you responsibly handle credit cards and not charge up debt that may take years to pay off? There's no shame in deciding that credit cards aren't for you; it takes a strong person to know their limits.
If you are good with credit, many online forums and groups on Facebook can teach you how to work the system to your advantage.


4. Plan a rest day
If you're going on vacation for more than three days, you may want to add a rest day where you stay back at your hotel and just relax by the pool. This not only can help save your sanity, but rest days are traditionally a lot cheaper.
Rest days are especially important if you have young kids or your trip is fairly intense (a lot of walking, loud sensory experiences, etc.).


At the end of the day
Making a travel budget can be easy (especially when using a free vacation budget template). By following the steps above, you can have an incredible vacation without breaking the bank. It just takes planning and dedication to stay within your allotted budget!
Planning vacations can be fun and exciting, so enjoy it! After all, life isn't about how much money you make but rather the memories you create. So have fun and enjoy your travels!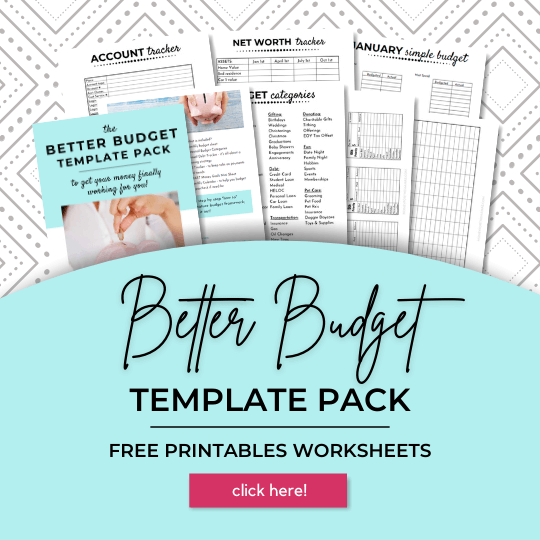 Which vacation budget template are you going to try out first?