A Mom's Smart Guide on How to Prepare for a Recession
The 9 steps you need to take to prepare for a potential financial crisis
This couldn't be happening again… right? Everyone is kind anxiously waiting, hoping, and praying that we're not in for another recession like 2008!
Do you remember the previous recession? What were you doing? How were you feeling? If you were like most of America, you were sitting at your kitchen table late into the night. Looking over bills, filling out one job application after another, and looking in your pantry, trying to brainstorm a great dinner out of the odd cans tucked in the back of the shelf. You felt the suffocating burden of not knowing… "When will it get better?"
"I can't think about this right now!" Please, don't shove these thoughts to the back of your head, I know I do this when something is just too much. You need to think about it, make a plan, and then you can stop thinking about it. Trust me; you'll be so thankful that you took this time to prepare! There is still time, and this post will walk you through 9 steps to get your family set to not only how to prepare for a recession but to flourish!
This post may contain affiliate links. If you make a purchase, I may make a commission at no cost to you. Please read my full disclosure for more info
Is an economic recession coming?
Even though we haven't hit an economic recession yet, the past year has absolutely shaken America. We were all fat & happy living like it wouldn't end, but isn't that when fate flips the script and hands us a bomb?
You think, "I should have done more these past months & years! How can I make sure that we're prepared and ready this time?"
Yes, I said "this time" because all the financial experts agree, it's not "if" a recession happens but "when", and believe it or not, it might here.
What happens during a recession?
America's last recession was from late-2007 through mid-2009. It was the largest economic downturn since the Great Depression of 1929. The U.S. fell first, which had vast ripple effects across the globe. In 2008, the financial crisis (home loans) started it all, markets bottomed out, and the housing bubble burst.
Long-standing economic giant companies went bankrupt(G.M. & Chrysler), and factories shut their doors, devastating whole towns. People were frantic, depressed, and many felt there was no hope and took their own lives. The crash was felt in multiple areas…
Jobs in an economic downturn
One of the most widely recognized indicators of a potential recession is higher unemployment rates. According to The Bureau of Labor Statistics, "In December 2007, the national unemployment rate was 5.0 percent, and it had been at or below that rate for the previous 30 months. In the months after the recession, the unemployment rate peaked at 10.0 percent (in October 2009)."
Wages during a bear market
"During the recession of 2007-2009, the increases in the wages and salaries of private industry employees slowed to 1.3% in December 2009 from a year earlier. This was far below the 3.6% increase from March 2006 to March 2007, after the recovery from the 2001 recession."
The housing market in the past recession
People still talk about the housing bubble that burst during this time. Banks were extending mortgages to almost everyone, and people were taking ARM's, that had (at the time) crazy low interest rates. Then with the bubble burst, people with ARM's had their payment double, while their home value plummeted. "When the bubble burst, $8 trillion of housing wealth disappeared in the span of four years". ( Center for Economic and Policy Research )
Poverty & wealth in a financial crisis
According to Britannica, "American households lost an estimated $16 trillion in net worth; one-quarter of households lost at least 75 percent of their net worth, and more than half lost at least 25 percent." The Poverty level "increased, from 12.5 percent in 2007 to more than 15 percent in 2010." Recovery was long and hard for most. "According to one study, during the first two years after the official end of the recession, from 2009 to 2011, the aggregate net worth of the richest 7 percent of households increased by 28 percent while that of the lower 93 percent declined by 4 percent."
Family strain increases during an economic slump
Uncertain times also put a strain on our children. They can see us stressed out, arguing, and worried. They can't understand the magnitude of a recession, but they can feel our anxiety. I wrote about the topic of why financial stability is so important to children's development, and how being in an unstable place affects them.
It was a bit disheartening to hear some of the stats mentioned there. Yet it made such a profound impact on me that I am even more determined never to let our family be put in that kind of position!
9 Steps How to Recession Proof Your Life
The worst part of going through a recession is how many people lose hope and just give up. It's sad. The pain, the fear, and the worry can be crushing, and as Moms, we feel all the feels during times like these. We're constantly thinking about "what's going to happen if…"
The best way to calm those fears is to get prepared! In fact, that's the best idea no matter what your financial challenges are. Once you get a plan, you take control and help silence those fears! So here's the plan for what you can do today to prepare for tomorrow's unknowns.
1. Fill your emergency fund
This is probably the most impactful thing you can do to prepare for a recession, and it will help to keep the panic away! You should, at a bare minimum, have a starter emergency fund of $1,000 at all times. This is the starting point.
Next, get 6-9 months of living expenses together and put it in a high yield FDIC online bank (not a regular bank account)! Make this money work for you! For example, on a balance of $25K, you could be earning around $450 a year off of a 1.8% interest! That's a lot better than earning $.02 in a regular bank account!
If you're able to get full years' worth of living expenses, that would be amazing! If you want some fun ideas to help track your savings then check out these savings printables!
If you happen to come into any large amounts of money, say through a tax refund, inheritance, work bonus, etc. I'd recommend holding onto the cash and beefing up your emergency savings fund more.
2. Dump the debt
This is a no-brainer, dump your high interest debt right now! You can then use all that money that was paying interest on your debt to put in your high yield savings account! (You did set it up, right?) Go to Undebt.it and input your credit card debt numbers into their snowball calculator. It will show you in which order to make your debt payments to optimize them.
Lower interest debt (under 7%), like a mortgage or a student loan, is much better to hold on to than credit card debt, as you're paying a higher interest rate.
To help keep you motivated on your debt-free journey check out some of these debt payoff printables. There's the bundle and they're available individually too!

3. Start networking
You may love your job, and your job may love you. But is your position expendable? Hint: everyone is expendable and a job loss is quite possible. During tough times companies tighten their belts and downsize, your job might be one of the thousands that could be cut. I'm sorry, even talking about this sucks.
It's time to dig out the business cards that you've collected over the years and start connecting again! You don't need to talk about jobs or the market right now. Just put your name & face back on their radar. Help them when you can, and build genuine connections! Don't be salesy or pushy; just be friendly and helpful. You never know when you may be in need of help, and they might be in a position to give it! You may also be in a position to help others, and that's a good feeling!
4. Redo your resume
This goes along with the previous point. "By mid-2014, the economy had recovered the 8.7 million jobs lost between the start of the recession in December 2007 and early 2010″ ( source ). That's a lot of jobs that were lost!
So get out your old resume, find a better online resume template ( try Canva ) and get to work making your work history, education, and training shine!
Dig through your credentials and trainings, if you find you have outdated skills check with your current workplace to see what kind of opportunities they have to brush up on things!
Make sure your references are current and go through your social media profiles and EDIT! Yup, delete anything that a potential employer might not approve up (that's anything you wouldn't want your grandmother to see & know about you)! Yes, they will look for you, no online place is safe for pics of you getting tipsy at your holiday party wearing a naughty ugly sweater!
5. Reexamine your investing strategy
A bear market is not a good friend to investing, so now, at this point in time (March 2020), I don't suggest you make any significant buying & selling changes (it's too late). What you might want to do is stop overcontributing to your retirement accounts, just contribute enough to get the full employer match). Then push the extra money into savings or into a holding tank (more below on this).
For your current & future contributions, maybe put them into a more stable and less aggressive fund. Remember, the higher the returns almost always come with more risk, now is not the time to be risky.
The main thing you want to do when looking at your investments is to get comfortable with losing money. I know, that sucks. BUT this is inevitable. However, you need to understand that you only actually lose the money when you sell during a economic slowdown. Selling = locking those losses in. If you hold onto your current investments, they have the opportunity to rebound, and they always do rebound, it's just a matter of how long it will take.
I mentioned putting money into a holding tank above, which means that if you are in such a good position financially, that your savings are full, and your debts are gone, then consider investing more. I know I just told you to not doing anything crazy with investing, but hear me out.
When an economic decline hits, the start of a bear market is common. A bear market is when the price of an investment falls at least 20% or more from its 52-week high. This means that stocks are essentially "on sale" to what they were previously. So you could spend the same amount and yet buy more of something. Then when the stock market rises, you will have a lot more!
CAUTION: This is only for those of you who have full savings, this is not for you to make speculative investments, hoping and praying that your horse wins the derby! You never know when the market will be at its lowest, and you never know which companies will survive and which won't.

This isn't a time to stretch your risk tolerance, it's the time to focus on safe investments. In general, this practice won't apply to most of us, but for a select few.
6. Plan now for what you can cut later
It's tough to make financial decisions when you are in a desperate situation. It's so much easier to look at your budget when you are in a calm state, without the pressing NEED to cut monthly expenses.
Get out your budget, print a copy of it, and get a few highlighters. Use bright pink and highlight what can absolutely go without question (gym, Hulu, subscription boxes, etc.). Then use the orange to highlight what could possibly go, but you'd like to keep it (kiddo sports club, anniversary weekend vacation, yard care, weekly meal eating at your favorite restaurant). Then use the yellow to highlight your last-ditch cuts (extra car, lower cell phone plan, no new clothes, etc.). You are planning on how to free up cash flow for things get tough.
Once you have this done & ready, so when an economic downturn happens, you won't be as emotionally impacted by it, as you already knew that this might happen. Your brain has already adjusted to these possibilities, and you're not as emotional or distraught.
7. Negotiate your bills
Did you know you can call your credit card company and ask for a lower interest rate? Yup, it's relatively easy (you just call them) and ask, sometimes they say yes and sometimes no. It's absolutely worth the 5-10 minutes of your time. If you're not sure how interest rates play into all of this then read about how credit card interest rate fees are basically trapping you in a debt cycle.
First, you will be more likely to succeed in getting a lower rate if you have good credit and have had the credit card for more than a year (some places prefer 18 months). Also, be sure to be nice (it's odd that I have to say it, but you do get farther with some friendliness).
Interest example: Let's say you have a credit card…
This means that if you don't charge anything else on this card, you'll end up paying $2,698.00 in interest at the end of paying it off.
But if you call your company, and they lower your interest rate to 18.25%, then you'll end up paying $2,063 in interest at the end of paying it off.
Calling and making these changes will save you $635! Now think about if called all of your debt holders and did the same thing?
Even if you always pay your credit card off in full every month, there may be some months where you're not able to, depending on how bad things get. So please take the time to do this now, and save yourself a lot of money. Don't wait to do this, because once the sh%t hits the fan, credit card companies are less likely to negotiate.
8. Get a profitable hobby
Diversifying your income can be one of the smartest things you can do right now! You can get a part-time job, or you can do your favorite hobby and get paid for it (or even a money-saving hobby!)! That sounds like a lot more fun, huh!
Things that are hobbies that can help…
Grow a vegetable garden
Woodworking
Flipping furniture and selling on eBay
Selling hand made goods on Etsy (sewing, patterns, paper goods)
Selling professional skills on Fiverr (logo design, copywriting, etc.)
Photography
Love kids? Consider tutoring
Love pets? Consider dog sitting
Stand up comedy
Baking
Become a local tour guide for your city
Love yoga? Teach a class at your local rec center, and maybe get a gym membership for free as a benefit perk!
There are so many ways to make extra money, it may not be a lot at first, and it may not be steady, but it all adds up! I wrote about how I made an extra $2,912 one year just by doing random things for fun!
Don't forget that ideally, you'd need to keep your hobby profitable. Or not lose too much money on it. If you're into selling items online, be sure to grab the online sales tracker so you know your profits, because fees run rampant in the online world!
9. Go to the doctor
No one likes going to the doctor, but you'd like it a lot less if you had to go and couldn't pay for it. So do yourself a favor, and if you feel (even the tiniest bit) that you may be laid off soon, get into your doctor's office now, like ASAP! "Nearly 1 in 3 U.S. families (or 32 percent) decided not to seek medical care in the past 12 months because of cost, according to a nationwide Bankrate survey "
Additionally, "last year, Kaiser Family Foundation found 29% of Americans failed to take their medications as prescribed because of the cost, with about 19% of respondents saying they did not fill the prescription and 12% saying they cut pills in half or skipped a dose."
Alright people, enough. Don't mess with your health! You will regret it!
Call your doctor's office now, and ask to be placed on the waitlist to get in asap if any cancellations happen. Get your annual checkups, your dentist, and your eye doctor. Also, refill your prescriptions (call and ask your Dr's office to fill a 90-day script instead of the regular 30 day supply). Also, be sure to do the same for your kiddos too! Don't forget about seasonal things like flu shots in the fall or allergy shots in the spring.
Also, be sure to check your Flexible Spending Account balances. If you are laid off, your FSA will most likely be gone. Yet, you may still be able to submit receipts for a limited amount of time (30-90 days is standard), as long as the date of service was before separation. Check with your H.R. Dept for your companies specific plan details.
At the end of the day
I don't want to be doom & gloom, but I am practical. I also happen to be a planner! So I know that hard times are ahead for our economy, and you should realize that it will happen (we just don't know when). But if you can get a few things handled now, your family will be in a much better place for it. And let me tell you, peace of mind is absolutely priceless when it comes to having your family taken care of during a financial crisis!
Articles relating to How to Prepare for a Recession: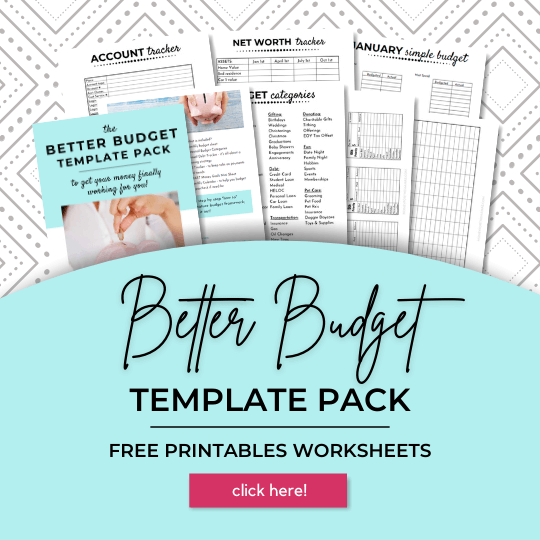 What are you going to do to help prepare your family for a recession?