Yes! Budgeting Can Actually Be Easy (With a Better Budget)
Better budgeting is possible, you just need the right budget! – Part Four in Your Ultimate Guide on How to Budget Series
Author: Kari Lorz – Certified Financial Education Instructor
This is Your Ultimate Guide on How to Budget Series. Where Iay out every single thing that you need to know to successfully budget your money! No more guessing or wondering if you're doing it "right", after following along you will be 100% certain about what you need to do to organize your money!

– Part One: The Essential First Step with Budget Planning (it's a must-do!)
– Part Two: The Best Budgeting Tips for Beginners (That You Have to Know)!
– Part Three: The Top 7 Proven Budgeting Methods – Your Perfect Fit is in Here!
– Part Four: Yes! Budgeting Can Actually Be Easy (With a Better Budget)
– Part Five: The 10 Most Common (and Costly) Budgeting Challenges That You Will Face (and How to Fix Them)
Budgeting shouldn't have to be this hard, right? It's just addition and subtraction, so why are we all having such a hard time figuring out how to pay for all the bills, and save for things?
I know you're hoping for a more straightforward (and easier way), one that doesn't take a degree in finance & some time travel!
Better budgeting can be simple, I promise! I'll show you how to afford everything your family needs (all without crazy high salaries)! I'll show you how I have done for the past 8+ years and the steps for you to get started today!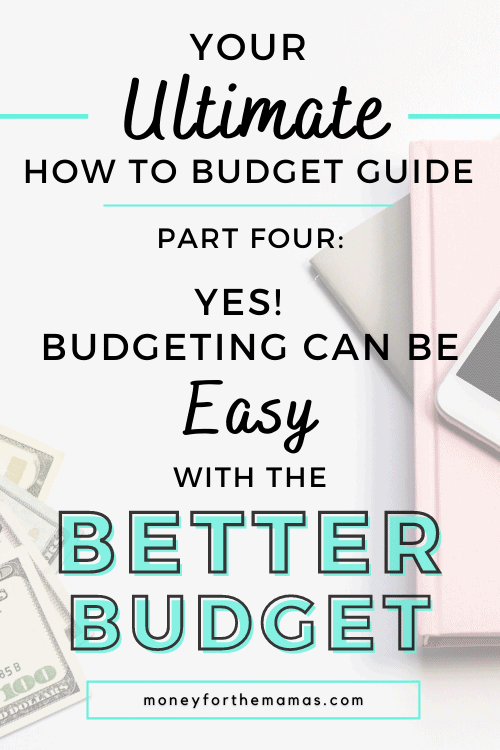 This post may contain affiliate links. If you make a purchase, I may make a commission at no cost to you. Please read my full disclosure for more info
By now, we know that we need to budget if we want to have a happy, stable, stress-free life. As money worries are at the top of people's stressors list!
MarketWatch reported that "Money is the biggest source of stress for Americans, research shows. Indeed, a survey by Northwestern Mutual found that money was the dominant source of stress for 44% of Americans, followed by 25% who said personal relationships, and just 18% blaming work.
And data from the American Psychological Association also shows that money is the No. 1 stressor for Americans: "Regardless of the economic climate, money, and finances have remained the top stressor since our survey began in 2007," the results revealed."
So let's start taking care of ourselves by doing a better job of managing our money! Here's how you do it without the budget burnout…
Why is The Better Budget the best way to budget?
I've done the legwork
I am a Certified Financial Education Instructor and am an (almost) fanatical researcher.
You need to know that I have done as much homework as humanly possible on budget templates, worksheets, and guides, and I have researched my little buns off! I cut all the fluff (extra details that serve no point, other than to confuse or beef up a document's size).
I have put it all into a document that is easily understood, simple to use, and, more importantly, useful! It's simply a better budgeting overall experience.
The layout
The Better Budget works so well because it takes key components of other standard and traditional budgets and combines them into a simple & straightforward one-page budget template.
Yes, I have a few other supporting budgeting tools & worksheets for you to use if you want. These can be helpful when you get started, but all you really need is just the one page from month to month.
Want to see what is specifically included in The Better Budget? Check it out below!!
So many times, people overcomplicate the budgeting process. They want theirs to seem "more complete" or "better" because it has 300 more pages. That's a recipe for overwhelm! That's what puts people off of financial planning, and it's sad.
In researching to see if my budget really was the best one, I did a lot of research. Like I said above, you only need the one Monthly Budget forms for your budget. Yet, there are supporting documents to help you if you wish.
When I first started budgeting, I used a few different pages (like the ones included in the Better Budget). Now, all of it is second nature to me, so I only use the one page. (However, I do update the net worth documents quarterly.)
The Better Budget is written in a way that…
Guides you through setting up your budget, and things to consider and plan for.
Goes through how to spend your money during the month (the logistical "how," not the judgy "oh you spent $49 on a pair of socks" type of thing.
Takes you through the exact method of how I reconcile my bills at the end of the month. Spoiler alert: it takes me now only 30 minutes a month to do this!
The mindset work
I have also taken a page from the experts. Which is to set yourself up for success, you need to do a few pregame steps. This right here is where most budgets fail you. They give you the tools, but they don't tell you how it works on the inside, in your heart, your gut & your mind.
We are humans, and we behave as such. That means we have emotions, and those emotions drive our actions. Feelings like fear, anger, excitement, sadness, passion, angst, and drive! All of these things impact how we earn money and our spending habits.
I am a huge fan of Marie Forleo, she inspires us all while shaking us a bit and smacking us to snap the hell outta it! Watch below.
My promise to you
If you use the Better Budget and go through the steps fully & thoughtfully, then you will reach your financial goals. I promise. That's a bold statement, I know. But I've done the work, and I am confident! How fast you go on this journey is up to you.
Not convinced? Let me put it to you this way…
If you follow The Better Budget framework, you will be able to forget when payday is.
Hmmmm… "Forget when payday is?"
When's payday you ask? Well, I honestly don't know, it's every two weeks I know that. My husband gets paid during the last five or so days of the month. That's as detailed as I could tell you.
It's not important to me, so I forget.
YES, it's important that my husband and I do get paid, but the exact date doesn't matter. Our finances are set up in a way so that everything runs smoothly, like clockwork.
I mentioned above that I have combined the budget methods from The Top 7 Proven Budgeting Methods and here is what I've pulled together. Which makes up the Better Budget, which basically is just a better way to budget, plain & simple. Let me tell you about it…
The Framework of the Better Budget
Priority Based Budget
From the Priority Based Budget, I have used the layout of the budget template, where the most essential budget categories and items (the must pay for things) are first, and then the least important items are at the bottom. This sounds simplistic, I know. But most budgets aren't laid out this way.
I've done this, so if you come up short, you already know what to cut from your budget because they're at the bottom. Things like Netflix, or Hulu are a good example.
Pay Yourself First
From the Pay Yourself First Budgeting method, I have set up the budget template so that your savings buckets are at the top, the most important thing. Because I feel that our big goals should lead how we live our lives! This is another bold statement, but doesn't it just make sense?
For this, a portion of our income goes directly into my 401k retirement savings from my paycheck, and then, more money goes into my Roth IRA. (I wait three days in between transfers so that it can fully clear the account considering weekends, holidays, etc.)
Also, on that 3rd day, money is auto drafted into our sinking funds (vacation, house fix, car fix, kiddo fund). Also, 5% of our paycheck automatically goes into each of our personal savings account. This money is for purchases that we want to splurge on that are outside of the norm.
READ: Paying Yourself First is the key to ALWAYS saving money, without fail!
A key component of Paying Yourself First is to use separate accounts, which enables us to see our financial situation in a super quick snapshot. When we open our main banking account, we can see all of our savings accounts right there too. For example, I can see that our car fund has $x and that our vacation fund has $z amount in there. Super simple and very straightforward.
READ: The Absolute Best Way to Bank for Budgeting Success
Zero-Based Budget
For the zero-based budget method, I have our money budgeted down to the last $30. Yes, I know that's not exactly $0, but I want to have a tiny bit of excess funds in case one of our bills is a tad bit higher for some months. (Hello summertime air conditioning!)
Other than that small cushion, I have given every dollar a job and a name. There is no confusion about what money is for what purpose. Or to what budget category it needs to move to, as all of our banking auto transfers happen on the 1st or the 3rd. There's no waiting around to see if the bank balance is inaccurate due to pending transfers and such.
The Mindset Aspect
Your Money Mindset is powerful, so powerful! But it's something that we don't actively register as having.
You are your own best cheerleader or your own worst enemy; which do you want to be? You need to acknowledge where you are currently and be unbiased as to how that impacts your earnings, spending, and savings. There's space for you to write it all out and how to circumvent those roadblocks.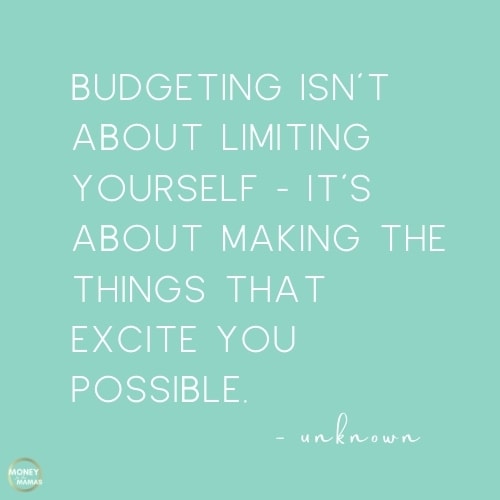 Your Financial Goals
I have rooted my budgeting approach and spending in the areas in my life that I feel are most important, and I've cut spending in areas that aren't important to me. That's it. Sure there's the temptation to spend, and a couple of times I do spend outside of "the plan" but not often.
How do I know what to spend my money on and what to pass on? I have based my spending plan around my Personal Core Values, so if my spending isn't driving one of those five values forward, then I don't spend it.
Writing down your financial goals is a powerful exercise, and it's magnified when you lay out, step by step how you will get there. You will know step 1 and step 21 because you planned to make it happen! This part of the planning process is so exciting, yet kinda scary, that's okay, it's normal.
End of Month Bill Reconciliation
The end of month bill paying process is usually a sad day for any budgeter. Yet, honestly, I don't mind it at all. There are never any crazy surprises (except when I see that my hubs went to get Mexican food without me, he knows I loooooove guacamole!)
The process takes me about 30 minutes or less, and I never feel beat down or worried after it. After it's all done, I feel fine, just dandy. It's about as stressful as emptying the dishwasher. (aka not stressful at all). Sure, it's not the most fun thing. I'm not going to try and convince you it's SO MUCH FUN because that would be a lie.
Sometimes I do even feel a bit excited because I see that our vacation fund has gotten bigger. We're almost to our goal for what we need for our next Walt Disney World vacation! (okay, you can laugh if you want, but that place is dang fun!)
We do budget for it, usually a year in advance, and it's a mindful purchase, never an impulse! We work this expense into our monthly budget and it's not holding us back in other areas, so it gets the green light!
The bill pay process takes so little time (and energy) because we have set up "how we pay" for things very deliberately; the goal is to make it as easy as possible, with the most benefit.
I laid out the entire process in The Better Budget – step by step how-to guide. I walk you through the whole process, from setting up your budget, identifying your savings goal, budgeting tips, forecasting, and a debt repayment plan, and the end-of-month reconciliation.
Easy peasy, lemon squeezy!
At the end of the day
I know personal finance and budgeting isn't everyone's jam, and there's no reason for you to become super pumped about it if you don't want to. (I will be pumped enough for both of us). But you do need to be at a place where you can execute a plan that brings you the highest chance of success & happiness with the least amount of struggle and confusion.
What I want for you is to finally feel confident that you are doing a fantastic job of managing your family's money. That you are setting up your financial house to give your family the life you've always dreamed for them!
Things like yearly family vacations to the lake, and birthday dinners out at their favorite restaurant for grilled cheese. Most importantly, a kitchen table where fights about money aren't even conceivable. I want all this for you while still doing all the responsible things, like having a college fund, an emergency fund, and retirement accounts.
You can do all of these things, you just need to plan for it, and The Better Budget can do this for you! Because freedom from worrying about money is the quintessential form of financial independence!
This is Your Ultimate Guide on How to Budget Series. Where Iay out every single thing that you need to know to successfully budget your money! No more guessing or wondering if you're doing it "right", after following along you will be 100% certain about what you need to do to organize your money!

– Part One: The Essential First Step with Budget Planning (it's a must-do!)
– Part Two: The Best Budgeting Tips for Beginners (That You Have to Know)!
– Part Three: The Top 7 Proven Budgeting Methods – Your Perfect Fit is in Here!
– Part Four: Yes! Budgeting Can Actually Be Easy (With a Better Budget)
– Part Five: The 10 Most Common (and Costly) Budgeting Challenges That You Will Face (and How to Fix Them)
Building a Better Budget is absolutely possible! Start today!