How to Start a Minimalist Capsule Wardrobe (and save a lot of money)
A minimalist capsule wardrobe can save time, frustration, and money! Find out how to start yours!
Author: Kari Lorz – Certified Financial Education Instructor
Every morning I stood in my closet for what seemed like forever, just blankly staring at stuff, and then I grabbed the same shirt I wore a few days ago; it wasn't dirty, it was fine. Sound familiar?
When I thought more about it, I never wore most of the pieces; they were for a life I didn't have anymore. They hung in my closet, taking up space. Why did I have so many clothes?
I was tired of managing "all the things." So out all the unused and unloved stuff went. And my closet was the next thing to tackle! I was all about creating my own minimalist capsule wardrobe to make my life easier while still feeling great about how I looked.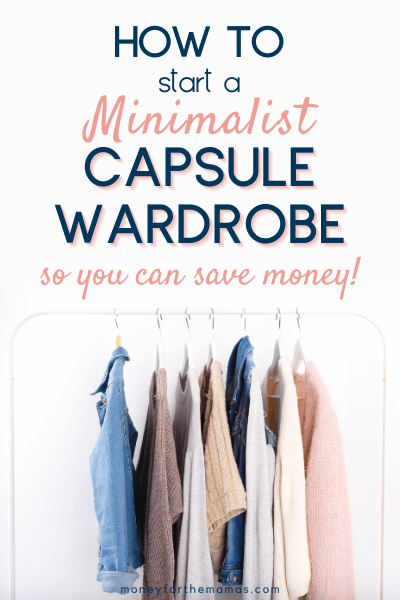 This post may contain affiliate links. If you make a purchase, I may make a commission at no cost to you. Please read my full disclosure for more info
What is a minimalist capsule wardrobe?
The term capsule wardrobe is where people own only a handful of clothing items; they all match and go together so that you can create infinite outfits out of the small collection.
Traditionally, you have staple pieces of clothing of neutral colors, classic style, and fabrics. They won't go out of style. Then you supplement your collection with seasonal appropriate pieces.
Now the number of items varies from resource to resource; some say 50, some say 37. It's whatever you want it to be (within reason). Don't get stuck on the number of items.
Even though the idea of a capsule wardrobe is to own less, it seems that people end up doubling the number of items with their seasonal pieces. They have a fall capsule wardrobe and a spring capsule wardrobe, and then a summer capsule wardrobe. Oh don't forget winter too! Sounds like a lot of work to me.
So, since I wanted fewer clothes in general, I am focused on a minimalist wardrobe, where I won't add in seasonal items; I will just replace any worn or damaged items as needed.
Why should I start a minimalist capsule wardrobe?
According to The Telegraph, women, on average, spend one full year standing in their closets over their lifetime. WTH!?! "women spend an average of 16 minutes deciding what to wear on weekday mornings and 14 minutes on Saturdays and Sundays, for a whopping 287 days spread out over their lives."
In addition to the time in the morning, there is the time spent getting ready for dates, packing for vacation, etc., and all add up to a full year.
As a busy mom, I need to maximize my time. In fact, my WOTY (word of the year) is "Purposeful," everything I spend my time on I wanted it to drive me forward on my big goals.
And wasting time every morning was not moving me forward. It was depressing too! I stood there every morning and looked at pieces that no longer fit me, both figuratively and physically.
The super cute thin strappy tops were for my life before breastfeeding for two years (TMI?) Now, I love my daughter more than anything and am so grateful that I could breastfeed for so long, but I still miss my pre-mom boobs. Oh well, nothing to do about it now.
All of these clothes were wasting my time, my space, and making me feel bad. Sometimes I just felt suffocated by all the "stuff" in my house (not just my clothes). Things had to go!
A minimalist capsule wardrobe can save you money
I honestly only wore a small portion of my clothes now anyway. I didn't need office clothes anymore; I wasn't going back into that world, so all of those could go. I sure as hell wasn't going out bar hopping anymore, so those cute, unreasonably expensive tank tops could go too!
According to Fashion United, Americans had the "second highest percentage of unworn clothes: 82 percent of their items never saw the light of day last year." according to their survey of 18,000 worldwide.
That 82% felt about right. I loved to shop at Nordstrom, Anthropologie, Lululemon, and other stores like that. So I know that 82% of the clothes I never wore cost me a lot of money. I was too ashamed to figure out how much money I had wasted.
Having a minimalist wardrobe would cost me a lot less money in the long run. Sure, you had to build the capsule wardrobe first, and that takes money, but over time the cost evens out and then ends up costing much less than a regular full closet.
It costs less in the long run because you're not buying that cute top you saw online. You don't need it, and you know you don't need it, so you can't fool yourself. Once you have your capsule wardrobe built, that's it, that's the point.
Besides, how many times have you bought that amazing "thing" and then needed a new XYZ to go with it? Because your outfit wasn't complete without it. Plenty of times I bet!
I honestly stopped buying new clothes a few years ago. My closet was too full as it was. A few years back, I got very honest with myself and did a personal core values exercise. I realized that buying clothes wasn't important to me. I didn't value having an amazing clothes collection. So why would I waste money buying stuff that didn't matter to me?
Making room for your minimalist wardrobe
Once my mind was made up to dump almost all of my closet, I was so excited to start! The same thrill that I used to get shopping for clothes was now coursing through my veins as I was getting rid of my clothes!
I thought about what I did want to keep (more on that below) and then grabbed a bunch of boxes. I looked through the pile of clothes to get rid of, washed them, folded them nicely in the boxes, and taped them up. I went online to thredUp printed out a mailing label, taped it on, and dropped the box off at the post office!
ThredUp makes it super easy to sell your stuff; all you do is pack it and mail it, they do everything else to sell it, and then give you a cut of the proceeds.
I went through and got rid of items in my closet in a few rounds. Some pieces I wasn't quite ready to let go of. So they went in a hold box, and then after a few months, I usually sealed up the hold box, and away it went in the mail too.
I also went and bought a set of 50 no-slip hangers (I hated it when shirts just slide off the hanger and fall on the floor! Then I got some cedar blocks to hang with my sweaters. We have moths here where I live, and I didn't want to get new items just to have them ruined with tiny moth holes!
Now that my closet was almost empty, I took inventory of what kinds of pieces I still needed. I noted colors, warmth level, function, etc.
How to build a year round capsule wardrobe
Now I mentioned "capsule wardrobe" and a "minimalist capsule wardrobe." The difference between the two is that I didn't want to build it, and then a few months later, need to buy a bunch of additional seasonal items. I feel that kind of defeats the purpose (but that's just my opinion).
A minimalist capsule wardrobe is more of a year round capsule wardrobe. So I may have a few more pieces than the classic examples, but I will keep everything and use it all year (vs. packing it away when the season is over).
Knowing that I wanted to build a year round capsule wardrobe, I needed to pick some base colors; the easiest was black, white, and grey (I chose both heather grey and charcoal grey). I also had a few pieces that I loved, which happened to be the same dusty rose color. So that became my accent color. An accent color isn't necessary; in my case, it was just a happy coincidence.
You also need to be mindful of what colors look good with your skin tone and what wears well. Even though white isn't a great color for moms, it's my favorite color (hello fresh white t's!). Besides white makes a good underlayer, between black & grey.
I kept about 20% of the items in my closet (mostly white t-shirts and jeans). This included…
black puffer jacket
black puffer vest
black skinny jeans
2 pairs of blue jeans
4 cardigan sweaters – white, 2 heather grey, and black
long sleeve black top
denim button-up
1 fancy black dress
4 tank tops – black, white, dusty rose & heather grey
dusty rose open front sweatshirt
long black jersey skirt
black linen pants
black linen shorts
white short sleeve t-shirt
white long sleeve t-shirt
4 white t-shirts with design
That's it.
Now it's time to rebuild! I knew I wanted my entire wardrobe to be comfortable and look put together, even if it wasn't fancy.
Buying casual capsule wardrobe pieces
If I wanted comfy, that meant I needed to invest in a girl's best friend. Yup, the always amazing yoga pant! You may need to try on a few different brands and styles to find the perfect fit, but once you do, it's heaven! The good news is that companies usually make their yoga pant styles in lots of colors.
I found my perfect fit and bought them in 3 colors – heather grey, charcoal grey, and a basic black. They are soft, fit perfectly, have pockets, and look great with everything! They also came in the perfect length, which never happens to me. I'm 5'2, and all my jeans and pants are hemmed. When I saw that the yoga pants came in 7/8 length, I was totally sold on them!
I bought three more sweatshirts (heather grey, charcoal grey, and black). As I was building a year-round capsule wardrobe, I knew I would be layering a lot with my existing tank tops, and I get cold easily, so sweatshirts are a must (bonus if they have thumb holes!)
Now buying shoes was the most expensive part. I had nothing that worked. So I bought
Pair black running shoes
Black strappy sandals – I got them as a present
Black ballet flats – I got them as a present
Black slip-on casuals – I got them as a present
Dusty rose running shoes (my splurge – Nike Air Pegasus, but from the outlets, so that's good, right?)
At the end of compiling my pieces, I had 47 items (including shoes), which feels right for what I needed. It's a little more than a traditional capsule wardrobe, but remember, I am not changing anything seasonally. (I just chose good layering items to help with seasonal changes).
Where to shop for your capsule wardrobe
You can go anywhere you want to, as long as you like the quality, the pricepoint, and the return policy of the store. I have narrowed down my clothes shopping to just two places; Target & Nordstrom.
Target because the price point is good, and so is the return policy, and Nordstrom because the quality is dependable, and if it's not, their return policy is. Besides, having the Nordstrom card makes it nice for me to get my jeans & pants hemmed there for free (yup, I'm a shortie)!
My picks for a busy mom's cute & comfy year-round capsule wardrobe
The examples below are all basic colors to build off of, I didn't include an accent color, so when you look at it, the combos might seem plain. I personally like black/white/grey, and I added in a few dusty rose-colored items in my personal wardrobe.
Focus – comfy, cozy & cute
Tips on buying your minimalist capsule wardrobe
Don't decide to do this in one day. Take some time to plan. A great first step is to build a secret Pinterest board with styles & colors you like. Spend a week just compiling images. Then at the end of the week evaluate and edit out.
You'll want to think about…

What activities do you need clothes for (office, sports, lounge, fancy, etc), and what percent of each category do you need? Hint: If you spend almost all your time in loungewear, then that's a good hint that your wardrobe choices should reflect that.
What style flatters your body shape
What color palette looks good with your skin tone
What brands do you buy that you like the quality of (and won't break the bank)?
What is your personal style – feminine, boho, modern, sporty, etc?

Start a clothing sinking fund right now! You'll be so happy you saved up!
Buy quality items for reasonable prices. Find what you want and then wait for it to go on sale. This usually happens over a few months. Be patient; it will go on sale!
Get some of the things you need as birthday or Christmas presents. My mom got my ballet flats and sandals for my birthday, and then I got casual slip-ons for Christmas).
Have a budget per piece in mind. Obviously, you'll spend more on shoes, but get a general idea for the clothing part.
Know that you don't have to buy it all at the same time. It took me maybe three months to get all the pieces I needed, which is fine, it was easier on my budget this way, and I could wait for items to go on sale.
Tips on wearing your casual capsule wardrobe
At the end of the day, hang up your clothes in the closet, don't just throw them in a pile.
Look for stains when you hang them up, and treat them immediately if you find a spot.
If you wear sweaters a lot, get a fabric shaver to de-fuzz the lint balls to keep it looking nice and new.
Get fabric protector spray for your shoes and a special conditioner for leather shoes.
Caveat on my minimalist capsule wardrobe
When I first wanted to do a capsule wardrobe, I never intended it to include workout clothes, pjs, or underwear & socks. I still have those pieces in addition to my casual capsule wardrobe. But I did get rid of a bunch of those pieces too. Where once my dresser was stuffed full, I now have plenty of space in each drawer.
The pitfalls of wearing a capsule wardrobe
You may need to do laundry more often
Yes, dreaded laundry. It's no fun, but you have to do it, sometimes more often than you would with a regular wardrobe. This is okay; as for years, I have done laundry every Sunday, and the schedule still stands now.
You're worried about what people will think
"Didn't she wear that shirt yesterday?"
I hate to say it, but no one pays that much attention to what you wear, other than the cursory "that's cute" or the "is that baby vomit on her shoulder?"
Seriously, people are too worried about their own outfit & cuteness level to worry about you. Besides, who cares? Does it really matter to you and make a difference in your life, if Suzie from Accounting noticed you wore the same shirt two days apart? It shouldn't. If she's catty enough to notice and comment on it, then she doesn't deserve a second of space in your mind!
At the end of the day
Wearing a minimalist capsule wardrobe not only saves me money, time, and endless frustration, it also takes away a lot of the stress. How many times do you look in your closet and get overwhelmed by the mess? I don't have to worry about that with only a handful of pieces. And I never get sidetracked walking through Target, I know I don't need anything, so I never waste time slowing down to look!
Even if you don't embrace the minimalist lifestyle, I want you to know that having less has given me more space, time, and peace. Funny how that works.
The comical part is that this new house has the biggest closet I have ever had, and now I own the least amount of clothes ever. Oh well, that's life for you!
Articles related to having a minimalist capsule wardrobe:
Would a year round capsule wardrobe make your life easier?