Smart Financial Advice for Women Right From the Pros!
50+ pieces of smart financial advice for women that can help you grow your bank balance (and keep it)!
Pssst… I have a confession… I was once a personal finance dum dum. Yup, I said it, a DUM DUM! Harsh words I know (I have a 4yr old, that's as harsh as we get in this house) ?
I cringe at what I "didn't know" and could have easily handled, if I had only known, or realized. Do you have one of those "things" that you can't believe you didn't know? We all have those things. Right? I can't be the only one (please don't let me be the only one!!!)
Getting back to me being a money dum dum. My biggest money regret is around something I didn't know, and it KILLS ME! Yes, I need to just get over it, as we can never go back in time, but I'm stubborn, so I hold on to things. The main point is that I don't want this for you! I want you to know ALL THE THINGS, especially the important things, the things that can dramatically change your financial trajectory!
Today, I am laying out all the best money advice that real (money nerd) women have taken to heart and shared with me. Because real women are the ones living life on our level, they know our struggles and our needs, so in my book, they're the pros! All of these money tips are valuable, and each has resonated with women on a deeper level.
Read their words of wisdom, and I hope that something "clicks" with you! Because you may have heard it all before, but sometimes, for some reason, someone says something in just the right way that totally blows your mind!
This post may contain affiliate links. If you make a purchase, I may make a commission at no cost to you. Please read my full disclosure for more info
Women & money
Why does it take so long for a stereotype to die? Seriously, the 1940's housewife happily ironing is long gone. So are the days when the wife would get a grocery allowance from her husband, while he smokes a pipe and reads the paper. Even though TV has changed, and so has marketing (but we still have room to grow), "people" think that women aren't as capable to handle financial issues as men are.
I think we can all agree to call BS here. We know we're smart, we know we can learn, and oh yes, we're persistent! Research proves that we can effectively handle our financial life and that of a family as well. According to Forbes, Women investors consistently outperform their male counterparts, which could leave them with hundreds of thousands of dollars more at retirement."
In fact, Fidelity's analysis also "found that when comparing annual savings rates, women come out on top. Looking specifically at workplace retirement planning, women consistently saved a higher percentage of their paychecks than their male counterparts at every salary level. Women saved an annual average of 9.0 percent of their paychecks, compared to an average of 8.6 percent saved by their male counterparts."
So it sounds like once we women have some knowledge and confidence on how to save & invest, we're on a roll to financial success! But how do we get more women to that point of financial planning? Easy, we lead each other there! We take friends & family by the hand (if they are willing and curious of course) and we show them where they can learn, just like we did.
Here are some of the best money tips for women that will help us reach our financial goals faster! I am not claiming these quotes/advice as my own; neither are the women who mentioned it. If I know the source, I will cite it accordingly. You could call this the quick & dirty intro to financial literacy, these tips will get you thinking, and then hopefully acting!
So if you consider yourself a money dum dum, just like I was, let me tell you; you have it inside you to make smart financial decisions, build wealth, and live a life of financial freedom! Here's where you start…
The best money tips on investing | 1-7
Don't invest in something you don't understand.
Never invest more than you can afford to lose.
Always max out your investments, if possible.
Never make investment decisions or purchases out of fear.
Spend less, save more, earn more, invest more & repeat.
Don't just save money, invest it! Spread it out into different buckets for safety.
The enemy of smart investors is fear, greed & impatience.
Financial advice on being the boss of your money | 8-17
Always pay yourself first!
Save starting from your first paycheck. It's all about the habit!
Tell your money where to go, not wonder where it went. (Dave Ramsey)
Understand how taxes work. (read The Power of Zero).
Spend more time learning about money, a little bit every day!
Those that understand compound interest earn it, those that don't pay it. (abbreviated from Albert Einstein quote).
You work hard for your money, make it work hard for you!
Get professional money advice.
Freeze your credit, it is the ultimate safety belt for your credit
There are two "haves." Have a budget, have multiple streams of income.
Compound interest is the eighth wonder of the world. He who understands it, earns it … he who doesn't … pays it.

Albert Einstein
Hard money truths on spending your money | 18-27
The more you own, the more owns you.
You can afford anything, not everything! (Paula Pant)
Only buy it if you can pay for it twice.
You save even more by not buying that item on sale!
We have food at home! (Moms everywhere)
When it comes to cars, buy used & pay cash. Drive it till it dies.
Play the "is it worth it" scenario in your head for every nonessential purchase. Sometimes it may not be worth the money, but it may be worth the time.
The more you spend, the less you have.
Just because you can pay the monthly cost doesn't mean you can afford it.
If you cant pay cash for it, then you can't afford it.
Money advice for living your best life | 28-36
Enjoy life's moments when they happen. Don't become a penny pincher that you can't go to the concert, ball game, or dinner out. Tomorrow may never come. Make your bucket list happen a little bit every day.
Don't save for how much money you want, save for the experiences you want to have.
Invest in yourself and your development.
Learn how to provide value to others, and people will always be happy to see you.
Save up experiences, not things!
Live below your means.
Learn the difference between a want and a need, and learn it early on.
Only drive as fast as you can afford.
The best thing that money can buy is freedom from worrying about money.
Money tips for your heart & relationships | 37-41
Love people, use money. Never switch that around.
Find a life partner that shares your money habits.
View your budget from the lens of your values. To see this in action, check out how your Personal Core Values can impact your finances.
Money isn't everything, but not having it is.
A wise person should have money in their head, but not in their heart.
Hard money truths about having debt | 42-47
Eliminate all debt, no matter what.
Don't waste your money on depreciating assets.
Debt is a curse; avoid it at all costs.
Don't ever get sucked into the interest-paying trap.
Always pay off your credit cards in full every month.
Freeze your credit cards, literally in a big bowl of water. By the time you get them thawed out you won't want that purchase anyways.
Money advice on earning a paycheck | 48-55
Learn how to make passive income.
Learn how to turn $1 into $2, and you will never be broke.
Stop trading time for money and start trading value for money.
Get out of a "job" mindset and change it to that of a career. You will make a lot more money and be more fulfilled.
Time is the only nonrenewable resource; you can always make more money.
When you get a raise, increase your 401k by that same amount, you won't miss it.
Know your real hourly wage! Do you really want to work for 14 hours to buy that shirt?
Work to live, don't live to work.
Money advice on saving money | 56-61
Save, save, save!
An emergency fund is a must!
If your spending, you should be saving.
Save as much as you can when you are young, harness the power of compound interest! This is my biggest financial regret!
Save first, live on what's leftover.
Spend a little, save a little.
Women in finance
If these finance tips got your brains turning and you want to continue improving your financial literacy then there are some great teachers that you can learn from!
Suze Orman started as a waitress in the 80's and moved on up to be a financial advisor with Merril Lynch. In 1987 she quit working for others and founded her own financial group. Now decades later, she's written 10 New York Times bestsellers all about money, and most talking directly to women!
Check out her book – Women & Money
Jean Chatzky founded HerMoney.com and host of the podcast HerMoney. She's been the financial editor of NBC Today for 25 years and the Financial Ambassador for AARP, she appears on CNN and MSNBC. She is a New York Times and Wall Street Journal best-selling author.
Check out her book – Women With Money
Rachel Cruze is a #1 New York Times bestselling author, financial expert, and host of The Rachel Cruze Show. She is the daughter of getting out of debt guru, Dave Ramsey, so needless to say smart money is in her DNA!
Check out her book – Love Your Life Not Theirs
What are the money learning stages?
So many of us just starting out learning about money can get lost in the weeds. There are so many things to focus on, where do you even start? Don't worry, I've laid out a very rough three-tiered learning plan for what you should be focusing on as a newbie, intermediate level, and a pro money planner! Again, these are general things, I couldn't possibly include every small financial goal, task, or nuance here.
I'm a money newbie!
Learn how to make and follow a monthly budget.
Be working towards a full 6-month emergency fund.
Get current on consumer debt – credit cards, medical bills, personal loans.
Money medium level planner
Consistently contribute to your workplace retirement saving plan.
Have sinking funds for your financial goals and dreams – i.e. new home down payment, vacation fund, kid's 529 college plan, etc.
Know what's in your credit report (aka be pulling it 1-2 a year), and know your credit score.
Be working towards being 100% debt free – student loans, HELOC's, etc.
Have a rough draft of a financial plan written out.
Money top tier planning
Have retirement accounts in addition to your workplace plan. Open an IRA or a brokerage account.
Be maxing out your yearly contributions (or as close as your budget allows).
Seek the help of a financial professional (if you want to), such as a Certified Financial Planner.
Have zero debt, or be working on paying off your mortgage (usually this is the last debt for people to clear).
Have an estate plan – (i.e. Living Revocable Trust, etc).
Make sure that your plans, accounts, and strategies flow together and connect. A comprehensive financial plan for women is your long-term goal. But looking at one, in the beginning, might be a bit overwhelming, so for now, start with step one.
At the end of the day
We don't need to recreate the wheel or make the same mistakes as those who have come before us. These pieces of money advice are given from the heart (and the logical brain; it's how money nerds work). So learn from our mistakes as well as our wins. Because, if you can do better in less time, then you should absolutely do it, and these are the money tips for women that will get you to the financial future of your dreams!
Articles related to financial advice for women: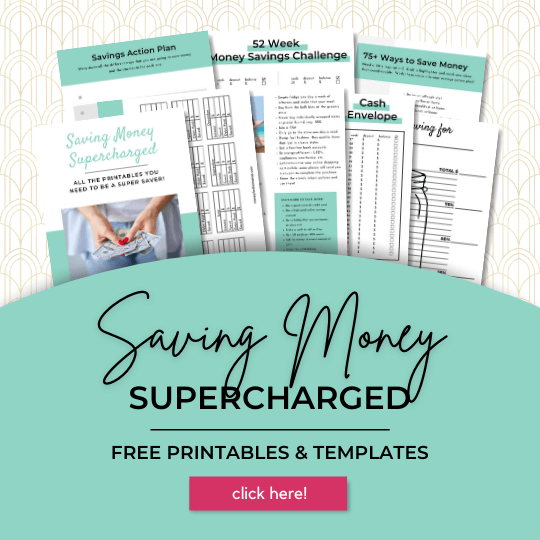 What is the best piece of money advice that you've ever heard?