How to Use Savings Charts to Supercharge Your Money Stash
Need a little motivation with saving your money? Grab a savings chart to help keep your eye on the prize!
Author: Kari Lorz – Certified Financial Education Instructor
All the experts agree that visually tracking your progress toward your goal can dramatically increase your chances of achieving that goal.
For example, let's say you want to save money for an upcoming vacation. So you get a vacation savings tracker, AND you put that savings tracker up on your refrigerator.
You see it every day, and every month, you get to color in a section. You can see yourself getting closer and closer to that vacation. It's proof that you're succeeding!
Today, I want to help you achieve that feeling, as I have some great savings charts that you can use to reach your financial goals.
This post may contain affiliate links. If you make a purchase, I may make a commission at no cost to you. Please read my full disclosure for more info
What are printable money saving charts?
Printable money-saving charts are a visual representation of how much you need to save to reach a financial goal and, more importantly, show you how far you have come. Sounds simple enough. They can be essentially anything you want them to be; any amount, look anyway, be for any purpose.
A money-saving chart is similar to a money-savings challenge but a little different. A money-saving chart is just a savings tracker for how much money you have saved. While a money saving challenge typically has a time frame associated with it. Usually, one month, or a 52-week money challenge.
How to use a savings chart
Step One: Print out a savings chart
You can print off your savings tracker and stick it in your budget binder (if you use it regularly) or tape it to your bathroom mirror or in your closet. You just want it to be visible daily.


Step Two: Put it up somewhere where you can easily see it (daily is best)
Since I'm a total money dork, one time, I took over the entire front of my refrigerator and turned it into a Money Saving Central when I was doing a no spend challenge! I covered the fridge in cheap butcher paper and then charted out my savings goal. It was huge – visually speaking! There was no way I could forget about my goal!


Step Three: Save & track your progress
For this particular goal, I was doing a no spend money challenge month and then saving that money for a solo vacation trip to Greece. I wanted to save $500 that month from my grocery, gas, utilities, and spending money.
I had it broken up into $50 increment blocks at the top, and at the end of every week, I would mark off how much I had saved and figured out my savings rate.
You can set it up to save an even amount per "checkoff," say $10 or $20. Or if you need the money by a certain date, then you divide the amount that you need by the time frame left (either in weeks or months, is best). Aka a money saving challenge.


Step Four: Reach your goal
Once you've finished coloring in all your blocks, it's officially time to celebrate! Go out and purchase what you've been saving so hard for!


Maybe you don't want to carry around a bunch of printouts? Don't worry, you can still use these ideas and incorporate them into a journal that you already have! Check out these fun bullet journal savings trackers for some inspiration!
Examples of printable savings chart ideas
Save $1,000 a month chart
That's saving $231 a week (there are 4.33 weeks in every month) OR
$33 a day (average of 30 days in every month)
Or you can make it easy on yourself and have just random (easy to have) amounts that you may have in your pocket. The one below shows a good example of this.
Save $5,000 a year chart
$417 a month
$96 a week
$14 a day
or make it easy and do it in increments of $50 (with one $100 for your baller day!)
Your savings charts can be in any amount you want, or you can even fill in the amounts as you go. There are no hard & fast rules, except for it to be visible to you daily!
Another hard money challenge that people like is the 100 envelope challenge. You can save $5,050! Yup, you guessed it, in 100 days! It's challenging, but that's why it's fun!
Where can I get a money savings chart?
Free version – a few savings charts
You can absolutely make your own and customize it to whatever you are saving for! Or, you can grab a free printable money savings chart right here! It comes with a bunch of other templates, all geared to helping you save more money consistently!
There are only a few savings charts in this bundle, but hey, they're free!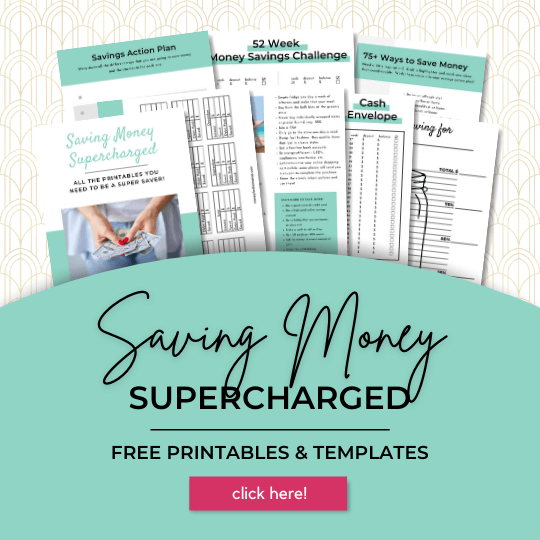 Full pack of savings charts & money saving challenges
You can grab the full printable pack of money saving challenges and savings charts from the shop.
14 money savings challenges
2 savings charts
46 pages
How to do a no-spend challenge full guide
What's so great about a savings chart?
Having a savings chart can be a powerful motivator on your way to saving money towards your big financial goals. When you can see something, it's much more "real" to you, so you are automatically more invested in the action needed (which is to save more money).
A savings chart is a visual representation of that thing that you want, whether your savings goal is for a vacation to the Caribbean Islands or saving for a new car, your first home, or even a Peloton bike!
"The easier a goal is to see, the closer it seems," said Rajesh Bagchi, assistant professor of marketing in the Pamplin College of Business at Virginia Tech. In an article on Science Daily, he continues, "The same thing happens if you are saving for a vacation with a definite goal and you see an image of a piggy bank filling up, instead of the dollar total only."
A savings chart is that piggy bank, and you actively checking off an amount saved or coloring it in reinforces that you are in the driver's seat, making it happen! You can see the finish line, and the end goal gets closer all the time.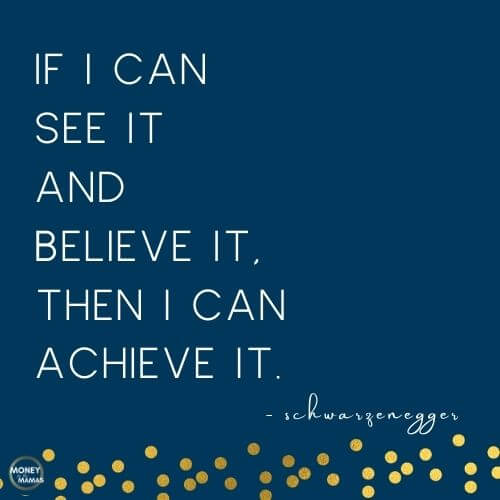 What can I use a savings chart for?
You can use it for any and all of your financial goals, basically anything that you need a little bit of extra motivation on! Common reasons include…
vacation
new car
downpayment for a home
fill your emergency fund
a kitchen remodel
latest gadget
holiday savings
dump your debt in one payment
front load a new retirement account (i.e. an IRA), or your kiddos 529 college savings plan)
What to do with your savings?
One of the most important things that you need to do when you are saving money for a specific thing is to separate that money from the rest of your spending/bank account. That way, there is no confusion about the money in your account, and you won't accidentally spend it on something else.
Separate the money by getting an extra savings account (make sure it's fee-free), or get a money savings envelope that you can stash it in!
If this will be a long term account for you, consider getting an online high yield savings account, so you can earn considerably more interest on your money than with a regular savings account. Remember compound interest is your absolute best friend!
Be sure to check your local credit union as well, they can sometimes offer very competitive interest rates.
If you get a savings account, know that you can only do 6 transactions (in & out) a month fee-free. This is a federal regulation, so any savings account will have this restriction.
How do I find extra money to save?
There are lots of little ways to find extra money to save, or you can shift the focus to making extra money and then saving that specifically towards your goal and use it to fill in your money saving chart.
The easiest way to save is to scour through your budget and find expenses that you can cut. If you need help with budgeting, be sure to check out all the budget planner printables that I have in the shop! Tracking your income & expenses with a simple budget template is huge for gaining control over your finances!
I am a huge fan of paying yourself first, that's where you make saving a line item in your budget, and you pay that before you pay anything else. This way, you save money every single month without fail! You can do just one "savings" category in your budget, or use the cash envelope method of budgeting to save for very specific things.
If you can't swing any money from your monthly budget here are some ideas…
Ways to save money
carpool or ride a bike to work
start a capsule wardrobe and stop buying clothes
learn to make the things you buy all the time (i.e., bread, laundry detergent, yogurt, etc
buy stuff from the bulk department – grains, cereal, spices, flours, baking mixes, nuts, etc.
cancel 1/4 of your services & subscriptions (i.e., Netflix, Birchbox, etc.)
Ways to make extra money
Make something to sell on Etsy
grow a veggie garden and sell to neighbors
make bread to sell
babysit for neighbors
sell your old clothes on thredUp
In the Saving Money Supercharged template pack, you'll not only find a free printable savings goal chart but a guide on 75+ money saving tips and ways to make extra money! This list will jumpstart you towards finding the money you need to reach your goals faster!
Hint: If your goal is to bump up your retirement savings then be sure that you are contributing enough to the retirement plan to get the full match from your company! That's free money, don't let it slip through your fingers!
Remember, if you save more now, it's worth so much more than saving money later on, as compound interest is your best friend in growing long-term gains and wealth!
At the end of the day
You know the old cliche, "Work smarter, not harder"? A printable savings chart template is exactly that; a key player in your savings plan! Not only because it's super easy to use it, but it's making you mentally and emotionally more invested in the outcome. It's gameplay at its finest, as it's tricky smart getting you to do something that's good for you!
Hmm… maybe I need a savings chart for eating broccoli for my 5 yr old 🙂 Hey, moms have no shame when it comes to getting our kiddos to eat things other than bread & cheese!
So what are you saving for? Grab your money saving chart and start today!
Articles related to money saving charts:
So what are you saving for? Grab your savings chart and start today!