10 Smart Things to Save Up For (That Everyone Should be Doing)
You know you should "save money" but you wonder why. Here are the top 10 reasons to save money (and yes, you should start today!
I am a freak, or you could call me a nerd, a dork, whatever it is, it probably fits because I love to save money! No, I'm not Scrooge McDuck, who likes to save for the sake of saving. I like to have a little bit of fun with it too!
Sure, I am responsible; we have a 9-month emergency fund that makes my heart happy. It makes me feel secure knowing that my family is taken care of if the worst should happen.
But above security, what are the most common things to save up for? What should YOU be saving for? Do you know? Or are you not yet saving? Don't worry if you're not. After reading this, you'll know your exact reasons to save money and be excited to get going!
This post may contain affiliate links. If you make a purchase, I may make a commission at no cost to you. Please read my full disclosure for more info
Reasons to Save Money
Okay, everyone knows that you save money to buy stuff that you want. That's basic, and we know this. But that could be you saved $6 for McDonald's, or it could be that you saved $2K for an amazing hydroponic mini greenhouse for your backyard!
When we have compelling reasons to save money, we do it a lot more happily than if we were saving money for some vague reason, to save just for saving's sake. You're not really invested in the process if you don't know your reason for saving money. If you can't visualize it, you can't see yourself with "it," then you won't be motivated to cut your expenses or find the extra money and save for it.
So whatever your savings goal is, you need to make it visual; you need to see yourself using it, or doing it, or being there. This creates a tie between you and the reason your saving money.
Better yet, if it's a thing you want or a place you want to go, then print out a picture of it and keep it with you. Even better than that is making it your phone lock screen. According to tech experts Asurion, we pick up our phones 96 times a day! If you saw your savings goal 96 times a day, that's powerful messaging!
Don't forget that you won't be paying interest on it when you save up to buy something. Be it if you buy it with cash or put it on a card to earn rewards and then pay it off. The debt crisis in America is no joke, and it's reported from Nerdwallet that Americans paid $1,155 in interest in 2020.
What happens when we save up for things
When we save up money for something and then buy it, we appreciate it more. For example, let's say you saved up for 7 months for a designer handbag, it took a lot of money, it's your baby, you worked so dang hard for it! You will take a lot better care of it than if it was a gift or if you had just brought a regular cheapo handbag.
If you figured out your real hourly wage, you would know that it took you 1,155 hours of work to afford that bag! You are damn well going to treat it good!
If you take it a step further and pay with cash, "a phenomenon called coupling happens. When someone buys an item with cash, they immediately know how much that item costs, which can be painful. However, when someone pays with a credit card, there is a time period between when they purchase the item and when they have to pay for it, which makes the cost seem less important, according to Psychology Today."
You earned that money, that cash, and parting with it hurts; it is important to you! Saving up for something makes it more important to you.
Responsible things to save up for
One – Security for your family
We touched on this a little bit above, but having a large emergency fund, nice and safe in a bank account, buys the feeling of security and safety. You cannot beat that feeling. Trust me; no designer handbag can bring you that level of peace of mind!
Yes, it stinks when you have to spend your emergency fund, but it just saved you and your family so much stress and hardship. And you know that since you've already built up that money once, you can absolutely do it again!
Another reason to spend it, instead of putting something on a credit card, is that you don't want to be accruing interest on this debt. You want to avoid using money to pay off the interest; that's just smart personal finance 101!
Emergency fund recommendations:
How much you save in your emergency fund is up to you. But please, don't lowball this number. If you pool all the personal finance experts together, they say 3 – 12 months of living expenses is a good range. Personally, my family has nine months of living expenses saved up. It makes me feel good, having that amount in emergency savings, and let me tell you, the peace of mind is priceless.
Two – your own home
A downpayment on your own home is another right of passage. It's a moment that homebuyers won't ever forget when they walk into that home after just getting the keys. They stand in that empty, echoey house and just bask in the knowledge that it is theirs!
Traditionally, experts agree that you should save up 20% of the home's purchase price, so you don't need Private Mortgage Insurance (PMI). This is insurance that you must pay if you don't have the 20% downpayment; it protects the loan company from totally losing out if you can't pay the monthly payment. This makes sense for the lenders, but it's an absolute waste of money on the buyers' part.
Investopedia states that "As of 2020, the rate varies between 0.5% and 1.5% of the loan amount." So if "you have a 30-year, 2.9% fixed-rate mortgage for $200,000 in New York. Your monthly mortgage payment (principal plus interest) would be $832.00. If PMI costs 0.5%, you would pay an additional $1,000 per year or (0.005 * $200,000). As a result, your monthly PMI payment would be $83.33 each month," on the low end, or if PMI costs 1.5%, then it would be $250 per month. That's $250 a month that goes to nothing, just bye-bye. Bummer!
So you should absolutely save up 20% down on your new home! Open a savings account today, and name it "new home", so much more exciting! In fact, reach this financial goal faster by opening up a high yield savings account, which has a much higher interest rate than a regular savings account.
Three – college
The American Dream, it's a heady thought, something that almost all of us want. Success, peace, respect, a white house with dark green shutters, and a picket fence. Oh, don't forget the dog and 2.5 kids. And what this usually means is a 4-year college degree (so you can afford said house).
Yes, it has been driven into our heads that to be successful, you need to go to college and get a degree, and for some careers, this is a must, and for others, it's not important. But everyone still agrees going to college is a good thing. Too bad it just costs so damn much!
According to ValuePenguin, "Average Total Cost of Public Colleges: $25,290 (in-state) $40,940 (out-of-state) per year. OUCH! That's a significant drain on people's financial situation, where the monthly expense is more than a car payment!
Everyone knows that student loans are a financial death sentence, so the other option is to save up for them, and parents do just that! Most can't cover the whole cost, but they can make a decent dent in the cost.
In fact, the same month my daughter was born, I opened up a 529 college savings account for her to take as much advantage of compound interest that we could! (I did later roll this over to an ABLE account, which is similar, but specifically for people with disabilities, but can still be used for college).
Four – your retirement
Yup, your golden years are a-callin' you! But hopefully, you won't be so golden but still young & rip-roaring ready to go!
You certainly don't want to work forever; you want to retire and enjoy yourself, I don't blame you. But that means that you need to start your retirement saving now, like right now! Investopedia reports that "American workers had an average of $95,600 in their 401(k) plans at the end of 2018, according to one major study." Which sounds like a decent amount, but that has to last you years, maybe decades. Suddenly that $95K doesn't sound like enough.
How much you need to save from your salary depends on many aspects of your financial situation, but is influenced by two main things; your desired lifestyle and your health. Obviously, if you want to travel, you'll need more than if you want to sit at home and do puzzles.
Ally Bank states, "A general rule of thumb is to have one times your income saved by age 30, twice your income by 35, three times by 40, and so on. Aim to save 15% of your salary for retirement – or start with a percentage that's manageable for your budget and increase by 1% each year until you reach 15%."
It's always better to overestimate expenses in a far out projected monthly budget, as you never know what unexpected expenses will pop up (but you can be sure there will be something that comes up).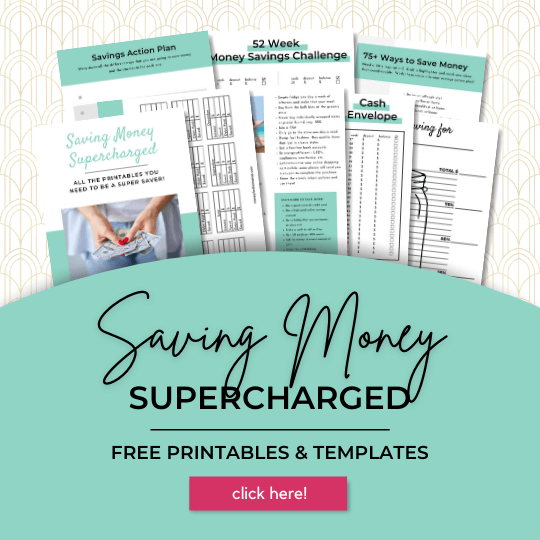 Fun things to save up for
Five – a family vacation
A family vacation can make memories that last a lifetime and debt that lasts a few years. A 2017 study from Learnvest states, "About 74% of Americans have gone into debt to pay for a getaway". CNBC reports further reports it "showed on average, Americans take on about $1,100 in debt on their excursions."
Hmmm… that stinks. I can bet they were having a great time, and then every so often, the thought of "I can't afford this" popped in their head, turning the delicious fruity chill of the pina colada in their mouth to dirt. Yuck!
Don't do that to yourself! By all means, go on vacation, but save up for it. You will feel so much better while on vacation and after if you don't have a huge credit card bill looming over your head!
My family saves money every month into our "vacation" sinking fund, as we know we will always want to go on vacations! It pays for a weekend at the beach, and it pays for a Walt Disney World vacation, which we take about every 18-24 months. This doesn't mean we go totally crazy on vacation, we still look for ways to save money (#dvcforlife), but we do like to enjoy ourselves!
Six – a solo vacation
This might seem odd, but I think everyone should go on vacation by themselves! You get to do what YOU WANT to do, not what the group has comprised with each other to do. Maybe it's because I'm a huge introvert, but my very best vacation was when I went to Greece by myself! I spent three days meandering around Athens, and then I spent a week at a yoga retreat on the Greek island of Lefkada. It was amazing, and I can't even begin to describe the feeling that wells up inside of me when I think about it.
Spending my money on this was a hard decision; it felt a little frivolous, but I don't regret it one bit! And that's the great thing about having financial goals 1-4 on this list handled. I don't feel guilty for spending money this way because I have covered my other "responsible" bases. Now, if I had credit card debt or lots of bills, I probably wouldn't have gone. But my good financial habits enabled me to save up and go!
Be sure to check out Savings Charts for Supercharging Your Money Stash, to get some ideas on ways you can track your progress towards your solo vacation money goal!
Seven – start your own business
Some could argue that this is also the American Dream, but starting your own business is a step that most only dream of. Some people are too scared, too overwhelmed, or just don't have the funds. This reason to save up money is so compelling because you are on fire with the thought of being your own boss and doing what you were made to do!
Eight – start a family
Having a baby can be simultaneously the most exciting and the scariest thing that a woman can do. You are thrilled about it, yet so very worried that you won't be a good mom, which could mean not having enough money to take care of the baby like you want to.
Not only is there the immediate cost of having the baby, but the lifelong investment of raising a child. It costs a lot, a damn lot. Business Insider reports that in 2019, "The average cost to have a baby in the US, without complications during delivery, is $10,808 – which can increase to $30,000 when factoring in care provided before and after pregnancy."
Ummm… what? The good news is that most of us have health insurance, which dramatically reduces (hopefully) that cost. But you still need to save up money to take maternity/paternity leave, buy all the new baby stuff – diapers, crib, toys, food, etc. These things cost enough to choke a horse.
Nine – large purchases
It seems that all the things to save up for have been large amounts, but there are items in the middle range we need to look at. Things like a new car (I recommend purchasing cars that are two years old, if you don't want to take the depreciation hit, and no you don't). Things like braces, spendy summer camps, a new beautifully landscaped backyard, a kitchen remodel. All of these things are worthy reasons to save money and not go into debt.
Just figure out how much you need and the date you need it by. Divide the cost by the time frame (months is easiest), and that's how much you need to set aside each month to buy it. Yes, that sounds "simplistic," but I do realize the doing of it is a lot more complicated and harder to execute.
Resources for setting up your sinking funds
The workbook includes…
guide on how to review last year's spending to plan ahead for this year
year at a glance guide
sinking fund brainstorm session
sinking fund tracker and more!

Or you can grab just a simple sinking funds tracker.
If you want a very quick way to figure out your savings rate, then check out my sinking fund calculator. You input the dates to start/stop saving, the amounts, and if there's any interest (if the money is in an interest bearing account, like a high-yield savings). The calculator will tell you exactly how much to save each week and/or month; super quick and easy!
Ten – your bucket list
Yes, I want you to do the things you've always wanted to do! One of my very favorite quotes is from Lara Casey…
No matter how much they cost or how little, I want you to look at making those things happen. Spending money on a solo vacation, a yoga retreat was absolutely on my bucket list! When I found one in Greece, a place I have ALWAYS wanted to go to, I knew I HAD TO make it happen!
I saved for 18 months to afford it. Yes, I did get some additional help from my mom's frequent flyer miles (it was my birthday and Christmas present that year). But going to Greece is something I won't ever forget!
Other things on my bucket list; to own a paddleboard (my good friend got me hooked LY); it's so peaceful & downright amazing! I also want a smoothie box subscription (don't laugh :)), and I want to live on Walt Disney World property! HA! Homes in Golden Oak go for $2M so that one probably won't happen. Oh well.
So what's on your bucket list? Those things can become your reality, maybe not all of them but at least 1-2 can happen!
Use a high-yield savings account to make out savings
You should consider using a high-yield savings account to hold your money. These are regular bank accounts (savings accounts) usually from online banks where they pay a much higher interest rate than regular brick & mortar banks.
For example, a popular nationwide bank offers .08% APY, while CIT Bank currently offers .80% APY in their Savings Builder account.
For example, if you had a $30,000 emergency fund. In one year at a regular bank with a savings account of .08% APY, you'd earn $24. While at CIT Bank, with .80%, you'd earn $240. Don't forget that money now earns money too; you compound it year after year; that's where the compounding works its magic.
Should I be spending money if I have debt?
No matter how much they cost or how little, I want you to look at making those things happen. Spending money on a solo vacation, a yoga retreat was absolutely on my bucket list! When I found one in Greece, a place I have ALWAYS wanted to go to, I knew I HAD TO make it happen! I saved for 18 months to afford it. Yes, I did get some additional help from my mom's frequent flyer miles (it was my birthday and Christmas present that year). But going to Greece is something I won't ever forget!
Other things on my bucket list; is to own a paddleboard (my good friend got me hooked LY); it's so peaceful & downright amazing! I also want a smoothie box subscription (don't laugh :)), and I want to live on Walt Disney World property! But, homes in Golden Oak go for $2M, so that one probably won't happen. Oh well.
So what's on your bucket list? Those things can become your reality, maybe not all of them but at least 1-2 can happen!
Should I be saving money if I have debt?
Yes! You should still be saving money while paying off debt, but you need to be strategic about it! You should…
have $1,000 in a starter emergency fund (just like Dave Ramset recommends)
be contributing the full amount in your workplace retirement savings to get the full match amount (that's free money)
Then you should be putting everything towards your debt snowball to pay off any high-interest debt (i.e., credit card debt). For things with very low-interest rates (home loan, car loan, anything under 5%, etc.)
You can still save small amounts for your big goals, but we're talking $10 here, or if you found a $20 in an old coat pocket. But most should go to paying off debt so you can stop wasting money on interest fees. That should be your #1 priority.
A great way to still be saving money for your financial goals is to use your birthday and other gift-giving holidays to supplement your savings. Your family would probably be happy to give you 450 for your solo vacation instead of giving you a physical gift that you may not want or like.
At the end of the day
These are some of the most popular things to save up for, but don't worry if you're not there on the first four things (the responsible ones, all you need to do is take the first step. That could mean just writing them down, calling your bank and opening a separate savings account, or visiting your HR Dept to get retirement paperwork. (If your workplace doesn't have a plan consider opening your own retirement saving account, like a Roth IRA) That's all you need to do, just that that very first step, and then the others will come more easily.
For numbers 5-10, you can start today! Just tuck $5 into an envelope and on the front write in big huge letters what it's for! That's it, step one, you've done it! Don't forget you can grab your own cash envelopes right here, just print, cut & tape, and you're on your way to living a life of financial freedom!
Articles related to reasons to save money:
What are your top 3 things to save up for?