The Cash Envelope Template That Every Budgeter Needs (FREE PRINTABLE)
Grab your free printable cash envelope templates (or make your own) and start organizing your money today!
I love hobbies, it's even better if this hobby helps you accomplish your big goals, like getting a better hold of your personal finances. Honestly, budgeting is my favorite hobby! (#nerdmuch)
That's exactly what we're digging into today, and I have some great cash envelope templates so you can get crafty and make your own. That's the best part; you can make them exactly how you want them! Yes, your crafting skills may stink (don't worry, you'll get better). You can make them in your favorite color, design, add stickers, washi tape, whatever "it" is, you can do it! (hmmm… do people still bedazzle things?)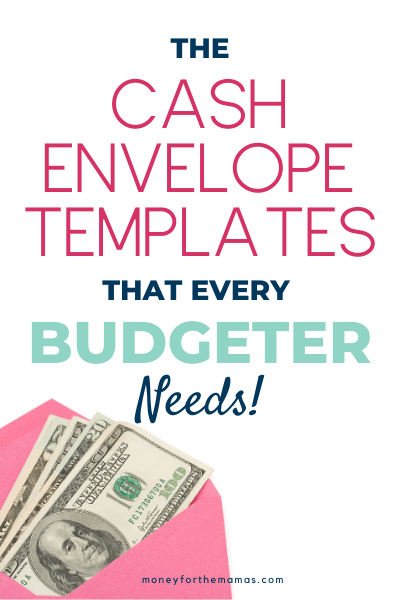 This post may contain affiliate links. If you make a purchase, I may make a commission at no cost to you. Please read my full disclosure for more info
Why should I use cash envelopes?
Cash envelopes are used as a way to budget your money; it's the "cash envelope system". Basically, at the beginning of every month, you decide how much money you want to spend in specific categories and stuff your envelope with that amount.
During the month, you spend from your category envelopes, and once that envelope is empty you stop spending money. So it's a safety catch for your monthly budget.
The cash envelope system is great for someone who may be tempted to spend more money than they should, but with cash budget envelopes, they can't spend more than the amount they determined doing their monthly budget planning.
Using an all cash budget is typically done with your spending money. For example, you wouldn't use cash budgeting for debt repayment or your car insurance payment, as it's online, and it's a fixed expense, so there's no need to budget it out because you know how much it will cost. (We talk more on which spending categories this works best for below).
Sometimes people only do the cash budget system for a few months to help get their spending habits in line. Once they get a feel for how much they should be spending, they transfer over to a budgeting app, or go back to using a credit card so they can earn reward points.
No matter what payment method you prefer, I think it's beneficial for people to try the cash envelope method for at least a few rounds of monthly expenses and spending.
Some people also use cash envelopes as a mini savings account, to hold their sinking fund money. I use a budget envelope for my Christmas money, for things I'm saving up for. It's an easy way to set money aside and not get it jumbled up with the rest of the money in your savings account.
How to make your own free cash envelopes
You'll need just a few things…
Paper – use cardstock if you can
Scissors
Tape or glue
Ruler or instead of measuring things yourself, you can just use a printable cash envelope template, and I have one right here for you, and it's free! Just enter your name & email address, and you'll get the free Better Budget template pack that includes both a vertical cash envelope and a horizontal cash envelope. Just print, cut it out and tape (or then trace it on your favorite paper)!
DIY cash envelope template
If you still want to measure out your own envelope, then no worries, I got you covered. Here are your envelope measurements so you can DIY your own free cash envelope template.
Vertical cash envelope template
a long rectangle: 6 1/2″
a small flap at the bottom & top: 3/4″ and 1″
2 side flaps: 1 3/4″ and 2″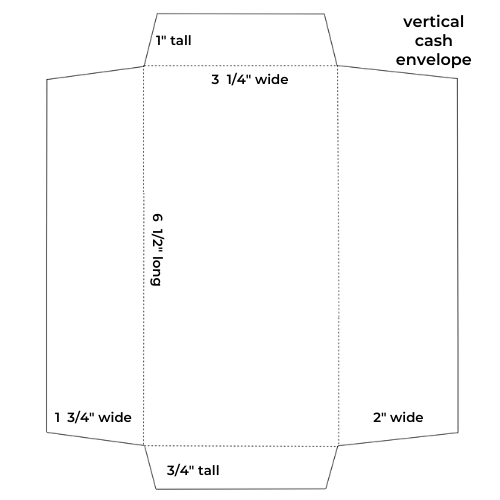 Horizontal cash envelope template
a long rectangle: 6 1/2″
2 side flaps: 1/4″ and 3 1/4″
small bottom & top flap: 1″
Save with Rocket Money
Rocket Money helps you lower your monthly bills as they instantly find, track, and negotiate down your subscriptions.
Your concierge is there when you need them to cancel services, so you don't have to. They also track your spending and notify you of where you can cut down to save even more.
Which cash envelope design is best?
Well, it depends on how you will use them and store them. If you're going to carry them around in your wallet, then it needs to fit inside. Room for punch holes?
Or if you're going to keep them at home in your budget binder then it doesn't matter. Personally, I like horizontal envelopes the best. Sometimes with vertical, it gets hard to slide bills into it easily (especially if it's an old soft bill). But maybe I am just impatient and try and jam it in 🙂 Quite possible.
Making your cash envelopes yours
As I said above, you can design your cash envelopes any way you want. Here are some of my favorite supplies…
These are just a few options for you to think about, but there are thousands of designs and ways to accessorize your cash envelopes. You just need to sort through your options and see what fits your personal style.
I don't know about you, but I love getting crafty; it's fun. And at the beginning of every month, I get excited to sit down and make some new ones (if I am not reusing ones from previous months). This is one of the hands-on fun parts of using the cash envelope system!
But as I mentioned, you can reuse your envelopes; you just need to be sure to use sturdy cardstock so they hold up. Or you can do some good old fashioned laminating (use packing tape to cover it). And you will need a cash envelope template insert to use to log your purchases. Print this on heavy card stock, so it slides in the envelope easily.
If you love the cash envelope method be sure that you keep everything organized with a cash envelope wallet. It makes it so much easier and cleaner than having random envelopes in your purse!
Cash envelope tracker & planner
Another useful item is a cash envelope planner, this is a form where you write out which denominations you need for your envelopes, and then you take this to the bank to get the correct bills for your envelopes. It just makes the process go much smoother & faster, and it's formatted so that the math is double-checked, so you know it's correct.
You may also want a budget form designed specifically for cash envelope budgeting. It just makes it so much easier when all your things line up and match. For example, you wouldn't wear your running shoes with your little black dress, would you?
I keep all of my extra cash envelope printables and my budgeting supplies in my budget binder. Which makes it handy to have everything in one spot.
What categories of cash envelopes should I make?
You can turn any budgeting category you want to into a cash envelope. Or you can shift their purpose and make sinking fund category cash envelopes.
Some of the more common categories are…
groceries
restaurants
gas
fun money
clothing
kid stuff
hobby stuff
pet
gifting
date night
miscellaneous
Sometimes you pay bills online, things like your water, electricity, cable, etc. You don't need to make envelopes for those, but you do need to account for that money. Sometimes if your electric bill is higher one month, you may need to go back to one of your cash envelopes and pull back some money from it to deposit back into the bank to cover that variable expense.
Tips for using the cash envelope system
Just as with everything else in life there are some tips & tricks that you may not know about in the beginning. Let's go over them to get you started off on the right foot!
1. Printing your envelopes
Be sure that you print your cash envelopes on sturdy cardstock, if you use regular printer paper they can easily rip. That is unless you are covering them with the 2′ wide packing tape. That's a great hack, it's like laminating your envelopes but you're using tape.
2. Make Extra
When you're making them, make sure to make a few extra money envelopes, you never know what you may want to save for later on. Beach vacation, anyone?
3. Use cashless envelopes where it makes sense
If you like the idea of how cash envelopes can help you spend less but you think it's inconvenient for bills then do a hybrid method. This is where you do your utilities and such on your credit or debit card, but then use your money envelopes for all your discretionary spending, as that's where we tend to overspend. So for categories like groceries, dining out, gas, fun money, etc. You can use this cashless spending tracker to help with those bills you put on your cards.
4. Going to the bank for your money
Go to the bank once a month to withdraw your cash and have everything written out on a piece of paper that you can hand the teller. Write out exactly how many 1's, 5's, 10's, 20's, 50's and 100's you need. If you want to make it super easy on yourself, grab the cash envelope planner pack, it makes it so easy!
5. Which budgeting method works best with cash envelopes?
You can use cash envelopes with any budgeting method but it makes the most sense with the budget by paycheck method (get paid twice a month), or just the regular cash envelope budgeting method (paid once a month).
6. Keep your cash envelopes safe
After a few months of using the cash envelope method, you should know if it's working for you. If it is you might want to consider getting a cash envelope wallet. Using one is nice because it protects your envelopes from getting all smashed up in your purse and keeps everything nicely organized. (Remember, give it three months to see if you like it before investing in a wallet).
Save $900 a year with BillTrim
You don't have to find a new (and cheaper) cable or phone company. Yes, you need to save money, but don't worry; that's where BillTrim comes in.
You have your same providers; BillTrim just negotiates the monthly bills all down, so you pay a lot less every month. On average, they save their customers $900 a year (that's $75 a month)!
Cash envelopes for teaching kids about money
If you have an older child, say tweens, you can give them a money envelope for their school clothes, school supplies, and such. It's a great way for them to get a feel for what budgeting is like.
Just write out a master list of everything they need, and then the cash envelope and the money. Then they are responsible for making sure they "afford" everything on their list. BUT, you may need to be prepared if they don't as wisely as they should, and for some reason, don't have enough to buy their binders, etc. Either way, it will be a great learning lesson and experience for them.
Money envelopes for gifting
Once you get into your groove of making cash envelopes, you can use them for gift giving. Any place you'd normally give cash, you can make a fun cash envelope and write a note on it, just like you would with a greeting card. It makes giving cash more personable and unique. This would be good for graduation, weddings, baby showers, etc.
Gifting a red envelope has significance in certain cultures, it symbolizes good wishes and luck for the new year ahead.
#1 Benefit of using cash envelopes
I would love to think that I have an amazing memory, but I don't. That being said, I have mixed up my money now and then when I had it in just a single bank account. How much was for the car tune-up? How much was for new running clothes? How much was for bills?
When you use the cash envelope budget system, all of that confusion gets taken away, everything is separated and labeled! Nice huh!
Download your free cash envelope templates
If you want some basic cash envelopes for saving money, then you can get a vertical cash envelope template and a horizontal cash envelope template right here. It comes with a bunch of other free printable worksheets to help you save money!
If you're looking for something that is bright & fun then check out the printable cash envelope templates in the Shop!
At the end of the day
Making your own cash envelope templates can be a great way to get started with the cash envelope budgeting system. Or you can use them for your short-term sinking funds. No matter what you use them for, you should have fun with them!
One of the unexpected bonuses with making your own CE's is the emotional tie to it. You're like, "I made that!" You are more careful with it, and hopefully the money inside too!
Articles related to cash envelope template: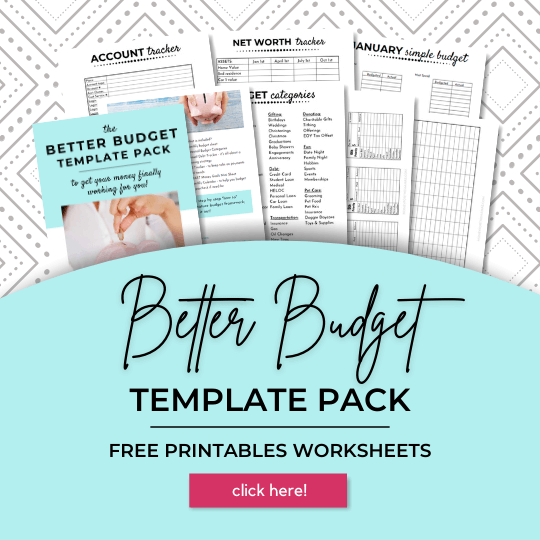 Which money envelope style are you going to use?