30+ Free Printable Budget Templates (Download Now)
If you're a struggling budgeter, then you need to grab a free beginner printable budget worksheet to help get your money on track!
Author: Kari Lorz – Certified Financial Education Instructor
You're trying to get your finances in order, but you don't know where to start. Don't worry; you don't need to start with a blank page; there's no need to recreate the wheel.
We've got the perfect solution for you – this post is full of free printable budgeting templates! Just download, print, and use it to help you create a budget that works for you.
So here are 30 of the best free budgeting templates!
This post may contain affiliate links. If you make a purchase, I may make a commission at no cost to you. Please read my full disclosure for more info
1. Free beginner printable budget worksheets – Money for the Mamas
Since I made this free budgeting template printable pack for your own DIY Budget Binder, I'm a bit partial to it. It has 13 financial templates (plus instruction pages), it has…
A cover page with your name (to put your forms in a 3-ring binder)
Financial goals worksheet & money mindset exercise
Budget categories list (so you don't forget any expenses)
An overview of your financial situation (net worth statement)
Monthly budget template
Debt payoff tracker
Bill log
Expense/spending log
Savings tracker
Account log
Cash envelopes (for saving money in sinking funds)
Monthly Calendar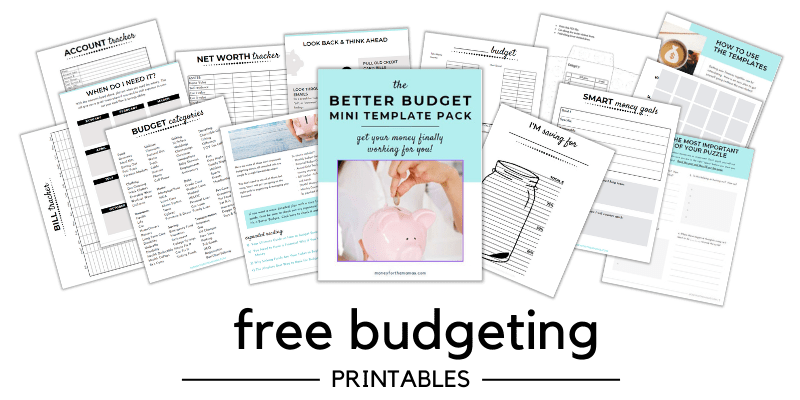 2. Zero Based Budget Template from Create Simple
I love zero-based budgets, as you put each dollar you earn to work for you! This budget template from Create Simple is very straightforward and easy to use. This 2-page printout is perfect for those that need a little guidance but not so much so that they get confused.
3. Home Finance Printables from The Harmonized House
These printable budget sheets from Harmonized House are great because there are a lot of them (so everything is covered), but you can pick and choose which ones you want and only print what's needed). For each template, there's a blank version and then a filled-in version, so pay close attention to which one you are downloading.
4. Printable Budget Binder from Blooming Homestead
This mini-budget binder from Blooming Homestead is nice because you can pick from three design options, so you can pick what suits your style. These are easy documents to use and include a monthly recap sheet to help you analyze what went well this past month and what you need to do better at.
5. Printable Budget Binder from 30 Days
Here's a very simple mini budget pack from 30 Days, yet you may find that if you want to go all out in budgeting, you'll want a more detailed form. But there's lots of space on these entries, so this might be a good option for your kiddo to try their hand at budgeting.
6. Free Printable Budget Worksheet from Moms Make Cents
Here are three budgeting pages from Moms Make Sense, and I really like them. They are very well formatted, nice and professional looking, while still being easy to use. These three sheets will get you off on the right foot!
Vote: very nice!
7. Financial Planner from Simply Stacie
This budget planner template from Simply Stacie is nice because it has a whole page for debt payoff progress. Getting out of debt is one of the best things you can do financially, as you're spending a lot of money on paying interest (not good). Even though this printable says 2019, there's nothing on it that's date specific, so go ahead and use it now.
8. Free Monthly Budget Template from Frugal Fanatic
This monthly budget template from The Frugal Fanatic is a great one-pager. It has the expense categories pre-filled out for you (which is nice in case you forgot about an expense), but if you don't have those specific expenses, you'd have to white it out and then write in your own expense category (which can get messy).
In my free budget binder pack, I have two pages dedicated to listing all the possible budget expense categories, so you're almost guaranteed not to have forgotten anything from your budget! You can see the free printable budget template pack here.
9. Free Printable Budget Worksheets from Freebie Finding Mom
These free budget printables from Freebie Finding Mom are nice and simple and super easy to use. Plus, you can choose the color you want for both the printable and Excel versions. (Note: the spreadsheet version doesn't have any formulas, but it's easy enough to make your own in the cells that need it.)
10. Quick Start Budget from Dave Ramsey
If you want everything laid out for you in as few words as possible, then check out the Quick Start Budget PDF from Dave Ramsey (yup, the get-out-of-debt guru himself). It's a page of instructions and then a worksheet, simple as can be. But the worksheet doesn't have a lot of entry fields. So this form is best for someone with only a few expenses.
11. Monthly Budget Template from Gathering Dreams
This one-pager budget form from Gathering Dreams is great for someone who just wants a monthly budget form – no fluff or filler. Just nice and simple.
12. Free Printable Budget Planner from Home Printables
This mini-budget pack from Home Printables is nice for someone who wants to dig into their money a little more. It includes a vision board (very helpful for coming up with savings goals), a financial goals page, a cash flow planner, a weekly budget template, a monthly budget form, a spending log, and a bills tracker.
(Note: it does say 2020 on the main page, but there's nothing in there date specific, so you can print and use it now with no problems.)
13. Blank Budget Worksheet from Mom Managing Chaos
This blank budget worksheet from Mom Managing Chaos is a gem! It has lots of entry fields (for those with a lot of expenses), yet it still looks really neat and clean. It even gives you a page to help you brainstorm and narrow down your budget categories to ensure you have everything covered.
Vote: I like it!
While you're looking for some budget help, don't forget that there are some great free kids' budget printables too! Right now (aka as soon as you are able) is always a good time to start your kids learning about money!
14. Budget Planner from the Stay at Home Mum
This budget planner from Stay at Home Mum is a good starting point for people that haven't budgeted before (and may get overwhelmed with too many moving pieces). But once you get the hang of budgeting, you may want to upgrade to a form with more options.
15. Printable Budget Sheet from Printable Crush
This 4-page budget printable pack from Printable Crush is really nice. Very well formatted and fun looking. They offer a budget form with categories and common expenses filled out and then a blank one too. They also offer an expense/spending log (which is the most important thing to track if you're trying to stay under budget).
Vote: very nice!
16. Printable Monthly Family Budget Worksheet from A Mom's Take
This simple family budget worksheet from A Mom's Take is nice for someone just starting out (as there isn't a debt repayment section – so more suited to someone with no debt). I like that they have a "budgeted" section and an "actual" section. As sometimes, what we think will happen doesn't work out. So having these two sections can help show you how much you need to adjust your spending by.
When trying to download this doc, click on the image (instead of the text link).
17. Monthly Budget from Frugal Mom Eh
This monthly budget form from Frugal Mom Eh is nice because it's geared to the cash envelope budgeting method (and it comes with cash envelopes)! While the form is a bit too simple (but covers the basics), the envelopes are a nice bonus!
18. Family Budgeting Binder from Clean & Scentsible
This family budgeting printable from Clean & Scentsible is a good choice for anyone and everyone! The form is simple, and while I do like a budget on one page, this budget form has three pages. This helps new budgeters ensure they haven't forgotten any expenses and have plenty of room to lay out their income sources and expenses. There's also a debt tracker and a budget overview form (download separately).
The budget form includes budget categories and line items pre-filled or blank versions. I'd use the pre-filled out version to help you brainstorm all your possible expenses. You can always go back to a blank one if need be.
Vote: good to go!
19. Free Printable Budget Worksheets from Uncluttered Simplicity
These printable budget planning worksheets from Uncluttered Simplicity are nice if you love polka dots (hey, polka dots are fun!). While the form layout is nice, the fonts are a little hard to read.
Don't forget about setting up a budget plan for vacation too! You can get everything out on paper (and feel super organized is less than an hour) for your upcoming trip!
20. Monthly Budget Planner from Bobbi Printables
This super simple (yet very effective) monthly budget planner from Bobbi Printables is an instant favorite of mine! I love any budget planner that puts savings at the very top. Remember saving for your goals should be your top priority! In addition to it coming in multiple colors, it also comes in a spreadsheet format!
Vote: Yup, download it!
21. Monthly Family Budget Printables from Scattered Squirrel
This set of monthly family budget printables from Scattered Squirrel comes with a cover page and a monthly budget form – just click the image to download and print. The cool thing about these printables is if you scroll down about halfway, you'll find an option for a 1/2 page budget form. This is about an A5 planner size (just slightly off).
22. Free Budget Template from I Heart Budgets
This budget template from I Heart Budgets is about as simple & straightforward as you can get. Trust me, this is a compliment, as you don't want over-the-top or confusing forms. If it's confusing or too complicated, you won't use it. And remember, the best budget is the one that you'll use consistently.
23. Free Monthly Budget Worksheets from Money Minded Mom
These monthly budget worksheets from Money Minded Mom are great for someone that wants to dig into their finances. While their not as polished as some of the other forms, they make up for it in function.
In addition to the monthly budget form, there's a nice monthly bill tracker broken up by week, so you can plan exactly for each and every bill. There's also a rainy day savings fund tracker (super important) and a net worth tracker; this helps you know at a glance how you're doing with your full financial picture.
Vote: grab them!
24. Free Family Budget Printable from A Spectacled Owl
This single-page monthly budget form from A Spectacled Owl has a lot going for it. It has a savings goal section at the top of the page, and in the monthly budget section, it has a budgeted and actual section (good for when life doesn't go as planned).
Vote: very nice!
25. Simple Budget Template from Simplified Motherhood
This simple budget template from Simplified Motherhood is just what it promises, simple, which is nice. It has lots of slots for expense entries (which is nice as some forms don't have enough space). While the post specifies that it's for 2021, there's nothing on it that's date specific, so feel free to print and use it now.
Note: scroll all the way to the bottom and check out the free expense tracker sheets that you can grab for free too.
26. The Simple Budget from A Cultivated Nest
If you're trying to help a brand new budgeter (i.e., your teen) get the concept of budgeting, then this simple budget worksheet from A Cultivated Nest is what you need. It's so simple that the person may not use the form for long, but it's a great 1st timer worksheet!
Note; at the bottom of the page is a link to a free debt snowball worksheet download, so go ahead and gran that too!
27. Free Printable Family Budget Worksheets from Wondermom Wannabe
This three-page family budget printable pack from Wondermom Wannabe is a great option. It has a nicely laid out monthly budget form (very professional looking), a savings goal tracker, and a family finance overview worksheet.
28. Printable Monthly Budget Worksheet from My Frugal Home
This monthly budget printable from My Frugal Home is a nice option as it packs a lot onto one page, so you're sure to get all your expenses on there. Plus, the amount fields are editable on your computer, so you can print a nice copy and keep it in your budget binder.
What's a budget binder? A budget binder is where you keep all your financial information, so it's all in one convenient spot when you do financial check-ins. Believe it or not, making a budget binder can be a lot of fun! It makes working on your finances an event and a fun thing to do!
29. Free Printable Budget Template from Savvy Budget Boss
This one-page budget form for Savvy Budget Boss is nice because the layout flows nicely, and it's an editable PDF. So you can input all your categories and make them totally custom to you and your finances!
30. Budgeting Template for College Students from College Life Made Easy
This is a great monthly budget form from College Life Made Easy, the formatting gives it a good flow, and it's neat and clean. It also comes in four color options which is nice (if color is important to you).
31. Budget Worksheets for Graduates from Organized 31
Even though these budget printables from Organized 31 are labeled for graduates, they are great for anyone who's just moving out on their own for the first time. They cover lots of things first-timers need to know while still looking forward to buying those necessary first purchases (i.e., a couch).
32. College Budget Template from Chase the Write Dream
This college budget template from Chase the Write Dream is nice as it helps you plan out income, expenses, and financial aid to see how you need to manage your money. It also comes with a handy expense tracker form so you can see each day how you are doing for the month.
33. First Apartment Budget Worksheet by Sophia Lee
If you're moving out on your own for the first time, then you need to grab this free first apartment spreadsheet budget from by Sophia Lee. The free template is divided out by rooms, so you know everything that you may need to buy for that room. She also walks you through how to use the spreadsheet, which is helpful.
Why you need to use a monthly budget?
I take it you don't want to file bankruptcy or work until you are 92. Am I right? Neither option is good, yet that's the outcome if you don't learn how to budget your money.
A monthly budget tracker is an excellent way to keep tabs on your spending and saving habits. By tracking your progress each month, you can see where you need to make adjustments in order to stay on track with your financial goals.
Why you should use free budget printables
You don't need to try and create a budget from scratch. That's why these free budgeting template printables were created – to help you save time and effort.
Plus, by using a pre-made budget template, you can be sure that all of the important information is included. And, since they're printables, you can make a fun budgeting binder by printing as many copies as you need for the whole year.
How to choose the right beginner printable budget worksheet
The most important thing is finding a budgeting template printable that works for you.
You'll want to consider how much detail you need. Some people like to track every single penny, while others just want to know the big picture. Some people like a certain layout type, while others like something completely different.
One of the main things you'll want to know is what budgeting method your printable uses. There are many different budgeting methods, like the 50/30/20, the biweekly budgeting method, the zero-based budget, etc.
Don't pick a budget method that doesn't align with your financial goals.
You may also want to combine forms from a few different printable packs so you have all the pages you need to get a full handle on your finances.
Or maybe you grab a free budgeting template printable pack, and you get a few months into it, and it's not quite working.
That's okay, come back and grab a different pack. But, you'll want to give each budgeting method/form a fair trial. Don't be switching it every couple of weeks because you're annoyed with it.
How to use a personal budget template printable
Most budgeting forms will come with instructions or have an accompanying blog post to tell you what to do. But if there's no info, here's a quick rundown.
Step 1: Fill in the form
Usually, you'll first want to gather up all of your financial documents. This could include your bank statements, credit card statements, loan statements, pay stubs, etc.
Then you'll want to sit down with your budget template printable and start inputting all of your information.
You'll want to be sure to include all your monthly income, bills, subscriptions, debts, etc.
Step 2: Track your spending
Now the best budgeting template isn't going to help you unless you actually track your spending during the month and spend less than you make. This is the hardest part of budgeting, sticking to your budget.
You'll want to track it a minimum weekly because if you overspend one week, you'll want time to adjust your spending for the next few weeks.
Step 3: Close your monthly budget & evaluate
You'll want to close your budget at the end of the month. This simply means that you'll total up all your monthly income and spending and see where you stand.
If you spent more than you made, then you'll need to figure out where you can cut back for next month.
And if you have money left over, then you can stash it in your savings or start a sinking fund for a big purchase. Maybe a splurge here and there is cool, as long as you're under budget.
Helpful online money tools
As I mentioned before, budgeting on paper (as a beginner) is your best option. But after a while (six months maybe), you probably have a good handle on your money. If you want, you can switch to a budgeting app or online dashboard. Here are some of the best online financial tools out in the market today.
Empower (free)
One of the best ways to get all your financial information together is to open an Empower account (formerly Personal Capital). It's not a bank or investment firm (but it does have some functionality as such), nor a budgeting app.
It's mainly an online dashboard where you can get a picture of your entire financial life! Yes, at a single glance, you know exactly where you stand. Then you can figure out a way how to get to where you want to be.
Setting it up takes maybe 20 minutes (depending on how many accounts you have), and once that's done, it tracks everything for you! It tracks your net worth, retirement savings, investment growth, cash flow, etc.!
When you link $100k+ in investable assets, you can talk with a financial advisor for a FREE portfolio review.
Empower Personal Wealth, LLC ("EPW") compensates FlexOffers.com, LLC for new leads. FlexOffers.com, LLC is not an investment client of Personal Capital Advisors Corporation or Empower Advisory Group, LLC.
EveryDollar (free plus paid upgrade option)
You can also do your personal budget on Dave Ramsey's EveryDollar app! It's simple, straightforward, and free! Yes, there's a paid version too, but the free version is perfect for beginners.
I like the app as the setup is very straightforward and guides you through setting up your first budget. They even give you recommendations on how much you should give to each budget category, based on Dave's recommended budget percentages.
Tiller Money ($6.58 a month after a free 30-day trial)
Tiller Money is a Google Sheet add-on that gives you a living, breathing budget in Google Sheets. It automatically pulls in your bank transactions, data from your investment accounts and even tracks your net worth all in one place.
If you live and breathe Google spreadsheets (like me), this might be your best tool. They have a basic sheet template with everything in it that you might want to track or analyze, but you can customize it any way you want.
Be sure to check out their 30-day free trial! ——
Mint App (free)
Mint (from intuit) is one of the oldest and most popular personal budgeting apps out there. It's a good tool if you want to get an overview of your financial situation because it gives you a complete picture of all your accounts in one place.
Plus, Mint can also help you track your credit score, find ways to save money, and reach your
YNAB ($14.99 month or $8.25 a month when you pay annually) + free trial option
You Need A Budget, or YNAB as it's commonly known, has been around for a while now (people still rave about it), which means that it works! They use a zero-based budget method (my favorite), and they also focus on your priorities and goals and only then do they account for expenses. They have tons of supporting info, so you are never left guessing, "what's next?"
They say that a new budgeted saves on average $600 in their second month of using YNAB and that new budgeters save $6,000 a year with their help! So it makes total sense to pay the $99 annual fee to help you save $6,000, right? Oh, and they have a 34-day free trial, so you've got no excuses not to give them a try!
One of the things I like best about this program is that they offer free challenges and in-depth guides for life's big moments (i.e., getting out of debt, saving for a home, etc.). They've got you covered from start to finish!
Microsoft budget templates
If you're a Microsoft user, you can browse through their free budget templates. You might even find some unique forms (i.e., wedding budget template, home construction budget, etc.). You'll also find quite a few excel budgets at that. It's important to know that these are just budget forms – no instructions or how-to guides are found with budget forms listed in the main part of this post.
Budgeting template printable FAQs
What forms and templates should I make sure to look for in the free budgeting template pack?
Your printable pack should at the very least have a monthly budget form (a one-page form is best) and a spending log to help keep you on track. Again, at the very least, these two forms are a must.

Other forms can be helpful; for example, in my free budgeting template pack, I have…
– Financial goals worksheet
– A net worth statement
– Monthly budget template
– Debt payoff tracker
– Bill log & expense log
– Savings tracker
– Account Log
– Cash envelopes (for saving money in sinking funds)
– Monthly Calendar

But if all the budgeting forms and worksheets overwhelm you, then print the ones you need and leave the rest. (But give them a try first.)


What are the benefits of a free printable over an online budget tool?
The main benefit of a free printable budget template is that you can print it out and put it in a binder, on your fridge, or wherever you need to be reminded of your budget goals.

There has been a lot of research and studies done on how writing things down (vs. digital) helps you not only retain the information more but have a better understanding of it. The process that your brain uses to type and then to write is different, and it's encoded more when you write.


Do I need any software to use free printables?
Your forms & templates will usually come as a PDF. And you'll need a PDF reader like Adobe Reader to open them. (Most computers have this software already installed.)


Does Microsoft Word have a budget template?
Yes, Microsoft does have free budget templates both in word and in Excel for a budget spreadsheet format. Go here and search until you find the best fit for your budgeting needs.


How do you create a budget for a beginner?
If you're new to budgeting or feeling overwhelmed by the process, then start with these budgeting 101 steps…

1. Manage your expectations
2. Identify your goals
3. Get your resources together
4. Pick your budgeting method
5. Figure out your income and expense numbers
6. Understand where you are over/under spending
7. Get a debt repayment plan
8. Get a plan for saving money
9. Tweak and adjust your budget (and know that no one gets it right the first time).


How do I fill out my pdf beginner printable budget worksheet?
When you're creating your monthly budget, you'll want to list it in this order…

1. Income: list all sources of income, even if it's irregular.
2. Minus – essential expenses first: this includes things like housing, food, utilities and transportation.
3. Minus – your debt repayments: student loans, credit card bills, etc.
4. = what you have leftover to spend on non-essential spend stuff (i.e., dining out, hobby stuff, fun money, clothes shopping, etc.). Minus these.
5. = Zero. If your budget form doesn't equal zero at the bottom, then you need to cut back your spending budget – (aka things from #4).


At the end of the day
Having a budget is key to financial success. And using a pdf beginner printable budget worksheet can help make the process a lot easier. Make sure to find a template that has all the forms and trackers you need to stay on top of your finances.
Also, don't forget to set some financial goals, either for the month or for the rest of the year. You need to know what you're working towards and be able to visualize it for your best chance at budgeting success.
Which of the pdf beginner printable budget worksheets are you going to try first?