50+ Fabulously Frugal Meals for Your Family
These healthy & frugal meals are guaranteed to bring your family running to the kitchen table!
I freely admit (and maybe you do too) that the most challenging part of the Mom Life daily grind is deciding what to make for dinner! I hate it! It takes me forever to decide what to make, and then when I do decide, I find out that the ingredients are $400! (slight exaggeration).
To help you (and me), I have compiled a great list of frugal meals for your recipe reservoir. Because a family's number one expense (besides their mortgage or rent) is their grocery budget. It's a huge expense, but you can cut back and stretch your dollars when planning strategically.
Because I know, more than anything, you want to serve your family healthy meals that don't cost a lot of money. Here are 50+ frugal meals that will you meet your savings goals!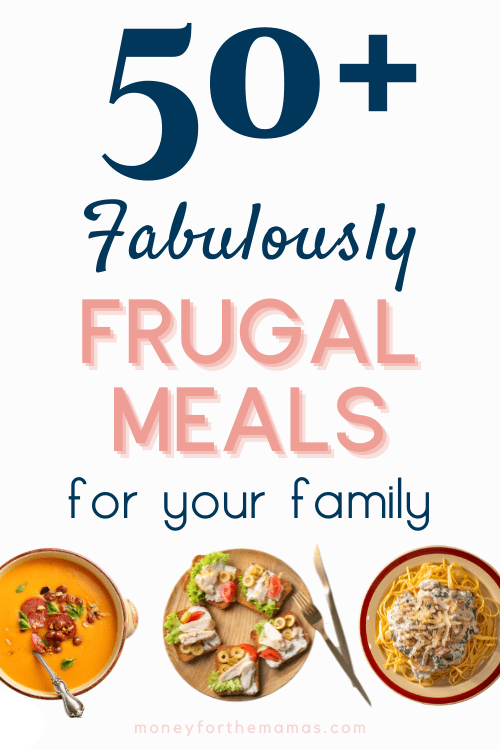 This post may contain affiliate links. If you make a purchase, I may make a commission at no cost to you. Please read my full disclosure for more info
Frugal Meals – Breakfast
1. Pancakes –
This recipe looks fantastic for fluffy pancakes! They add an egg, which I always do to help up the protein.
2. Traditional Oatmeal –
I am a huge fan of this versatile and comforting dish! My favorite is blueberry + vanilla + chopped almonds or pecans, plus chia seeds for added fiber and nutrients. These tiny black beauties are superfoods! In fact, Chia actually got its name from the Mayan word for "strength."
Don't think just that they're super expensive either. I found some at my local store in the bulk department for $1.92 a lb! I add 3 Tbs as a serving to oatmeal, smoothies, and I even make chia seed pudding!
This recipe is impressive, as it gives eight different toppings for an easy Oatmeal base recipe!
3. Baked Oatmeal –
This blueberry-baked oatmeal recipe is freezer friendly, so it makes a great make-ahead meal! You can use lots of different mix-ins, which makes this so versatile.
4. Ham & Cheese Strata –
For those of you that love savory breakfasts, this ham & cheese strata is sure to be a winner! This is another meal that you can make ahead the night before, so it's great for holiday mornings.
5. Breakfast Muffins –
Sometimes, all you need is a good start, and then the rest comes easy. This base muffin recipe comes along with eight variations! So no matter what state your pantry is in, you will find something in there to add in for this tasty breakfast winner!
6. French Toast –
If you have a bunch of old bread that needs to be used up, this french toast is a classic go-to recipe! You can use any bread, but thick older slices are best. Using raisin bread is also a tasty twist!
7. Biscuits & Gravy –
Are you even living if you haven't tried biscuits & gravy? This is a traditional comfort meal for breakfast, lunch, or dinner. Take your recipe to the next level by opening the biscuits, buttering, and frying them in a pan to get a nice crispy edge.
8. Tortilla Baked Eggs –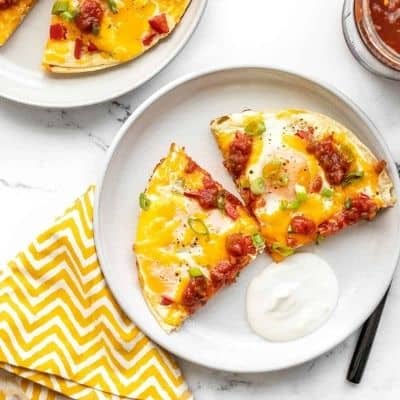 I've also seen this called breakfast pizza, but no matter what you call it, tortilla baked eggs are delicious and fun to eat!
9. Eggs, Eggs, Eggs –
This breakfast staple needs no introduction, so I won't give one…
scrambled eggs
eggs sunnyside up
poached eggs
fried eggs on toast
10. Hash –
Here's a dish that doesn't need a recipe. Hash is any meat, firm vegetable, and potato cubed up and fried up in a pan with oil, salt & pepper. Don't stir it, as you want it to get nice and crispy golden on the bottom of the pan (use a cast-iron skillet for best results).
11. Yogurt & Fruit –
Skip the sugar-filled fruit-flavored yogurt; it is in no way good for you! I get plain Greek variety and then thaw out some frozen fruit in the microwave, then mix it together, with chia seeds too, of course. Healthy, and it tastes great!
Frugal Meals – Lunches
These frugal lunch ideas are sure to have something for everyone; large appetites and small, vegetarian or carnivore, picky eater, or belly friendly for all!
12. Sandwiches
PB&J
ham & cheese
hummus & turkey
tuna
egg salad
BLT
grilled cheese & tomato soup
hummus & veg
13. Leftovers are a great option!
Now, I know that leftovers get a bad rap, but I don't want you to discount them and let that food grow moldy in the back of your fridge. That's a huge waste! You just need to jazz them up a bit! Here are some great meal ideas to turn lame leftovers into a tasty lunchtime meal that's sure to please!
make a wrap with last nights main dish and add some chips
add a soup or a salad as a side to a small portion of the main leftover
add a grain & make it a buddha bowl
use it as a quesadilla filling, or nacho topping
use it as a pizza topper or as a baked potato topper
What's going bad soon?
I know that even with the best of intentions, we have things in our fridge that will spoil soon. I always feel so bad, guilty even when this happens. I know without a doubt that jicama is my go-to let spoil vegetable. I always "want" to eat it, but it takes considerable work to prepare it to eat, sad to say, it sometimes goes in the garbage.
According to the American Journal of Agricultural Economics, "For households in our data, the average household wastes 31.9% of the food it buys, and this figure, using survey weights, translates to annual U.S. consumer-level food waste valued at $240 billion," or $1,866 per household. Forbes found that "but even the most frugal household still wasted 8.7% of the food it bought".
So dig around in your vegetable drawers and the back of your shelves, what will spoil soon? Can it be saved?
Fruits close to spoiling should be frozen to use later in smoothies, pie filling/topping, or jam making.
Vegetables close to spoiling are great candidates for frittata (egg + cheese + veg = heaven). Or to be frozen to go into soups & stews later on, or to be sauteed up today with spices and beans then wrapped up in a tortilla. Yum!
Bread can be laid out to dry and used to make breadcrumbs or croutons.
Meat – should be cooked up immediately. Don't worry if it's gone a little brown; that doesn't mean it's bad; it just means air has gotten to it, and it caused oxidation (which is normal). Your best bet is the smell test and the feel test. Does it smell bad? Is it slimy to the touch? Then toss it!
Frugal lunch recipes
14. Frittata –
This dish is another superstar in that you can use a variety of mix-ins and get great results! This frittata recipe offers five variations. This pairs nicely with crunchy & buttery bread.
15. Tuna Pinwheels –
This is sure to please, as tuna pinwheels are so much fun! Don't get caught up in the exact veggies or amounts; just toss in what you have that is similar, roll it, slice it, and call it a day!
16. Buddha Bowl –
This 30-minute Mexican buddha bowl meal is a great way to use up leftover veggies if you don't have the exact ones listed. Besides, every dish is tastier when it costs next to nothing! This dish clocks in at $1.97 a serving and is packed with good nutrients and flavor!
17. Tuna Patties –
You probably have the ingredients already in your pantry for this easy tuna patty meal. It's healthy, inexpensive, and everything that is fried up is delicious!
18. Spinach Pie –
Spinach Pie is the Greek equivalent of comfort food. Full of flavor, easy to warm, warm, and filling! Don't be put off by the puff pastry; it's easy to work with (just grab a box in your freezer section). I also like to add a bit of feta if I have it on hand to add a flavor punch.
19. Tofu Scramble –
The frozen ready-made Amy's brand inspired this tofu scramble. The author, Beth, loved it so much she went home to make it again from scratch! It's full of fiber and protein and can easily be frozen to heat up and eat when you need it.
Another great frugal meal option
Don't forget that meal kit boxes are always a great option for busy moms. Dinnerly is one of the cheapest kits on the market, while still being easy, prepared quickly, and tasty! My husband and I get the two-person box, of four meals a week for so much less money than a restaurant meal! Check out Dinnerly right here and grab your signup discounts!

Frugal Meals – Dinners:
Making a healthy, tasty, and frugal dinner seems to be on every mom's wish list. If a genie came out of a lamp, having such a meal at dinner every night (that I wouldn't make, of course) would be tops on my list!
Alas, I don't think there are any Genie's left, so I do have to make it myself, and ideally, it would fit all three criteria (healthy, tasty, and cheap). I've done my best to compile a list of frugal dinner ideas that check all three boxes.
I've gone through each recipe to make sure there aren't any obscure ingredients, or if there are, it's spices, which is an easy way to add a lot of flavor. Don't forget that spices in bottles are expensive, but they are a lot cheaper when you buy them from the bulk department!
Frugal chicken dinners:
20. Teriyaki Chicken & Rice Casserole –
This teriyaki chicken & rice casserole is perfect for when you're short on time and starving! It comes together quick & easy, and in the kitchen, that combo is hard to beat!
21. Mushroom Chicken Skillet –
Here's another effortless meal idea, perfect for cold nights when a warm dinner is needed to chase the chills away! This Mushroom Chicken Skillet recipe is ideal when the bank account is low, as the ingredients come from your freezer or pantry. So with some planning at the beginning of the month, you can make sure you'll never be without a warm meal.
22. Peanut Butter Chicken –
Now, I will admit, I was a bit skeptical at first, but after reading through this peanut butter chicken recipe, I am putting this on the tops of my "meals to make" list! It looks delicious, and I can almost smell it *sigh*!
23. White Chicken Chili –
Chili is an underrated dish here in the U.S., as it's easy to make, lots of good for you fiber, and you can turn the flavor profile any way you want it to go! This white chicken chili is delicious with subtle cumin notes, and the Greek yogurt added to the salsa verde makes the flavor warm & mellow.
24. Chicken Fajitas –
Is there anyone on earth that doesn't like this superstar of a frugal meal?!? The author gives us a few different cooking methods for the chicken fajitas, so you're sure to find a way that works for you!
25. Chicken & Stuffing Casserole –
Thanksgiving is hard; I mean, who has room on their plate for everything you want to try? So make it easy on yourself by serving up this fantastic chicken & stuffing casserole any time of the year! It has all of the elements of a Turkey dinner but without the 15 guests at your table 🙂
26. Slow Cooker Salsa Chicken –
This slow cooker salsa chicken is another great meal for the end of the month, as all the ingredients come from your freezer or your pantry. Serve it up alongside some rice, and your dinner is served!
27. Chicken Fajita Pasta –
If you love the frugal meal above, then this is a great alternative to get the same flavor profile but with a twist! This chicken fajita pasta is creamy & cheesy gooey yumminess with all the spice of fajitas! If fajitas are your summertime staple, then this pasta is perfect for the cooler winter nights.
28. Cajun Chicken Alfredo –
This cajun chicken alfredo packs a punch of flavor but is mellowed with cream cheese and milk so that it doesn't set your mouth on fire. Perfect for rainy nights that you need to spice up!
29. Sweet Potato Gnocchi with Chicken Sausage –
I wanted to highlight this sweet potato gnocchi dish as it is so smart! They've taken a basic freezer prepared meal and added sausage to it to make it 10x better! You can do this with lots of those premade skillet meals. Besides, chicken sausage adds a lot of flavor for minimal cost, the perfect frugal meal!
30. Honey Garlic Chicken –
Sheet pans meals are a mama's best friend! They make dinner so easy, and this honey garlic chicken recipe is sure to be tops on your list. Serve it on its own or with brown rice to bulk it up and make it a bowl.
31. Chicken Divan –
Chicken Divan has been a favorite of moms since its inception in the '30s in a NYC hotel restaurant. A bonus is that it can be made a few days in advance and just baked when needed, so make it on a Sunday and bake on a Monday for this warm & comforting dinner!
32. Chicken Lime Avocado Soup –
Now I know that avocados aren't all that frugal, but you may run into a situation where you find some on the cheap! If so, then this chicken avocado lime soup is perfect! The recipe can be mostly made ahead and frozen; you just need to add the avocado, lime & cilantro when serving.
33. Crockpot Chicken Tacos –
If your family is on a spicy dinner kick after the soup above, you can make these easy chicken tacos. You can use this chicken meat for lots of things if you don't have tortillas, so be sure to check out all the variations.
34. Lemon Garlic Chicken –
It's incredible how one ingredient can transform a dish! And for this lemon garlic chicken, the lemon is the show stopper! It adds a smack of freshness that brightens up all the other flavors to makes it "complete."
35. Cilantro Lime Chicken
Yes, this cilantro lime chicken sounds very similar to the above recipes, but the difference is that this can be a 100% freezer meal, made far in advance, just waiting for a time when we'll need it most. Let's face it, the end of the month is that time!
Inexpensive beef meals:
36. Salisbury Steak –
My family's homerun inexpensive dinner that tastes like a million is Ree Drumond's Salisbury Steak recipe! Yup, the Pioneer Woman Cookbook is my saving grace as this recipe doesn't call for spendy ingredients, yet it's so good!
Here's her full recipe for Salisbury Steak, and then here's the whole meal she makes with it. Sure to please, easy on the wallet, and reasonably easy to make!
If you're not a fan of Salisbury Steak (but you should absolutely try it), then no worries, check out these great dinner ideas!
37. Vegetable Beef Soup –
Cold winter nights were made for soup! And this hearty vegetable beef soup serves up nicely just for the occasion! A chuck roast can be used, and it won't break the bank, so don't pass by this recipe if you think it would be too expensive at first glance.
38. Pork Ragu –
Another hit for cold nights is this deliciously rich pork ragu, and when it's served over creamy polenta, it's heaven (if heaven comes from a slow cooker, that is).
39. French Bread Pizza –
Can any three words make kiddos scream more than french bread pizza?
They are fun to make for the whole family. The crunchy crust and fluffy bread made a perfect bed for zesty tomato sauce and gooey cheese.
Frugal meals with pork & sausage:
I am a massive fan of all things pork; bacon, breakfast sausage, pork belly, etc. But one of my favorite frugal ingredients is kielbasa. It adds so much rich flavor, and you don't need a lot of it. Yet, I do get the fact that it's not that healthy for you. Don't worry; there's the perfect solution!
Turkey kielbasa has the same smokey flavor, very rich, yet it doesn't have the sky-high fat content that beef or pork sausages do. For example, a major brand's pork sausage has 15 grams of fat per serving, while their turkey sausage has 6 grams of fat. Yet, I admit that the salt content was the same in both (aka high). Here are some great meal ideas where you can use this tasty protein.
40. Smoked Sausage & Potatoes –
Here's another easy sheet pan dinner! You're sure to make happy bellies with this smoked sausage & potatoes recipe. I think if you had a BBQ grill rack, this would be the perfect match for a summer evening!
41. Pinto Bean & Sausage Soup-
Comfort food comes in many guises, and what could be more comforting than this pinto bean soup recipe? And honestly, anything served with cornbread makes a fantastic meal!
42. Creamy Potato Gnocchi Soup –
Is it any coincidence that almost everything that has sausage in it is considered a comfort food? I don't think so, and this potato gnocchi soup isn't any different! This rich & creamy soup is a perfect match for crusty toasted french bread and a quiet afternoon.
43. Easy Ham Dinner –
This is a great option for a Sunday dinner, and the best part is that you can buy a ham when it's on sale, pop it in the freezer until you need it. This easy ham with vegetables dinner is the perfect answer for Sunday cooking.
44. Pear Pork Chops –
This pear pork chop dinner is the perfect blend of hearty pork and sweet pear combined with comforting stuffing! Readers mentioned they make it twice a week because it's so good!
45. Waffles & Bacon –
Even though this isn't a traditional dinner, one of my favorite dinner meals was having breakfast for dinner when I was a child! Especially when it was waffles & bacon! I can still see my Dad at the counter turning bacon with one hand while checking the waffle iron with the other. Having this for dinner brings a smile to my face every time!
Frugal dinners with fish:
Fish, just like leftovers, gets a bad rap. It makes the house smell while cooking, it can easily taste bland, and it can be pricey if you aren't familiar with varieties. There are also some varieties that you should limit your consumption of; check out this site to see what kinds of fish to limit and when.
Yet, they pack a huge protein punch, and some varieties are reasonably priced, and almost any spice can be used to liven up a meal! Check out your grocery store's fish counter, or their frozen seafood section can be great too!
46. Tilapia with Veggies –
Of course, I had to include a sheet pan meal for fish! This tilapia with vegetables won't disappoint, as it too gets a zesty kick from the lemon! It does call for tajin spice, which I hadn't heard of, but you can make your own blend with chili peppers flakes, seat salt, and garlic powder.
47. Homemade Crunchy Fish Sticks –
I have many fond memories of fish sticks & tater tot night when I was little. I loved the crunch of the fish stick and the zest of the ketchup, and now that I'm grown, I still love it, but I want something a little healthier. These homemade fish sticks are all crunch, and you use a variety of fish, so whatever firm fish you have on hand is good.
48. Jerk Rubbed Catfish –
Catfish is high in protein and packed with vitamins and minerals, a swimming superstar! This jerk-rubbed catfish & slaw recipe comes together quickly and makes a bold statement with its spice!
Budget meals without meat:
Going vegetarian (or even Vegan) is pretty standard these days. Since the protein is usually the most expensive ingredient in the meal, it's a great way to save money on dinner! Money Magazine reported that "It turns out skipping animal protein doesn't just add years to your life: New research suggests vegetarians can save at least $750 more than meat-eaters per year."
Here are some great frugal meatless meal ideas to help you see if going meatless is for you.
49. Lentil Shepards Pie –
Lentils are a great inexpensive way to add fiber and protein to any meal. They're so versatile you can use them in meat dishes to bulk up the dish without adding to the cost. This lentil shepherd's pie is an excellent option for hungry belly's that need filling!
50. Lentil Rice Casserole –
Is there anything better than a buttery, crunchy topping? I don't think so, but this lentil rice casserole does indeed get batter as it's easy to make and easy on the wallet thanks to the central star – lentils.
51. Vegetable Barley Soup –
This vegetable barley soup a perfect dish for when you have the sniffles, as it's warm and comforting and packed with veggies to help your body heal. I also love that this recipe gives variations on what you can use. Again, frugal meals don't require you to be exact and precise with ingredients; flexibility is key!
52. Vegetarian Enchilada Casserole –
I love how easy casseroles are! You just layer and bake, then done, dinner is served! This vegetarian enchilada casserole is just that, or you could freeze this for a while until you need it! Like other frugal meals, you can use a variety of vegetables, so use up the scraps of what you have in your fridge. No need to go and buy items especially for this dish!
53. Pasta al Pomodoro –
This pasta al Pomodoro dish is perfect if you have picky eaters, as you cook the veggies and blend them up into a thick sauce. Mix in your noodles and top with parmesan and serve with crusty bread.
54. Sweet Potato & Black Bean Tacos –
Sweet Potatoes are a pantry staple, and for good reason, you can use them in a variety of dishes, their mildly sweet flavor adding depth to any spice that you put with it. These sweet potato & black bean tacos are perfect for your sweet & savory eaters alike!
Meal planning is a must!
Are you getting a recipe just for tomorrow or planning a week of frugal meals? Hey, maybe you're a meal planning pro, and you're doing a month of frugal recipes!
When you're planning them out, see if you can get ingredients that you'll use for more than one meal. You don't want to buy things that you'll only use part of for one meal, as you'll end up wasting the rest of it.
The typical example is to have a whole roasted chicken for dinner. The next night you have shredded chicken enchiladas from the leftovers, and then for lunch the next day, have homemade chicken noodle soup made from the chicken bones and scraps of chicken. You get three meals from this one main ingredient!
$5 Meal Plan
$5 Meal Plan is a weekly meal plan service that can make your meal planning as simple as possible. For just $5 a month, they'll send you a delicious meal plan where every meal will cost about $2 per person, and in most cases less. They also have options with dietary restrictions, so there is something for everyone! Just click the pic below to check the meal plan options!
Frugal Meals start with the right recipe with inexpensive ingredients
When you're looking through recipes, make sure that you look at all the ingredients, as you don't want to pick a meal based on the title alone. What one person thinks is a frugal recipe another may think is expensive. So read through it all, and then check your cupboards for any of the items you may already have. Then make your cheap grocery list and head to the store.
You can't go to the grocery store without a plan! That's the kiss of death to any frugal shopper. You need to make sure you are set up to save money before you get to the store. These 13 tips will help you not just with this trip to the store but every trip hereafter too!
Then, once you get to the store, be sure that you aren't falling for all the marketing & display tricks. Trust me, I worked in a grocery store for six years, and there are lots of tricks that brands and stores use to help you part with more money than you intended. Be sure that you read up on 20 Smart Tips to Help You Nail Grocery Shopping on a Budget. Frugal food items can be found in every department, you just have to know where to look!
I know that as Moms, we need to pick our battles when it comes to mealtimes. Picky eaters can ruin the best laid plans of hidden veggies, and fun star-shaped cucumbers. Sometimes you just need a meal that they will eat without a fight, or maybe yet even be excited to eat!

If these 50 frugal meals won't cut it, then be sure to check the (not so healthy but dang delicious) 50 Delicious Dirt Cheap Meals for Everyday Living! It's full of fun meals like taco pizza, BBQ chicken pot pie, and tater tot breakfast bake!
Substitutions are okay!
Every good (or halfway decent) cook knows that you have some flexibility with cooking, where you could leave out an ingredient here or there or make a substitution. Note: you don't want to make substitutions on the fly when baking; that could have disastrous effects, as baking is like chemistry.
When cooking any of these frugal meal idea, it's easier to delete or add things. For example, you could change the cooking oil. Let's say the recipe calls for avocado oil, and you don't have that. I certainly don't want you to go out and buy a bottle for this one recipe (that defeats the purpose of making a frugal meal).
So Google "avocado oil substitution," and up comes the info that you could use grapeseed oil, EVOO, or coconut oil. You can do this with almost any ingredient (unless it's the main ingredient, of course).
Some of the recipes are classics, for which you don't need the recipe. But you may have forgotten about them over time, so this is a good reminder of those frugal meal classics (hello grilled cheese & tomato soup)!

Don't forget that you can always make just a half portion of something if you don't have enough of something or it seems like a lot of food to make.
Frugal Food List:
When compiling these recipes there was a trend as to what ingredients these cooks came back to time and time again. So consider stocking up on…
vegetable/beef stock
ground beef
lentils and other dried beans
frozen vegetables (a variety of veggie mixes like peas, corn, sliced peppers, spinach, etc)
seasonings – (i.e. taco seasoning was very popular)
canned diced tomatoes
shredded cheese (save money and buy the block and shred it yourself)
fresh mirepox – mix of carrot, onion and celery are sauteed as the base of many meals
dry pasta noodles
russet potatos
rotisserie chicken and chicken thighs
condensed soups (cream of mushroom soup, cream of chicken soup)
At the end of the day
Feeding your family dinner shouldn't add to your worries, yet it often seems that it's tops on my mind. The inevitable "Mom, what's for dinner?" question. Yet, I don't have to add to my worries by blowing my food budget on take-out or fast food. Besides, those dishes, while tasty, aren't even remotely healthy. I hope you got a few frugal meal ideas from here and that you didn't take yourself too hungry reading this, or you'll be asking yourself, "Mom, what's for dinner!?"
Articles related to frugal meals for the family: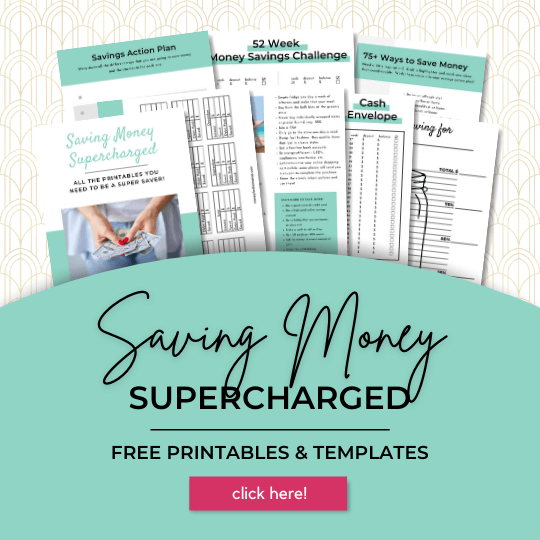 Does your family have a favorite frugal meal? Let me know what it is in the comments!