10 Best Sites for Getting Paid to Sext (+ Real Life Stories From Women Who Make $$$)
We've got the 10 best sexting jobs waiting for you + real-life stories from women in the industry who are just like you (and making $$$)!
Are you ready to make some extra cash? How about getting paid to sext?
We know you're probably thinking, "There's no way that I can talk dirty to someone for money." But try and keep an open mind; plenty of people out there are more than happy to pay for a steamy conversation. All you need is the willingness to have some fun and indulge in some naughty talk.
You could easily make up to $1,000 a week by talking on the phone with people who just want to hear a friendly voice. So if you're looking for a fun way to make money and you like making people happy, then getting paid to sext could be your golden ticket!
This post may contain affiliate links. If you make a purchase, I may make a commission at no cost to you. Please read my full disclosure for more info
What is sexting?
Sexting is the act of sending naughty text messages back and forth with a person you are interested in (or a client), all for fun.
What is phone sex?
Phone flirting is a conversation between two or more people on the phone where one or more individuals is describing a sexual activity. Phone sex takes imagination and a sense of adventure.
Why would someone pay for flirting on text messages?
There are many reasons why people would pay for sexting. Some people are lonely and just want someone to talk to, while others may be frustrated and looking for a release. Whatever the case may be, there are plenty of customers out there who are willing to pay for your time.
How much can I make getting paid to flirt?
This is the big question, because will it be worth your time?
A text message can earn you between $0.10 and $0.15, whereas video chats pay between $.40 and $.50 per minute!
Plenty of experienced sexting operators have reported making close to $20-$30 an hour, while beginners only earn around $10 or so in hourly earnings – not too bad!
With experience, you can easily make up to $1,000 a week by talking on the phone with people who just want to hear a friendly voice. So if you're looking for a fun way to make money and you like making people happy, then this could be a great opportunity!


Why would someone ever text flirt for money?
The answer is simple: because it's fun, and you can make good money sexting.
Sexting is a great way to relieve boredom or stress, and you can make some extra cash while doing it. It's the perfect job for somebody who loves talking and making people happy.
I can be a good fit for someone who feels shy in person yet has fantasies they want to act on in a safe environment. Let's dig into the best sexting jobs so you can start to make extra money online this week!
10 best sexting sites
There are many sexting websites and apps that allow you to get paid to flirt. But we're only going to go into detail with the top ten most popular ones.
You see, these sexting companies come and go quickly, so it's best to work with a well-established company with a good reputation. So we'll go through the top ten and then give you names of other companies out there so you can do more research if you want.
FlirtBucks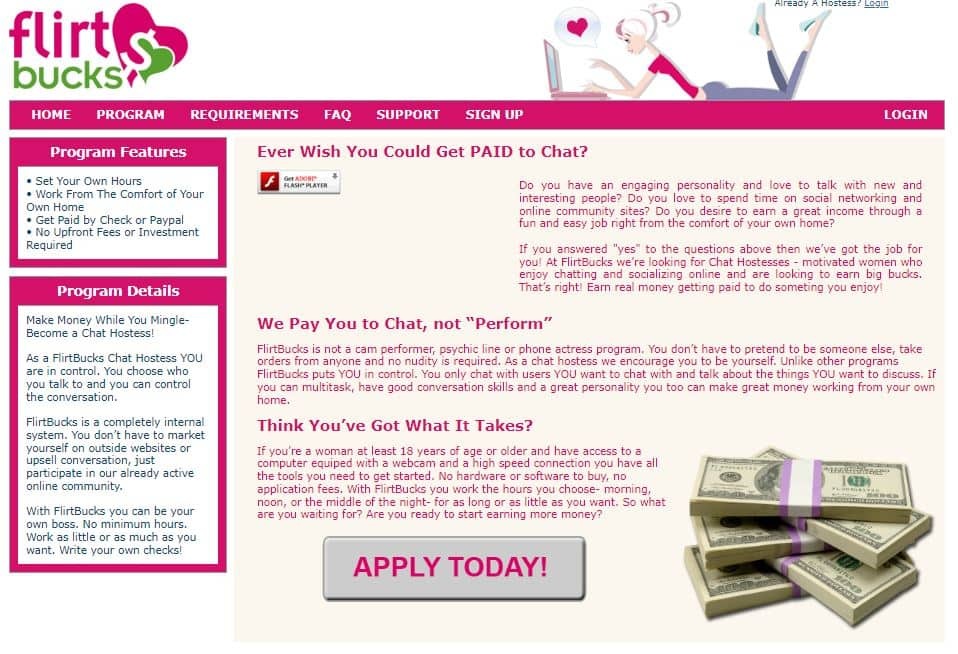 Flirtbucks is a great first-time platform, as it's fairly tame (in comparison to other sites).
"This is not a "paid to date" program or an adult cam performer program. FlirtBucks does not aim to encourage you to do anything outside your comfort zone or to be anyone you're not. We put you in full control of who you choose to chat with, how long, and what you choose to talk about."
They do have some requirements to work on their site…
Be at least 18 years of age or older (and be able to prove it with ID verification)
Have access to a computer with a functioning webcam
Be able to access the internet via a high-speed connection
Have moderate typing skills (at least 40 WPM
Be fluent in English
They're currently looking for people in the US, UK, Canada, and Australia
The longer you stay with the platform, the more you earn per minute…
0-3 months

Text chat: 10 cents
Video chat: 40 cents

3 – 6 months

Text chat: 12 cents
Video chat: 45 cents

6+ months

Text chat: 15 cents
Video chat: 50 cents
Lip Service
Lip Service is a platform where companies can hire you to talk to their clients. They are looking for people who speak different languages, so it's a bonus if you're multilingual!
You need to be 18 to be hired, but some positions require you to be 21 years old. You must be located in the US or Canada and have access to a computer with high-speed internet.
They'd love it if you are very engaging, animated, and reliable!
Arousr
Arousr is an app marketed to men to safely chat with 18+ women (no fake profiles or bots). This is an Android app (at this time), and it's easy for them to download and get started (they get free credits when they sign up too).
It's text chat and video chat, as well as good old-fashioned phone calls. People can favorite your profile so getting repeat customers is the goal.
As an Arousr chat host, you don't have a work schedule to keep, but you must log in and use the platform once a month to keep your profile active. You can make…
$.15 per text
$.50 per minute for phone calls
40% on video calls
You get paid every Monday, direct deposit or wire, with a minimum payout of $100.
SextPanther
SextPanther is your more stereotypical sexting site; they aren't pretending they're high class and exclusive. It's just straight-up naughtiness. Users log in, pay for credits and choose a "model" to talk to. (call, text, or video)
As a model, you have your profile and set your rates. So if you want to charge more, how are you bringing it? Do you role play, cosplay, fetish expert, or a sub/dom? They say that their top earners bring in $5,000 a week!
You must be located in US or Canada, and they like it if you already have a social media following. Maybe you can get started by selling feet pics? It's a great low-pressure way to get started in this industry.
You can choose to accept phone calls or texts only. Here's how you get paid, users of the site buy credits – one credit = $1. As a model, you get…
60% for text and media messages
75% for phone calls, video calls, and feed posts
80% for tips
You get paid 3-5 days after the payout period closes (the 1st and 15th of the month), with a minimum payout of $50 (if you don't reach that, your balance is rolled over to the next payout period.
One of the unique aspects is that SextPanther has a model referral program. If you refer someone and they earn $100, then you get a $100 bonus!
Talktome
Talktome has been in the industry for 20 years, so they know the best ways to run in this business. They do phone calls, voicemails, text chat, video chat, webcams, and emails.
Talktome is nice, in that you are in control. You create your listings, rates, your flexible schedule and decide if you do/don't want to engage with someone.
You can get paid via check, direct deposit, and prepaid debit cards (a nice option).
They don't mess around with those that are only sort of interested, as you must pass a probationary 30-day period, where you have to use the sex chat line and have 300 conversations before your profile gets final approval and opens up to the platform. This might seem like a pain, but it's really a quality control measure they have.
And since they've been in the business so long they have a lot of resources (open to the public) through their blog and guides. You can learn a lot of tips & tricks but checking out their advice. You can learn quick pick-up lines, tips on how to get people to open up, dirty talk 101, and more!
You also can earn from clients you bring to the platform. Once someone signs up with your link and they spend $50, then you get $50!
Phrendly
Phrendly is one of the more popular places to get paid to flirt online. And they market themselves as a place for lonely men to talk to women to get attention and boost their self-confidence. They state they have a 93% response rate (no other site has mentioned a response rate, so that's interesting).
Overall, their site has a more professional feel; they value privacy (by hiding phone numbers) and offer lots of helpful information via their blog.
It's texting, phone chat, or video calls with phrends in US & Canada. People pay to "share a drink with you," and build friendships that way.
"The amount you earn for each interaction depends on the interaction type. You will keep $0.35/volley for sex chat, 70% of phone & video call earnings (after the $0.20/minute connection fee), and 90% of gifts." Yet, they only pay direct deposit to a US-based bank account.
You have the option to promote your profile, and they say it's well worth your time to be on page one, as "the top 20 users make up to 500% more on Phrendly."
You can be paid every day (see that money ten days later) or be paid out once a month (again, see that money ten days later in your account).
If you love to talk, give advice, and have fast texting fingers, then be sure that you check out our master list of how to get paid to chat, with over 30 different places to make money.
Text121 Chat
Text121 Chat provides many text services for the adult industry, for both workers and companies. Kind of like a consulting firm almost.
As a sex chat operator for them, you can work anytime as they operate 24 hours a day.
"Candidates for our work at home phone jobs are required to have computer literacy with broadband internet access, MSN Messanger, IE, Windows Media Player and Adobe Acrobat Reader. Full training is given with continuous development and opportunities for career development."
This is one of the few companies that say they provide training!
Their only work requirement (besides being 18) is that you commit to sending at least 2,000 messages a month. They do both text and phone services, and a bonus if you're bilingual. Apply today, and they'll get back to you in 1-3 days so you can start immediately!
MyGirlFund
MyGurlFund says that over 20,000 girls are on their site, which can be good and bad. Good because that means it's popular, and bad because that means hefty competition.
"The great thing about mygirlfund is that you set your own boundaries, and you're in full control of your earning potential."
The site promotes the "community" aspect and markets itself as a good place to flirt with the girl next door. So more vanilla than some of the other sites. Getting paid to talk to lonely guys is a good starting place.
They state that sharing any personal info is strictly prohibited, and you, as the girl, are in charge of your privacy settings (which you can change at any time).
You can do video chat, text chat, and even upload your own photos and videos to sell. With all that, it's been reported that girls can earn up to $40,000 a year!
Chat Recruit
Chat Recruit is a UK-based company that covers adult webcam, adult chat, and psychic chat-based jobs.
Like all adult sexting jobs, you must be 18 years old and have ID verification. You can provide just one service or all the offerings, and you'll be paid competitive rates on a regular payment schedule (direct deposit).
In addition to traditional adult chat services, they also offer a "social" aspect where you can be your own content creator and have a following (think OnlyFans style), which is becoming the trend. (These sites typically cut out the middle man, so instead of becoming obsolete, Chat Recruit provides a safe platform to stay in the loop).
TexKings
TexKings offers an online platform for all sorts of online chat jobs, not just adult chat (but most is). You must be 18 years old (verified with ID) and be able to type 25 WPM (don't worry, that's not too fast), and they'd like you to work 12-20 hours per week.
You can make decent money sexting on this platform as a phone sex operator or a text chat operator. It's common for people to make around $500 a week here, which is pretty good for part-time effort.
Other sites when you can get paid to flirt
There are other places where getting paid to sext is easy, but I just wanted to take you through the top 10. Some of the places below may be a great opportunity (or they may be iffy); do your due diligence and research them fully.
Some of these are country-specific only (Canada, UK), so be sure to look for that info as well.
All Things Worn offers lots, as you can sell your worn clothes as well as digit content and experiences – this is the sexting portion
Tinder
Plenty of Fish
Match.com
Dust
Zoosk
Grindr
FanCentro
Niteflirt
OnlyFans
ChatOperatorJobs
Ashley Madison
Together2Night
Jolly.Me
Mingle2
Single Mom Locator
Adult Staffing
Textlicious
Mydirtyhobby
Boleyn Models
Camgirl
WhatsYourPrice
Luxury Date
Loveeto
OneAmour
Getting paid by these sites can take a few weeks; always look for the payment terms on the site you're interested in. But if you need to make cash quickly, then check out this post on how to make money fast (as in one hour)!


I'm curious, but I'm not sure I can do it
I know that sexting isn't considered the "normal" way people make money. And there are people that will try and shame you out of your decision. But i also know that if you need cash quickly this is a good industry to get in on.
However, I also know that you may need to work up to sexting. So a great place to get started is to start selling your feet pics online. Don't laugh; this is a legit thing! People pay good money for cute feet pics. You can read all about how to take good feet pics here. But if you want to get started, then check out our review on FeetFinder, or check out our pick for the best feet pic selling site right below…


5 Tips to Stay Safe as an Online Friend
When you're getting paid to talk to lonely people, there's an instant bad rep that comes with it. Yes, getting paid to be a virtual friend isn't how people usually do it.
However, it's always best to be cautious and observant in any new situation, so we have five must-follow tips for staying safe.
1. Stick to reputable websites
While many reputable websites can help you make new friends, there are also many scams, low-quality ones, or websites with ulterior motives.
So how can you tell the difference? Here are a few tips: First, look for websites that require users to verify their identity somehow. This may mean verifying your email address or uploading a copy of your ID.
Second, check out the website's privacy policy to see how they protect your personal information. And finally, use your common sense – if something seems too good to be true, it probably is. By following these simple tips, you can stay safe and make lasting friendships online.
2. Protect your privacy
In this age of constant connection, it's more important than ever to be aware of how you can protect your privacy. Here are a few simple tips:
Be thoughtful about the information you share. You never want to give out information regarding your last name, address, or even your town.
Don't take pictures with easily identifiable landmarks in the background (if that's your hometown).
Don't share what other social media platforms you're on (too much information can be gathered from different places to make up a complete profile).
When sharing something online, think about whether it's something you would be comfortable with everyone knowing. Screenshots and recordings are a real thing.
I don't want to scare you; I just want you to be as safe as possible, and following these simple tips will help you protect your privacy and keep your personal information safe from prying eyes.


3. Keep things separate
Never give out personal payment links. You always want to use the payment method that your platform uses. However, if the platform lets you use whatever you want, be sure to make a completely separate Cash App account just for this purpose (as well as a separate email address that you use just for this type of work).
4. Set boundaries
This is not only advice for you to give clients but also for you to follow. Only discuss topics that you are comfortable with. Usually, you stay away from topics like religion, politics, and any illegal activities like drugs, as well as topics that you aren't into.
If someone starts talking about these things, it's okay for you to say. "I'm not interested in that; let's talk about XYZ instead." You don't need to give a reason; just redirect the conversation.
Likewise, if you feel them pull away from the conversation, you must pick up on those cues and change the topic.
How to be great at sexting
Sexting is an art, and like any art, it takes practice to perfect. Here are a few tips to help you become a master of flirtation…
If on the phone:
1. Have a good connection; static isn't sexy
2. Don't be too loud; no one wants a burst eardrum.
3. Practise your sexy voice; check out this class – Voice Training – Develop A Deeper, Sexy & Charismatic Voice
4. Use dead air sparingly – you're the one getting paid, so it's your job to keep the conversation moving. If the person is quiet on the other end, that's okay; keep going unless they tell you to stop or change.
If you're texting:
1. Avoid text talk – This means using full words. Avoid shortening words, using slang, and use emojis sparingly. You don't want to come off as immature or uneducated.
2. Get yourself ready – If you're not in the mood, try watching videos to get yourself "ready" for sexting.
3. Be descriptive – you'll want to paint a good visual of your surroundings and your outfit. Instead of saying, "I'm wearing black underwear," you could say, "I'm wearing sheer black lace thong, it fits low on my hips and barely covers me, if I pull the strap, it rubs just right." See the difference?
4. Don't hog it – If they are eager, then let them take the lead on where they want the convo to go. But have a few standby scenarios in your head in case things cool down.
If on video/webcam:
1. Make eye contact – eye contact is essential for online flirting; it shows interest and creates a connection.
2. Don't show it all off right at the beginning; learn to be a tease and draw out the suspense in the beginning. You want them to be begging for it.
3. Have a clean room/background – no one likes a slob
4. Make sure there are no distractions – like lots of noise and other people in the background.
5. Be well groomed – you don't need full makeup and a fresh blowout. But make sure your hair is brushed, your face is clean (brush your teeth), and have clean clothes free of rips or stains.
6. It never hurts to have a few props – be it a costume, some body oil, toys, etc. Body jewelry is very flattering and can make you feel like a million bucks! Here are some fun options…
7. Focus on what makes you feel beautiful – if you don't feel beautiful (and feel awkward or self-conscious), it will show. Now, this takes time and practice. Many women work as freelance models initially, which helps you know great poses and camera angles.
Here are some helpful classes then can help you get comfortable posing and being on camera…
FAQ on getting paid to flirt
How can I get paid to talk to guys?
There are lots of options; you can do paid sexting, be a phone sex operator, video calls, webcams, photos, and IM. It all depends on what platform you choose (what they do) and what you feel the most comfortable with. A simple sexting job is a good way to start as a beginner.


How much money can you make text flirting?
It really varies, but you can make anywhere from $.20 – $5 per minute of texting. Again, it depends on the platform you use (video chat gets you the highest pay) and if your platform has the option for fans to tip you.


Is it safe to flirt online?
Most platforms have built-in safety features, like reporting abuse, blocking users, and keeping your personal information private. That being said, you should still use caution when giving out any personal information (like your city, regular social media profiles, or full name).


Do you have to get naked in front of a camera?
No, you don't have to get naked. What you do on camera is up to you and what you're comfortable with. Some girls choose to dance or strip in front of the camera, while others just chat. It's all up to you! While other girls just want the sexting job piece (no video, pics, etc., just text based paid sexting.


Will I get some guidance or training before I start sexting for money?
Not really. Most platforms will provide you with instructions on how to use their platform and your minimum requirements. Some also have rules and guidelines that you'll need to follow. But don't worry, it's usually pretty simple stuff! As far as learning tips & tricks, it's mostly up to you.

We featured a few real Life Stories up above, and those stories are taken from the site's resources. So the info is out there, but you have to go and find it.


What are the age requirements for sexting?
The age requirements for adult chat jobs depend on your platform and country's laws. For example, in the United States, the age of being an adult is 18, so you would need to be at least 18 years old to participate in sexting for money online. However, some platforms have an age requirement of 21. It depends on what you're doing – chat room moderator, a sexting session, video chatting, etc.


Is making money sexting considered porn?
Yes, it can be considered adult content (aka porn), and if you ask others, they might say no. It all depends on your own personal value system. I strongly urge you to evaluate your values and set in stone beforehand what you will and won't do for the job. Stick to your values and respect your boundaries.


Will people or my customers ask for naked pictures?
Probably, but that doesn't mean you have to send them ones. If you're uncomfortable but curious, start with shots that don't include your face. Have artistic photos just of a small area (the small of your back can be a very erotic spot for many men).


How can I become a better sexter?
Practice. Honestly, that's the only way to get better at it. Read up and study and practice.


I'm interested, but not sure. Can I just get a chat operator job?
Absolutely, looking at regular chat operator jobs is a great way to see how you like talking to people online. You can work as a customer support person, provide tech help, or get paid to talk to lonely people (no flirting at all). Then you can work up to the idea of talking to men online as a phone sex operator or with paid sexting.


What kind of fetishes can I expect?
There are a lot of different fetishes (more than I ever realized).
According to FutureMethod here are the 10 top US fetishes…
Masochism: Masochists derive pleasure from receiving pain.
Group Sex: Group sex involves threesomes, foursomes, and orgies
Sadism: Sadists derive pleasure from inflicting pain on a sexual partner.
Sports Gear: Sports gear enthusiasts find sports uniforms, pads, boots, cleats, straps, and other equipment to be erotic, especially when worn on themselves or their sexual partners.
Armpits: Licking, kissing, and even penetrating are involved for those who enjoy armpit play.
Balloons: Also referred to as "looners," some people enjoy blowing up and popping balloons during playtime.
BDSM: BDSM involves erotic roleplaying in bondage, discipline, dominance and submission, sadomasochism, and other sexual roles.
Suits: If seeing someone in a uniform or business suit arouses you, you might have a suit kink.
Used Underwear: It's exactly how it sounds. Some people enjoy smelling, licking, and using used underwear for sexual gratification.
Voyeurism: A voyeur is someone who derives sexual pleasure from watching others get it on, though it's important to note this must be consensual.
Social media influences a lot these days; let's take a look at what's trending right now…
#fetish #feet #bdsm #kink #gay #sexy #latex #bondage #footfetish #toes #kinky #leather #foot #bdsmcommunity #model #footfetishnation #feetporn #slave #lingerie #soles #rubber #heels #mistress #latexfetish #highheels #fashion #instagay #gayfetish #submissive #legs #photography #fetishmodel #feetfetishworld #onlyfans #nylon #femdom #findom #dom #follow #feetfetish #boots #sub #girl #pantyhose #gayboy #feetworship #goddess #gear #hot #stockings #feetlovers #instagood #dominatrix #prettyfeet #rubberfetish #feetpics
That's a lot (but many of those hashtags revolve around the same thing (i.e., feet).
At the end of the day
So if you're looking for a fun way to make money online and you like making people happy, then this could be a golden ticket! The great thing about getting paid to sext is that you can work from anywhere with an internet connection. That means no more fighting traffic or working odd hours just to make ends meet. You get to set your own schedule and decide who you want to talk to.
Isn't it time you allowed yourself to have some naughty fun and make some extra cash? Thousands of people are out there who are willing to pay to text with someone like you, so what are you waiting for?


What do you think about getting paid to sext?