Want to save A LOT of money? Do a No Spend Challenge!
Here are the exact steps to doing your own no spend challenge and 21 tips to help you rock it!
Author: Kari Lorz – Certified Financial Education Instructor
There are lots of great ways to save extra money, things like making your own coffee instead of buying it, having some car snacks on hand instead of hitting the drive-through, not stepping foot inside a Target…
But, all of those things sound a bit tired, been there done that!
How about let's shake things up? Are you up for a little friendly competition? Don't worry; you'll only be competing with yourself (which I think is the most motivating kind of competition).
Yup, we're doing a no spend challenge! Buckle up cause we're saving money fast!
This post may contain affiliate links. If you make a purchase, I may make a commission at no cost to you. Please read my full disclosure for more info
What is a no spend challenge?
A no-spend challenge is a money saving challenge, where you try and cut out any unnecessary spending. Ideally, you'd spend nothing, nada, zilch! But, that's not very practical in today's world as there are a few things that you do need to spend money on (more on that later).
Steps to doing a no spend challenge
Step One: Pick the type of challenge
Step Two: Decide how long you'll do it for
Step Three: Figure out how much you usually spend and decide how much spending is allowed during your challenge
Step Four: Decide on your "rules."
Step Five: Gather your resources (aka trackers) & do prep work
Step Six: Start your challenge!
Step One: What kinds of no-spend challenges are there?
You can do the full-blown "don't spend money on anything" type of challenge (which is the most common). Or you can narrow it down to a specific category of spending…
No fast food
No eating out at all
No beauty spending (hair care, nails, makeup, etc.)
No clothes shopping
No shopping for hobby supplies
No electronics
No spending on beverages: coffee drinks or alcohol
No Target runs
No Amazon ordering
No buying from IG influencers
No buying ______ (whatever your downfall is)
No spend month or even a no spend year
Step Two: Pick your spending freeze time length
There are many different ways to do a no spend challenge, and part of it depends on how much your savings goal. If you want to save $500 then you may need to do a no spend month. But, if you want just $100 in extra money you could do that with a weekend challenge.
No spend days:
This is the easiest (obviously), but you pick a specific date(s) during the month to not spend any money, i.e., the 9th, the 16th, and the 27th. Or you can pick certain days of the week. Such as no spending on Tuesdays and Saturdays and try it for a month. Choosing a spending freeze day is an easy intro to not spending money, so start here if you are excited but hesitant.
No spend weekend:
This is the perfect place to jump in and try this challenge on for size! You can do just Sat & Sun, or go the entire weekend with Friday afternoon to Monday am.
No spend week:
This one takes a bit more planning (especially around food), but it's totally doable!
No spend month:
This is the most common of the no spend challenges, as it's a significant time commitment. But that's what makes it fun! This one is best for people who want to really challenge (and possibly eliminate some of their current spending habits).

I did a no-spend challenge a few years ago and loved it! So I decided to repeat it again (glutton for punishment, huh!), and I admit that it was hard, but it was absolutely worth the money that I saved! You can read all about my successes, and a few failures right here for more My (Mostly) Successful No Spend Month!
No spend year:
Yup, this is for the diehards, the people that want to make a significant lifestyle change away from consumerism. Some say it's a great way to embrace minimalism (going cold turkey). You should give yourself three whole months to plan and prep for this type of change. Read books, listen to podcasts, research blogs of those who do this, etc.
With each of these time frames it's important to try and not just delay the spending, but to delay and then hopefully eliminate the purchase. Becuase just postponing the purchase isn't doing you a lot of good, it's learning that you don't really need it where the magic happens!
Step Three: How much can you save doing a no spend challenge?
Well, it all depends on your challenge length and your typical budget. For example, if you usually spend $75 on the weekends eating out and doing fun things in your city, then you could reasonably expect to save $60 of that, as you will probably need to spend some of it on food.
For a no spend month (which I am doing), my regular monthly budget is…
$400 for groceries
$300 on gas for my car (I drive a lot)
$330 on spending (I usually end up buying groceries or putting this money towards necessary purchases like birthday gifts, holiday stuff, chiropractor monthly plan, paper goods & cleaning supplies, etc.
TOTALS: $1,030 a month or $237 a week.
I average my spending over the "month," which equals out to be 4.33 weeks in a month. As I don't want to have to keep juggling "is this a four-week month or a five-week month?" Averaging it just makes it so much easier! It's 52 weeks a year divided by 12 months = 4.33 weeks a month.
So when I am doing a no-spend month, I can probably expect to save all of my spending money – $330 and most of my grocery money. My budget is $400, so let's say my goal will be to save $320 of it.
My gas is something I have to spend, so none of that will be saved, but I will consciously try and limit my driving as much as possible.
At the end of the month, I hope to save $330 from my household budget (aka spending) and $320 from my grocery budget = $650
How much you can save also depends on the rules you set for your money challenge.
Your largest savings category
People's largest monthly expenses are typically their mortgage/rent and then the money they spend on food. According to the USDA, a family of 4 should be spending anywhere from $590 – $1152 a month in food, according to their four spending plans (March 2021).
So if you're already spending at the low end, you might not save as "much" as a family that spends at the top end and has a lot of room to cut. We dive deep into these four food spending plans in; How Much Should I be Spending on Groceries?
Another hard money challenge that people like is the 100 day envelope challenge. You can save $5,050! Yup, you guessed it, in 100 days! It's challenging, but that's why it's fun!
Step Four: What are the rules with a no spend challenge?
As with anything, you need rules and guidelines because you will probably have to spend money on something at some point, but you don't want to go crazy.
Here are some common challenge rules…
Okay to spend on:
mortgage/rent
insurance
utilities
gas for car
medical co-pays or deductibles
prescriptions
essential groceries (i.e., fresh dairy, produce, meats, bread, etc.)
Not okay to spend on:
eating out
entertainment
clothes
uber/lyft
toys/hobby stuff
non-essential groceries (i.e., cookies, chips, snacks, etc.)
beauty treatments
anything that's not 99% necessary
Step Five: Tools & resources you may need for your savings challenge
With every endeavor, you're going to need a bit of help to set you up for success! Don't worry, you don't need a lot, just a few pieces of paper to get set up and keep you on track. You can absolutely make these yourself or buy them from the shop if you're not feeling very crafty.
The Money Savings Challenges template set comes with 12 challenges (has a time limit) and two savings charts (no time limit).
What's Included:
52 Week BLANK Challenge
52 week $5,000 Challenge
52 Week $10,000 Challenge
$1 a Day to $500 Challenge
$1 a Day to $500 Reverse Challenge
365 Day Penny Challenge
Save $1,000 a Month Challenge
Save $5,000 a Year Challenge
$1 to $100 Savings Chart
$5 to $500 Savings Chart
Cancel It! Challenge
Savings Jar Tracker
Holiday Helper Challenge (ends Black Friday)
Holiday Helper Half Challenge (starts July 25th)
No Spend Month Challenge (4 pages) – see below for images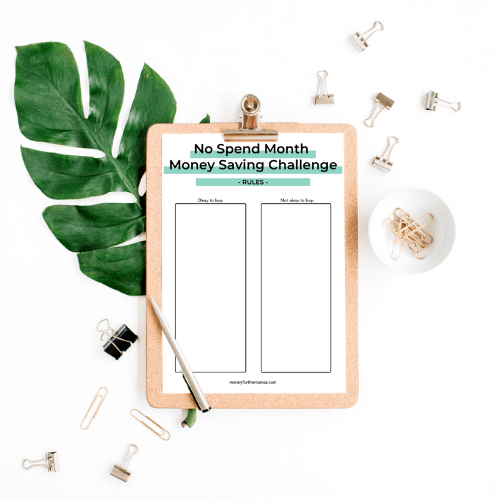 So you get a lot of ways to save money (not just the no-spend challenge printables).
Yet, if you're doing a no spend year, then you should absolutely do some more research as you'll need more than just printables.
Sale
Step Six: Start
Yup, just decide on a start date and start.
Why do a no-spend challenge?
Well, there's one main goal, to save money. But there are lots of little things that make doing this money challenge worthwhile!
Save a lot of money – to help pay off debt, fill your emergency fund, etc.
Help you do a habit reset (if you've been a little spend happy lately). Impulsive spending habits can be hard to break on their own, so a challenge is the mechanism to help stop.
Help identify sinkholes in your monthly budget
Clean out your freezer and your pantry of old food (without throwing it away)
To see if you can do it! (this is my favorite reason! I love challenging myself)
Try something "different"
Meet a financial goal of saving $10,000 in a year, or $15,00 or $5,000.
Interestingly, so many people use "buying" as a coping mechanism for their troubles. People jokingly call it "retail therapy," which can add to the burden they're under. Impulse spending is a slippery slope that needs to be checked in regularly.
According to TalkSpace, "Retail therapy can be a source of relaxation in the moment, but if there is a constant need to shop, with negative long-term side-effects, then it has reached the point of being unhealthy."
Doing a spending freeze can help you find different (and more healthy) ways to cope, like going out for a walk, cleaning the house, baking bread, etc. You just need to find the thing that helps you! You
So all of these reasons sound great, and you want to give it a shot; what's the first step?
Know your "why" for this money challenge
It's said that those fighting for their home are better soldiers than bought mercenaries. (Not sure who said this, but I remember it.) It's true that those who are fighting/working towards something they believe in (and are invested in) will do better than those who are just doing it for the hell of it.
So that means we need to identify and make visual your "why." What are you even doing this? What is the money saved going towards? Can you "see it" your end goal?
Some of you may be doing it for the fun of the challenge, to push yourself, and that's great! You'll have to focus on not quitting on yourself when you are tempted to spend.
Yet for others, this money save could mean something "more" to you! For example…
Pay off your credit card debt
Fully fund your emergency savings
Pay of student loan debt
Fund your summer vacation to the beach
Fix your car
set up and fund all of your sinking funds
cover the cost of a new backyard garden
pay for part of your upcoming wedding
send your kiddo to STEM camp or soccer club
buy a Peloton ?
Whatever your reason is, you want to make it visual! Get some pictures of what you're saving for (or a savings tracker if you're filling your emergency fund), and put them up where you'll see it every day! Your bathroom mirror is an excellent spot for this, or clear your refrigerator of all paper & magnets and use it as Money Saving Central (yup, I'm a dork)!
21 tips for your no spend challenge
I've done two spending freeze challenges myself (and am gearing up for another this next month), so there are some things I put in place the 2nd time around that were a big help!
Do a pantry & freezer inventory – stock up on essentials (i.e., meat to freeze, canned goods, dry goods, paper goods, etc.). But don't stock up too much, as you're just changing when you spend (now vs. later). Use this as a pantry challenge; to clean out your freezer and pantry of items that have been in there awhile.


Do some meal planning around what's in your freezer/pantry to help clean it out. Consider crockpot meals, as those are great for using a lot of random items. Frugal meal planning doesn't mean spending a ton! Get creative! Freezer meals are an excellent idea for those strapped for time in the evening and need something quick & easy! You can get a free freezer meal plan here!


Fill any medical prescriptions now.


Unsubscribe from any brands/influencers' emails and unfollow on social media (no need for you to be tempted).


Gather up any random gift cards you have lying around and look up their balances.


Gather up any travel-size health and beauty items (this is a great time to get rid of the 12 mini tubes of toothpaste you have in your bathroom cabinet!)


Fill your Netflix & Disney watch list.


Find your library card and do a walk around there. You'll be surprised at all the different kinds of things you can "check out." For example, my library has free passes to local gardens & museums that you can check out.


Any reward points on your apps that you can cash in? Like ibotta (sign up for $10 in bonuses), or Fetch points? If you're not using Fetch you're missing out! Check out the best ways to score big on fetch Rewards.

Tell your friends and family that you won't be spending money (so don't invite you to go out for happy hour)!


Don't plan to do a no-spend month for a month with birthdays or celebrations in it. Or, you can buy presents early.


Start a journal to track your feelings & frustrations. It's a great way to work through things, especially if you're doing this challenge as a habit reset.


Go to the grocery store as little as possible, as going more often means more temptation.


Leave your house with only one credit card (for emergencies only), leave the rest and the cash at home!


Keep a list of stuff you want to buy after it's over. BUT, be mindful of this; you don't just want to delay spending; you want to nix it (ideally). But maybe there's a car part you want or some house fit it need. Write it down.


Have a yard sale to help clear out the clutter, or join your Neighborhood's Buy Nothing Group. I have gotten rid of so much stuff (a hot tub!) and given it to people who want these things, and have gotten free stuff in return (i.e., diapers, yard hose, etc.). It's a great way to meet your neighbors too!


Go ahead and delete your saved credit card info on your devices; it just makes it a bit harder to buy when you may be in a weakened state of temptation. Sometimes it's just that tiny bit of resistance that will keep our cash safe!


If you want to try a no spend month but aren't sure, then start with just a weekend, then go to a no spend week. If all goes well, then advance to the month, and GASP, maybe even a no spend year! (how exciting!)


If you're not doing this alone (aka you have kids and a spouse), be sure that you are all on board with this! You don't want to make people miserable if they hate the idea. People don't have to be gung ho about it, but they need to agree to it willingly for it to be successful.


If you are doing this alone, then consider grabbing an accountability partner. They are the person that can help you brainstorm great ideas, help keep you on track, and identify any non essential spending that may be sabotaging your savings.


Don't let one slip up totally derail you! Keep on going with the challenge, that's the most important part!
What to do during a no spend challenge
You might be a little worried about what you'll actually "do" during your no spend challenge, which is normal. So many of the things that we do take money. Luckily there are a lot of options to do free things in our home, neighborhood and even our city!
Make a list of free things to do with your kiddos! Ask your neighbors or other moms you know. Here are some other ideas…
What hobbies haven't you had time to do lately? Puzzles in your closet? Hiking trails to visit? Get back into knitting; that basket is somewhere in the hall closet!
Have a pantry party with friends. Each of you goes through your pantry for items you don't want, and you can swap with each other.
Pretend you're a tourist! Google "free things to do in + your city." There will probably be a bunch of things you forgot about or never even knew about!
If you have young kiddos do a toy swap. Just grab a big Rubbermaid container and load it up with your old toys (that are clean and not broken), then swap containers! Your kiddos will love the new toys, and in a week or two trade back and then do it with another mom.
Deep clean your house (perfect time!)
Get back into reading (use your library)
Have a weekly baking session!
Try online exercise classes (YouTube is free!)
Fix small things around your home
What can sabotage my no spend challenge?
Here are the top three roadblocks & hiccups that people run into when doing a no spend challenge.
Not preparing for meals & snacks: Obviously, you need to eat (and spend a little bit of money on the essentials). But if you don't plan out your meals & snacks, then you run the risk of getting hangry (hungry + angry) and saying "screw it" and going through the drive-thru at Taco Bell.


Not having your family on board: This can be a tricky challenge (depending on the length you pick), especially on kiddos. You need to make sure (and keep repeating) why you are doing this! If they want to save up for the new pool/vacation/car, they need to help!


Hanging out with Sabotouers: This is hard, as our best friends and family may think that this challenge is silly and keep trying to lure us into "just one coffee" or going into "just one store" at the mall. If you hang out with people that love to shop & spend, it may be necessary to keep out of harm's way during your challenge.
At the end of the day
Doing a no spend challenge can be a great way to save a lot of money fast! And it can be a lot of fun if you keep a positive attitude. Just keep yourself focused on your reason why and the outcome goal that you will get when you finish this savings challenge with flying colors!
Who knows, you may find that you love frugal living, as a minimalist lifestyle can be very freeing. Or maybe you found that it was great for not eating out, but you want more flexibility in other areas. That's fine too! Just be proud that you gave it a shot and you DID IT!
Articles related to doing a no spend challenge: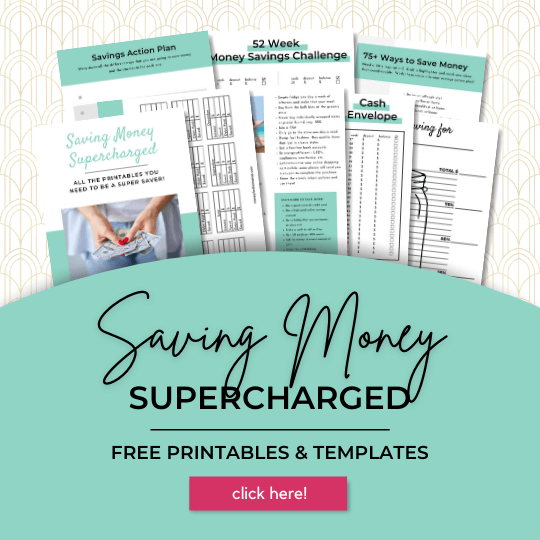 I am so excited for you to do your first no spend challenge! You're going to do great!