How to Sell Feet Pics (Quick & Easy Guide for 2023)
Selling feet pics on Instafeet means quick money! Plus, 10 sites to sell feet pics to earn even more!
Author: Kari Lorz – Certified Financial Education Instructor
Do you want to make money online? Well, we have an interesting business idea for you, and it involves your feet! I'm 100% serious when I say that people pay good money to see some cute feet!
Selling feet pics is a great way to make some easy money. It's a fun side hustle that doesn't require much work, so it's perfect if you're looking for something simple.
Go get a pedicure, and start earning money online today by taking some flirty feet pics! (Don't worry, we'll take you through all of the details, and you'll know exactly what to do!)
This post may contain affiliate links. If you make a purchase, I may make a commission at no cost to you. Please read my full disclosure for more info
How to start selling feet pics – the steps
Here's a quick rundown of the steps; we'll go into detail on each in the article below.
Step One: Get your feet camera ready
Go get a pedicure stat! Remember, sometimes it takes a bit of time to get your feet in tip-top shape!


Step Two: Get online
You need to create an account with your platform of choice (i.e. Fun with Feet, All Things Worn, Foap, etc).


Step Three: Take cute feet pics
Start taking pics, and take a lot of them! You'll get better with practise (lots of tips on this in the article below).


Step Four: Upload & Price
Upload your pictures to your sales platform and price them. Be sure to write some great descriptions that entice potential buyers.


Step Five: Engage with buyers & sell
Buyers will message you to feel out your personality, engage with them via platform messenger, flirt, and be funny! Then (fingers crossed), sell your pics!

Those are the basic steps; now it's rinse & repeat (and grow)!
How much should I sell my foot pictures for?
When just starting in this industry, it's suggested to price your feet pics low, at $5 or so. Because in the beginning, you don't want to seem that you're overcharging people when you don't have a huge following.
Once you find your groove and your niche, then you can adjust pricing (up to $100). Because if you're undercharging, then you're losing money. The goal is to find that sweet spot.
Here's an example of a seller's pricing structure…
How much money can I make from selling feet pics?
Let's go over the money part of this because that's why we're here, right?
Let's say you have $10 followers a month, and you charge them $10 to follow you; that's $100. Now, let's say two of them want to buy two of your foot pics at $40 each; that's $160. So you have $180 gross earnings for the month, and then Instafeet takes 10% of it, so $26, you're left with $234. Making $200 a day is totally possible!
Now that won't make you rich, but it's nice pocket change. If you really want to make big bucks selling feet pics, you need to scale up, either with followers or with offerings.
Some people earn around $500 a day on Instafeet, but those are experienced sellers with a large following. Who knows, maybe that could be you in a few months!
Grow your offerings
Like with every job, the more you do it, the more you perfect your skillset, and the more you learn what your customers want. Not only that, but you become a more savvy businesswoman.
Your followers can send you requests, but it's all up to you if you accept. Yet, the requests can be anything, and it's up to you to price accordingly. And if they want video, well then, that's, of course, more expensive.
If you are willing to make custom content, you can also charge extra for requests and exclusivity, and you can even set a minimum amount of minutes for feet videos. You don't want to be wasting your time by making two-minute videos when you can set a minimum amount of, say ten minutes, and charge as much as you want.
Or, maybe you charge extra for creating exclusive content, just for one follower, that can command a much higher price than ones that anyone can see.
Maybe you treat your followers extra special to build up a high-end feel. Like having their initials painted on your toenails or a free foot pic on their birthday, or if they are a great client and buy a lot, maybe you give freebie foot pics when they reach a certain purchase status.
It's also important to know your strengths; for example, can you pick things up with your toes? Do you mind licking your toes? I KNOW, I KNOW that's a personal question, but having "talents" can score you more money.
Grow your followers – use social media
The main question is, how much time and money can you commit to this side hustle? As with anything, the more you put in, then the more you can make.
This is especially true with trying to grow a following on social media. It takes a lot of time and work. You're communicating with potential clients, commenting on others, trying to create a connection, participating in online events, etc.
There are lots of "feet lovers" groups on Facebook, which can be good for engaging with a group and building community; letting them get to know you, and asking questions here is a great place to better learn the industry.
Again, be sure that you don't use your personal profile, use your alias profile. (Note: you may need to build up your alias profile a bit before requesting to join a Facebook group, admins don't want scammers, and a blank profile is a giveaway).
Once your personal profile has decent content you can create a business page, and get followers and potential buyers there. You can find buyers on these groups, but if you sell them something make sure to use PayPal only.
Instagram can be a great place to not only get followers but to get content ideas too, especially with trends. Now you don't want to exactly copy someone, you want to do it better, that's the goal. Be sure that you're following all the hashtags…
#feet #feetslave #feetfoot #foot #worshipfeet #queenfeet #feetqueen #sexyfeet #sexyfoot#footfetish #feetmodel #model #instagram #instafeet #feetlovers#feetlover #feetslaves #slavefeet #feetporn #footfetishnation #feetlicking #footpics #feetloverscommunity
How do I get paid?
Instafeet pays out on the 1st and 15th of every month. And yes, if you're wondering, you will need to claim these earnings on your taxes, just as every small business owner would.
If you're going to go outside of Instafeet you can use any payment form – PayPal, Venmo, Cash App, etc. Just make sure it's a completely separate account from your personal one. And never mess around with people who want you to send money back and forth between accounts; that's a scammer red alert.
To sign up with Cash App, click here or use code NRTZMHV to get your free sign-up bonus when you send someone $5. Hint – they can send it right back to you so you're not out the $5. Oh, and be sure to look for Boosts in your account, it's a great way to make money on Cash App!
Get paid in gift cards
If you don't want to mess around with money apps then you can easily ask for gift cards as payment. Your best bet is a prepaid Visa or Mastercard. Or another great way is Amazon gift cards, as almost everyone has an Amazon account.
Here's how it works – the buyer reaches out for some custom or exclusive photos, you ask for an Amazon gift card, they send over the code, and then you immediately use that code to buy a new gift card (or whatever else you want) and then send over the feet pictures. This way, they can't cancel the funds on you after you've sent the photos.
You can also use PayPal (as almost everyone has this account. Again, be sure it's not your personal one, get a separate one for this. While you're at it you can also check out these fun ways to earn free PayPal money; every little bit helps!
Do I need to invest any money into selling my feet pics?
In short, you do have to spend a bit, not a lot if you're watching your costs. But, it can easily get out of hand.
For example, how much money do you have to put into taking good care of your beautiful feet? Pedis every week? A polish change every few days? Henna artwork on your ankle? Feet peels? Ankle bracelets? Fancy shoes to show off your assets?
If you want to get your feet in wallet-opening shape, here are the products you need.
Do you need to buy a good camera and editing software and some extra lighting for the business aspect? Start out with a basic operation, don't invest heavily in this venture unless you already have an audience that's shown they will pay.
In the beginning, you don't need a fancy camera, you can absolutely use your phone. But, if you get into this industry, and things take off then consider upgrading to an intro DLSR camera with some of your profits. TechRadar puts the Canon EOS Rebel T100 / 4000D DSLR Camera on its best entry-level camera for beginners list. You can check it out on Amazon, or maybe find it cheaper on Walmart.


A few small tools might make things a lot easier for you; like a phone tripod with ring light and timer and maybe a nice backdrop, like a faux fur blanket.
Sale
Who buys feet pics?
There are quite a few different types of Instafeet followers.
The feet lovers – This is, of course, what we instantly think of when we hear about the premise of Instafeet. Now, I'm not getting down on you are a foot fetishists; we know this appeals to a niche market – just like Brussel sprouts. Besides, there are worse things than liking feet. Feet are pretty mundane when you think about it. However, the foot fetish connoisseur is probably the largest customer base for buying feet pics.


The artist – This is a lesser-known follower group but still a viable one. Artists often want to perfect their skills by drawing certain things, or watching precisely how a foot moves, frame by frame. So if they are drawing a human body and aren't good at feet, then they need to practice drawing feet, and why not your feet?


Stock photo websites – Yes, stock photo sites get their content from all over, including places like Instafeet. People need feet pictures for all sorts of reasons. Check out Depositphotos or Shutterstock, as they are one of the top places bloggers and advertisers go to for images.


Foot modeling agencies – Yup, there are agencies specifically for foot & hand models, and they have to scout models from somewhere, so why not from Instafeet? For example, there's Closeup, BMA Models, or Models Direct to name a few.


Product Companies – Yes, companies that make and sell polish, nail files, foot peels, and the like all need photos to help them market their product.
Who can sell feet pics?
Well, anyone can sell feet pics, but on Instafeet, you have to be female and over the age of 18. But on other platforms, the door is wide open to all!
What kind of feet pics sell well?
Believe it or not but Instafeet has some "rules," but they sound more like guidelines to showing pretty feet. After all, people prefer different things. Here's what their rules say about having attractive feet…
Do

Moisturize your feet and toes.
Get a pedicure/ color on.
Remove any hairs; plucking is best.
Submit both face and feet photos.



Don't

Register more than once.
Upload blurry or stock photos.
Apply if you are male or FTM trans.
Submit only face or only feet photos.



Extras

Toe rings and ankle bracelets.
We go into more detail on how to take feet pics (plus the best-selling poses here), but let's do a cliff notes version down below.
Best foot & leg poses
Did you also know there are desired poses? I didn't realize this at first, but I found out all the details with some digging. According to Urban Dictionary, "In the online foot fetish community, "The Pose" refers to a girl (or guy if such is one's desire) lying on her stomach, facing the camera/viewer, with her feet up in back of her. The soles of the feet are showing, which is of interest to fetishists who enjoy the bottom of the feet.
In The Pose, the feet may be crossed or uncrossed, stacked, side-by-side, one up/one down, soles skyward, soles scrunched, toes spread, etc. The Pose is one of the most requested positions in foot fetish history."
The Invisible Tightrope: Single file your feet, putting one foot in front of the other, as if you were taking your first step on a tightrope. It might feel a little awkward at first, but in photos, this will elongate the front foot's ankle, foot, and leg, while giving the illusion that you're in motion. (source for this and the next two poses).
The Bow Leg: Turn both of your feet inward just a tiny bit and separate them about an inch keeping the back leg slightly bent and the other completely straight.
The Perfect Profile: Position your body entirely to the side and pop out the leg that's closest to the camera, almost like a flamingo. Make sure a little bit of your back is showing more than the front of you.
Brush up on your modeling & photography skills
You can do this all yourself by searching the web, but if you want to get started right now, and be good from day one you should look at perfecting your skills – modeling & body posing & positioning, photography editing, etc. Here are some classes that can help jumpstart your feet photos on the right foot!
Be a different sort of foot model
Or maybe if posing isn't you're thing, you could make yourself stand out from the crowd by showing your cosplay skills. I bet there are some people who'd love to see Arwen's feet (hint: that's the elven princess in Lord of the Rings).
Or, maybe you are a dead ringer for Christina Aguilera; if so, you know people would pay cold, hard cash for that. (of course, while fully disclosing that you are indeed not Xtina, fraud isn't a pretty word).
You can also theme your photo collections – beach, fishnet stockings, high heels, bath tub, socks, toe pics, holiday, sandals, food smash, foot touching, toe licking, close ups, black & white photos, etc. Having different themes keeps your content fresh and different from your competition.
How will you market yourself?
Instafeet, like many social media platforms, uses hashtags to sort what people are looking for. Here's the list on their site…
#Blonde #Brunette #Latina #Asian #European #MiddleEastern #Ebony #Redhead #College #Fit #Skinny #Thick #Natural #Booty #420 #Exotic #Legs #Unique #Classy #Nudes #Heels #Small #White #Curvy #Teen #Strip #Tattoo #Milf #Fullbody #HighArch
While Instafeet is a "feet site," you can see that people upload more than just feet pics from their hashtags. That's their choice, and I don't see anything in the rules that says you can't.
If you feel that you're down with more sexy type of pics then maybe you'll want to branch out and get paid to sext or webcam. There is a huge market for chat hostesses right now.
While Instafeet says you don't need to post pictures of your face, it is recommended. I guess people want to see the whole package? If you're concerned about people seeing you, maybe you could wear a superhero mask or a mardi gras mask; that could be your online persona.
Sale
What is Instafeet?
Instafeet is an online platform where people are selling feet pics, and others buy them. It sounds simple, and it is, but I know we have a hard time wrapping our brains around this, as it's an odd business venture. I mean, who does this? Well, lots of people and they can make decent money with their foot photos too!


UPDATE: Instafeet has now merged with FeetFinder. They have combined resources to bring buyers & sellers a better platform, more features, and more safeguards. We'll go through their info below.
With the merge, we now recommend Fun with Feet as a great place to sell feet pics. FeetFinder is still good, but Fun with Feet offers more education, tips, and help. We'll look in depth at them farther down the post, but you can check them out immediately below…
How does Instafeet work?
It's a subscription-based service, where people subscribe to your profile and can then buy your beautiful feet pictures. What's nice is that with a subscription service, people must pay first, so the random gawker can't just scroll all your foot pics. Yes, the site is free to join, but they must subscribe to your feed.
Is Instafeet legit?
Yes, it's a 100% legit website and business. Don't worry; it's also completely legal.
Is Instafeet safe? – 6 tips to stay safe online
Beyond the question of "can I do it," you may be asking yourself, is it safe to sell pictures of my feet? The answer is (mostly) yes. There are things you can do to help keep your identity a secret and keep you safe when selling feet images (you should do this for lots of online like, like getting paid to talk to lonely people). However, nothing is 100% safe.
Here are some things you can do to stay safe online…
Create a persona – For obvious reasons, you never want to give your real name, location, or anything personal. You can now be Jill, from Baton Rogue Louisiana.


Scrub your metadata from your images. "Photo metadata is the information and specific details concerning a particular image file. This information often includes date created, author, file name, content, themes and more." (source). Depending on the device, this could include location coordinates, date, time, device model and manufacturer, and settings used to take the image. (source) You'll want to delete this info to the best of your ability. I won't give the exact steps here as processes change often on devices. So be sure to Google how to do it in the current year. This goes for your feet videos too.


Create separate accounts – If you want to keep your Instafeet life completely separate from your regular life, you'll need brand new social media accounts (twitter, Facebook, Tik Tok, etc. Go to every social media platform and see what people are searching for. You'll also need a business email address, and a PayPal account. You don't want any of these accounts tied to your regular accounts, so be careful when logging in and commenting on others' posts.

When you post to your new socials, be sure to check your phone settings. How Stuff Works says, "Many smartphones geotag your photo when you take it, and that data is uploaded along with your photo, revealing when and where it was taken. If you're trying to avoid stalkers, check the settings on your smartphone to find out how to disable geotagging, and be aware of how different social network sites use and reveal geotags from your photos."


Scan your images – Before posting pictures, be sure that what's in the background doesn't compromise your location (if doing outdoor shoots).


Protect your content – As well as protecting yourself, you should protect your content. Place a watermark on your pictures before showing them to interested buyers. They may ask for a preview of your feet pics, and it's okay to show them as long as you protect your image.


Keep it professional – If interacting with a follower becomes too uncomfortable, then be sure to drop them fast. Be polite but extremely firm.

There's also another aspect of safety, is the platform itself safe? There have been comments on forum sites of people's ID information getting out and attempted to be used. But nothing has been conclusively tied to Instafeet as a business. But, it's best to stay cautious and keep an eye on your info.


How to open up a PayPal account:
If you don't already have a PayPal account then no worries, you can easily sign up right now and immediately connect it to your game apps so you can start depositing real money today. Here's how you open an account:
Choose the account type you want (personal or business, most likely you'll choose a personal PayPal account) and click Sign Up Now.
Enter your information, including your email address, and next choose a password (it must contain at least eight characters and is case sensitive). You will need these to log in to your PayPal account.
Click Next.
Click Agree and Create Account.
This feels weird, I'm interested in making money by selling feet pics online, but I'm not sure I can do it.
Yes, you can make good money selling feet pictures, but only do it if you're okay with it. Know your comfort zone and know your limits, and don't compromise.
You don't ever want to do anything where you feel you are compromising your values or demeaning yourself. Now that's not to say if you do lick your toes that you are compromising yourself.
What I mean is, what is okay for one person might not be okay with others. This is a slippery slope, I know, so be honest with yourself. And most importantly, never do anything that compromises your personal safety.
If you're looking to do more than just feet pics, say a full-on career in modeling, then check out our step-by-step guide on how to become a freelance model. You'll find out everything you need to get started on it. But if you feel that selling feet pics is something you're interested in then let's get started below!
How do I get started – an Instafeet review
UPDATE – Since Instafeet is now part of FeetFinder, I have updated the original content to include FeetFinder rules).
Know the rules – You must be a female, 18 years or older. (FeetFinder allows men to sell)


Apply for a profile – There are specific rules, and not everyone will be accepted. They sometimes close registration if they have too many people on. You must show a valid US ID as part of your profile, and it could take 1-3 weeks to be approved. (It took me 30 minutes to be approved.)


Create your feet pics – They suggest starting with at least five pictures and regularly uploading new ones. This makes your subscribers feel that they are getting a good value and keeps them paying every month.


Pricing your feet pic – They suggest starting your fee under $10 a month. Some price up to $100, but it may take you a while to get to that price. Consider the quality of the photo resolution, the backdrop, the styling, etc.


Promote your profile – Yes, you need to promote yourself to gain new subscribers. The harder you promote, the more potential income you can earn.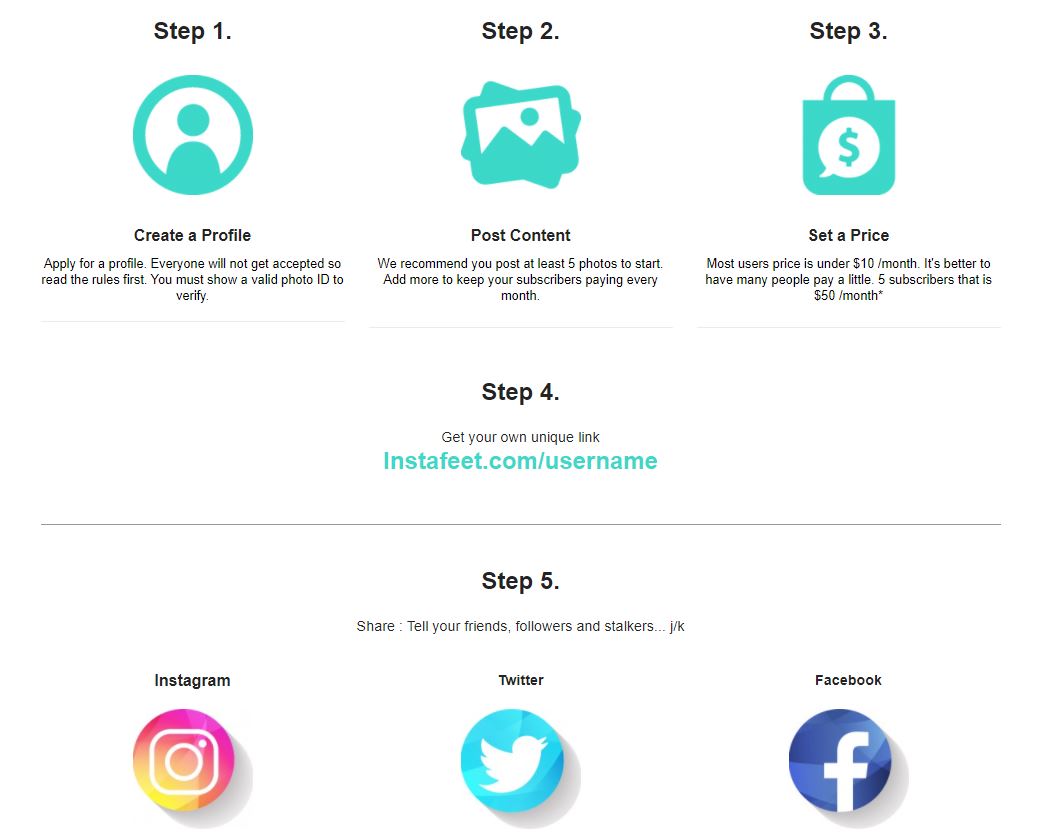 Instafeet is now part of Feet Finder (UPDATE)
Feet Finder is another platform, which looks a little more put together than Instafeet, yet they don't have the popularity yet that Instafeet has (but they're growing).
FeetFinder does charge a subscription cost, "While we also had tons of Buyers signing up and purchasing content, the Seller demand still was far greater than the Buyers. Rather than limit who can and can't use our platform, we're now charging Sellers a monthly subscription of $4.99 a monthor $14.99 per year. This allows us to ensure all Sellers using our platform are serious about selling feet content."
Charging a fee, I know at first, it sounds bad, but it's actually a really good thing. This weeds out all the people who aren't that interested or dedicated to making money this way. They just dilute the number of sellers and take customers away from you.
So charging a fee means less competition. But the competition that's there will be of a higher caliber. So see all the pros & cons check out our FeetFinder Review.
You can easily make back the $14.99 for the annual fee (much cheaper than the monthly option) in just 1-2 sales. Totally worth it if you plan to really try and make something of this.
Sellers on FeetFinder take home 80% of their earnings, while 20% goes to the company, which isn't a bad deal in this industry. If you're based in the US, you get paid via ACH bank deposit from SegPay. (I suggest you get a Cash App account for this). If you're outside the US, then you'll need to open a Paxum account.
I want to try and sell feet pics, but I don't feel comfortable with Instafeet. Can I sell my feet pics anywhere else?
1. Fun with Feet (the best alternative to Instafeet)
Our Pick for Best alternative
Fun with Feet
Fun with Feet is quickly rising in popularity. It's geared toward dedicated sellers who want to make money! They offer lots of education and helpful tips so you can make the most!
If the Instafeet platform isn't for you (there's a lot of competition, I know), then you should look into selling feet pics on Fun with Feet. They are a newer platform, but that means they've studied the best and brought all the best features of other sites to theirs!
First and foremost, the big question; "how much can I make on Fun with Feet?"
"There isn't a cap on earning potential at Fun with Feet! We have everywhere from our part-time sellers earning a nice side income, to our full-time content creators who make their entire living with us!
The average active Fun with Feet seller enjoys 15 picture/video collection unlocks a month. With collection prices ranging from $10 to $30, this can soon lead to a healthy side income. And, of course, the more established your profile, the more sales you're likely to get.
*Correct as of November 2022. based on our average active seller with more than six collections."
Secondly, the safety measures in place are there to protect you, the seller, and the platform's integrity (they want to keep things high quality).
Private information (including email addresses) are never visible to users on the platform. You can remain completely anonymous when selling on FunWithFeet.
All active buyers and sellers are ID verified to ensure they are of age to use our platform.
All content and users are manually moderated for quality and compliance control.
They also offer a hefty amount of learning content on their blog, all geared to help you take better photos and make more in the industry!
The only downside (which is only halfway bad) is that you need to pay to sell on their platform. I say only half bad because doing this helps them create a more professional site. Only women who are dedicated seriously to this venture join, so it keeps the content higher quality, and there's less competition.
So it's a good thing, and honestly, you'll probably make the cost back in the first month anyway. Talking with a rep from Fun with Feet, they have a seller retention rate of 84%, which is really high. That means sellers really like the platform (which is always a good sign).
You can read our full review on Fun with Feet here.
Sign up today and start earning!
2. Etsy
Believe it or not, but you can sell feet pics on Etsy. Etsy analytic company eRank, says that there are 1,682 searches a month on Etsy for "feet pictures." There are additional searches for "feet pics" and the keywords "feet pics for sale." The best part is that "feet pictures" have a 109% click-through rate (that's amazing) and very low competition on the platform, unlike Instafeet.
It's very easy to set up your Etsy shop, it takes maybe 15 minutes max. But you'll want to check out some resources to make sure you're maximizing your product descriptions to get the most views from customers.
3. Feetify
Feetify is another online platform to sell your feet pics. It seems to offer a few more options to interact, such as a live feed. They also provide a regular seller profile and a premium profile option, which has more options. Also, anyone on the site can view your profile, but the customer pays to message you (unlike Instafeet). They, of course, also pay for your pictures & videos. Here's a link to their FAQ page because I know you have questions!
4. Dollar Feet
Dollar Feet is slightly different in that they, the platform, pay you directly for your videos. "We pay $10 per accepted video (10-minute long) you send. The price may depend on the appearance of your feet. If you're a professional foot model, we may pay more. So If you send five videos, you'll be paid $50. If you have high arches, pink soles, and wide heels, you can be one of our regular foot models."
While guaranteed money sounds nice, you could still make more money yourself by selling to multiple potential buyers vs just one.
5. Feetpics Marketplace
Feetpics is another similar site, where you create a profile, upload some pics, and then submit for approval. Feetpics stands out a bit as they offer a lot more educational training to their sellers. For example, their articles are the cons of using a smartphone or keeping yourself safe from scammers, even tips on foot care. This info is open for anyone on their blog, but it shows they're a bit more well-rounded than the other sites.
Feetpics also offers different payment options, as the seller you can choose…
Amazon Gift Card – In exchange for your pictures, the buyer will purchase an Amazon voucher. This also works with any other online vouchers.
Bitcoin – If you have a Bitcoin Wallet, you can receive anonymous payments.
PayPal – If you are going to give out your Paypal ID, it is highly recommended that you set one up just for your feet pics, to keep yourself safe.
Credit Card or Bank Transfer – This is an easy method to get paid but always share your bank details with people you can trust.
Feetpics does charge a one-time $9 subscription fee, after that there are no other fees. This helps keep only active sellers are their site so the competition is lower. Another point that differentiates this platform is that buyers can leave sellers ratings & reviews. Of course the higher the ratings, the more popular you rise.
6. OnlyFans
While not exclusive to selling feet picture, it's a great option as the platform is very popular and has lots of potential buyers. The downside to this platform is they take 20% of your earnings, including tips. However, their referral program can be very lucrative for those that get their referral link out a lot. The program allows established creators to refer new creators to the platform in exchange for an equivalent of five percent of the referee's profits for the first 12 months (or when rach $50,000), money which comes directly from OnlyFans, not from the profits of the new user.
According to the Queen's Journal, "Despite the hype, most people who sign up for OnlyFans don't get rich off of it-the average creator on the platform makes $180 a month. On OnlyFans, the top one percent of creators make 33% of the profit, and the top 10 percent account for 73% of the profit. In short, if you don't have the time or energy to treat content creation like a full-time job, it's difficult to rise in the ranks."
With all of these available platforms, you might try selling feet pics on all of them – barring any exclusivity mentioned in sign-up contracts. I don't know if any of them say they have to be exclusive on their site so it's worth checking. After all, if you're making all this feet pic content, you want to get it out to as many interested buyers as possible.
There are even feet pictures online that people have scrapped together from celebrity sightings, for example, Wikifeet is just a feet photo appreciation site. Angelina Jolie might be a little put off by finding her zoomed-in feet pics online.
7. All Things Worn
All Things Worn is a site where you can sell your worn clothing (especially undergarments), hosiery, workout wear, and fun accessories, as well as digital content, like feet pics. You can also sell experiences like sexting and video calls. We go deep into all the details on how you can make money on All Things Worn if you're interested.
8. Stock photography websites
These websites have thousands of visitors that use the platform daily, which means stock photos are in high demand. However, if you want to sell on these sites your photography quality needs to be on point. So that means a great camera, good lighting, and artistry in photo composition.
9. Start a blog
If you've been tossing around a few online money-making ideas, why not combine them? You could start your own blog, say on foot care, shoe fashion, etc. This way, you can create blog posts, videos, and host them on your own instead of depending on other platforms.
To make money, you can sell feet pics on an online storefront or create a membership site. You can even branch out and do sponsored posts and affiliate marketing by recommending others' products.
Starting a blog shouldn't be undertaken lightly; it's a lot of work with a lot of moving pieces.
10. Sell on social media
Now if you want to get started ASAP, and don't want to fuss with applying to websites and waiting, then you can start selling right now on social media channels. All you need are your social accounts (Facebook, Instagram, Tik Tok to start), a PayPal account, and a separate email address. Now, this isn't the most lucrative option initially, as getting started will be a bit slower. But it's still an option. You'll want to join groups, follow big accounts in this niche (start commenting on their content), and slowly but surely you will gain traction.
The process will take a few more steps, as you'll need to market your items on social, and then take payment on PayPal, then deliver to email addresses.
Using social media might not be a big moneymaker, on its own. It's most helpful for driving traffic to the place where you sell your photos. It's marketing, advertising, and promotion that you're working on here.
11. Foap
Foap is a photo and video platform perfect for selling feet pics. It's a free app that shares the profit with you 50/50 – so $5 for you and $5 for them. You can easily amplify your profits by submitting your photo for a "mission." This is where you compete with other photos in a contest type of setting for extra money. You can also use Foap Coins to unlock premium missions for even more earning potential.
How to sell feet pics FAQ
How much money can I make selling feet pics?
That depends on how much content you have. The more pics you have available, they more you can make. Also, if you're active with your work (i.e., promote on social media, do sponsored work), you can make more. Experienced sellers can make $500 a day. But they have a lot of content, have a social following, and are active on sites.


Is selling feet pictures legal?
Yes, selling feet pictures is 100% legal. Yet, some website platforms may have their own regulations about selling on their site (i.e., be 18 years or older, be a US citizen, etc.).


Where can I sell my feet pictures for good money?
While Instafeet used to be the top site, they have now merged with FeetFinder. While they are good, I think that Fun with Feet is a much better platform to sell your feet pics.


How to be successful selling feet pics?
While you can take a few pics, upload them, and call it good, being successful at this side hustle takes some work.

Top sellers all agree you need to…
– Be active on your selling platform – engage with others
– Grow a social following on IG or Tik Toc
– Create a lot of content (aka photos or videos)
– Have a niche or a style all your own. Don't be generic.
– Take the time to learn some photography skills, lighting, posing, and editing.


At the end of the day
If you want to learn more about how to sell feet pics online, be sure you do your due diligence on the safety and security of the platform you choose. Instafeet can be a good option for selling feet pics, and who knows, you could strike it rich! Hmmm… maybe you'll be famous, you better learn how to sign autographs with your feet then, huh!
Articles related to selling feet pics online:
Are you going to make your fortune selling feet pics?