A Step by Step Guide on How to Make and Sell Printables
If you're looking for the perfect small business idea then you have to check out how to make and sell printables (it's the perfect semi-passive income stream)
Are you looking for a fun new way to make money? No, seriously, this is fun, I promise!
Learning how to make and sell printables is a great way to be creative and make money at the same time. You can sell them online, which becomes a semi-passive income stream. One mom makes $6K a month with her printables business! (Yes, please!)
Once you learn how to create printables, the sky's the limit. You can create anything from invitations to trackers to wall art. Plus, with our recommended courses, you'll be an expert in no time (and cut the frustrations of learning it on your own and help you avoid the common mistakes).
This post may contain affiliate links. If you make a purchase, I may make a commission at no cost to you. Please read my full disclosure for more info
What is a printable
A printable is a digital download file that you can download and print at home from the internet. Printables are usually in PDF format. Some printables are free, and others you have to pay for.
You can usually find printables for anything from wall art to party decorations to planner pages. All you need is a printer and some paper, and you can print out whatever you need!
Printables are a great way to get exactly what you want without spending a lot of money (as with buying a physical planner, notebook, etc.).
Plus, you can usually find them for pretty much any theme or occasion. So whether you're looking for something specific or just want some fun and unique decoration ideas, someone has made it online, so why couldn't you? (hint: you can, we'll show you how).
Below is an example of some free budgeting printables that I have made. I give these away for free because I want people to get to know me and my content. Then if they like what they see and find my printables helpful they might be more inclined to buy some printables from The Shop.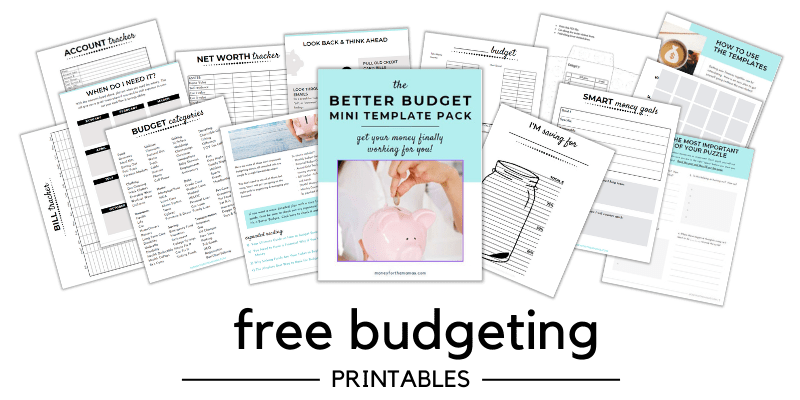 Why printables sell
Buying printables online are popular because they offer a quick and easy solution for people who need them.
Customers can buy a printable, download it, and then print it out at home – all without leaving the house or waiting for shipping!
Another benefit of a printable (vs. you handwriting a checklist out) is that you can find beautifully designed options and ones that cover more than just one aspect. There's no need to recreate the wheel, and I can guarantee you that whatever you need – there's a printable for that!
How much money can you make selling printables?
It depends on the printable. For example, in my shop, I have printables that start at $1 (single page, very simple layout & design), all the way up to $49 for a step-by-step guided workbook (70 pages, complex layout & design with lots of content).
In addition to the printable's design & size, you need to consider how popular it will be. Are you creating something that people need all the time, or only as a one-off? If you create a printable to celebrate leap year day, there probably won't be a lot of demand.
At the same time, if you're in a highly sought-after niche (kids activities), then you could earn a ton of money selling printables! For example, this mom earns $6K a month with her printables. It took her some trial and error to get there, but it's totally possible to make a full-time income with printables.
Po Tim King at Fortune Cookie Mom makes $2,000+ from her Chinese homeschool printables! She's now branched out and has created her own online course since her printables were so popular.
And let's not forget Sarah, Sarah Titus makes over $4,000,000 a year selling printables on Shopify! Now, it's taken her a while to get to this level, but she was making over $10,000 a month fairly quickly. Now, Sarah's journey isn't the norm, but it shows you what is possible!
In fact, having a digital product shop is so lucrative, it's our lucky #13 on how to make $10K a month list!


Why YOU should make and sell printables
You know that digital printables are popular and that you can make good money with them. But the magic of digital printables is that it's mainly passive income.
Now passive income is amazing. You do the work once and then get paid over and over again for it. That means that you can make money while you sleep! (How cool is that?)
But in order to make passive income with printables, there's a bit of work upfront. You need to create the printable, list it for sale, and have a payment processor.
But once you have it set up, you can sell it over and over and over. Never having to worry about inventory (as physical product sellers do), nor do you have to deal with shipping anything. It's so easy!
For example, let's say you have a home decluttering ebook listed for $9.99 (a usual price point for an eBook). If you just sold one a day, that's $300 a month, or $3,600 a year! And you only had to do work on it one time. Maybe you went in and tweaked the keywording on your listing once, but that's minimal.
Now imagine that you added an easy meal planner to your printables shop, a healthy goal habit tracker, and a day/weekly/monthly planner. Again, you make them once and sell them repeatedly – aka "magic."


This post will mostly go into the actual making of the digital printables, while future posts – linked below, will go into the specifics on popular printables and the actual selling of the printables. It's a big topic, so I wanted to give each main aspect of the process its own dedicated post.
Step 1: Build your foundation (aka your business)
If you're starting from scratch (no current business), you'll want to start by building your foundation. This includes creating a brand and determining how you will sell your printables (Etsy, Shopify, SendOwl, etc.), how you will drive traffic to your printables, etc.
You don't have to have these things set in stone; you just need a good general idea of your business model. Let's go through some of the important pieces…
Your brand name
What will you call your business? Is that domain name available (if you're going to have your own site), is that name available on social media channels?
You want to remember that simple is better than clever. If people might be confused by your name or what you do, then go back to the drawing board.
Define your target audience
Who are you making these products for? What do you know about this audience? What makes you an expert (aka why should people listen to you)? What does this audience need?
Get the business together
You can read all about how to set up your own online business right here, but let's do a quick run-through of the main points.
You'll need a completely separate email for this and a bank account (you can use a business PayPal account in the very beginning – see the grey box below on how to open one).
Go ahead and snag your business name on all the social media channels (it's better to have them and decide later that you don't need them).
Also, go ahead and Google (city/county + business license). Each location is different, but be sure that you are legitimately set up to do business.
You'll most likely set yourself up as a sole proprietor initially (this is simple). No need to get super official with an LLC yet, but keep this in the back of your mind when things take off.
How to open up a PayPal account:
If you don't already have a PayPal account then no worries, you can easily sign up right now and immediately connect it to your game apps so you can start depositing real money today. Here's how you open an account:
Choose the account type you want (personal or business, most likely you'll choose a personal PayPal account) and click Sign Up Now.
Enter your information, including your email address, and next choose a password (it must contain at least eight characters and is case sensitive). You will need these to log in to your PayPal account.
Click Next.
Click Agree and Create Account.
The most important thing is…
Now, while you're doing all the fun and exciting bits of planning your new empire, you need to be realistic with yourself about how much time you have to devote to this. I highly suggest writing out your week (plotting it on a time blocking calendar), so you can actually see where your free pockets of time are.
In the beginning, I thought I had quite a bit of time to work on my business, but when I time-blocked it out, I only had 7 hours a week to devote to it, which was a lot less than I thought.
The #1 complaint I hear from people starting their own online business is that they don't have enough time to do everything that they want to do. It's frustrating, and you push yourself too far and burn out.
So be realistic with your resources – time, money, and energy.
Step 2: Come up with ideas for some printables
This is the fun part! You can literally create printables about anything. It can be helpful to start with something you're passionate about or that you know a lot about. This will help the making & marketing process go much smoother.
You'll want to spend quite a bit of time researching what's already out there that's similar to your printable idea. What's missing from the current offerings? What does your audience want/need? How often will they use it (one time vs. multiple times a month/year)?
Now, it's a double-edged sword; if there are lots of similar printables as to what you want to do, that means competition. But that also means that there's a market out there for it.
I hate to say it; there are almost no original ideas out there anymore. Yet, no one can share/create what you can through your lens. It's your experiences and outlook that will make your item different from your competitors.
So don't think that you need to create something brand new that no one has ever seen before. In the beginning, stick with what works/sells. Then as you get better at creating printables, you can branch out.
Here are some examples of some of the best-selling printables that you can start with…
Calendars
Printable Planner
Checklists
Activities for kids
Budgeting tools
Home organization
Health and self-care
Art and decor
Party and holiday planning
Printable stickers
Seasonal printables (holiday cards, letters to Santa templates, etc.).
Now, you can't build a business off of selling one printable product online. You'll need a suite of digital printables. Hopefully, they compliment each other and are easy tie-ins. For example, you don't want to have homeschooling printables alongside machine shop layout plans. Your printables need to be cohesive (for the most part).
Do a serious brainstorming session on what kind of printables you want to make (we have lots of ideas right here, with the best printables to sell on Etsy). Make a huge list, and nothing is off-limits; just get a ton of ideas down on paper (or in a spreadsheet).
Pick your top 7-10 ideas that you'd like to run with. What is the actual content that will be featured on your printables? Do a mock-up of what you want it to say or look like if it's a mostly visual printable.
(If you can't think of 7-10 digital printables right now, then no problem, check out the section below where we talk about PLR content).
How to find the BEST products to create for your shop
One of the best ways to figure out what kind of printables are selling right now is to do keyword research. That's where you dive into Etsy numbers and sales figures and figure out what people are really searching for. You can't go wrong when you use cold hard data to drive your decisions! The sales numbers don't lie!
I know it sounds intimidating, but learning keyword research can be simple. In fact, it can be very easy when you learn from the best! Cody & Julie from Gold City Ventures has an entire module in their E-Printables course on how to do this exactly.
You'll learn how to use search tools to find what's trending, understand search intent, and make a keyword planner that you can use to fill your Etsy shop full of best sellers! Be sure to check out more on this course below and all my resources for learning to make Etsy printables below.


Step 3: The Design – layout, colors, fonts
Do you have an artistic side? If not, this may be the hardest part of the process. I, myself, and more of a spreadsheet kind of person. I know what looks visually pleasing, yet I have a hard time coming up with a design on my own.
Now, I have gotten better over time (and so will you), so don't give up if yours aren't amazing right off the bat. Go ahead and look at a bunch of similar printables that are already out there. What do you like about them? How is their…
Layout
Flow
Colors
Design elements
Simple/fancy
Functionality
Customizability
Many people like to offer their customers choices between printables. Just like you probably have the same t-shirt in blue as you do in white.
For example, you could offer your goal-setting workbook in a beautiful floral watercolor design and then offer it in a minimalist design, clean and crisp. Lastly, you could offer it in a fun, bright color pattern with geometric shapes.
Software to create printables
There are many software options out there that you can use to create your digital download printables. Some are great for beginners, while others are best for experienced pros.
You'll want to consider…
How much does it cost? Free, monthly subscription, yearly subscription, one-time purchase, etc.
How easy is it to use? Look at reviews online.
How many features and functions does it have?
Do you need other programs to run along with it?
Is this platform getting updates? (i.e., is it current, and will it be supported with tech help). You don't want to invest in a program that will soon be obsolete.
Adobe Creative Suite: Photoshop, Illustrator, InDesign – This is best for people with experience in design and know that this will be used a lot. It can be expensive, but there are monthly subscription options. You could say Adobe Illustrator is the best of the bunch, something that people aspire to use.
Microsoft Office: Publisher, Word, PowerPoint – These programs are helpful for planning your printables and running your business. They have limited design capabilities.
Canva: online design platform – This is a great program for beginners. It's very easy to use, and they have a free option. (This is the program I use, but I use the paid version, which has more features).
PicMonkey: online design platform – This is similar to Canva, yet it's paid (a few tiers), but they do have a free trial available.
PDF Escape: is an online PDF reader, editor, form filler, & form designer. This one isn't necessary for the beginning, but it might be nice to layer in later on. This has a free version, but you'll want the paid option for full functionality.
Google Slides: This is similar to PowerPoint, but online only. You'd use this if you were making online training resources for others, not necessarily for printables, but it can be done. Other Google products like Google Docs and Google Drive can be great for the business side but not necessarily creating your digital file.
Again, I recommend Canva. It's the perfect place to start for beginners. They have lots of fonts, photos, and template options for you to get started.
If your business takes off, you may want to upgrade to a more sophisticated system, like Adobe. It has more precise features and editing, and you'll have a cleaner product. But, again, that's later on down the road.
Making the digital printable
The best way to design your printable is to just get in there and mess around. If you're new to the platform, just commit to spending a few hours on there playing around, getting comfortable with functionality, etc.
Again, I recommend Canva, as it's very easy to use and free. Here's a good super quick tutorial on how to use Canva. (Yes, there are complete in depth 2 hr tutorials, but that's too overwhelming right now.)
There's a learning curve to making your printables look good, so don't think anyone nails it the first time. If you're frustrated with the design aspect, don't worry, we have a few other options that we'll go through below.
Where to find fonts and graphics okay for commercial use
You want to be careful with your images. You absolutely cannot Google something, pull up an image, download it and use it on your printable. You need to understand that certain images are not for commercial use.
Canva uses Pixabay, and according to Canva's policies, "All free photos, music and video files on Canva can be used for free for commercial and noncommercial use." But if you use another design platform, be sure to look into that piece.
However, the bad thing about Canva photos is that many people use them, so they're everywhere. If you want something that looks a lot more unique, then you'll want to invest in a good stock photo site, like DepositPhotos or Shutterstock.
With this site, you pay per photo download (so naturally, fewer people use it). They have a much wider selection too. Be on the lookout for sales on DepositPhoto image packages from Appsumo; they have them a few times a year, like Black Friday.

Appsumo is a marketplace where entrepreneurs go to get the best deals on online tools to help them grow and scale their business. They usually feature newer tools so you can get them for a screaming deal!
How to layout the digital printable
Once you have your content, you need to determine how you want it to be laid out on the page. This can be a challenge if you're not used to design work. But again, there are ways around that, which we'll get into below.
Here are some tips for laying out your printable…
People use 8.5″ by 11″ paper when printing at home. However, planners tend to be smaller than full pages, ranging from A5 (5.8″ by 8.3″) to as small as 4.25″ by 6.75″. Make sure you're using the right size.


Decide the purpose of your printable. What do you want people to do with it? How will they use it? On a clipboard, in a frame, stapled together as a workbook? Make sure you format it with the end-user in mind.


What is your design theme? Floral, whimsical, minimalist, fun, bright or subtle colors, etc.


Keep it simple. Don't try to cram too much onto one page.


Use white space. This will make your printable look more professional and clean. (I can't stress the importance of white space enough).


Consider your margins. You don't want your text to get cut off when it prints.


Be mindful of color. You almost never want to create a printable with a dark background or is heavy on color. Think of how much ink it will use! People printing at home hate it when a printable drains the ink, especially for a one-pager. You can get away with more ink when it's a workbook or a digital art print.


Don't make it too simple. You want people to feel good about paying money for it. You don't want it to be something they could have made themselves in three minutes with a ruler.


Put your brand name/icon at the bottom of each page. People forget where they got something, so be sure it's easy to read so they can find you and your printables again.
After you've made it…
Print it out at home – you always want to see what the customer sees. Are there any weird lines? Does anything get cut off by the printer? Can you hole punch it without cutting it into any words?


Give it away – Give this away for free to your friends & family. Ask them for feedback! (Or give your friend a couple of versions and ask them which they like best).


What's the natural progression to the next level of this printable? What other printables can you make that are the natural next step or complimentary product?

For example, can you also make a freezer inventory sheet if you have a pantry inventory sheet? Maybe sell each on their own for $1 and also make a bundle of these two times with a printable grocery list and meal planner printable. I have a similar bundle click to see so you can get a visual.
Step 4: The next steps to selling your printable
Okay, you have your business "set up," you've made 7-10 printables (to start with), and now you need to get them up for sale, market them, and actually get sales.
We will go through this part of selling your printables online briefly here, as we'll go more in-depth in the following posts.
Deciding on a price point
You want to make sure that you are making money, but you also don't want to price yourself out of the market. You want to be competitive, but you never want to compete on being the lowest priced. That's not a good place to be.
Tracie Fobes walks you through how to price your products according to the best formula for you (not your competition) in her Product Perfection Course. It is nice to have an official formula as you can use it for all your digital products.
Where to sell your printables
You can sell them on your website, on Teachers Pay Teachers (if applicable), Creative Market, or open your own Etsy shop… just to name a few.
I would recommend not spreading yourself too thin by being on every platform. Pick one to start with, and then you can always branch out later. Let's spend a quick moment on selling digital products on Etsy (but we'll talk more in-depth about Etsy printables in the next post).
Having an Etsy shop is great because it has built-in traffic, and you're not responsible for maintaining a website (it's harder than it seems). Yet, with an Etsy store, with all the customer traffic comes competition, which can be discouraging to a new Etsy seller. It's a trade-off but a great place to learn the ropes of selling printables online, and there are some specific ways to increase your sales on Etsy, it's all about the strategy!
Step 5: Marketing your digital printables
I hate to say it, but just because your printables are up on a site, it doesn't mean that people will know about them, let alone buy them. You need to drive traffic to your site/online shop.
Pinterest – Make pins of your printables (Pinterest is especially hot for kids' activities, food-related content, and fashion).


Facebook – Many customers go to Facebook first to see if a business is legit. Even though anyone can create a business Facebook page, many don't know that. Consider making a page to show legitimacy. Maybe even run some Facebook ads to your shop, or run Etsy ads if you go that route).


Email list – You can let your email list know when you have new products available (this is one of the reasons it's so good to have an email list!).


Your blog – You can write SEO-optimized blog posts to drive search traffic to your targeted keywords, i.e., kids chore charts, relaxing coloring pages for adults, or whatever your printable is.

Note – starting a blog isn't for the faint of heart. This can take an enormous amount of time, yet the benefits, when done correctly, are huge. You can also write a guest blog post on another site (maybe consider offering an affiliate program, and give their readers a discount).


Reach out to people in complementary niches – If you know of a great Facebook group full of people in your target audience, see if they have promotional posts where people can post their business items. Or give their readers a discount, if you can do a quick Facebook live on their group.

For this to work, you need to offer something valuable to that group and show how it can help them. You need to be sure that the owner of that group doesn't offer a competing product. For example, if you have self-care printables, maybe reach out to people with "busy mom" groups, but scout their product offering first, so you don't step on toes.


YouTube video – Showcase how to use your printables. For example, if you have a home cleaning schedule printable, do a video of you cleaning up a closet (speed it up of course) and going through all the checkpoints on your list.
Sasha, from Your Frugal Friend, is a top 1% seller on Etsy for her printables, and she's branched out into teaching you how to sell more on Etsy. She's made a course on Creating Videos for Digital Products. It includes lessons on…
A basic animated video for an Etsy listing
A video demoing a fillable PDF product
An instructional video
A flipbook animation
Basic editing techniques to cut video and speed the video up
If you still need help in coming up with digital product ideas, then Sasha's got you covered! One of her specialties is fillable PDFs (a great niche in the early stages, so the perfect time to get in on it). She has a free guide on 30 fillable digital product ideas for you to sell! You're sure to find 1-3 ideas perfect for your niche!
Get your Etsy images for free
MaryJo at Cool Bean Living offers a great freebie that is a must-have for any digital seller – free Etsy listing mockup templates. These are the images that you use on your Etsy product sales pages. Remember, your photos can make or break the sale, so you want them to look as good as possible!
The free templates are for Canva (for use in their free plan), so you can change the colors to match your brand to get that cohesive professional look. Check them out below.
Key your eyes peeled, as she sometimes offers her full Etsy Digital Selling Kit with a discount when you sign up for her free templates (the ones pictured above). These are the images that you use across your entire Etsy shop. Large & small banners, receipt banners, shop logo, download pages, and brand board (so all the images mentioned in the bullet point section above).
How to fast track your printables business with an online course
Yes, making printables seems fairly easy, and you can learn it all on your own, at your own pace. But wouldn't it be so much easier to have someone guide you through this process? (More than just a few blog posts that I have here).
Well, good news, you can absolutely fast track your printables business by taking an online course from trusted teachers. Now I know what you're thinking, you want to sell printables to make money; you don't want to be spending money. I get it; I totally do.
And in the beginning, I did everything on my own, and I didn't want to spend any money; I bootstrapped it, as they call it. BUT, at the time, I didn't think about how much time I was wasting trying to search out all the info, piece it together, and hope that I didn't forget anything important.
I wasted a lot of time, had tons of unnecessary frustration, and learned things the hard way. After some time, I realized the value that taking an online course could offer. (hint – it's a lot of value!) So here are two great teachers that can help you on your printables business journey.
Each course has its own merits, and I'll let you know which is best for whom.
Gold City Ventures E-Printables Side Hustle Course
If you're brand new to printables and have no idea where to start, or maybe you're a little bit further along in your journey, and you *have* made some things to sell…but you're not seeing the sales you want, and you feel like it's just too competitive out there.
I'm here to tell you that it IS possible to make good money selling digital products on Etsy… but you have to have a plan. You can't just wing it and hope for the best.
But how do I know it's profitable? Because Julie & Cody from Gold City Ventures have done it themselves, and we're talking seven-figure revenue here! (that's a lot of zeros!)
They created a hugely popular E-Printables Side Hustle course, which shows you exactly how to do what they did. This is a step-by-step guide that covers everything you need to know to get started selling printables on Etsy.
In this course, you'll learn how to:
Create designs from scratch in several different programs
Research best-selling digital product ideas for Etsy using eRank
Drive sales with keyword research and our seasonal product strategy
Optimize your time to get more products listed faster
And so much more!
One of the best parts of the course is that they show how to make a ton of printables with over-the-shoulder videos; you get to watch it step by step (and you can make your own at the same time). It couldn't be easier. Well, it does get easier because, in addition to showing you how to make it, they give you 20 free templates that you can use today to make your own digital products.
They also have a massive module on doing keyword research (which is one of the most important things when selling on Etsy. This step ensures that you are making what's selling and that customers find what you're selling when they search for a product.
Doing keyword research is a fine art, so don't skip this step when starting your shop. If you do, you could risk spending hundreds of hours on your shop and seeing only a few sales, which can be very discouraging.
Another thing that I really liked about the course is that they go through all the legal speak when using templates, graphics, fonts, etc. As there are a ton of details you need to know about using & selling templates (i.e., commercial licenses vs. limited vs. personal use, etc.). You never want to be on the receiving end of a letter that says you owe someone $3,000 for using their content in your printables! Yikes!
The E-Printables Side Hustle Course is only open a few times a year, so if you're interested, be sure to check it out ASAP, as you don't want to miss the open course window! (They have a waitlist to get on, so you'll be notified when they open the doors).
If you're not sure if making printables is right for you (but you're curious), be sure to check out their free workshop, where you'll get the cliff notes (along with some great insider tips) on selling printables on Etsy. This can help you decide if this is the right side hustle for you.
Or, if you already have an Etsy printables shop and want to uplevel your offerings, you can grab their free eBook, The Seasonal Products Secret, on making massive sales with seasonal printables.


Tracie Fobes
I didn't discover Tracie until a year into my path, and I'm furious that I didn't look for her sooner, as she offered exactly what I needed.
I made significant progress in my printables business after starting with Tracie's program! I made printables, budgeting sheets, savings trackers, mini workbooks (i.e., 12 pages), and a full-blown Master Guide on How to Budget. I think it's at around 70 pages or so. You can see a mock-up of what I made with the help of Tracie's course below…
Tracie has two courses on printables for you, which is great as we all start at different levels.
If you're brand new to printables, then check out Easy Printables. It's a great introductory course that shows you what you need to get going to brainstorm your printable ideas, style & designing your printables, and how to create them on four different platforms so you can pick which is best for you.
This is an introductory course, it's fairly small in scope, so if you want the full beginning-to-end guide on how to make and sell printables, you'll want to check out Product Perfection. Which is a more robust course, it goes over some of the same info as the first, but extends into…
Larger digital products (more than just a couple of pages, large planners, workbooks, etc.)
How to price your digital product
Legally protecting your work
Creating mock-ups of your printables
Sales platforms
Sales strategies to help convert the customer
If you're interested in exploring the idea of making & selling printables, but aren't sure enough to buy a course, then be sure to check out Tracie's free Digital Product Planner workbook to help you get a better idea if it's for you.
Monica Froese
Monica's program, The Empowered Business Lab, is the next level up from Tracie's course. Not only will you learn about how to make printables, but other digital downloads as well. Monica takes you through building an email list with/for printables and helps you build sales funnels to get high conversions. (She's a sales funnel queen!)
This course is the full meal deal, and it's everything you want (and all the things you didn't even know about but are so glad you now know about). Her course walks you through…
Validating your printable ideas
Getting your business mindset right
Business goal setting
Creating your digital product (with video tutorials)
Pricing your products
Setting up sales funnels for your products
Creating an irresistible offer that customers can't say no to
Organic sales strategies for long term growth
Building landing pages for your larger digital products
Email nurture sequences
+ bonus templates, social media graphics, email swipe copy, and more!
Monica knows that The Empowered Business Lab is what will take your digital product creation to the next level, so it's priced accordingly (it's not cheap). However, she periodically runs promotions on it, so it's a great bargain if you see it for more than 40% off!
Monica also offers a free training, where she shows you how she made almost $40k with a $27 digital product!
I've taken two different courses from Monica, and they both lived up to the hype. Monica explains everything step by step (there's no guessing involved), so perfect for people who might feel intimidated by a topic this big. Her courses were well organized and very professional, oh and she usually has killer bonuses too!
Alternatives to making your own printables
If you don't have a degree in graphic design, or even an artistic bone in your body (I have a teensy tiny one, but it's not much), all hope is not lost. There are other ways to get your amazing helpful printables out into the world without you actually having to design something!
1. Buy a template set on Etsy
Did you know that there are people who make digital download templates of eBooks, workbooks, single-page printables, etc., just for other people to use to sell their own products? Yup and I know this because I have bought some great printable template sets on Etsy!
I love the work done by Cecille at The Blog Creative and have bought some great Canva templates from her shop. She designs everything and does the layout elements, and then I go in and add my content to it.
She has templates for workbooks, online course guides, social media templates, webinar slide decks, client onboarding packets, etc.
Her templates are so easy to use, they look great, and I can customize the fonts and colors to match my brand.
Honestly, I have a lot of fun making printables, but they don't always turn out as cute as I imagine them in my head. So when I can't make it look the way I want, or I'm short on time, I use Cecille's templates, and it always turns out great.
I used her 150 template pack, see it on Etsy
2. PLR content
PLR stands for Private Label Rights, and it means that you can buy content that is already written and designed that you can then call your own. You can buy PLR in almost every content format…
Blog posts
Emails
eBooks
Worksheets & templates
Opt-in freebies
Planners
Checklists
and more!
You buy the content, and they send you the sales rights to show that you have permission to sell it under your name. While PLR content isn't usually what a printable creator has in mind initially, it can help round out a printables shop offerings at the beginning. (i.e., you don't want to open a printables shop with only two items, but you don't currently have the time to do more. Insert PLR content to save the day!
You can read all about using PLR content to make fast money right here! The best part is that there are even websites where you can find free PLR downloads! So you can get started without having to shell out any cash, which is so nice for new shops that may not have capital yet.
So I have a double hitter resource for you here. You can learn to make fillable pdf's from Sasha's mini-course. Fillable PDFS is when someone downloads the pdf, and instead of printing it and using a pen, they can save it and fill it out on their computer. Plus, included in her fillable pdf course are some PLR bonuses!
7 commercial use Canva templates
5 commercial use PDF planner templates
You could make a few of your own printables and use Sasha's PLR content to fill out the rest of your shop while you learn from the other courses.
So, if you're looking to make printables like schedules, chore charts, budget forms, or anything that looks better when filled out when typed, you should consider Sasha's Fillable PDF Mini-Course. Sasha is a top 1% Etsy seller and knows what she's doing! It's very reasonably priced, and what it offers adds tons of value to your end product!
In fact, while researching & writing this post, I just bought it! I've only just gone through the introduction sections of it, but I already like her teaching style and am excited to dig in to turn my printable budgets into fillable budget forms!
Note: You will need Canva to take full advantage of the course (the free version is fine, Canva Pro is a plus but not necessary).
3. Hiring a designer on Fiverr
If you have a decent budget and want to offer high-quality printables, hiring a printables designer on Fiverr is a great option. You can find designers who will make you a single printable for as low as $5, and the quality is pretty good.
You can go as small or as big as you want, and the designer will make it to your specifications. Yet, this can be a costly option if your designer charges for multiple revisions and edits. Most will offer a standard of 1-2 revisions as part of the basic package. But you can upgrade your service package if you want a lot of changes.
At the end of the day
Making printables doesn't have to be overwhelming, but it's important to know that there are a lot of moving pieces in this business venture.
However, making passive income selling printables can be very rewarding!
So if you're thinking about making printables to sell, I hope this article has given you a better idea of what's involved and how to get started. And if you're not sure if making printables is right for you, be sure to check out the free trainings from both Tracie and/or Monica to get a better idea of the process and your potential!
What do you think of digital product creation? Are you ready to make and sell printables?