Be Your Own Boss with These Home Business Ideas for Moms!
If you're looking to stay home while earning money, get the inside scoop on these 5 home business ideas for moms!
Author: Kari Lorz – Certified Financial Education Instructor
"Wouldn't it be great to work from home! I wouldn't ever have to rush out the door in the morning! I wouldn't ever have to listen to Elise from Accounting talk about her pet parrot ever again, or have my lunch stolen from the breakroom fridge!"
Working from home is fantastic in most regards, yet it does have a few downsides. "Did I brush my teeth yet today?" It's a give & take situation just like any other. But don't just take my word for it.
Here's a glimpse behind the curtain, so to speak, on 5 lucrative home business ideas for moms!
This post may contain affiliate links. If you make a purchase, I may make a commission at no cost to you. Please read my full disclosure for more info
Brittanie from My Design Assistant
As a work from home mom to a 4yr old and a 1.5 year old, each day looks a little different, but we try to keep it as routine as possible. The routine helps to ensure that if for some reason, I am managing the kiddos on my own, it is not a free-for-all.
I run a home based business as a virtual design assistant agency in Oregon, that supports interior designers by performing administrative tasks and design-related tasks. I try to keep my hours to 30 hours a week, but since we are in a growth period, this often is not the case.
I have three virtual assistants that work with me to help manage my time and the workload coming in. One assistant manages and organizes all emails coming into my two email boxes. One works hand in hand with me to do CAD drawings, renders, and other design-related tasks. Another helps me to manage any administrative tasks such as research, presentations, and document creation.
The bulk of my income is in selling services, which typically brings in about $4000 a month. My primary assistant and I prefer to stay part-time, so we do refer clients elsewhere when we have hit capacity.
I am creating a curated course section on my site to help home professionals further educate themselves in their business ventures which will add an additional stream of income. For 1:1 work I offer coaching services, and group coaching for virtual assistants looking to support home professionals.
Tip #1
"If I had one thing to recommend to those looking to work from home with children, I would emphasize ROUTINE, ROUTINE ROUTINE."
I transitioned into the interior design field when I had my son in 2016 to have a more flexible schedule and more time at home with my new baby. My Design Assistant, started in 2017 to help make up some of the income from leaving my full-time job the year before. I started working from home exclusively at the end of 2018.
The flexibility and control I have working from home is something I love, but I admittedly do struggle to shut things off. I tend to be a "yes" person, so I feel like I always need to perform and please my clients, which is not sustainable over the long term.
There are certainly elements of my job that are harder working form home. The most challenging part is that my children ALWAYS find me, no matter where I hide. My husband is wonderful and always takes care of them. Yet for some reason, when it comes to potty time, meals & drinks, they are convinced that this is something Mommy needs to handle.
I do best when I can "get in the flow" of things, so the interruptions can be difficult and make it hard to jump right back in.
I am lucky that my husband is home to watch the kids during most weekdays since he works weekends, but that is not always the case.
A Day in the Life of Brittanie, her work from home mom schedule
6 am – Kiddos typically wake up, immediately demanding something to drink. My husband and I clumsily meet their requests and start making some much-needed coffee.
6 am-9 am – Is family/ home project time during the weekdays to make sure he gets what he needs to get done on weekdays. This also allows us to have breakfast together.
9 am – Work
10:30 am – 11:00 – Nap time for the youngest. She typically naps for an hour or two. This time I either continue working, or I might use this to workout depending on the workload.
4 pm-6 pm – Project/family time. We have A LOT of home projects, so there is always something to do!
6-7 pm – Bathtime and playtime, and this starts our nighttime routine. On most nights, the kids are asleep by 7:30 pm. If we didn't get our workout in earlier in the day, we would do this now. The rest of the night is Mommy/Daddy time or time I spend on business developments.
If I had one thing to recommend to those looking to work from home with children, I would emphasize ROUTINE, ROUTINE ROUTINE. Kids typically respond well to routine and knowing what is expected of them. It will make your day SO much easier. Also, setting up activities doesn't hurt either!
You can find out more about Brittanie and her services at My Design Assistant.
Do you want to be a work from home mom for your own online business just like these women? Check out 5 Simple Steps on How to Start a Business!

Or check out How to Become a Pinterest Manager and get started working from home today!
Samantha from Recipe This
My name is Samantha, and I am a full-time food blogger with my husband, Dominic. We're located in the southern countryside of Portugal and run our food blog at the same time as being parents to Kyle, who is 18, Sofia, who is 5 and Jorge, who is 3.
We love cooking with pantry staples, so our food blog (we started this blog in November 2015) focuses on kitchen gadgets such as the instant pot, air fryer, bread maker, slow cooker, etc. I also love cooking in the kitchen with my kids!
I started working from home in January of 2005 on eBay, and it's hard to believe that I have been working from home for 15 years! I mean, where did those years go?
eBay was the place to be if you wanted to earn money online. I sold ebooks on there for the Cabbage Soup Diet and ebooks of where to source cheap DVDs. They sold out every day and was before anyone had heard of the word "kindle."
Now I work anything from 15 hours up to 75 hours a week, and my husband and I have a great rotation schedule. I will spend time on the laptop for a few weeks, and then he will take over for a few weeks, and then it's back to me again. That way, there is always someone with the kids making sure they get the attention they need. When it's my time off from our blog, I will be in charge of the housework, looking after the kids, and the cooking.
Then when it's my working week, I'm on the laptop from 8 am to 6 pm. I will often work Monday to Friday and sometimes work a Saturday too.
However, every week I will still have social media and other tasks to do in the evening.
A Day in the Life of Samantha, her work from home mom schedule
7 am – Get up, dressed, showered, check emails and social media notifications
7:45 am – Walk the dog
8:45 am – School run
9.15 am – Start work. Focus on answering emails, social media replies, pinning the latest recipe to Pinterest.
9:45 am – Writing up new recipes in Microsoft Word.
1:30-2:00 pm – Lunch break
2:00-6:00 pm – Continue writing blog posts
3:30-4:00 pm – Brief work stop for school pickup
8:00-11:00 pm – Social media/keyword research for new posts/market research, etc
I love working from home. It is amazing, and everything I wanted it to be. My main objective was to be with the kids 24/7 and not be sending them to a nanny or the nursery. I would work fewer hours in a 9 to 5 office job, but this way, I have no commute to work, I choose how much I earn, and I choose the hours I work.
Tip #2
"My best advice to someone who wants to work from home is to plan your time and be efficient."
The best bonus of working from home is how much money you save. You have no travel costs; you are not buying a drink on the way to work, and you can cook your own lunch. You can also work the night shift if you want to when internet costs are less.
The biggest drawback is how people treat you when they know you work from home. You constantly get asked when you are going to get a real job. People will ring you up and expect you to drop everything for them, even though you are in the middle of your work. They just don't understand that you are actually "working".
As a food blogger, I earn the most money from advertising networks, i.e., the ads that run on my food blog. They account for 80% of my total income. After ad networks, I also make passive income from ebook sales and affiliate marketing.
Our food blog varies based on the season. But it is expected to earn six figures again during 2020. Our high season earns double our low season. Our high time of year is January through to March, and our low season is the summer months when everyone is down the beach.
My best advice to someone who wants to work from home is to plan your time and be efficient. If my kids are with me, I will give them tasks to do next to me, and they love working with mummy! They made their own laptop next to me last week from lego pieces. Another day they crayoned a recipe I was typing up on my laptop.
You can find Samantha at Recipe This.
Kari at Money for the Mamas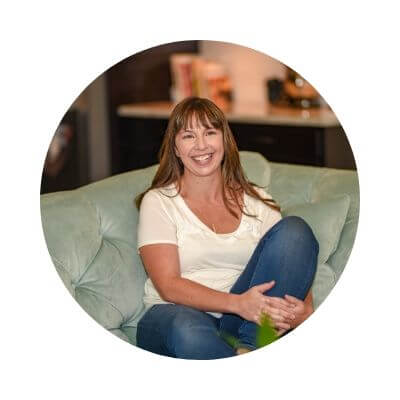 Hi, I'm Kari, a WAHM blogger! Since you're on my site now, you're probably familiar with me; if not, here's the quick rundown.
While I was in my 9-5 job, I did financial coaching for my workplace peers on the side, and I loooooved it! I helped people with budgeting, cash flow processes, and retirement advice. I was hooked! And so I started Money for the Mamas back in January of 2019 and took it full time mid-2020.
When I first started on this journey I really had to dig deep into my brain and my heart to figure out what exactly I wanted to do, and how that would impact my family & home life? I found a resource that absolutely helped me piece the puzzle together, it was identifying my Personal Core Values, and then figuring out how my new venture would impact everything that I held dear. Would it move me forward, or hold me back? It was a tough exercise but so rewarding!
Right now, I work on my site three days a week, and am Mama & Wife focused the other four days! Working from home is fantastic in that I am super passionate about my work (and not working on someone else's priorities). I am always thinking of new ideas for posts or products, and can hardly wait to get started on them! Yet, this also means that it's hard to unplug and focus on other things. I absolutely wish my superpower is to be able to pause time. Then I could get 48 hours worth of work done during my kiddos 8 hour school day!
Kari's typical Day as a Work at Home Mom
6:30 am: wake up and get my daughter ready for preschoo
l8 am: Preschool dropoff
8:30-1: worktime
1-2:30: lunch and housework
2:30-4: work
4-5: errands (or continue to work)
5 pm: Preschool pickup
5:30-630: dinner
6:30-8: jammies & stories for little one
8 -10pm: work or relax time
10 pm in bed or TV time with hubs
Some of you may wonder why I have my daughter in daycare when I work at home. My daughter, who is four, was born very early and subsequently has Cerebral Palsy. With a physically disabled child, when I am with her, I need to be 100% focused on her, as she is dependant upon me for all gross motor movements. She doesn't walk or crawl and can only do limited sitting on her own. I can't be on the computer working while she plays. When she drops a toy, she can't bend over to pick it up. So my Mama time is very focused on her needs.
Tip #3
"My most important piece of advice for Moms looking to work from home is to manage your expectations all around!"
With three days a week of work, I'm not able to do everything that I want too, so I am growing slow & steady. Right now, my income is what I'd consider part-time. I mostly earn from selling my own digital products and then some from affiliate marketing. I know that it will just take time, consistency, and perseverance to get my blog to where I want it to be!
My most important piece of advice for Moms looking to work from home is to manage your expectations all around! Your regular life cut into work time, your kids will be sick unexpectedly, and all your projects for the day will be scrapped. You'll look up and realize your floors are heinous, and so you'll spend hours on that instead.
Being organized and making detailed lists has been huge for me. I am in love with Trello; it's an online tool that is basically my 2nd brain. It's where I keep track of all appointments, projects, to-do lists, planning, and workflows. It is honestly my secret weapon, not only with work but being a Mom & homemaker as well! If you are still using paper lists and sticky notes, you are missing out!
If you're not quite sure about working from home but want to be home with your kiddos, be sure to ask yourself these 5 important questions before becoming a stay at home mom!
Rebecca from Write to Six Figures
After working from home for 6+ years now, my typical day is pretty routine. I wake up around 7, shower, eat breakfast, and then walk our two dogs.
If I have time between 8 and 9, I'll spend some time promoting my blogs in some of the Facebook groups for bloggers I belong to. From 9 to 1 are my "office hours". This is when I tackle client work for my freelancing writing business.
I've been writing about personal finance, investing and small business full-time since 2014, typically working around 25 hours a week now. I started freelance writing as a side hustle when I became a stay at home mom after my second child was born. When I unexpectedly became a single parent in 2014, I decided to scale it into a full-time business. That required a much bigger input of time (closer to 60 hours a week) and I was homeschooling a 4 and 6 year old as well with no outside help.
Since my kids are homeschooled and because I'm a single mom and just need some quiet time, I let them sleep late. (#winning, I know.) They get up around mid-morning and since they're 10 and 12, they can handle things like walking the dogs again, making their beds, and getting something to eat without me having to stop my workflow.
Afternoons are for homeschooling, usually until 4 or 5. Then I make dinner, the kids get their showers, I spend time with them until around 9, then it's back to the computer to work on my blogs unless I'm completely wiped out. Bedtime is midnight, then it's back to it the next day. On weekends, I don't do freelance work. I spend more time on blogging or doing fun things with the kids.
Rebecca's Typical Day as a Work at Home Mom
7am – get up & ready, breakfast, and walk the dogs
8-9am – social media promotion
9-1pm – work office hours (freelance writing)
4-5pm – homeschooling
5-9pm – dinner, kids bedtime routine
9-12 – sometimes work & sometimes rest
Working at home is great in so many ways, though it's not always perfect. The biggest bonus is being able to control my earning potential. When I started my little side hustle as a mom with a toddler and a newborn, I was happy to make $100 a week. I've since been able to grow my freelance writing business to $30K/month working part-time hours. Being able to make that kind of money from home, with no journalism or business degree, is such a blessing because it's allowed me to create financial security for myself and my kids which is often hard to come by for single moms.
Tip #4
"If you want to work at home, set clear and SPECIFIC goals for yourself that you can build an action plan around."
The biggest drawback of working from home is that setting boundaries can be challenging. That includes boundaries with other people and boundaries with yourself. Friends and family who don't get what working from home is all about can easily derail your day if they're dropping by or calling you up to chat. And when you're in hustle mode to grow a business or a blog, it can be hard to know when to step back and take a break.
I worked in sales for a long time before I started working from home and I would never, ever go back to a real-world job now unless I absolutely had no choice. Working from home has its challenges but it's so much easier in so many ways if you can get your systems and routines down for your family.
If you want to work at home, set clear and SPECIFIC goals for yourself that you can build an action plan around. For example, my mantra with freelancing has always been "work less, earn more" and I've set specific income goals each year. And I've been able to crush them every single time because having goals made it easier to create an action plan.
And finally, get into a routine that works for you and your family. This part can take some trial and error but getting a routine down can make your work at home mom life so much easier.
You can find Rebecca at Write to Six Figures.
If you have a creative streak then why not use your skills to create an Etsy Shop? Here are 25 Etsy shop ideas that you can start today… well maybe in a week after you've done some planning! Once you've nailed your shop theme, come back and read these 13 genius tips on how to get sales on Etsy, so you can make money on day #1!
Cate from Sweet & Simple Life
I'm Cate Rosales, the full-time blogger behind SweetandSimpleLife.com and MakingMomLifeEasy.com. I work from home with my two kiddos in tow (they are 2 and 4). My business is focused on affiliate marketing and helping women make money from home, and every day is a little different.
For the most part, my days involve, writing, editing, and marketing via social media, email, and Pinterest. I work mostly around my kids' sleep schedule and my husband's work schedule, meaning lots of early mornings and late evenings!
The crazy truth is, I love my business and I would probably work MORE hours if I could! But my focus is on paying the bills and raising happy, healthy kids, so I force myself to limit my work hours each week.
On a regular work week, I probably work about 30-40 hours, but when I have a big project, I work a lot more. The first month of each quarter, I run a blog traffic challenge that takes up even more time, but it helps a lot of people, so it's worth it!
I've been working from home since I was 20-ish, so over a decade now. I started out working for an employer as their admin assistant and moved up to admin manager as I worked my way through college. When I got pregnant with my first baby, I knew that I wanted to continue working from home, but I wanted to turn my attention to building my own business – not working for someone else's dream.
So, I did a little homework and also thought about my strengths and abilities. I threw my work experience and my business degree and my hobby blog into the hat and asked myself what kind of business I could build on my own. Boom – an online business that helps women learn how to work from home and make their own money!
I love my business, but it definitely has pros and cons.
On the bright side, I get to work in my sweatpants and set my own schedule, which is pretty awesome. I get to be the main care provider for my kids, which is something I've always wanted. And I also have the potential to earn as much money as I want, instead of the set hourly wage provided by my boss.
Tip #5
"If you want to work from home, my best advice is to come into this thing with open eyes. Be prepared for the fact that it will be tough sometimes and it will require sacrifices."
On the other side of things, I have A LOT of juggling to do running a business and raising kids. I still have the requirements of a "stay at home mom" that doesn't work, but I have a demanding full-time job on top of that. My husband works and goes to school, so I'm a one-woman show most of the time.
After weighing all the pros and cons, it's still well worth it for me to work from home. I typically earn anywhere between $5,000 and $10,000 a month (yes, it varies greatly when you're a full-time blogger, so you have to account for that). Much more than I made working for an employer that didn't even appreciate me!
If you want to work from home, my best advice is to come into this thing with open eyes. Be prepared for the fact that it will be tough sometimes and it will require sacrifices. You'll need to be disciplined and organized to make it work. And remember that turning off your computer and taking the kids outside for fresh air can make a big difference in your day.
If working from home is something you want, you absolutely can make it happen, and it's so worth it!
Cate's daily schedule as a work from home mom
4:30 AM – wake up, get hubby off to work, prep for my day
5:00 AM – work on blog/biz tasks (writing, editing, promotion)
8:30 AM – wake kids, make breakfast, school/play *Occasional pockets of social media work through morning.
1:00 PM – work on blog/biz tasks while kids nap
3:00 PM – break/playtime with kids/prep for dinner
*Occasional pockets of work through afternoon.
6:00 PM – dinner, baths
7:30-9:30 PM – finish up work tasks and prep for tomorrow (whenever hubby doesn't have evening classes)
You can find Cate at Sweet & Simple Life.
Other home based business ideas that are great for moms
Even if the ideas above don't give you that spark there are plenty of other options for you to earn extra income.
Be a virtual assistant
Run a craft business
Be a freelance writer
Do graphic design work
Be a social media manager
Be a freelance proofreader
Be a personal chef
Be a travel agent
Help nonprofits and be a grant writer
Be a wedding planner or a bridal consultant
Take some online courses and be a life coach
Run a small catering business
Become a flipper – thrift store, flea markets, garage sale and sell high to make massive profits
At the end of the day
I am excited to share these stories with you and let you see what it's really like working from home. It's not all crossbows & catapults with young kiddos at home. It certainly isn't daily yoga practice with sunshine streaming in your windows at 7 am. It's somewhere in between, yet if you manage your expectations and go with the flow of the day, you will love it!
I hope you got some good home based business ideas, that you can do to earn some extra money (or even replace your 9-5 income!) Heck, maybe you'll make a 6 figure income! Being a business owner takes big dreams and grit, but you can do it!
Being a work from home mom has so many advantages! Yet, it takes bravery and perseverance to make it work! Some days you get all of your to-do list done, and other days you're lucky to check your inbox.
As a WAHM, you get to experience life on your terms, not someone else's! I think that all the moms here have an independent streak, a desire to live life on their schedule, and it's so inspiring to learn their story and see their achievements!
If it's worked for them, then why not you too!
Articles relating to being a work at home mom:
Which of these home business ideas for moms inspire you?