10 Free Budgeting Worksheets for Kids (Download Now)
Need help teaching your kiddo about money? Grab a few of these free budgeting worksheets for kids to help make learning about money FUN!
Author: Kari Lorz – Certified Financial Education Instructor
Teaching kids about money and budgeting can be an intimidating task for parents. How do you explain complicated financial concepts to children in an easy-to-understand way?
That's why we've compiled ten free budgeting worksheets for kids, complete with fun visuals, age-appropriate language, and fun resources that make money conversations exciting. We want to equip your little ones with the knowledge and skills they need to make smart financial decisions!


This post may contain affiliate links. If you make a purchase, I may make a commission at no cost to you. Please read my full disclosure for more info
10 Free kids' budget worksheets (download now)
While you can absolutely use just a pencil & paper with your kiddo, sometimes it's helpful to have a premade budget template to help guide you (especially in the beginning). So here are some great free kids' budgeting templates that you just download, print and start using in just a few minutes.


1. Share, save & spend printable for kids from iMom
If you're helping a young kiddo out with learning about money, then this Share, Save, Spend worksheet from iMom is very helpful. They can keep track of how much they have in each category and get to plan out what to spend it on.


2. Free monthly budget printable for kids from Carrie Elle
These super cute kids' budget printables from Carrie Elle are perfect for a kiddo looking to save up their money (and earn money) for a specific goal. Kids can plan out their goal amount and exactly how they will reach that goal (yeah for extra chores!).


3. Free kids printable budget worksheets from Saving Dollars & Sense
Every parent or caregiver should grab a copy of this kids' budgeting kit from Saving Dollars & Sense. There are kiddo friendly forms + savings envelopes guaranteed to help teach your young one about money – saving, spending and tracking.


4. Kids spend save & share worksheet from Old Salt Farm
Here's a great worksheet from Old Salt Farm to accompany your child's Save, Spend & Give jars! It also comes in a few color options, which is nice as kiddos can be particular.


5. Kids spend, save & give cash envelopes from Queen of Free
These three envelopes from Queen of Free are great for our littlest ones, as they have nice big pictures on the front of what it's for. They even have a cute inspirational quote on the backside of the envelope.


6. Kid's printable budget worksheets from Mom Hacks 101
There are two sheets in this free printable pack from Mom Hacks 101. The first is a monthly budget form, and I like that it distinguishes between fixed and variable expenses – yet this may be for a more advanced kiddo budget.
The second sheet is a cute piggy bank savings tracker to help them track their savings for their financial goal.


7. Budget worksheet for kids from Savvy Money Lessons
This is a great kid's budget template pack from Money Savvy Lessons, but it's geared for kids a bit older, maybe ten years old or so. One of my favorite sheets here is a worksheet on needs vs. wants, it's such an important lesson for kids to learn, but it can be a hard concept to grasp.
My second favorite is a brainstorming activity sheet for how the kids can earn extra money.


8. Christmas budget worksheet for kids
Teaching kiddos about money can be a golden opportunity around the holidays, but make sure you start early (think October or November) so your child has enough time to save up for their gift shopping.
This is a Christmas Budget and price comparison printable pack just for the kiddos from Year Round Home Schooling can help reinforce the positive message of gifting to others, saving up, and the importance of comparing prices to keep within your budget.


(If you're into Christmas budgeting too, you can grab your own free Christmas budget pack that I made to make your holiday a breeze!
9. Kids chore chart for earning money from House Mix Blog
While this isn't strictly a budgeting template, it's a sheet to help kids learn about earning money (an important part of budgeting).
What I love most about this kids' chore chart from House Mix Blog is that it separates "family chores" from "paid chores." I absolutely feel that kids should help take care of the home, they live in as part of a community. They need to learn that they don't get paid for everything, just some things.


10. Kids play money
Part of budgeting and managing money comes from understanding what money is and how to identify it, so play money can be a very useful tool.
I've included two sets here for you, one for little ones and one for kids six years+.
For little ones, this fun play money printable from Class Playground is a great way to start teaching kids the concept of "if they do X, they will get Y." So you could trade dollars for small chores, good behavior, being kind & sharing, or anything you want. But you want to make it fun so the fun colors will catch their eye.
Realistic play money is important for older kids as it teaches kids what coins and bills are called and how much each is worth. This is a great printout from Education.com.


Don't forget to grab your free budgeting worksheets and check out our Ultimate Guide on How to Budget series. The first post is right here – The Essential First Step When Budgeting.
Why kids budget worksheets are important
Budgeting is an essential life skill everyone needs to learn (yet so many of us don't really learn how to do it well, we just scramble). It helps individuals manage their finances, set financial goals, and avoid debt. Teaching kids budgeting skills at an early age can help them develop good financial habits that will last a lifetime.
Budgeting worksheets are a great tool for teaching kids good money management skills. They are designed to help young kids understand that everything costs money and that there isn't an infinite supply of money (and in a fun and encouraging way).


Teaches Kids the Value of Money
Budgeting worksheets help kids understand the value of money. By tracking their income (allowance and chore money) and expenses, kids can see how much money they have coming in and going out. This helps them appreciate the value of money and the importance of making wise financial decisions.


Encourages Responsible Spending
Budgeting worksheets encourage financial responsibility (i.e., spending habits). Kids learn to prioritize their expenses and make informed decisions about how to spend their money. They also learn to save money for future expenses, such as a new toy or a family vacation.


Develops math skills
Budgeting worksheets help kids develop math skills. By adding and subtracting dollars and cents, kids learn basic math concepts. This helps them develop their math skills and prepares them for more advanced math concepts in the future.


Prepares kids for the future
Budgeting worksheets prepare kids for the future. They teach kids important life skills, such as how to manage their finances, set financial goals, and make informed financial decisions. These skills will be invaluable as they grow older and become more independent.
Budgeting worksheets are an important tool for teaching young kids about money management. They teach kids the value of money, encourage responsible spending, develop math skills, and prepare kids for the future.
Supplies to make budgeting fun for kids
While you don't need supplies, a few little extras can make it more fun, and if we can make eating broccoli fun, then we can absolutely make learning about money fun!


Sale
Sale
HUSAN Piggy Banks for Kids
🎁📢【Product Specifications】: Packing Size: 14.3x15x20.3cm (5.63×5.9×7.99 inch); Packing Weight: 640g (1.41lb); Capacity: Store 600 pieces of coins or 100 pieces of paper money; Batteries: 3 pieces of AA batteries (not included).
How to introduce budgeting worksheets to kids
Teaching kids about budgeting is an important life skill that can help them make smart financial decisions in the future. Budgeting worksheets are a great tool to help kids learn about managing money. Here are some tips on how to introduce budgeting worksheets to kids.

Choosing the right budgeting worksheet
When choosing a budgeting worksheet for kids, it's important to find one that is age-appropriate and easy to understand. Look for worksheets that have clear instructions and are visually appealing. Many free budgeting worksheets are available online that you can print out and use with your kids.


Setting goals with your kids
Before introducing the budgeting worksheet, sit down with your kids and talk about why having good money habits is important. Set goals together, such as saving for a new toy or a family vacation. Use the budgeting worksheet to track progress towards these goals. Encourage your kids to be creative and come up with their own ideas for saving money.


Making it fun
Budgeting doesn't have to be boring! Make it fun by turning it into a game. For example, you can give your kids a certain amount of money each week and challenge them to make it last. Or, you can have a family competition to see who can save the most money over a certain period of time. Use stickers or other rewards to motivate your kids and keep them engaged.
Introducing budgeting worksheets to kids is a great way to teach them about managing money. By choosing the right worksheet, setting goals together, and making it fun, you can help your kids develop important financial skills that will serve them well in the future.


Talking points about money to have with your kids
Talking about money with your kids can be one of the most important things you can do around finances. But remember, these interactions and conversations must be positive and light (no huge pressure filled heart-to-heart moments).
Keep it casual and light-hearted, and make it a normal type of conversation. So kids get used to money talk being a regular thing as this has a huge impact on how it builds a person's money story.
You don't want your kids to think that money is a taboo topic or that whenever money comes up that mommy and daddy get mad. (yikes!)
You can say things like…
Can you help us save money and go through the house and turn off lights in empty rooms?
Can you help me go through these coupons and see if there's anything we need?
Let's take a few minutes and plan out our dinners for the week so we don't have to go out to dinner.
This is a great bike; let's start a savings jar for it so we can save up.
Do you want to earn some coins for your piggy bank today and do some extra helper jobs?
During grocery shopping, you can say…

Which brand of XYZ should we buy? This one is $4, and this one is $7.
Chicken is a great price today; let's stock up!


At the end of the day
Teaching kids financial literacy doesn't have to be boring or overwhelming. With the right tools, resources, supplies, and attitude, you can make it a fun learning experience!
If you want your kids to be responsible with their finances when they get older, start teaching them early with fun activities. There are a number of great free budgeting worksheets for kids that you can print; I hope you found the perfect printable pack for your kiddo.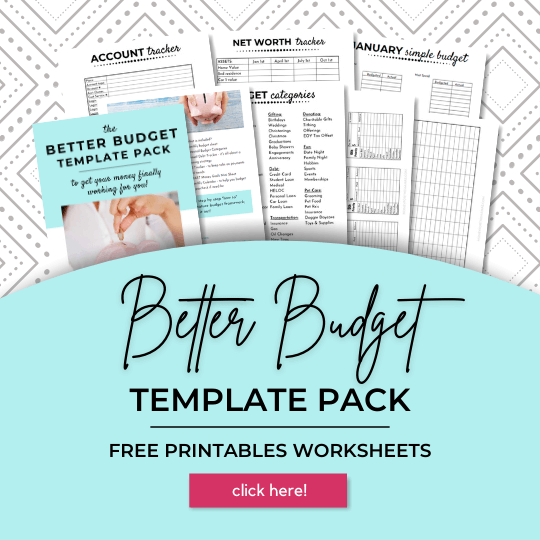 Which of the kids' budgeting worksheets are you going to try first?