The Frugal Mom's Guide to Meal Planning on a Budget
Meal Planning Can Help Save You $1,600 a Year on Your Grocery Budget!
Author: Kari Lorz – Certified Financial Education Instructor
Food – it's one of our biggest monthly budget busters. I know that eating healthy needs to be a top priority, as we want to do what's best for our bodies and our wallet. Yet sometimes, those two things don't always align.
So how do we align saving money on food while eating healthy? The answer is simple yet kind of intimidating at first glance. It's meal planning on a budget!
Don't get overwhelmed; it can be a lot easier than you imagine. I'm going to walk you through the main points for meal planning on a budget. You'll be a pro in no time!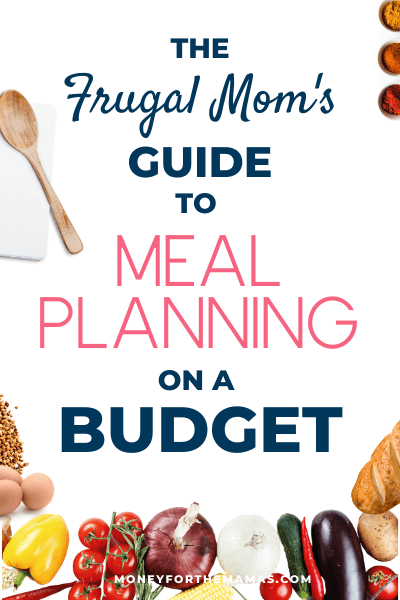 This post may contain affiliate links. If you make a purchase, I may make a commission at no cost to you. Please read my full disclosure for more info
How much are we spending on groceries?
Bankrate reports that the average American household spends $9,343 per year on food, which is about 10% of our after-tax income. (The third largest spending category).
Fortune reported, "In fact, food prices have been consistently outpacing the overall Consumer Price Index. Last month, the index tracking grocery prices showed a 12.2% spike over the last year, making it the largest 12-month increase since April 1979."
Do you know how much you "should" be spending on groceries? I say "should" with a grain of salt, as each family is so different (size, living situation, location, etc.). However, the USDA puts out a helpful guide as to what is recommended.
There are many different ways that you can save money on groceries, but today we're just going to talk about one specific element, budget meal planning!
Resources for meal planning on a budget
Luckily, many women have masted the art of meal planning (hey, no reason that we need to reinvent the wheel!). So let's dive in to see how other Moms meal plan on a budget.
$5 Meal Plan
$5 Meal Plan is a weekly meal plan service that can make your meal planning as simple as possible. For just $5 a month, they'll send you a delicious meal plan where every meal will cost about $2 per person, and in most cases less. They also have options with dietary restrictions, so there is something for everyone! Just click the pic below to check the meal plan options!
Grocery Budget Makeover
Erin Chase, a grocery & meal planning guru, will take you through the exact methods that she uses when planning out her shopping trips. From meal planning to coupons, and the shopping trip itself; she lays it all out for you during her free Grocery Savings Workshop.
Meal Kits
I realize that meal kits seem so 2017 right now, but they are still a GREAT OPTION to help you get a healthy dinner on the table for your family. And, I love Dinnerly; it's one of the cheapest meal kits on the market right now.
Yes, they have raised their prices recently (inflation is crazy right now), but it's still a great value.
For example, my husband and I get the 2-person plan with four meals a week, so eight servings a week. That costs us $46.32 a week + $8.99 shipping, totaling $55.31. That equals $6.91 a serving, which is so much cheaper than a restaurant meal. (Plus, don't forget about your signup discounts! – it's a lot)
BUT, I'd say about half the meals we get, portion out to be three servings. Don't get me wrong; we love to eat, so we have decent-sized portions. But we often portion our dinner out and then have enough left over for one of us to have lunch the next day (especially rice bowl meals).
So considering that, let's say we end up with ten servings a week, which brings the price down to $5.53 per serving. This is considerably less than going out to eat, and it's a lot healthier and faster. But you can make a meal at home on your own for a little less if you're doing something like crockpot meals.
Now, you don't have to get a meal kit every week; you can alternate these kits with home-cooked meals. You can skip your weekly order for up to 4-weeks at a time or put your subscription on hold for longer.
But think about your super busy weeks, where you don't have time to meal plan, grocery shop, and prepare (all meals with Dinnerly can be made in 20-40 minutes depending on difficulty).
So for weeks when you're super busy at work or when your kids have a lot of activities going on. Or a week when you know there will be bad weather and you know you won't be going out a lot (remember, you have to order a week in advance). Dinnerly can be a great time saver as well as a money saver!
Plus, they have a ton of meal options every week! For example, an upcoming week has 40 meal options, three dessert options, two breakfast options, and a few extra side options! The accommodate lots of dietary needs – fish, veggie, low calorie, low carb, etc, so something for everyone.
You can grab a great discount on your first three boxes right here – click to see your discount of at least 50% off your first box (plus more discounts on your following boxes).
Notes on the meal pictured:
This meal is a Beef & Broccoli stir-fry
They do provide bulb garlic, but I hate peeling it. So I just get a big jar which is easier for me.
Ingredients from home – flour, oil, sugar, apple cider vinegar, garlic
All Dinnerly kits have 10 oz meat portions
To give you a good idea of food volume, the fully made dinner is shown in my 10′ skillet.
It took about 25 minutes to make from start to finish.
No fancy printed cards provided (this helps keep the cost down); you can print instructions at home or just read them on your phone/tablet as you go.
Some of the meal options may not have as full of a meal as you might want. I always have a few things on hand to bulk up meals if they need it, like a can of black beans, a box of Mexican rice, a can of biscuits, etc. These cost pennies and help beef up meals, but it's not necessary.
Struggle Meals
If you haven't watched Frankie work his magic in the kitchen, then you are missing out! He doesn't do frugal meal planning, per see. His expertise is in cooking cheap meals, using leftovers, healthy food, AND he's damn entertaining too! Check out one of my favorite videos down below (hint – save this video for after Thanksgiving!)
Grab some meal planning printables to help meal plan on a budget
Oh, organizing… did you ever know that you're my hero? Everything that I would like to be? For you are the wind beneath my wings. Or something like that. Yup, organizing makes my heart happy!
That's why I am such a huge fan of my Organized Home printables, and I created one specifically for meal planning! This packet has…
weekly menu planner
food inventory tracker (so you never lose steaks under the frozen spinach again!)
family favorite meals list (that are easy go-to's when short on time & energy)
grocery shopping list, broken up by department (no circling back to aisle 7 five different times!)
This meal planner & grocery list is an instant download so you can print it in just 2 minutes from now! (save it to your hard drive so you can print as many copies as you want!)
Freezer meals are essential to frugal meal planning on a budget
One of the very best things that you can do is plan on failing!
What?
Yup, I freely admit that somedays I am a Hot Mess Mom! I am frazzled, I am running 54 errands, going to the eye doctor, and end up getting my eyes dilated for what seems like forever, and on and on, the tragedy of life turns into a comedy! And I am DONE!
That means I need to plan on things not going great, so on those days, I need something up my sleeve because I know that going to the drive-thru isn't all that cheap, nor is it healthy!
There are two options for us Hot Mess Moms…
One – Frozen Meals – pizza, burritos, corndogs & tater tots (yum), etc. Now, these aren't the healthiest, but they are cheap meals. Besides, who doesn't like tater tots! So I am fine with doing this a few nights here and there.
Two – Freezer Meals! These are my secret weapon for when times are tough. For example, before I gave birth, I did a whole day of nothing but freezer meal prep, as I knew once the baby came, I would need all the help I could get!
A great resource that I have found is My Freeze Easy! It's a freezer meal planning & prep plan, where you get access to new monthly freezer recipes! There are some great customizations too; gluten-free, dairy-free, paleo, instant pot, etc.!
Now not only are these designed to save time, but they stem from the $5 Meal Plan program, so all the recipes are part of a larger cheap meal plan!
If you're not quite sure about diving into freezer meals, Erin (the founder) has a great free workshop to introduce you to freezer cooking, so you can feel it out and see if it's something you might like.
Again don't worry; it's not a 90-minute life or death training. She's a mom; she knows you're busy! It's three videos for a total of approx 20 minutes. easy peasy! (Pssst… you get three free recipes & a shopping list, nice!)
Some of you may be a bit wary of doing a slow cooker meal, especially questions about produce. I mean, does freezing take away all the good vitamins & nutrients? Answer: Not at all!

According to Healthline, "Frozen fruit and vegetables are generally picked at peak ripeness (while fresh is picked before it's ripe). They are often washed, blanched, frozen, and packaged within a few hours of being harvested. Frozen produce is nutritionally similar to fresh produce. When nutrient decreases are reported in frozen produce, they're generally small."

They mentioned that most of the nutrient loss happens with extended periods of storage in the freezer, like two years or more. So, generally speaking, frozen fruits & vegetables are a great way to get your vitamins!
Look to Pinterest for inspiration
So this is a love/hate relationship. Everything looks great, yet it can be overwhelming. Simply put in the search bar "Meal planning on a budget," or "easy dinners," "crockpot dinners," "cheap recipes," "budget grocery list," "frugal meal planning," or "frugal foods."
Each term will bring up different options, yet there will be a bit of overlap. Yet, when you need inspiration in the kitchen, you want to cover all your bases!
I have a secret board just for "dinners to try," and then maybe once a month, I'll go in and pick a few to try during the next month, and I work those into my meal plan. I may find a new favorite recipe, or it may be a dud.
Oh, and don't forget, while you're on Pinterest checking out meals, head on over here and follow me for lots of budget-friendly inspiration!
Know your grocery budget (and stick to it)
If you want to do meal planning to save money, you need to know your grocery budget! Better yet, if you're stocking up on things at a low price, then you need to know how much of your grocery budget is for regular food and how much is for stocking up. You can't blow everything on your stockpile, and you can't spend every last dime on your weekly veg.
A good place to start is 75/25 split. So 75% of your grocery budget is for everyday shopping, while 25% of your grocery budget is for stocking up. Initially, you may find you're spending a bit more on your stockpile, but it will taper down as you go on and build up your pantry.
Some things that I stockpile when the prices are good…
Cereal (I only buy if it's $1 a box)
Granola bars
Frozen foods
Meat (buy in bulk and divide into 1 lb portions then freeze)
Canned goods
Paper goods (paper towels, TP)
Health & beauty – soap, shampoo, deodorant, etc
ground beef
quality olive oil
In talking about budgeting, did your stomach do a little flip? I know you've been meaning to get back to budgeting, so here's a great resource! It's my Ultimate Guide on How to Budget Series, and it goes through everything you ever wanted to know about it!
I know that with grocery shopping, all the small items add up, so be sure that you are aware of the stores & brands' sneaky tricks to get you to spend more. Here are my 20 Smart Tips to Help You Nail Grocery Shopping on a Budget!
Saving money by not buying foods that you won't eat
I cannot even tell you how many times I've bought veggies with the best intentions of eating them! And then that sad and guilt-ridden sound of the "thunk" as the jicama falls into the trash. Arg! I hate food waste!
When you do a weekly meal plan, you decide what you are cooking and eating and when. There is a "plan", not some vague intention. When you know that on Tuesday it's spaghetti squash & meatball night, you can be dang sure that the veggies are getting eaten and will not go to waste!
Speaking of food waste, you all know the squishy, greeny-brown scenario at the bottom of the produce drawer. But what does this look like to our wallet?
According to Marketwatch, "As much as 40% of food goes uneaten in the U.S! Americans throw away $165 billion in wasted food every year." According to Harvard Law School's Food Law and Policy Clinic and the Natural Resources Defense Council, some 160 billion pounds of discarded food also clogs up landfills.
What that means is roughly "219 lbs of food per person is wasted a year," quotes RTS (waste experts), and that's $1,600 a year for a typical-sized family!
Think of taking your grocery budget, pulling out 40% of the money, and just throwing it in the trash! Oh. Hell. No.
That's crazy! Yet, we don't intend to do it; it just happens. Having a weekly meal plan is one of the best ways to combat this by buying only what you know you will use for that week (or however often you go to the store).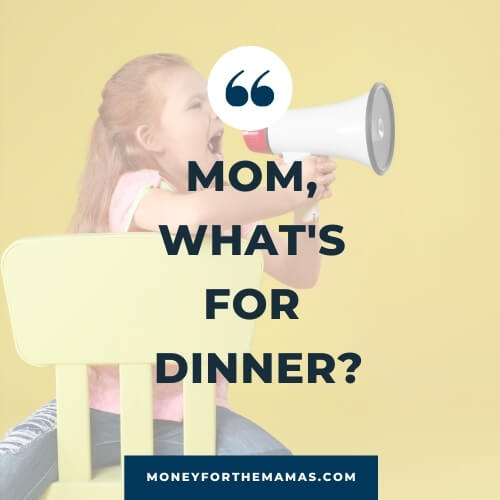 Know your food costs
You can still buy most of the same foods, but know which local grocery store has the best prices. For example, there are two stores of the same chain, maybe 4 miles apart, and one of them has consistently lower food prices than the other. So I always go to the cheaper one.
Also, when you sit down to do your weekly menu, you can look at store flyers to see who might have chicken breasts on sale or who has digital coupons for your favorite brand of cheese. Make your cheap meals around those items, and fill in the rest of the meal planner with meals that use the same ingredients so nothing goes to waste.
You may go to a Kroger grocery store for chicken and then go to Target for sale on frozen burritos (a favorite late-night snack of my husband). Yet, for this to be a genuine savings, you need to consider the cost of your time & gas driving to multiple stores.
If you're spending 45 minutes driving to a store to save $.40 per pound on beef, that's not saving! Your time is valuable, so absolutely count that into the equation.
Many times stores will have loss leaders (items they sell at a loss just to get people into their store). Did I mention that I worked in a grocery store for six years? No? Well, I did. It is a fantastic, socially conscious store (B-Corp certified) that helped bring healthy and local food to the communities they serve.
Yet, they weren't cheap. Even with a staff member discount, I was paying a lot for my groceries. Yet I knew that at certain times of the year, they would offer boneless skinless chicken breasts at $2 off the regular price (that was basically at cost for the store), $4.99 vs. $6.99.
I bought enough chicken as my food budget would allow. We're talking like 20 breasts. Then I would take them home, portion two breasts into a freezer bag, and boom, chicken for months!
I knew about these times, so I planned it into my food budget. Other times of year stores have a sale is their anniversary day (or founder days), or holidays. Each chain is a little bit different, so don't be shy. Ask them when their big sales are!
In fact, go the extra mile and ask them which days they mark their items down. For example, canned goods may go on Tuesday, boxed goods on Wednesday. Or they may go by the department, dry grocery on Monday, and perishable grocery (dairy and such) on Friday. Ask them what time of day they start and when they finish. Then see if you can go in near to the time that they are wrapping up.
When thinking of food costs and doing some frugal meal planning, be sure that you are picking recipes that don't have obscure & expensive ingredients. In fact, search out recipes that ingredients on this list: Cheapest Grocery List Possible.
Speaking of your food budget; do you know how much you should be spending on food? Dave Ramsey recommends that 10 – 15% of your income should be spent on food. I always find it helpful to know "norms", if I'm not meeting them, at least I know what to be aiming for.
If you're looking for some cooking inspiration (on a budget) I have some great options for you! Check out 50+ Fabulously Frugal Meals and 50 Delicious Dirt Cheap Meals. Both filled with delicious family budget meals.
Tips for Meal Planning on a Budget – Leftovers are your friend!
Don't forget to plan on having a leftover day for dinner! Make it one day at the end of the week to clean out your fridge before the next week's shopping trip. This has been a frugal meal planning hack from moms over the ages, yet there may be some stigma about "leftovers," as it's not as appetizing as a new full meal.
Make it easy!
Have Leftover Day be as easy as possible for your family by getting some great clear glass meal storage containers! That way, you can easily see what's in there to eat, and by buying glass containers, you can reheat these directly in the microwave without worry. It's known that microwaving food in plastic containers isn't the best choice.
Harvard Health states that "When food is wrapped in plastic or placed in a plastic container and microwaved, BPA and phthalates may leak into the food. BPA and phthalates are believed to be "endocrine disrupters." These are substances that mimic human hormones, and not for the good."
Now, I'm not a scientist, nor am I a fearmonger. But if I don't need to take a risk, and can easily avoid it, I will. So I bought glass containers for my family.
I love these Pyrex containers. They are a perfect size (3 cup) and stack great in the fridge! So after dinner is over, if there are leftovers, I immediately portion the items out into meals in the containers. So all my husband has to do is grab one, take off the lid, heat it up and BAM, full dinner/lunch!
Sale
Make leftovers new & different!
If your family doesn't love the idea of leftovers, then you can easily shake things up! All you need to do is change how it's served. For example, get some tortillas to make items into a wrap, or add on soup & salad to make small amounts of leftovers stretch into a full meal.
Here are some other ideas to give your leftovers a makeover with a different presentation
make it a wrap
turn it into soup
add a grain and have a buddha bowl
make a frittata or an omelet
use leftovers as fillings for a quesadilla
or as a topping on pizza
Just Google "what to do with leftover ________", and you should get some fun ideas! Or just go to Big Oven's Use Up Leftovers feature! You add in your three main ingredients, and it gives you a bunch of tasty options!
Try a pantry challenge
Doing a pantry challenge is a great way to save money on food AND declutter your pantry! Yet, it's not for the faint of heart, and you should have a certain sense of flexibility with your recipes.
Your goal is to make cheap meals from the items in your pantry. You know, those obscure canned beans, the 37 canned tomatoes, the random boxed of brown rice, and such. Yup, it's time to get creative!
This pantry challenge can be part of doing a no-spend month or on its own. I love taking before & after pictures of my pantry and freezer so I can visually see how much I have gone through. I do allow to put some perishable items on my grocery list, like fresh dairy and fresh produce, but almost everything else is off-limits.
I've done a pantry challenge and a freezer challenge twice, and I always save a ton of money on my grocery budget. I have an empty pantry that I can now easily clean out and organize (hello, spring cleaning)!
At the end of the day
Our Mom List never seems to get shorter, does it? You cross four things off, and then two hours later, you add seven more things! ARG! Yet, there are some things (like meal planning) that can reduce your mental and physical load over time. Meal planning may take a few rounds for you to work out the kinks, but overall you will save so much time and money!
Imagine what you would do with 40% more of that grocery budget. (as you won't be throwing away rotted-out lettuce, or wait, was the broccoli? Yesh, it's hard to tell now that it's a squishy stinky blob.
Meal planning on a budget can give you that 40% back! Remember, RTS estimated that it was $1,600 on average a year per family! What would you do with an extra $1,600 a year? Use it to fund a family vacation? Revamp your back patio living space? Use it to help offset the cost of braces for your youngest. There are so many things!
Articles related to meal planning on a budget: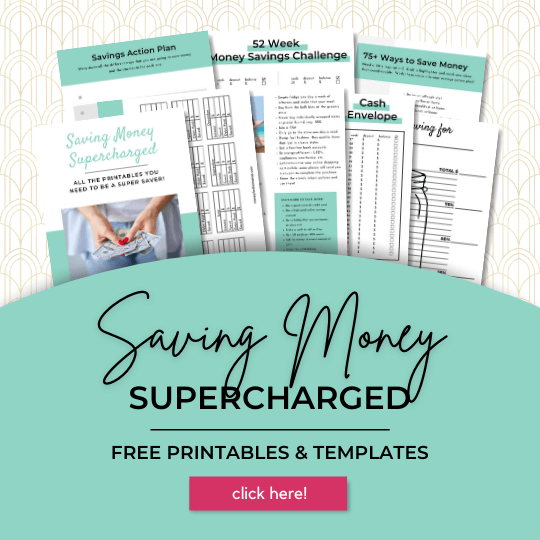 Tell me in the comments, If you started meal planning on a budget, what would you do with the $1,600 that's back in your pocket?