20+ Legit Ways on How to Flip Money in 2023
Let's learn how to flip money – use a little dough to make a lot of bread
You need some money, but you don't make that much from your job; you need a side hustle, but aren't sure what to choose. Well, one of the best ways to earn quick cash is to learn how to flip money.
What is money flipping you ask? Is it even real? Don't worry; we'll get into all the details of how you can earn big by spending just a little. (And it's totally legal.)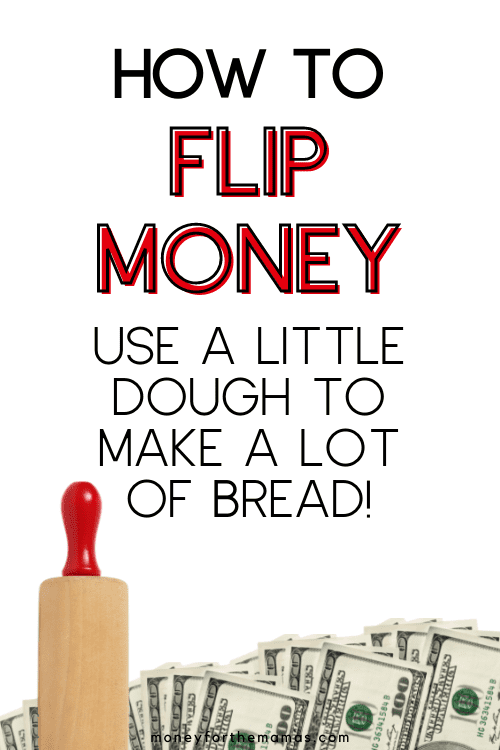 This post may contain affiliate links. If you make a purchase, I may make a commission at no cost to you. Please read my full disclosure for more info
What is flipping money?
Flipping money is when you spend a little bit of money to earn a lot more. It may seem impossible that spending $200 could turn into $2,000 in just one month, but the math doesn't lie! It's totally possible.
There are lots of ways to do it, we're going to give you a lot of options. You might try a few ways and it may or may not be a good fit for you, but don't worry, there's something on this list for everyone to learn how to flip money and make extra cash.
By essence, flipping is buying and holding something for a short time, with the intention to sell it soon for a profit.
Cut to the Chase – the best way to flip money
We're going through 20+ ways on how to flip money. But if you want to cut to the chase, and get straight to it, here are the best ways to flip money…


Groundfloor
Real estate investing has never been easier than with Groundfloor! You can start with just $10, and recoup your investment + 10% returns in 6-9 months!
Albert
Albert is a banking, investing, and budgeting app that offers cash advances of up to $250.
Is flipping money legal? It sounds like a scam
Flipping money is totally legal, but it does sound scammy. People hear the words "flip" and "money" together and they automatically think that you're going to take their money and run. But don't worry, we would never do that! We just want to help you learn how to make some extra cash.
Now there are instances in which flipping money turns out to be a scam. Think of all those emails in your spam folder. The ones that are addressed to "beneficiary"… yup, a total scam. We'll teach you how to tell the difference a little later on. But for now, just know that there are legitimate ways of money flipping. You're not breaking any laws and you're not taking advantage of anyone, you're just earning some extra money.
Look for the ✅ to see our picks for the best programs, apps, and sites to earn money.
How to flip money online
The internet today has made it possible for anyone to flip money. It's probably the easiest way to make money because you don't have to leave your house and you can do it in your PJs. Plus, there are a lot of different ways that you can do it, everyone can find a way to make at least $200 a day.
1 – Real estate investing & flipping
You don't need to buy a run-down house in order to do real estate flipping, you can buy shares online. I know it's not as exciting as Flip or Flop on HGTV but it takes a lot less time and a lot lower investment.


✅ GroundFloor – This is a great choice for someone who wants to test the real estate market to see how it works, as the minimum is a $10 investment. They've "been able to generate consistent 10%+ returns for our investors over the past six years, with repayments received in 6-9 months on average." Not too shabby!
Groundfloor is a real estate investment and lending platform that's been in business for ten years, and they focus their lending for borrowers to flip homes as well as new construction residential homes.
Groundfloor is perfect for those who have a limited amount of capital to invest and want short-term investments (6-18 months). They are open to all investors (no accreditation needed) and have varying levels of investment risk in debt investments (as they focus on loans vs. investing in a piece of the property as other lenders do).


HappyNest – If you're a fan of rounding up spare change to the nearest dollar (as it's so much easier to save that way!), you'll love HappyNest! This app is the first of its kind to round up your spending to invest in real estate!
You can start investing in real estate with just $10 (and get a $10 bonus), which is much less expensive than other online real estate investing options (usually a $5k – $10,000 initial buy-in). The low barrier to entry is what they call real estate for real people, making REITs affordable for everyone.
All you do is connect a debit or credit card to the platform, and they'll take care of rounding up your purchases to the next dollar and investing that change into your portfolio.
There are no broker or platform fees to cut into your profits, but they do make money through asset management fees on properties. At the time of writing, the current monthly management fee is 0.0417%.
With this platform, you'll get paid out quarterly dividends (so every three months).
Right now, you can get a $10 bonus when you sign up with HappyNest (terms apply)
RealtyMogul – Allows you to invest in REITs and in private offerings. They have over $1 billion invested through their platform, and you can join over 270,000 investors in their commercial real estate dealings. Once you create your account, you can look over the development opportunities and begin investing in just minutes! Just a heads up, the minimum investment is $5,000.
Equity Multiple – Is an opportunity to get in on high-yield, professionally managed real estate investments. They value and leverage their high-tech algorithms and methodologies to whittle down to get 5% of the best investment opportunities for their investor (which could be you). You can start with $5,000, and pick one of their three targeted investment approaches, which means there's something for everyone.


2 – Make money with app bonuses
Albert is a money management app that can help you budget, save money, and invest. Their team of experts helps to create a working budget for you and even offers automatic saving (so you never forget) and investing with as little as $1.
Albert also has lots of opportunities to earn money with their saving bonus, direct deposit bonus (periodically offered), referral bonus programs (up to $150), and cash back when you shop. Also, if you direct deposit your paycheck with Albert, you can access your money 2-days earlier than with a traditional bank.
A big plus is that they even offer cash advances up to $250! You can even be on their free plan and still get the $250 Albert Instant cash advance!
The best part about Albert is that they don't have monthly maintenance fees or minimum balance requirements! (You can opt-in for a subscription for $8 or go with the free account option).
This isn't a sketchy payday loan scam; Albert legitimately wants everyone to succeed with their finances!

Albert for Android

Albert for iOS


3 – Save $110 a month with Caribou
According to LendingTree, the average monthly car payments rose by double digits in 2022. Standing at $700 (new vehicles), $525 (used vehicles), and $567 (leased vehicles). That's a significant portion of your paycheck going to your paycheck.
But when you refinance with Caribou, you could save $110+ a month* on your car loan. What would you do with that extra money in your wallet each month?
Caribou works with trusted local and community lenders to bring you competitive auto refinance loan offers and rates. You can pre-qualify online by submitting your application (with no impact on your credit**), all without leaving the couch.
People are loving the easy process. In fact, 9/10 customers would refinance through Caribou again (based on 462 Trustpilot reviews rating Caribou 4 or 5 stars out of 5 stars.)
See your new car loan rate with Caribou
Here's how it works…


*This information is estimated based on consumers who were approved for an auto refinance loan through Caribou between 6/1/2022 and 3/1/2023, had an existing auto loan on their credit report, and accepted their final terms. These borrowers saved an average of $113.78 per month. Refinance savings may result from a lower interest rate, longer
term, or both. There is no guarantee of savings. Your actual savings, if any, may vary based on interest rates, the repayment term, the amount financed, and other factors.
**To check the refinance rates and terms you qualify for, Caribou conducts a soft credit pull that will not affect your credit score. If you choose a loan product and continue your application, one of our lending partners will request your full credit report from consumer reporting agencies, which is considered a hard credit pull and may affect your credit.

Other terms & conditions may apply.
4 – BetMGM Sportsbook
Figuring out a new way to make money doesn't have to be boring; it can be one of the most exciting things you do all month! Especially if you bet on a winner with BetMGM Sportsbook.
BetMGM Sportsbook is a top destination for online sports betting for both major professional and college sports, brought to you by the world's premier resorts and casinos.
You can get in on the action and place your bets on the biggest sports leagues, such as Football, Baseball, Basketball, Hockey, MMA, Soccer, and Tennis. These leagues include NBA, NFL, NHL, MLB, MLS, UFC, College Football, College Basketball, and College Baseball.
Features:
Boosted bets offered daily
Live, in-game betting lines
One Game Parlay
Easy deposits and withdrawals
Best-in-class customer service
24/7 access to wagers
Safe and Secure transactions
While I'm not a huge fan of gambling, it's okay to have a little bit of fun now and then. Remember, never bet what you can't afford to lose. If you know someone that needs help with gambling addiction, many resources can help.
While you don't have to be a resident in a state where BetMGM is available to experience our state-of-the-art app, you must be in one of those states while placing your wagers. You can also enjoy BetMGM sportsbooks located at MGM casinos in Las Vegas and other cities throughout the US.

Sign up for BetMGM on Android

Sign up for BetMGM on iOS
Offered only in Arizona, Colorado, Illinois, Indiana, Iowa, Louisiana, Michigan, New Jersey, New York, Pennsylvania, Tennessee, Virginia, Washington D.C., West Virginia, Wyoming, and Ontario.
5 – Get an home equity sharing agreement with Unlock
It seems that everyone is talking about ways to borrow money, but that usually just leads to more debt. But not anymore with the help of Unlock Technologies. If you own your home (yes, you can have a mortgage), you can access between $30k to $500k of your home's equity.
The best part is that there's no debt, no interest, and no need to refinance. This is what makes it different from a traditional HELOC.
An Unlock on a home equity agreement (HEA) Home Equity Agreement allows you to tap your home's future value, and you can have up to 10 years of no payments or interest charges. All while living in your home and using the money from the HEA for your big financial goals.
You can end the HEA by buying back the equity share in one lump sum, a little bit at a time, or when you decide to sell the home. Unlock offers an equity sharing agreement or HEA, where they provide you with a cash payment today in exchange for a percentage of your home's future value.
You, as the homeowner, still get full rights of ownership and tax deductions. Unlock is only sharing the future value of your home.
Again, this is your money that you're getting; it was just previously tied up in your house, sitting there. But now, you can use it to remodel your kitchen, pay off your debt, or even start a business. Whatever path you choose, your home equity can be used to pave the way.
In a nutshell…
Minimum 500 credit score
No monthly payments
No interest
No refinancing
It's not a loan; you're not taking on debt
Terms and conditions apply. Unlock is available for homes in the following states: Arizona, California, Colorado, Florida, Michigan, Minnesota, North Carolina, New Jersey, Nevada, Oregon, South Carolina, Tennessee, Utah, Virginia, and Washington.
1. The following limitations shall apply: property must be your primary residence; no bankruptcy, foreclosure action, short sale, or deed in lieu within the previous five years; no 90-day delinquencies on any mortgage within the prior 24 months; no 120-day delinquencies on any mortgage within the prior 36 months; Unlock must be in no greater than 2nd lien position and home must be clear of any liens deemed unacceptable by Unlock (Unlock may require investment proceeds to be used in order to clear any unacceptable pre-existing liens as a condition to close); Unlock may also require investment proceeds to be used to pay off certain outstanding debts as a condition to close, including (but not limited to) paying off an amount that is sufficient to result in a debt-to-income ratio ("DTI") of no more than 45%; minimum investment amount of $30,000; property condition rating, as described in the Uniform Appraisal Dataset (UAD), must be at least C4 or better.
2. Each home equity agreement (HEA) is subject to an additional individual underwriting review.
6 – Credit card farming
This is similar to bank account farming, (and I've done this too) but it's with credit cards. You need to have an excellent credit score (bad credit is considered anything under 580) to be approved for these cards, so be sure to check on that first before applying for anything.
For the Capital One Savor card bonus of $500, I had to spend $3,000 in three months. I usually charge 100% of everything I buy in order to capitalize on reward points anyways. I made the minimum spend, got the bonus, fulfilled the fine print requirements, and then closed the account.
Now doing Bank/CC Farming can be extremely lucrative, BUT it can also be very complicated if you do not have yourself very organized with the small details (i.e. waiting period, restrictions, qualifiers, credit score requirements, etc). Please be sure that you research your offers very carefully! Check out the Doctor of Credit for the definitive guide on how to successfully win at this side hustle (and for bank account farming too).


7 – Using the Cash App to earn quick money
If you're not familiar with Cash App it's an app that allows for person-to-person payment. Cash App users can get an optional Visa debit card that allows them to use funds from their Cash App account or even withdraw cash from an ATM.
You need to have a working bank account tied to your Cash App account to transfer money. You can also invest in Bitcoin, and sometimes there's a Bitcoin bonus offer.
There have been a few scams with Cash App, so it has a bad reputation. But there are some legitimate ways to get free money with Cash App. You can get an instant cash bonus when you sign up and send $5 to a friend. You can also earn money by doing a direct deposit $150 bonus, refer friends and get $5 – $15 when they join and get up to 15% back when you use their Cash Card.
So yes, you can use Cash App safety, just don't exchange money (accept money or send) with anyone who randomly requests cash. The app is secure; it's just the people using it that are untrustworthy – go figure.
Sign up with Cash App, click here or use code NRTZMHV to get your free sign-up bonus when you send someone $5. Hint – they can send it right back to you so you're not out the $5. You can read the exact steps here in our #1 tip at the beginning of the post.
8 – Flipping money with Amazon FBA
This sounds very involved, and it can be, but it can also be simple. Making money with Amazon FBA is where you buy products for cheap online, and then you sell them on Amazon for a higher price. You don't hold any of the inventory or ship anything, you just manage the initial buy of goods and then list them for sale.
You need to have a good eye for what sells well, and be quick to pull the trigger when you find the right product. There are lots of resources out there to help you too.
You can also make your own products and sell them on Amazon it's called white label selling. You contact a company to make the item, and then they ship it to an Amazon warehouse, and you list it for sale. This is great if you have a great new product that will sell well, but it's still a risk.
9 – Flip your photos
This is a great way to make money if you have a lot of photos; maybe you're a hobby photographer? Take the best ones and upload them to Depositphotos and Shutterstock then they sell as stock images for use by advertisers, magazines, or other businesses who want high-quality pictures but don't need something specific. There are a few other sites where you can sell photos but be sure you know who gets the most traffic for the type of photos you take.
Alamy
SmugMug Pro
iStock Photo
Getty Images
Stocksy
Crestock
Can Stock Photo
Adobe Stock
Twenty20
Photoshelter
Dreamstime
Zenfolio
Pixieset
10 – Flip art shares
Masterworks is the first platform for buying and selling shares representing an investment in iconic artworks. Build a diversified portfolio of iconic works of art, and then watch the value of the pieces soar and then sell!
Their art team focuses on up-and-coming artists, looks at their pieces and then if they feel it's good enough they buy the piece and hold onto it for 3-10 years. Hopefully, they picked right, and when they sell everyone makes a profit.
11 – Flipping money by buying & selling domain names
If you're in the online sphere, then you know how important domain names are. They can be a great investment, and there are a few ways to go about it.
Register the domain name – this is the simplest way to flip a domain name, you just buy it and hold onto it. You do this by looking for up-and-coming trends and then registering it before anyone else does.
For example, wouldn't you like to be the person that thought of the website name "flipmoney.com"? I would; I bet it gets a lot of searches and hits, which equal money.
You can make a lot of money if you pick right. For example, the domain "nftgems.com" is currently up at auction on NameCheap, and it's priced at $658 with 26 bids on it. Not too shabby for someone that probably paid $10 to initially register it.
12 – Flip money by investing
I know that investing sounds stodgy and boring, but today's technology makes it so easy for regular people to invest. You may not realize this, but investing is for everyone! Yes, if you want to grow your money you must invest it some way, and the stock market is the best place to make money.
Please note that I am not a CFP, I am a certified budgeting education instructor. So that means I cannot (and should not) guide you on individual investments, nor should anyone else who isn't a certified professional. But I can and will tell you that you do need to invest. Let's look at some easy ways to get started.
M1 Finance – they're an investment platform where you can invest, spend and borrow all in one place. They offer cashback checking accounts and a rewards credit card, where if you invest in a particular company, say, Nike, for example, and when you shop at Nike, you can get up to 10% off your purchase. They offer robo-advising and self-directed options.
Acorns – is another great option for beginners as it invests your spare change. All you have to do is set it up once and forget about it. It rounds up your transactions to the next dollar and invests the rest. You'll get a free $10 bonus when you sign up through this link!
✅ Betterment – You can easily set up your account in minutes, tell them a few of your financial goals, and they'll recommend some low-cost ETF portfolios for you to select from. The big bonus is that you can set up automatic investing; they do portfolio rebalancing and dividend reinvesting – all on its own! You don't need to spend hours researching or making manual transactions; it's all done for you!
Their banking is nice because they allow you to have separate savings buckets within one savings account, which means you can keep your money separate for different financial goals, such as a "vacation" bucket, an "emergency fund" bucket, and a "home repair" bucket, etc.


Public – is an investing platform that allows people to invest in stocks, ETFs, crypto, art, NFTs, collectibles, and more – all in one place – making investing easier and simpler.
The platform also does a lot towards education around the market performance and your specific investments & portfolio performance overall. You can also listen to shows and town halls about market news and the biggest headlines.
Their reporting and analytics come straight from Morningstar, one of the industry's most well-respected investment research firms, so you can be sure you're getting the most informative and pertinent info about your investments.


✅ Beagle – According to Zippia, "The average person changes jobs 12 times in their lifetime." That means a lot of different 401(k)s and investment accounts are floating around out there. Did you roll over every account? If you're not sure, then you could be missing out on your hard-earned money, and it's just out there, floating in space.
Beagle helps you locate all of your investment accounts, lists out all your fees, and helps you roll all your funds over into one nice & tidy space. Doing this can save you thousands in fees. And don't worry; Beagle does all the rollover work for you!
Using Beagle is very easy; we tried it out for ourselves, and you can read our full review of Beagle 401k finder here.
Beagle even helps you take out a 0% loan from your investment accounts so you can use that money to help pay off debt or use it as a personal loan!
Beagle estimates that over $3.1 trillion have been left behind at old jobs; I hope it's not your money! But you can find out for just $3.99 with Beagle's monthly subscription. Which considering how much your 401(k) balance is at, that's not bad at all.
Find all your old 401(k)s right here with Beagle.


13 – Making money by flipping websites
This is a great option for those that have some web development skills or know someone that does. You basically buy a website that isn't doing well, fix it up, and then sell it for a profit. It's not as simple as just slapping on a new coat of paint on it though, you need to do some research and know what works online.
For example, you'll mainly want to look for an outdated site (no new activity), that has been around a long time (minimum a few years), and has a decent amount of content on it.
Find who owns it, or find ones on sale on the marketplace, and make an offer. Once accepted, you go in and update a new theme, audit the plugins, and make sure the site is fast. Then get rid of any dead weight content, get some good backlinks to it t raise the DA, and once that's been done, you can sell it for a lot more than you bought it for. Of course, there are lots of other little things, but you get the idea of what it takes.
14 – Flip money with sports betting
Okay, let's not sugar coat it, you can lose a lot of money doing this, but you can also win a lot too. Sports betting is the act of betting on the outcome of a sporting event, it can be done in person or online, but we're talking online for this post.
The key to making money flipping money with sports betting is to find an edge, something that gives you a better chance to win than the other guy. For example, maybe you know that team A always outperforms team B when such and such happens. Or you know that the oddsmakers are off on a game by a certain number of points.
According to Ten Factorial Rocks, "a record 46.6 million Americans plan to bet on NFL games this season (2022)." This means that this is big business, and you could get a cut of it!
Again, never bet what you can't afford to lose. If you know someone that needs help with gambling addiction, there are many resources that can help.
If you are into sports betting, you might also be into playing games for money. There are a ton of games where you can play in cash tournaments and win a nice chuck of cash. You can usually play for free to practice and get good at the games, but then you may need to pop in $3-$10 for the high stakes tournaments.
15 – Flipping money by winning the lottery
Nowhere else can you turn a $3 purchase into a $300,000,000 win! But let's be honest, the odds are stacked against you, even if your hands were itching, (old but fun superstition
In fact, Forbes reports that "The odds of winning the Powerball jackpot are 1 in 292.2 million. The odds of winning the Mega Millions jackpot are even lower, 1 in 302.6 million."
But what if you were able to win? It's a lot of fun to imagine what you'd do with the money. (I'd invest it all, just kidding; I'd move to DisneyWorld and invest what's leftover.)
If you're going to play, then let's give yourself the best chance. The luckiest numbers for the Powerball (aka the numbers that hit the most often).
The New York Post, asked a statistician, Dr. Min Su Kim from Southern University, "The Powerball drawing consists of five white balls and one red Powerball. Dr. Kim went back 10 years and found the top 5 numbers that have won millions of dollars for thousands of people. Dr. Kim says the most frequently drawn Powerball number for the past 10 years is number 20. It is followed by 37, 2, 31, and 35.
As for those white balls, the most popular is number 42. It is closely followed by 16, 35, 26, and 19."
In fact, I play the lotto, but I only buy tickets on holidays. It sounds silly, but it's my rule, so I don't buy them more often. It's a fun diversion to dream about what I'd do with the money, and I work it into my budget at $3 a ticket. It's less than a Starbucks drink, so I'm fine with it.
I make it easy on myself and use Jackpocket. It's an app for the lottery, and yes it's totally legal.
Gambling can be extremely addictive, so please play responsibly, and if you think you need help be sure to reach out to someone today.
Play now in NY, NJ, TX, OH, CO, MA, MN, OR, AR, NM, NH, and Washington, D.C.
16 – Bank account farming
I am a big fan of this, I've done this myself a few times and thought it very easy. Bank account farming or account churning as it's sometimes called, is when you open bank accounts to earn the sign-up bonuses, and then close them and move on to the next account.
In most cases, you need to deposit a certain amount and keep the account open for a certain period of time in order to get the bonus. Sometimes there are some requirements for a direct deposit or a minimum daily balance.
For example, for a recent Chase Bank promo, you got $300 for signing up for a checking account, and then $200 for signing up for a savings account. I did have to set up a direct deposit for the checking account, and then deposit $15K into the savings account (we just moved our emergency fund in there for three months).
The banks aren't too happy about this because they're losing customers (and money), but it's a part of offering bonuses.
Make sure you read the fine print on any offer you're considering!
How to flip money in person
Just as with flipping money online, you can flip money in person. It just takes a bit more work to find the right opportunity.
For example, maybe you know of someone who is looking to sell their house quickly and for close to market value. Or you could be in the business of buying and selling cars.
The opportunities are out there if you're willing to look for them. Let's go over some of the more popular ones.
17 – How to flip money by buying and holding land
Most of the online money flipping opportunities involve a small investment, yet with this one, you'll need a much larger chunk of money, but the return is equally as big.
You buy a piece of property and wait for its value to increase over time, then sell it for more than you paid for it. Some of the biggest opportunities lay in underdeveloped areas, where suburban is growing into farmland.
Big developing companies need large chunks of land to build apartments and housing developments on; good news if you own that land and are open to selling. Of course, this isn't as easy as I make it sound; there are lots more specifics that we won't get into here.
18 – Flip money by flipping houses
This is the quintessential money making opportunity. You buy a house, fix it up how you want to, and then sell it for more than the purchase price. It's how many people get their start in real estate investing. So if that interests you this is an excellent place to work on your flipping skillset.
Be sure that you are knowledgeable about the real estate market, home construction, and such. You can easily waste a lot of money by being overcharged by construction companies if they realize you don't know what you're doing, (this is true in any industry, not just construction).
Becoming a house flipper isn't the easiest or lowest stress way, but it can be a lot of fun and very lucrative, so make sure you know what you're getting into before flipping homes.
19 – Flip money by buying storage containers
Here's another one straight from TV, buying storage containers and hoping something awesome is in there. Now, it's quite possible all you'll find in there is a four-day clean-out project, but you might find something worth a lot of money.
Then there are some success stories, "like the man who bought a storage unit from "Storage Wars" star Dan Dotson for $500 and found a safe with more than $7.5 million dollars inside." Insider reports, that after conferring with the original owners of the unit, the man walked away with $1.2 million.
You can sell everything you don't want on eBay or FB marketplace to cash in, or you can take it to a pawn shop and sell it to them (so much faster, but you'll get a little less than if you sold it on your own.)
Not sure about using a pawn shop? It's a 100% legitimate way to get some quick cash by selling or pawning items. We take you through the process step by step of how to find the best pawn shop for your stuff.
Whatever usable goods you don't sell from your storage container, you can always take them to a scrap yard. I'm talking about the old appliances you find, the old bicycles, etc. Basically, anything metal, you can make money from selling it to a scrapyard!


20 – Flip money by changing a room to a Vrbo rental
If you have a nice space, that can be portioned off from your main living area, then consider turning it into a rental; either long-term or on Vrbo. The space ideally has its own entrance, a bathroom, and a kitchenette at a minimum. Huge bonus if you're in a travel destination city.
For example, a private room in Nashville on Vrbo rents for about $100 a night in early summer. Not too shabby!
21 – Make money by renting out your extra open space
This is similar to the above idea but we're just talking about your big open space. Maybe you have an empty building with no plans for it. You can rent it as storage space.
Or maybe you're a landowner near a suburban area, you can rent out a decent flat plot of land to those looking to park their RV's. Bonus if you put a big fence around it.
Get on Neighbor.com, and see what places in your area are going for.
22 – Flip money with retail arbitrage
This is one of my personal favorites, it's kind of like the Amazon FBA selling but slightly different. You find a product for cheap, usually in stores, and then sell it for more money online. It's as simple as that!
You can either sell on eBay, FB Marketplace, or Craigslist; all great places to start to sell.
People find things to sell usually on clearance sections of big box stores, or at thrift stores. Use ShopSavvy or PriceGrabber to help you check prices to see if the price you see on the shelf is better than the one online.


23 – Make money by turning in your loose change
Everyone has loose change, and some of us have a huge container of it sitting at the bottom of a closet in an old coffee can!
You can easily turn your change into usable cash by cashing it at a Coinstar machine! You'll pay a small fee for the service, but it's worth it to have money you can actually spend.
✅ 24 – Make money by flipping goods
Flipping items is so hot right now, (especially thrift store flipping), if you have a particular interest in a sport or hobby this could be the perfect fit. For example…
Baby equipment can be the easiest thing to flip. Baby items, in general, is a good option as it's usually very gently used, and new items are costly. Also, be on the lookout for high chairs (especially solid wood ones), baby carriers, etc.
A note of caution, strollers can be very lucrative, BUT they can be a hard resell if you pick up one that has a recall on it. Even if you fix it, many new parents will be wary. Some pieces of baby equipment have expiration dates (car seats, for example), or they are considered not safe to use if they have been in a vehicle that has been in a crash. So be particular with that kind of item.
Start looking on the internet for "best baby + piece of equipment" and there will be tons of lists that come up. Take note of the top brands, and start there. Many moms only buy "the best" for their new bundle of joy, so these items are highly sought after.
Outdoor furniture is another item that people just want out of their home & yard! Take it for FREE, please they beg you. Okay. All you need is to pressure wash the moss off it, wash the cushions, scrub away the cobwebs, and you're good to go! Think of sourcing these items in winter-early spring, and have them ready to go by the mid-spring season for maximum profit.
Again, before going into this category, be sure that you have the room to store it for a few months. Then start looking for local flea markets, keep your eyes open for garage sale signs. Check out Flea Market Flipper to see how to get started.
You can grab Rob & Melissa's free guide on 47 Household Items to resell and get started right now. Or watch their free webinar on how to turn your passion for flea market shopping into profits! (Plus insider secrets on how they did it!)
Groundfloor
Finance
Real estate investing has never been easier than with Groundfloor! You can start with just $10, and recoup your investment + 10% returns in 6-9 months!
Albert
Albert is a banking, investing, and budgeting app that offers cash advances of up to $250.
Tips for learning how to flip money
When you're just starting out, you're going to make mistakes, and lose some money, hopefully not too much. Your best bet is to start off trying just a few of the things listed here, and then add more in as some fall off your plate (not everything will be a good fit for you).


There are lots of resources for you to learn how to do these specific tips so be sure that you study up and learn from a reputable source.


Never put money into these activities if you can't afford to lose it. That's the most important thing. because losing your money is a real thing. Think of all the people who lost millions when their shiny new cryptocurrency fell. It happens, so don't put money into anything if you can't afford to lose it.

Remember that lots of small earnings add up to a big account balance. Just be sure that the small ways to earn free PayPal money are worth your time. You don't want to spend 12 hours on something and only make $.37, that stinks!
How to open up a PayPal account:
If you don't already have a PayPal account then no worries, you can easily sign up right now and immediately connect it to your game apps so you can start depositing real money today. Here's how you open an account:
Choose the account type you want (personal or business, most likely you'll choose a personal PayPal account) and click Sign Up Now.
Enter your information, including your email address, and next choose a password (it must contain at least eight characters and is case sensitive). You will need these to log in to your PayPal account.
Click Next.
Click Agree and Create Account.
How to spot a money scam
This is an important thing to learn, especially given how many scams are out there. Most of the time, scam artists will try to get you to wire money or give them your credit card information.
They might promise big rewards for a small investment, or say that they need help moving money out of the country. They come up with the craziest things. But no matter what, don't accept or send anyone money (in any form) that you don't personally know. Don't give them any of your personal information, like none. Block them from contacting you if you can and forget about them and their "once in a lifetime opportunity."
Pyramid Schemes
A pyramid scheme is a scam where you are promised money or other rewards for recruiting new members and selling items. The problem is that you as the new person need to buy your inventory to sell, but what usually happens is that you don't sell your stuff, you're stuck with it, and the people above you now have all your money.
Be very careful about any program that asks you to recruit new members, or where you have to buy your inventory upfront. Let's be honest, you're not "investing in your business," you're throwing your money away.
Where to get money for flipping
You may be thinking that you don't have any money to start flipping, don't worry, we've got some great ways for you to earn free money today.
Sign up with ibotta and get $10 as a new customer sign-up bonus!
Earn points on ANY receipt from ANY store and redeem for gift cards with the fetch rewards app.
Earn cash back from over 4,000 retailers with TopCashback when you buy online. Even on gift cards, at restaurants, and hotels.
Get free gift cards & cash for the everyday things you do online at Swagbucks. Use the link and get a $10 bonus
Sign up with Inbox Dollars and get paid to read emails, watch videos, and take surveys. Easy peasy!
Save money at the grocery store with Coupons.com on things you already buy! This isn't cashback; it's instant savings at the register!
Have a yard sale and declutter! A bonus multitasking way to earn extra money.
Be sure to check out the full list of the best free money hacks to start earning cash today. For example, how many gift cards do you have hiding away in drawers? You can get cash for your Visa gift card in just a few steps!
Don't try and get money for flipping this way
I know you're excited about flipping money, and you saw on a free webinar that it's common for people to get a hard money loan on their property and use that. STOP. Firstly, that free webinar wants you to buy their product or services, they aren't concerned with your best interests.
Please, never take out a home equity loan, or use a hard money lender to cash flow money for flipping. You don't ever want to put your home in danger of being taken away. That's scary, and a real probability.
While you're at it, stay away from private money lenders too. These are loans not made by banks or financial institutions. It seems attractive, as it might be easier to get money this way, but they generally expect a much higher return on their loan, and they might not have the best business practices.
How to flip money FAQ
How can I flip money fast?
If you need money fast (aka today), your best bet is to sell something. Think high end electronics, sporting goods, jewelry, car, etc.


How to flip $500 fast?
You can easily flip $500 fast by buying something and rehabbing it. Think flipping domain names, websites, small furniture pieces, buying a storage container that's up for auction and selling the goods. Or if you live in a popular city you can rent out your spare space on Vrbo.


How to flip $1,000 fast?
To flip this amount of money, you're either going to take on risk (i.e., investing), or do a combo of a few tactics mentioned above. Try Beagle (it will find old 401ks for you), and see if you have any old jewelry to sell (even if it's just for the gold weight).


At the end of the day
Flipping money isn't as hard as you think, you just have to be creative and daring with how you go about it. But be sure that you don't get too crazy to the point where you're losing your money regularly. We want you to keep flipping and learning how to make it work for you long term, so be sure that if something isn't working out change things up!
Articles related to flipping money: